By Denny Dyroff, Staff Writer, The Times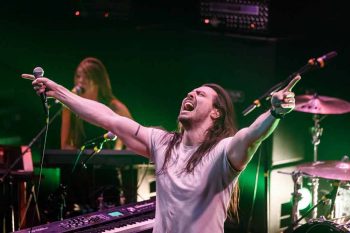 It would seem natural if Andrew W.K. had a tattoo of Dionysius somewhere on his body.
Dionysus was the Olympian god of wine, vegetation, pleasure, festivity, madness and wild frenzy. He was depicted as either an older, bearded god or an effeminate, long-haired youth. He was usually accompanied by a troop of Satyrs and Mainades (wild female devotees).
Andrew W.K. is a musician who is devoted to partying, playing ferocious hard rock geared to partying and making sure everyone in his presence has a good time.
Andrew W.K. has long hair (but is hardly effeminate) and, at times, has sported a beard (but wouldn't be considered old). In place of Satyrs and Mainades, there are hangers-on and groupies.
Pleasure, festivity, madness and wild frenzy are key elements of his concerts. And, it doesn't take too much imagination to figure out where wine and vegetation fit in.
Andrew is now touring the states with his "Party Never Dies Tour" – a tour that visits this area on October 11 for a show at the Theatre of the Living Arts (334 South Street, Philadelphia, 215-222-1011, http://www.lnphilly.com).
This tour could have been in support of Andrew W.K.'s first American studio release since his "55 Cadillac" album in 2009 — could have been but isn't.
Andrew's new album, which is still untitled, will be released March 2, 2018 via Sony Music worldwide.
"Why am I touring before the album is released?," said Andrew W.K. during a phone interview from Little Rock, Arkansas Friday evening as he and his band traveled from Houston, Texas to a date in St. Louis, Missouri.
"I wasn't sure when the album was coming out. I scheduled the tour preemptively to be around the album release or, if nothing else, to just be a tour.
"I made my plans and then the party gods revealed their plans. We go with the flow. So, it's a pre-season tour and we're using it as a chance to get to our best level."
Andrew also talked of the time gap between "55 Cadillac" and the new album.
"Why was there such a long time between albums,?" said Andrew. "It's the nature of partying and then going into the vortex for an album. I didn't realize 10 years had passed since I recorded my last album. I don't want that long of a delay for the next one."
A one-man music machine possessed by a single-minded, monomaniacal focus on euphoric joy, Andrew lives to spread a singular message: That to party is to exist, and to exist is to party.
Andrew continues to passionately deliver his extremely high-energy brand of uplifting entertainment, with an unrelenting commitment to continuing the mission he first embarked upon in 2001 with the release of his debut single and signature tune "Party Hard."
The album, which is still almost five months away from seeing the light of day, showcases Andrew's signature style of blasting triumphant rock music.
According to Andrew W.K., "I'm going for the sound of pure, unadulterated power — every emotion, every thought, every experience, every sensation, every fear, every joy, every clarity, every confusion, every up, every down… all extruded and concentrated into one thick syrup of super life-force feeling, and then psychically amplified by the celebratory spirit of glorious partying."
Andrew's fans will have to wait a while until they hear his new songs – even those attending the shows on this tour.
"We're only playing one new song," said Andrew W.K. "When I go see a band I like perform, I want to hear the songs that I'm familiar with done by the people who made them.
"I'm focusing on songs from all my albums even though it might be exciting to play new ones. I'm playing songs from all the way back to 'I Get Wet,' which was my first album back in 2001.
"It's got it all – a pretty even balance. I'm playing familiar songs and some unfamiliar ones. I don't change the set list from night-to-night. I really believe in consistency and hitting the bull's-eye every night.
"This band has three guitars, bass, keyboards, drums and myself on vocals and keys – and everyone sings. The guys are from all over – L.A., Dallas, Brownsville, Orlando. We have never been better as a band. I'm extraordinarily dedicated to them.
"This band just happened. There was no audition process. I had never even met them until the first video shoot for 'Party Hard.' We had two rehearsals and, right from the start, it was 'destroy.' This band can play."
Video link for Andrew W.K. – https://youtu.be/WccfbPQNMbg.
The show at TLA, which has An Albatross as the opening act, will start at 8 p.m. Tickets are $20.