The KCSD Board has endorsed the creation of a league football team for the 7th and 8th grade levels 
By P.J. D'Annunzio, Staff Writer, KennettTimes.com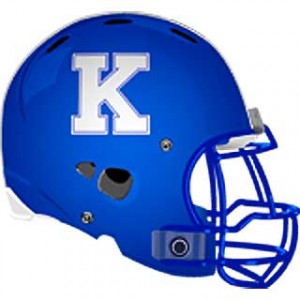 KENNETT SQUARE — Kennett High School football coach Scott Green scored a major touchdown for middle school athletics last Monday night with the School Board's approval of a new football program for Kennett Middle School.
His drive for middle school football has been strong due to the gap between the elementary school program, the Titans, and the Kennett High School Blue Demons squad. Earlier in the year at a meeting held for all players and families who showed interest in the program, a healthy turnout of over 55 prospective players expressed willingness to join.
"We have about 98% of the families ready to go. We want to keep the costs around $100 to $200," Green said. "That price includes busing…paying refs—we're looking at having an eight game schedule, four home games and four away games. So of course the away games we need busing but not referee fees and for the home games we obviously won't need busing but we will need referees."
The program's pay-to-play format represents zero cost to the district, as was intended since its inception. In addition to the membership fee, and to keep costs low, the teams will also be supplemented by fundraising efforts initiated by team parents and coaching staff.
"Our lacrosse program started the same way, with volunteer coaches" KMS Principal John Carr said, "It was certainly a put-together program where you'd borrow helmets or pads from somebody, but because of that the community embraced it."
Last week, Coach Green secured $5,000 from the Kennett Athletic Booster Club for start-up costs, however, an additional $12,000 is needed to get the program up and running.
"The season will start in September, however, we want to get all of the fundraising completed by the end of this school year," he said. "But we have a really unique set of parents who are so supportive, so selfless; willing to do whatever it takes to make sure that this happens. It has been very well received by all those affiliated."
Practice for the teams—open to seventh and eighth-graders—will be held on KHS grounds. The teams will also practice with the freshman squad for certain intervals, in order form them to be better acclimated to high school athletics.
"The benefits of this are we're getting kids connected in our school system and we're getting kids in a very positive environment connected with each other, and they don't have the time to do what we don't want them to do," KCSD Superintendent Barry Tomasetti said of the crucial hours between 2PM and 5PM, when children are most likely to experiment with drugs, alcohol, and illegal behavior due to parental absence.