By Denny Dyroff, Staff Writer, The Times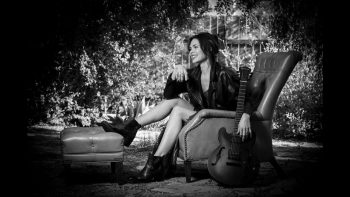 It would make sense if the opening act on October 30 Boot and Saddle (1131 South Broad Street, Philadelphia, 215-639-4528, www.bootandsaddlephilly.com) were called Honey.
The opener for headliner Willie Watson is Suzanne Santo, who is one-half of the L.A.-based Americana band HoneyHoney.
There's no need for HoneyHoney fans to worry that the band has broken up. HoneyHoney is still recording and touring. It's just that Santo is taking a break from the band and touring in support of her debut solo album "Ruby Red."
"HoneyHoney had been in the throes of its last record for a few years," said Santo, during a phone interview last week as she travelled from a gig in Washington, D.C. to a show in New York City.
"We toured like crazy. We love our last album but it didn't do quite what we wanted. So, I needed time to do some recording on my own."
"Ruby Red" has rock and pop elements, influences of soul music and country music in its DNA. People might just call it "Americana" but that tag doesn't do justice to the music on "Ruby Red."
Produced by multi-platinum Grammy nominee Butch Walker (whose Los Angeles recording studio gives the album its name), "Ruby Red" marks Santo's first release as a solo artist after more than a decade singing and playing banjo and violin with HoneyHoney.
"Ruby Red" is a moody, sexually-charged album filled with organic instruments, distorted fiddle, Walker's powerful electric guitar, and Santo's array of impressive vocal performances.
"I met Butch a little while ago and played on his last record 'Stay Gold.'," said Santo. "I also toured with him in 2016 – playing instruments and adding vocals.
"I asked Butch if he wanted to produce my record. He said he did and gave me a time frame. I had a limited amount of time to get songs ready. The songs I took into the studio are the songs on the record."
Preparing for a solo record provided Santo with new challenges.
According to Santo, "I've identified with a collaboration for so long that the thought of taking a leap into the depths of my own music and having no idea what that would look like, definitely came as a shock.
"I was getting lazy and not finishing the tasks at hand like I really wanted, deep down, to be able to do. Writing this record was bewitching in a way.
"I had to have songs that were finished, let alone good enough. I couldn't stop and I wrote all day every day to finish the songs I'd started years ago as well as the few that presented themselves in the fourth quarter.
"I took long walks in my neighborhood and listened to demos on my cell phone and worked out lyrics. I would also wake up in the middle of the night with new ideas and would get up and write them down or record them.
"It felt like the songs were seeping through the cracks of my mind and out of my mouth, without much of my consent. I think art is a channel, connected to something much greater than we are and I feel honored when it picks me from time to time."
Santo and Walker knew they could work well together.
"We recorded the album at Butch's studio Ruby Red last summer," said Santo, who is originally from Cleveland and now lives in the Silver Lake section of L.A.
"Ruby Red is a beautiful studio with all vintage stuff. It also had natural light with glass doors. It was my favorite place to sing in.
"Butch played most of the instruments and his doctor (Dr. Stephen Patt, as a former member of the Edgar Winter Group) played pedal steel. He'd come in from his office still wearing his doctor's clothes. Butch and I did most of the overdubs ourselves
"Working with Butch, I learned that the studio vibe was so supportive and open – try this and, if it doesn't work, try something else.
"It wasn't tense at all. I got to expand in a way that I had never dine before. The material is very raw so I was comfortable having that support."
HoneyHoney is only on a brief hiatus.
"With HoneyHoney, absence makes the heart grow fonder," said Santo, who joined bandmate Ben Jaffe in the TBS television series "The Guest Book," which featured the two musicians in acting and musical roles.
"We were on 'The Guest Book' performing at the end of every show and it got picked up for Season Two. And, we are creating space on the 2018 calendar to work on new music."
Video link for Suzanne Santo – https://youtu.be/cYnLXBwgW7Y.
The show at Boot & Saddle, which has Willie Watson headlining, will start at 8:30 p.m. Tickets are $20.
BONES is a power-packed rock and roll band from London featuring two talented young musicians – Rosie Bones and Carmen Vandenberg.
They will be in the area for a pair of shows this week – October 31 at Chameleon Club (223 North Water Street, Lancaster, 717-299-9684, http://www.chameleonclub.net) and November 1 at Union Transfer (1026 Spring Garden Street, Philadelphia, 215-232-2100, www.utphilly.com).
While this is their first tour of America, they have already wowed American audiences with their onstage musical prowess.
BONES were co-writers on Jeff Beck's latest album "Loud Hailer."  Last year, they were key members of British guitar legend's touring band for the album.
Vandenberg tore it up on rhythm guitar while Bones handled vocal duties. Additionally, music by BONES has appeared on Netflix show "Orange is the New Black," Amazon show "Transparent," and a "Victoria's Secret" ad.
"Me and Carmen started the band in London about a year before we met Jeff," said Bones, during a phone interview last week. "We met at a blues bar in London.
"Carmen was playing and I was drinking. We decided to get together. I thought she was amazing. She's an incredible guitarist
Buying two one-way tickets from London to LA, the female lead duo BONES has landed in America. Forging their own distinctive sound with the help of vicious guitars, provocative lyrics and industrial electronic drum and bass, BONES is aiming to make a huge impact on modern music.
Their latest release "Beautiful is Boring" is an anthem about embracing your quirks and celebrating your imperfections. The gritty video follows them creating mass hysteria while playing at a nightclub, celebrating all things imperfect and manifesting itself in adoration from extreme fans.
According to Bones, "We are so used to seeing girls screaming at boys in bands so we wanted to flip the gender roll. It's rewarding to see what it feels like from the other side."
The two found their musical chemistry quickly.
"We just played rock and roll," said Bones. "She was playing riffs and I'd throw back ideas. I also play guitar and we both play guitar onstage. She plays lead and I do rhythm. I sing and she does some background vocals."
Vandenberg and Bones write all their own music.
"Our inspirations for songs are things we're thinking about," said Bones. "The songs come all different ways – soemtine4s a lyric idea and other times something in guitar.
"We've only put out two tracks so far – 'Pretty Waste' and 'Beautiful Is Boring' – but we have started working on an album. We're writing all the time. When it's time to record, we don't use studios – we record at home.
"What we call our music is modern rock for the future – electronic elements with blues influence. Carmen is very influenced by the blues.
"People are starting to become aware of us. We've already recorded most of the songs we play onstage. We just play and the audience seems to like what we're doing. We enjoy surprising people."
Video link for BONES — https://youtu.be/g50cXs4bml4.
BONES is the opening act on Highly Suspect's national tour. The show at the Chameleon will start at 7 p.m. Tickets are $25. The show at Union Transfer will start at 7:30 p.m. with tickets priced at $25.
Secret Stuff isn't so secret anymore.
Secret Stuff is an emo/alternative band from Tennessee. The Nashville-based band has been making good music for several years and steadily building its fanbase.
On November 1, Secret Stuff will return to the area for a show at Everybody Hits Philadelphia (529 West Girard Avenue, Philadelphia, 215-769-7500,http://everybodyhitsphila.com).
Secret Stuff — Michael Pfohl, Nathan Childers, and Alexander Gonser – released two EPs in 2016. The record releases – both on Spartan Records – were "This Is Fine" in January and "Ew, You Taste Like Cigarettes" on a split EP with Sundressed in July.
"We've played Philly about six times," said Pfohl, during a phone interview last week from his home in Nashville.
"This tour started on October 17 with a home show in Nashville on October 24. This is an unexpected layover in Nashville. There was van trouble and we had to drop two shows."
The "We" Pfohl referred to is he and the members of the band Save Face.
"On this tour, I'm riding with Save Face," said Pfohl. "On this tour, Secret Stuff is just me because the other two guys were unavailable.
"We've been a band for just over four years – just after Feather Oars broke up. I was in that band and the other members decided they didn't want to play anymore.
"I was going to school here at Belmont University and I told a friend that I wanted to do a solo album. He said he wanted to play guitar with me. Another guy offered to play guitar and then a drummer and a bass player came."
That started Secret Stuff's evolutionary process.
"Now, we're a trio and I'm the only original member left. I've had the current line-up since January after having a rotating cast for several tours.
"I got an offer to play a couple shows with Darktown," said Pfohl. "I asked these two guys to play with me (Childers and Gonser) and it was magic from the start. We started writing songs together immediately."
After a long wait, Secret Stuff fans will soon have an album by the band to listen to.
"I have a whole album ready," said Pfohl. "I just finished making the demos with them. We'll be going into the studio in January. We're going to North Jersey to record the album at Barbershop Studio in Hopatcong."
Video link for Secret Stuff – https://youtu.be/finEdG4YKgg.
The show at Everybody Hits Philadelphia, which also features Harmony Woods, Brackish and Save Face, will start at 8 p.m. Tickets are $8.