New Garden arrest stemmed from multi-agency investigation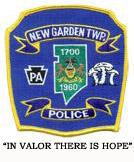 Following a multi-agency, drug investigation, New Garden Township Police took 39-year-old Nottingham man into custody Wednesday.
Police said Howard Blackburn, 39, possessed PCP and 15 grams of cocaine with the intent to distribute it in the 100 block of Pine Street. Theodore Kinder, 35, of Nottingham, was cited for possession of drug paraphernalia and disorderly conduct. Unable to post $15,000 cash bail, Blackburn was taken to Chester County Prison to await a Jan. 25 preliminary hearing, court records said.
Norberto Margarito-Jose, 26, of Wilmington, was charged with aggravated assault by vehicle and related offenses stemming from a three-vehicle accident on Wednesday at Gap Newport Pike and Sunnydell Road, police said.  Margarito-Jose was speeding and rear-ended a vehicle waiting to make a left turn, police said, adding that the impact pushed the struck vehicle into oncoming traffic, causing a second collision, this one head-on.
Police said they are awaiting blood results to determine if Margarito-Jose was under the influence of alcohol.  Witnesses said Margarito-Jose had also just been involved in a hit-and-run accident in Delaware, police said. After being taken to Christiana Hospital, he was arraigned and remanded to Chester County Prison after failing to post $20,000 cash bail, police said.
Katelyn McCall, 20, of Phillipsburg, N.J., was charged with theft following an incident on Jan. 7 in the 1300 block of Newark Road, police said.  McCall was found to be wearing clothing that had been reported stolen, police said, adding that McCall also had outstanding warrants out of New Jersey.