To The Editor: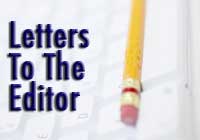 Stephen Barrar, PA Representative, House District 160 (parts of Delaware and Chester Counties) sent out a campaign mailer this week which touted his many awards.  There was one very significant award he received late last year which was not mentioned in that mailer.
An extremely conservative Tea Party group presented Representative Barrar with their "2013 Legislator of the Year" award stating that they were grateful to him "for his advocacy of Voter ID reform, … and his efforts to stop runaway taxation most recently evidenced in the 2013 PA Transportation Bill."  This award was presented at the Fifth Annual Christmas Tea Party held Dec. 27, 2013 by the Independence Hall Tea Party Association, at the Omni Hotel.
This award showed that Steve Barrar stands primarily for those supporting extreme right-wing positions such as the now failed Voter ID law and denial of the much needed investment in Pennsylvania's crumbling highways and bridges.
David Rhoads
Kennett