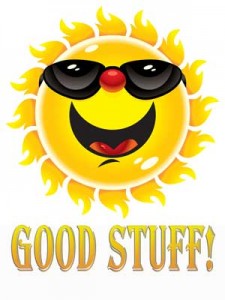 Editors Note: Welcome to The Times latest column, 'Good Stuff', that will highlight positive happenings within the communities of Chester County in a quick, easy to read, and (we think) fun format.
Got 'Good Stuff' to share? Email kim@chescotimes.com to help the get the word out.  (All submissions are subject to editorial review; submissions are requested by the 15th and 30th of each month.)
MAKE NOTE IT'S TIME TO VOTE!  PA Polling places are open TODAY from 7 AM-8 PM.  For a list of Chester County Polling places and see where you can vote visit: http://www.chesco.org/index.aspx?NID=292
AT-CHOOOO!….Cold weather means FLU SEASON…a reminder to Kennett area community members to come roll-up your sleeves THIS Wednesday, November 5th from 2:30-5:30 at Kennett High's flu vaccination clinic.  Vaccines will be administered at no cost to Kennett Students and their families, staff, and members of the community as long as you bring your insurance card. Vaccines are also FREE for the under and un-insured.  Can't make it? Then check out Kennett Area YMCA's flu clinic next Tuesday, November 11, from 8AM-12PM. For more information give the Y a call at (610) 444-9622. 
Neither rain, nor wind, nor FREEZING COLD could stop the Hillendale Elementary Huskies from getting their "Halloween Hustle" on! Hats-off to the 90+ people, who braved some serious elements and raised more than $1,500 for Hillendale PTO's community outreach projects last weekend.  A shout-out to all the teachers and parents who assisted in the wee hours with early morning prep, rocked the DJ booth, provide water and helped keep everybody hustling!
Kevin M. Hunt, the Senior Pastor of the Trinity United Bible Church of Coatesville has written an intriguing book, called "44 Degrees:  Unveiling the Mystery and Magnitude of the Seasons of Joseph" and will have a dedication/ book signing on Sunday, November 16th, from 4-7pm, at the former Lukens Steel Administrative Building, in the historic district of downtown Coatesville. The ceremony begins at 4:30pm.  The soft cover book will be sold for $15.00, including the sales tax. Hardcover book availability is being determined,  If you unable to be present or want to see an overview, books are available by website: www.44degrees.org, by placing title in "New Book" releases. Publishing company: West Bow Press, a Thomas Nelson/ Zondervan company. 
…Speaking of cold weather, take the chill out of the cost of skiing TODAY!  PA 4th and 5th graders SKI FOR FREE (with a paying adult) at 19 PA ski resorts all season long! Check out the PA Ski Areas Association Snow Pass Program ($30 processing fee). The pass also includes one FREE LESSON. To apply for your child's pass visit and get all the "deets" visit: https://www.skipa.com/deals/4th5th-grade-program/buy-now  Passes take about 3 weeks to arrive, so don't wait.  We'll see you on the slopes!
The BIRD is the WORD for the Kennett Food Cupboard (KFC) this month.  It's November and the KFC asks you to please consider donating a turkey.  Have a free turkey coupon from your favorite grocery store or can swing buying an extra turkey to share?  Turkeys not only provide a festive holiday blessing, but also, multiple days of protein for families in need.  To donate, please contact the KFC – Phone:  (610) 925-3556 website: www.KACSonline.net
G-G-G-Goal-AHH for Kennett High's Nico Meola!  Meola was named top regular season soccer goal scorer for the boys' Ches Mont League.  Look-out Joe…West Chester Henderson's Sydney Zandi will show you what she knows, she's GOT some serious GAME in her name…Zandi is ranked top goal scorer for the girls' Ches Mont League soccer regular season with an impressive 20 goals scored.  Way to go Sydney!
Calling all "bargain hounds" and savvy parent shoppers!…This Friday, November 7th from 5:30-8:30, Greenwood Elementary School (420 Greenwood Road, KSQ) is hosting its 2nd annual children's clothing resale; featuring BEAUTIFUL, NAME-BRAND, GENTLY USED children's clothing, accessories and shoes – infants through teen sizes.  ALL items $2-$5, proceeds benefit Greenwood PTO. Where else can you conveniently by a kids outfit for less than a gourmet cup of coffee all while supporting a great cause?  A nod to all the hard working volunteers who, post-sale, will be taking all unsold clothing to local charities…
The Chester County Fund for Women and Girls will co-sponsor the GenHERation's Connection event in Philadelphia as part of the mission to improve the lives of women and girls through community collaboration.  GenHERation is a female empowerment network for millennial girls providing them the opportunity to work with national corporations and non-profit organizations to develop their own advocacy campaigns to improve their communities.
The event is at University of Pennsylvania's campus for the Connection Event and will take place on Saturday, November 15th, 2014 from 10 AM to 3 PM at the University of Pennsylvania Museum of Archaeology and Anthropology, 3260 South Street, Philadelphia, PA 19104.
The leadership conference features discussions with female professionals from five different industries as well as more than $2,000 in scholarships and exclusive rewards. The conference will also include a social business pitch competition with a $500 prize and interactive skill-building activities. Admission ($20) for the conference is open to all high school girls. You can register at www.genheration.com or e-mail info@genheration.com with any questions.
SPLISH, SPLASH, NOSH!  This Friday, November 7th, from 6-8 PM at the Kennett Area Y's TGIF event. The Y will have its brand-new inflatable water volleyball game set-up and a local food truck will be on hand to provide convenient, grab 'n go food for a small fee.  East, family-friendly FUN!
Over 1,600 runners are expected to participate in the bi-annual Girls on the Run (GOTR) and YMCA STRIDE for Boys 5K Challenge on Saturday, November 22 at 9:00 a.m. at Downingtown West High School. Each spring and fall, hundreds of girls who participate in the GOTR and Girls on Track after school programs celebrate the conclusion of their self-esteem and confidence-building programs with a 5K run. This fall, over 500 girls will take part in the 5K. As in previous years, participants in the STRIDE for Boys program will also participate. This year over 200 boys will be joining the run. The GOTR 5K is presented by Precision Print Communications and the YMCA STRIDE for Boys 5K is presented by Safeguard. 
Spotted – 100+ Kids OUT OF THE HOUSE (and off their devices!) for 3 hours this Election Day… Thanks to Kennett Area Parks & Recreation Department's Election Day Lacrosse Clinic.  This annual tradition provides an affordable morning of fun while fostering the love of lacrosse to players of all levels. KUDOS to all of the high school players, coaches and volunteers for honoring the game and helping the next generation carry on the Blue Demons tradition!
Remember the TITANS!…ALL THREE Kennett-Unionville Titans Varsity football teams have advanced to the 2nd round of the Bert Bell Youth Football League Championship playoffs.  Way to go fellas and hard-working coaches! To cheer-on these local players here's their schedule: 100 lb Varsity –11 AM HOME Saturday (KHS Stadium) vs. DYW, 80 lb Varsity – 12:30 HOME Saturday (KHS Stadium) vs. BYC, and 120 Varsity plays AWAY – Sunday, 12 PM at Brandywine DE.
There will be an organ recital featuring Dr. Shawn Gingrich, assisted by Peter Gingrich, Sarah Gingrich, Christian Gingrich and Aaron Gingrich at the Hamorton United Methodith Church — featuring the church's pipe organ — in Kennett, Nov. 15 at 4 p.m. Dr. Gingrich will play selections from Bach, Mendelssohn, Pachebel, Franck and numerous contemporary church-music composers will be featured. The program is free to the public, but an offering will be received.