A week at the shore without makeup was nice…but not for everyday
By Kelly Hockenberry, Columnist, The Times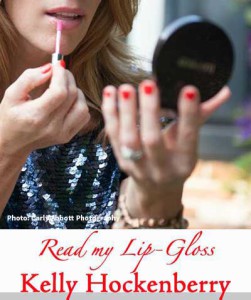 My family and I just got back from a week at the beach. It was glorious. The sun was hot, the breeze was cool and the ocean was like bathwater. We spent as much time as possible soaking it all in before school starts.
In order to relax, one of our down the shore rules is to park the car and avoid getting in it for as many consecutive days as possible. For all of the schlepping we do on a regular basis, this is a vacation in and of itself.
The other rare occurrence that happens during this downtime is my willingness to forgo my usual beauty rituals. I take off my fingernail polish (NEVER removing it from my toes, people…let's not be crazy) and use the week to give them a much needed breather from my gel addiction. I don't bother with my hair. It is pulled up into a top knot because of the heat, or hidden under a huge straw hat to avoid the sun, so what is the point? Plus, the humidity makes blow drying an act of futility. I wear no make­up, with the exception of mascara. I could be the last person on earth and I would wake up and put mascara on Every. Single. Day. Call me vain, I don't care. Essentially, I resemble the stranded Tom Hanks from Castaway.
The funny thing is, while I'm in it, it doesn't bother me. I enjoy the extra free time in the morning that isn't tied up in "getting ready." But, to be brutally honest (and that's what this column is for, isn't it?) I don't feel like myself by the end of the week. I miss looking pulled together. It reaffirms that I could never go day after day without my beauty routine. My bare nails just seem really sad and I miss my flat iron desperately. I am obviously NOT going to be a candidate for the next Dove campaign that tells you to throw away your mask of make­up. I L­O­V­E make­up. And, if loving make­up is wrong, I don't want to be right.
Here's a question for you natural gals, how do you know that you're not like me? Maybe, in the spirit of breaking the rules, you tried applying some lipstick, mascara, undereye concealer, a bit of blush and a swipe of mascara? Dare I say add an eyelash curler to the mix? Paint your nails red? OK, OK…baby steps..but, you understand the challenge. Come out of your comfort zone for one week. If you don't know what you're doing, go into my favorite cosmetics boutique Houppette (OPENING THEIR SECOND LOCATION SOON IN KENNETT SQUARE! Woo Hooo!) for a basic tutorial. Tell them that Kelly sent you and then leave me a Comment below with how you feel. I'm guessing you will be Julia Roberts in Pretty Woman.
Happy Weekend