To The Editor,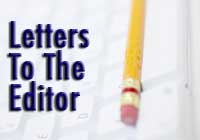 Over the past five years I have had the opportunity to listen and to watch Admiral Joe Sestak in action. Whether taking questions from senior citizens or in a discussion with high school students too young to vote, he demonstrated compassion and a sensitivity seldom seen in politicians. I recently accompanied Joe Sestak on a stroll through Thorndale, Pa. while he shared his experience of walking across the state of Pennsylvania. Again, he impressed me with his enthusiasm, energy and commitment to the people of our state.
This former Congressman, born in Delaware County, a graduate of the U. S. Naval Academy and Harvard, a veteran of the Persian Gulf Conflict, has a keen sense of what it means to represent the views of all the people of our commonwealth. It did not surprise me when I saw that he was walking across the state of Pennsylvania. His book " Walking in Your Shoes" chronicles his goals for Pennsylvania. Along his journey he met everyday people, not big pocket donors. He met laborers and teachers, students and the elderly. He listened and he shared, his story was indeed heard by those he met.
It is easy for a politician to say he or she cares about the constituents, as voters we expect nothing less. As a career long social studies teacher I often taught the lesson of words vs actions when we study people throughout history. Look at Joe Sestak's lifetime of service; look at his military accomplishments. In Admiral Joe Sestak we get a man of character and compassion, a man who can be trusted to represent our state with integrity and a man who has a vision for the future of our state.
Unfortunately, our current senator, Pat Toomey, seems to have very little "vision" for our state. Looking carefully at Toomey's career, we get no sense of civic purpose, just a drive to make millions of dollars. While "Joe" was defending our nation, Mr. Toomey was in London, Shanghai and New York trading derivatives, a highly risky financial transaction. And we all know how Wall Street's desire for ever bigger profits brought this nation to its knees in 2007.
Next year, the people of Pennsylvania will have the chance to elect someone who has devoted his entire life to public service. Joe Sestak will be a senator for all the people not just the rich and connected.
Ann V.S. Schott
West Grove