WEST GROVE, Pa. – The Avon Grove High School Marching Band earned first place at the U.S. Bands Pennsylvania State Championship held Saturday, October 31, at West Chester University's Farrell Stadium. This is the first time that the marching band has earned the title of U.S. Bands Pennsylvania State Champion.
The band scored a 92.375 in the Group IV-A class and won the honors of Best Color Guard, Best Overall Effect, Best Percussion, Best Ensemble Music, and Best Visual.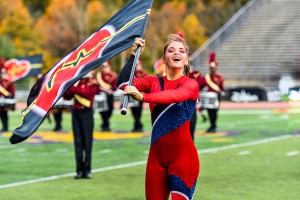 The band's 2015 show is titled "Heart Beat" and features a seventy-five-foot vinyl heart covering part of the field. The performance uses samples of heart-themed phrases read by members of the marching band to explore the quickened heartbeat of an adrenaline rush, the longing heartbeat of the pursuit of passion, and the thrilling heartbeat of a heart attack. Avon Grove's performance music was composed by Key Poulan.
Student Leaders include Drum Majors Kiersten Maule and Lena Hull. Section Leaders include Gina Salerni, Christina Trimble (Flutes), Emma Leadem, Jennifer Sobon (Clarinets), Nick Waters, Stephanie Mirah (Saxophones), Julia O'Brien, Kyle Stover (Trumpets), Emily Wood (Mellophones), Henry Forrest, Collin Payne (Trombones), Nick Carlin (Tubas), Aria Swanson, Mairead Heiger (Percussion), Beth Celona, Tricia Dodson, Becca Sammartino (Color Guard)
The Instructional staff includes John Adcock, Jeff Leager, Steph Espie (Winds); Jeff Leager, Steph Espie, Doug Clendenning, Nicole Flood (Visual); Sean Rode, Henry Eichman, Zach Opdenaker, Alyssa Rush (Percussion); Michelle Adcock, Adam Albright, Megan Murphy, John Taylor, Melanie Buono (Color Guard); and Drill Design by Nate Holland.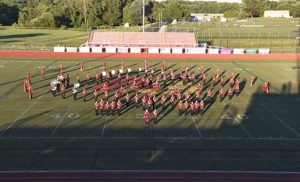 The Avon Grove Marching Band Coordinator is Michelle Adcock, and the Avon Grove Director of Bands is Rebecca Staznik.
The Avon Grove Marching Band would like to thank the Avon Grove School Board and Administration for their support for the marching band and all of the arts in the Avon Grove School District.