Holiday shows aplenty light up area stages
By Denny Dyroff, Staff Writer, The Times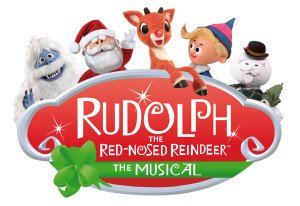 Now that the holiday season has arrived, it's a great time to head into Philadelphia to enjoy the colorful decorations, have dinner at a nice restaurant and then attend a live stage performance.
Fortunately, there is a show at the Merriam Theater (250 South Broad Street, Philadelphia, 215-893-1999, www.kimmelcenter.org) that is a perfect fit for just such a trip — "Rudolph the Red-Nosed Reindeer The Musical."
The colorful show, which is part of the Kimmel Center's "Broadway Philadelphia" series, will be in Philly for an eight-show run from December 17-20.
Based on the beloved television classic, "Rudolph the Red-Nosed Reindeer The Musical" features all of the favorite characters from the special including Santa and Mrs. Claus, Hermey the Elf, Bumble the Abominable Snow Monster, Clarice, Yukon Cornelius and, of course, Rudolph.
It is has been more than 50 years since the television special arrived but Rudolph's history goes back to 1939 when Robert May created Rudolph for a coloring book promo given out by Montgomery Ward. Originally slated to be a moose, Rudolph became a reindeer, a less-imposing animal.
The story has been adapted in many ways including a popular holiday carol, a TV special and sequels and a feature film with a sequel. The red-nosed reindeer's popularity is so great that United States Postal Service issues a series of postage stamps featuring Rudolph in November 2014.
Last year, the musical version of the story was created to honor the 50th anniversary of the television special. The tour was so well-received that it was brought back again this season for a six-week coast-to-coast tour with three separate casts and productions.
"I did the Rudolph tour last year," said Hailey Tweter, during a phone interview last week from a tour stop in Hershey. "We played all over the East Coast and audiences everywhere loved it. I didn't know much about the musical before last year but I had seen the movie. For years, it's been one of my favorites."
Tweter plays the role of Clarice.
"This year, I didn't audition until later than most," said Tweter. "It all happened in a couple of weeks. The creative team was very intent on making sure the character voices are true to the original voices. They knew what I could do because I was Clarice in last year's tour.
"Clarice was very vintage. She has a floating and lilting voice. The song she sings is an encouragement for Rudolph. That is there always. She's a sweet little doe. I like that she is the first — and the only — one who sees Rudolph, sees his nose and doesn't look at it as abnormal. She thinks it's a handsome nose."
Snow and winter scenes are not Tweter's native environment. She grew up in Orange County in Southern California and attended Vanguard University in Costa Mesa.
"Vanguard has a great theater program — not just performing but also the technical part," said Tweter. "I was studying classical singing and theater. Then, I chose theater. If a classical role arose, I'd be on board. But, my heart really is in musical theater.
"I love doing this show. Last year was the 50th anniversary of Rudolph's air date so they wanted to mount this amazing production. And, they did great merchandising for the anniversary.
"This show is so nostalgic. Everyone has seen the movie so there is this connection to the story. And, there is the message about bullying.  Most importantly, there is the Christmas spirit. It's a wonderful show where kids can experience the magic of live theater."
Video link for "Rudolph" — https://youtu.be/slne0mBRDds.
Performance times are 7 p.m. on December 17 and 18 and 11 a.m., 2 and 5:30 p.m. on December 19 and 20. Ticket prices range from $35-$95. 
Another show that is running now and is part of the Kimmel Center's "Broadway Philadelphia" series is "The Book of Mormon," which is playing now through December  27 at the Forrest Theatre (1114 Walnut Street, Philadelphia 866-276-2947, www.kimmelcenter.org/broadway).
The lively musical, which was seven years in the making, met with immediate critical acclaim and won numerous theater awards including nine Tony Awards (including Best Musical) and a Grammy Award for Best Musical Theater Album. "The Book of Mormon" features book, lyrics, and music by Trey Parker, Robert Lopez, and Matt Stone. Stone and Parker were the creators of the animated comedy "South Park."
 "The Book of Mormon" tells the story of two young, inexperienced Mormon missionaries who are sent to Africa. It is set in a remote village in northern Uganda. In the village, which is about two hours north of Uganda's capitol Kampala, a brutal warlord is threatening the local population. The primary antagonist is the superstitious General, who does not like the missionaries and views them as a threat.
Video link for "The Book of Mormon" — https://www.youtube.com/watch?feature=player_detailpage&v=OKkLV1zE8M0.
Ticket prices ranges from $67-$177.
The Walnut Street Theatre (825 Walnut Street, Philadelphia, 215-574-3550, www.walnutstreettheatre.org) is presenting "A Christmas Story, The Musical" now through January 10 on its Mainstage.
"A Christmas Story, The Musical" is a Broadway musical comedy based on the classic 1983 movie. Set in in Indiana in the 1940's, it features a bespectacled boy named Ralphie who has a big imagination and one wish for Christmas –a Red Ryder BB Gun.
A kooky leg lamp, outrageous pink bunny pajamas, a cranky department store Santa and a triple-dog-dare to lick a freezing flagpole are just a few of the obstacles that stand between Ralphie and his Christmas dream.
Video link for "A Chrustmas Story" — https://youtu.be/8ibc4ubYe9E.
Ticket prices range from $20-$95.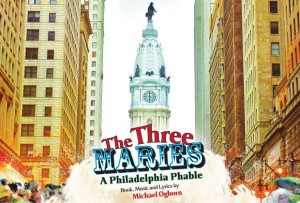 Previews start on December 17 at the Prince Music Theater (1412 Chestnut Street, Philadelphia, 267-239-2941, princetheater.org) for a new show titled "The Three Maries  — A Philadelphia Phable."
 No Attytude Productions presents the Philly-centric show penned by Michael Ogborn as a "World Premiere Musical" that will run at the Prince through January 10.
"The Three Maries" is a musical comedy inspired by an historical event — Queen Marie of Romania's visit to the city of Philadelphia in October of 1926. This original "Cinderella -Pygmalion mash up" is narrated from a Mummer's clubhouse on Dock Street. 
The show is about one family and how the Queen's visit changed their lives forever.  It generously showcases the famous sites and many of the city's unique cultural traditions. The settings and costumes are created using Mummer's inspired design. The original score is infused with 1920's jazz, vaudeville, Tin Pan Alley and the famous sound of the Mummer's string bands.
Ticket prices range from $27-$52.
The Suzanne Roberts Theatre (480 South Broad Street, Philadelphia, 215- 985-0420, http://philadelphiatheatrecompany.org) features "Ken Ludwig's Baskerville — A Sherlock Holmes Mystery" now through December 27.
From the award-winning mastermind of mayhem, Ken Ludwig ("Lend Me a Tenor"), comes a fast-paced comedy about everyone's favorite detective solving his most notorious case. Sherlock Holmes and Dr. Watson must crack the mystery of "The Hound of the Baskervilles" before a family curse dooms its newest heir.
Ticket prices range from $24-$62.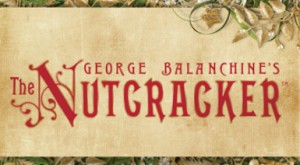 A show that combines the best of ballet and the excitement of theater is the Pennsylvania Ballet's annual production of "George Balanchine's The Nutcracker."  This year's show, which is running now through December 31 at the Academy of Music (Broad and Locust streets, Philadelphia, 215-893-1999, www.paballet.org), is the 47th annual staging of the classic ballet.
The ballet is based on E.T.A. Hoffman's tale "The Nutcracker and The Mouse King" and set to a score by Peter Ilych Tchaikovsky. Featuring lively dances, colorful costumes and elaborate sets, "The Nutcracker" is a production that appeals to audiences of all ages.
Video link for Pennsylvania Ballet's "George Balanchine's The Nutcracker"—https://www.youtube.com/watch?feature=player_embedded&v=6j4HATkhrSY.
Ticket prices range from $35 -$150.
If dinner and a night at the theater sounds appealing but the thought of driving into Philadelphia and dealing with trying to park in Center City does not sound very appealing, there are two good alternatives.
The Candlelight Theater (2208 Millers Road, Arden, Delaware, 302- 475-2313, www.candlelighttheatredelaware.org) is presenting the classic hit musical "Mame" now through December 20.
Performances are December 18 and 19 (doors 6 p.m./show, 8 p.m.) and December 20 (doors, 1 p.m./show, 3 p.m.). Tickets, which include dinner and show, are $59 for adults and $33 for children (ages 4-12).
The Rainbow Comedy Theatre (3065 Lincoln Highway East, Paradise, 800-292-4301, www.RainbowDinnerTheatre.com) is presenting "Good Night, Mrs. Puffin" now through December 27
Matinee performances are every Tuesday, Wednesday, Thursday and selected Saturdays with an 11:30 a.m. lunch and a 1 p.m. curtain. Evening performances are every Friday, Saturday and selected Thursdays with dinner at 6:30 p.m. and the show following at 8 p.m. Ticket prices range from $49-$55.
The music schedule slows a little during the holidays but there is one show that has special significance — the return of Canada's .moneen.
The veteran band from Brampton, Ontario (a suburb of Toronto) will head south of the U.S./Canada border this weekend for three shows in the northeast starting December 18 at Underground Arts (1200 Callowhill Street, Philadelphia, http://undergroundarts.org).
The quartet, which features Kenny Bridges, Chris "The Hippy" Hughes, Erik Hughes and Peter Krpan, will play Brooklyn on Saturday, Boston on Sunday and then return home. This mini-tour marks the first time .moneen. has played in the states in more than five years.
The tour features .moneen. and Moving Mountains as co-headliners. The two groups have combined to make a split single featuring .moneen.'s cover of Moving Mountain's "Armslength" and Moving Mountains' cover of .moneen.'s "The Great Escape."
Formed in 1999, .moneen. recorded four albums in 10 years — the most recent of which was "The World I Want to Leave Behind" in 2009.
"In 2009, we were on tour with Say Anything, Moving Mountains and Eisley," said Bridges, during a phone interview Wednesday afternoon from his home in Ontario. "My wife was pregnant with our first child so I was ready to get off the road.
"I had felt really good with what we had done as a band so I thought it would be an O.K. time to walk away from it. I didn't want the band to just fizzle away but my heart wasn't in it. But, not everyone wanted to end it. So, we just took a break."
Six years have passed and the band is still more or less on break — more or less.
"I stayed involved in music," said Bridges. "Our drummer is a real estate agent and our guitarist got into home renovation work. Every once in awhile, we'd get together for one or maybe two shows each year.
"Then, a few months ago, I was with Greg (Dunn) from Moving Mountains. That band was in a hiatus too. So, we decided to do some shows together with our bands. Our booking agent was up for it so we went ahead with it. Timing-wise it works. It all came together well."
Since it has been six years since the band's last album, .moneen. will not be breaking out any new songs on this tour.
"It will be mostly songs from our older albums," said Bridges. "I don't know what the future is but we're excited for now. All but one of us has kids now so we're only going to do a few shows. Music is an important part of life and none of us want to give it up."
Video link  for .moneen. — https://youtu.be/3JRl2wNYNS8
The show at Underground Arts will have Prawn as the opening act. Doors for the all ages show open at 7 p.m. and tickets are priced at $16.50.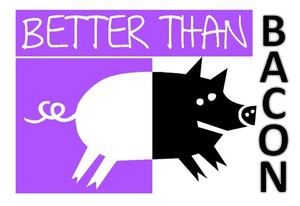 The Flash (102 Sycamore Alley, Kennett Square, 484-732-8295, http://www.kennettflash.org) will have "Stand Up Comedy Night" with Hannah Harkness, Neill Carroll, Matt Hagerty, Marc Staudenmaier and Mike Brooks on December 17, "Better than Bacon — 5th Annual Non-Denominational Holiday Extravaganza" and Wussy Riot on December 18, Crossroads (Dennis Melton, Billy Penn Burger, Michael Melton, Tommy Geddes, Bob Beach) on December 19, Open Mic with Sam Kwietniak on December 20 and The Remedy, Luxury Lennens and Bill Rose from The Rose Project on December 23.
The schedule for the Steel City Coffee House (203 Bridge Street, Phoenixville, 610-933-4043, www.steelcitycoffeehouse.com) features "Vocal Fusion A Capella Holiday Concert" on December 17, "An Evening With Johnny A." on December 18 and The Peace Creeps and The Greg Sover Band on December 19.
The show at Chaplin's (66 North Main Street, Spring City, 610-792-4110, http://chaplinslive.com) on December 18 will feature Trent Vernon, Dre Carter, Beezy, Tahj Mill, Lil Rey, Tidge, Trey Day, J Byrd and DJ Ryan Simms. On December 23, the venue will host Ted The Fiddler's Big Time Birthday Bash.
The schedule for the Ardmore Music Hall (23 East Lancaster Avenue, Ardmore, 610-649-8389, www.ardmoremusic.com) includes Beru Revue Christmas Show & Benefit concert (December 18), Pigeons Playing Ping Pong with special guest Aqueous (December 19), Annual Holiday Extavaganza + Ron Smith Tribute (December 20) and Splintered Sunlight with special guest Old Soul Revival (December 23).
Burlap & Bean Coffeehouse (204 South Newtown Street Road, Newtown Square, 484-427-4547, www.burlapandbean.com) will present Hot Club Philly on December 18 and Helyn Rain and Jeff Ratner on December 19.
Doc Watson's Public House (150 North Pottstown Pike, Exton, 610-524-2424, docwatsonspublichouse.com) will host a show by chatterband on December 19.
Melodies Café (2 East Ardmore Avenue, Ardmore, 610-645-5269, www.melodiescafe.com) will present Rosemary Ostrowski's "The Living Room Series" on December 17.
The Grand Opera House (818 North Market Street, Wilmington, Delaware, 302-652-5577, www.thegrandwilmington.org) will host the First State Ballet Theatre's production of "The Nutcracker" on December 19 and 20.
The Keswick Theater (291 N. Keswick Avenue, Glenside, 215-572-7650, www.keswicktheatre.com) presents India.Arie on December 17.
The Sellersville Theater (24 West Temple Avenue, Sellersville, 215-257-5808, www.st94.com) will present Sons Of Serendip on December 17, Girls Guns & Glory and The Nightshade on December 18, "'In The Spirit Of The Holidays with Annie Haslam & Friends" and Jann Klose on December 19, and "An Elvis Christmas" with Doug Church on December 20.
Chameleon Club (223 North Water Street, Lancaster, 717-299-9684, http://www.chameleonclub.net) will have Testosteroso, The Gone, and Render on December 18, Fuel, Trapt and She Pulled the Trigger on December 19, and August Burns Red, Polyphia and Wage War on December 20.