To The Editor: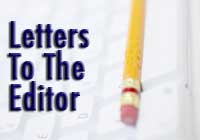 For several weeks my mailbox has been overflowing with large flyers sent by the Republican Party of Pennsylvania supporting Tom Killion and panning Marty Molloy, the candidates in the April 26 special election.  This special election will fill the open seat in the Pennsylvania 9th Senatorial District.
The Republicans must be desperate to find something negative to say about Marty Molloy.  Their latest flyer references a 9-year-old article from philly.com about Act I.  Act I was a law that required a referendum vote on the May 2007 primary ballot regarding a proposed partial shift from property taxes to income taxes.  The flyer says "Marty Molloy didn't show up to vote on a measure that would have reduced property taxes."  They make it seem that one citizen's vote would have made all the difference, but Act I was opposed by both Republicans and Democrats and was overwhelmingly rejected by the voters in 2007.
This deceptive advertising makes me very wary.  I want a senator who understands that when the state reduces funding for education, local school districts are forced to increase property taxes.  Marty Molloy understands this as well as how good education helps create jobs, economic development and opportunity for all.
I think that Marty Molloy is the better person to be our State Senator.
Elizabeth Rhoads
Kennett Square