Heavier than usual performance schedule tabbed for this weekend
By Denny Dyroff, Staff Writer, The Times
There is a pretty heavy live music schedule for this area for May 21 and it ranges from light to heavy. Jesse Terry is the lightest — and earliest — while Trivium is the heaviest — and latest.
Terry, a singer-songwriter performing with acoustic guitar and gentle voice, will be the opening act Saturday afternoon at the Spring Gulch Folk Festival at Spring Gulch Resort Campground (475 Lynch Road, New Holland, 717-354-3100, www.springgulch.com).
This will be one of Terry's handful of shows prior to the start of his "Joyful Noise Tour" with Abbie Gardner.  Terry and Gardner, a singer-songwriter from Red Molly who also plays steel guitar, recently recorded a three-song EP titled "Joyful Noise."
"The EP was released via Noisetrade on May 10 and can be downloaded free at http://noisetrade.com/jesseandabbie/joyful-noise-tour-2016," said Terry, during a phone interview Thursday afternoon as he, his wife Jess and their dog Jackson Browne were travelling north after a gig in Dataw Island, South Carolina.
"It will be released on May 20 on all the usual outlets like iTunes and Spotify. I'm really excited about this tour with Abbie. The three-song EP was self-funded. We're hoping to add tracks and eventually release a full-length album."
Along with his EP with Gardner, Terry has been finishing up a duo EP with Alex Wong. He is also getting songs together for two more solo projects — a totally acoustic record and a new full-length record, complete with a full string section, huge harmonies, jangly electric guitars and shimmering twelve-strings.
"Alex is a brilliant singer-songwriter, musician and producer," said Terry, who lives in Stonington, Connecticut. "We met in Nashville when I was there on a songwriting trip. We wrote this amazing song called 'Thieves' and recorded it that day.
"It went so well that we agreed to keep going and we spent a week writing together. I'm more proud of that project than anything I've ever done. I hope to have it released in the fall."
Terry spends a majority of his time on the road — playing shows for his fans.
Last summer, he came to this area to play the Philadelphia Folk Festival when he awas touring in support of his EP "The Calm & The Storm."
"I recorded that EP in December 2014 with Glen Barratt at MorningStar Studio in East Norriton," said Terry. "It was a wonderful experience recording there. It was fairly organic.
"My manager and I wanted to re-cut the song 'Noise' from my first record. We wanted to use different instruments. So, I went to MorningStar. But, I didn't want to go there and record just one track.
 "That was my first time to do an EP rather than an album. I always want to feel strongly about every single song. Six songs as opposed to 10 or 12 — if we pushed it to 10 songs, the quality of the recording would have suffered."
Terry's other records were all full-length albums.
"My first album was 'The Runner' in 2009," said Terry. "The next was 'Empty Seat On a Plane' in 2012. That was fan-funded as was 'Stay Here With Me, which was done in 2013. 'The Calm & The Storm' wasn't fan-funded. It was something that just came together quickly.
Video link for Jesse Terry — https://youtu.be/Cni2plwDX_w.
The Spring Gulch Folk Festival is a family festival in a beautiful camp resort setting — a weekend event featuring live music by top-name folk musicians, sing-a-long campfires, workshops, dancing, and crafts.
The matinee performance on May 21 begins at 12:15 p.m. and features Jesse Terry, Ladybird, David Massengill, Savoy-Doucet Band, Caveman Dave and Ben Arnold. The evening concert, which runs from 7-11 p.m., will showcase Susan Werner, Teeny Tucker Blues Band, Ten Strings and a Goat Skin, Jack Murray and Radney Foster.
On May 22, the matinee session, which is scheduled to start at 12:15 p.m., will feature David Massengill, SONiA disappear fear, De Temps Antan, and Lindsay Lou & the FlatBellys.
Ticket prices are: Saturday, $48 (adults) and $20 (children); Sunday, $22 (adults) and $10 (children).
Having recently wrapped a hugely successful U.S. headline tour, Trivium will return to the road this spring alongside Sevendust and Like A Storm for a run of North American dates — including a show on May 21 at Reverb (1402 North Ninth Street, Reading, 610-743-3069, www.reverbconcerts.com).
The Orlando-based quartet — Matt Heafy (vocals, guitar), Corey Beaulieu (guitar, vocals), Paul Wandtke (drums), Paolo Gregoletto (bass, vocals) — continues to tour in support its new album "Silence in the Snow."
"When we were touring our previous record 'Vengeance Falls,' we were already building ideas for the next album," said Beaulieu, during a phone interview Tuesday afternoon. "We had been working on the concept and then we recorded it early last year.
"We finished the album in May and it came out in October. We recorded it here in Orlando. Our producer Elvis Bassett owns a studio that is 10 minutes from where we live. This was the first time we worked with him. Each time, we use a producer who fits what we want to do on that album."
In a marked change of style, Trivium abandoned screaming vocals and used only clean vocals on "Silence in the Snow."
"When we were making the album, we were focused on vocals and hooks," said Beaulieu. "And, we were focused on stepping up the vocal production. The songs we were writing — singing is what was needed. There was no need for screaming.
"We've always had the melodic side to our sound. With the new songs, there is a lot of focus on other guitar stuff. I don't have to sing as much."
Trivium released its first album "Ember to Inferno" in 2003 and last year's "Silence in the Snow" was their seventh album release.
"In the studio, we're still perfectionists," said Beaulieu. "We rehearse a lot. We always want everything to sound as good as it can. We want everything to be perfect.
"When we get in the studio, we get done what we set out to do. The performance side is pretty quick. When it comes to mixing and mastering, we know what kind of sonics we're looking for.
"In our live show, we balance the set with old and new. If we're headlining, we play four songs from the new album. With this tour with Sevendust, we have a shorter set, so we play less of the new stuff. Fans like stuff form our whole catalog so we try to be as balanced as we can."
Video link for Trivium — https://youtu.be/00I-SYJaPjA
The show at Reverb will start at 8 p.m. Tickets are $23. 
Fans of the New York-based band Drowners have been waiting almost two-and-a-half years for the band to release a new album.
The wait is almost over.
The band's second release, "On Desire," was recorded and mixed by Claudius Mittendorfer (Interpol, Johnny Marr, Neon Indian) and is scheduled to be released on June 24 via Frenchkiss Records.
The fans will have an opportunity to hear the tracks from "On Desire" when Drowners  — Matt Hitt, Jack Ridley, Erik Snyder, Daniel Jacobs — visit the area for a show on May 21 at MilkBoy Philly (1100 Chestnut Street, Philadelphia, 215- 925-6455, www.milkboyphilly.com).
"We've only played the new songs live a couple times," said Hitt, during a phone interview Tuesday from a tour stop in New York City. "We'll have 70 per cent from the new album and we're playing three old ones. That will make these shows exciting.
"And, we added a synth player to our live show. We brought in an extra pair of hands. Our previous shows were more punk and thrash. It's still there but now our sound is thicker."
Hitt grew up near Cardiff, Wales and went to college in Cardiff. Then, he decided to cross the Atlantic and relocate to the United States.
"We got together three years ago when I moved to New York from Wales," said Hitt. "At that time, I was experiencing a male model career.
"I learned guitar when I was 12. I saw the Monkees on television and I wanted to be Mike Nesmith. I played guitar in local bands when I was younger. The first record Drowners made has the first songs I wrote. I had been writing for about five years.
"When I'm writing, it's often that I come up with lyrics and melody and then write out chords behind. It's pretty difficult but it's also my favorite part. It's like putting puzzle pieces together musically."
Drowners released its self-titled debut album in January 2014.
"We finished touring our first album and then spent all of last year writing the new one. We took a few breaks because we had gigs already booked. We tracked all of the drums and bass live. We tracked it all as a band and then re-recorded the guitar and other stuff.
"The first album was my first foray. I was writing songs to facilitate playing live. Through touring, we learned what works and what doesn't work with songs. The new album was more of a collaborative effort.
"Our music tastes had changed. Common influences for the members of the band are British post-punk like Joy Division, 80s British rock and melancholic pop music like Roy Orbison."
Video link for Drowners — https://youtu.be/LoVnInXQaeg.
The show at MilkBoy, which also features PALMAS, will start at 8:30 p.m. Tickets are $12. 
Another show scheduled for May 21 promises to be interesting, unusual and fun — a show featuring John Patrick Stewart and his project Sabzabi.
On Saturday evening, the Philadelphia Art Alliance (251 South 18th Street, Philadelphia, http://www.philartalliance.org) will be presenting a multimedia performance of their latest album "On Having Become Obsolete."
Sabzabi is a music composition and performance project started by Stewart in 2012. He uses live drum set alongside innovative rhythmic recipes and constraints to explore experimental undulant structures. Once this rhythmic scaffolding is built, an orchestration of pitched instruments is composed onto these building blocks.
In live performance, Sabzabi presents these compositions and rhythmic strategies with live drums purposefully paired with quadraphonic audio and varying forms of visual media. The result is a hypnotic driving revision of our sense of pulse.
"The album has nine tracks," said Stewart, during a phone interview Friday afternoon from his home in Philadelphia. "One of them doesn't have drums. So, for this show, I've replaced that track with one from my previous album."
Sabzabi uses intricate percussive technique to twist and obscure our sense and understanding of rhythm. The expansion and contraction of time is used throughout the performances. This is an auditory method that conveys the composition's theme of the cyclical characteristic of nature's diverse set of biosystems. Adding to the auditory experience, you will be placed within a storm of immersive quadraphonic audio.
"The title comes from my life and other people's lives," said Stewart. "Everything is cyclical. Things tend to rise and fall cyclically. It's about these cycles. "After you're born, you keep growing — up to a certain point. Then, you become obsolete. You stick around for awhile and then end up fading away.
"The songs on the album — up to the middle — are powerful. The song in the center — 'Just West of Ecuador' — is quite different. It implies a change in trajectory. From the middle to the end, it becomes more chaotic."
Visually, these performances feature live drumming by composer John Patrick Stewart and thematic video accompaniment.
"In the show, it's me playing drums and there is an electronic set-up," said Stewart. "In my last show, I used dancers. This time, there is a large screen and videos are played behind me — composited video which falls in line with the theme of the album. And, there is a quadraphonic sound system with four speakers.
"Sabzabi is what I'm calling the project in general. The word means 'blue-green' in Farsi. My wife is an artist — a painter — and that was the title of one of her paintings."
Video link for Sabzabi — https://youtu.be/wvVLxQF3BtY.
The show at the Art Alliance will start at 8:30 p.m. Tickets are $9.
On May 22, The Browning will be in Philly for a show at the Voltage Lounge (421 North Seventh Street, Philadelphia, 215- 964-9602, http://voltagelounge.com/).
The Browning, which features Jonny McBee (vocals, electronics), Cody Stewart (drums), Brian Moore (guitar) and Rick Lalicker (bass) — is a hard band to pin down.
To some, the group is a hardcore metal band with EDM (electronic dance music) influences. To others, The Browning is an EDM ground with a metalcore history.
According to the group's press release, The Browning "thinly veil a hard rock edge beneath a casing of skittering electronic dance music, hip-hop grime, metallic brutality, and industrial expanse."
For The Browning, that signature style is back in a big way on "Isolation," the foursome's third full-length album. The album, which is the band's first for Spinefarm Records, will be released on June 24.
"We're definitely a metal band with EDM influences," said McBee, during a phone interview Tuesday morning from a stop in Chicago. "In the mosh pit, people get slammed during one song and then an EDM comes and they put their arms around each other. They fit together well because there's so much energy going on when we're playing onstage.
"On 'Isolation,' EDM gives it a whole new atmosphere. No other band is doing what we're doing. Our stuff is always dark, emotional and heavy. My whole purpose in making this band was to make the heaviest band with electronics.  Rammstein is my favorite band of all-time. You can hear it on 'Fallout,' one of the tracks on our new album."
According to McBee, "Over the course of the last three years, rock music is primarily all I've listened to. I've been ingesting bands like Rammstein, Disturbed, and Three Days Grace. My writing swung towards that. I knew this album was going to have more of a rock vibe.
"Obviously, there's still metal, but the scope has expanded. The electronics remain a big part of it. Since day one, the whole point was to not only be the heaviest electronic band, but the band with by far the most electronics.
"'Isolation' is by far the best album The Browning has done yet. It has everything I wanted in it and nothing is missing. It shows how the band has progressed and matured since our last release. So, I cannot wait for the world to hear it." 
Kansas City, Missouri is the band's home. Formed in early 2005, The Browning was originally a solo project of McBee. It has gone through several line-up changes over the years.
"This is the most comfortable line-up I've had with this band," said McBee. "This will be our first tour with this line-up. I spent about two years writing the new album. All the songs were written and produced by me. And, I and produced a lot of the electronics myself." 
Video link for The Browning — https://youtu.be/HFIFNG9gJ80.
The show at Voltage, which also features Rings Of Saturn, Lorna Shore & Beneath The Break, will start at 8 p.m. Tickets are $14. 
You can expect a hot show on May 22 when Fire in the Radio headlines a show at the Fire (412 West Girard Avenue, Philadelphia, 267-671-9298, thefirephilly.com).
Fire in the Radio, which is a Philadelphia band, derived its name from the Charles Bukowski poem "Regard Me." The band — Richard Carbone (vocals, guitar), Adam Caldwell (drums), Jon Miller (vocals, guitar) and Ed Olsen (bass) — spent time at Inner Ear studios in Washington, DC, with engineer Don Zientara doing a series of demos.
The demos turned into the foundation for a full-length record that was recorded in the summer of 2014 at Miner Street Studios in Philadelphia with producer Thom Flowers and engineer Matt Schimelfenig. "Telemetry" was released in May 2015, was mixed by Jesse Gander at Rain City Recorders in Vancouverand  mastered by Alan Douches in New York, and was released on May 12, 2015, to critical acclaim.
As part of the promotion for the record, Fire in the Radio filmed a series of short webisodes that depict the dark comedic account of fictional character Donald Caldwell, a drummer who is struggling to find a more prominent role in his band — and in life. Each video is sound tracked by one of the songs off the "Telemetry" record. When viewed together, the videos serve as a charming Wes Anderson-style short film.
"We all went to Penn State together," said Carbone, during a phone interview Wednesday afternoon. "We've known each other for 16 years. Last year, we got together to make 'Telemetry' and we did a small tour last May. Now, we're doing some East Coast dates.
"We first came back together in 2010. We started demo-ing a lot of new material and recording at Inner Ear Studio. Then, Wednesday Records put us up at Miner Street Studio in 2014. The album was recorded over the course of that summer."
The band's members are now spread out around the country.
 "Adam is from Richmond, Virginia and he's living back there now," said Carbone. "Ed and I both grew up in Philly and we still live here. Jon is from Reading and he now is living in Santa Barbara, California.
"We do all the songwriting collectively. Jon and I are responsible for the genesis of the songs and then the rest of the guys write their parts. We love what we do and we're all really good friends.
"There is a great energy there with the band.  We've started playing more shows and we're seeing the trajectory going up. Our plans are to continue writing. We would like to have a new EP ready for release in October."
Video link for Fire in the Radio — https://youtu.be/QBX3nPpb1yY.
The show at The Fire, which also features His Dream of Lions and Under Fire, will start at 8:30 p.m. Tickets are $8.
On May 24, Caravan Palace will bring its stateside tour to the area for a show at the Theatre of the Living Arts (334 South Street, Philadelphia, 215-222-1011, http://www.lnphilly.com).
The Paris-based seven-piece electronic big band is touring the U.S. this spring in support of  its critically-acclaimed third full-length album," <|°_°|>," which was recently released on out now on Le Plan Recordings.
Since its release, "<|°_°|>" saw chart success, reaching #3 on Billboard's Electronic/Dance Album chart and #5 on Billboard's Heatseekers chart. It has remained on Billboard's Electronic/Dance chart for more than 20 weeks.
Fronted by vocalist Zoé Colotis and founding members Hugues Payen (violin), Charles Delaporte (upright bass) and Arnaud Vial (guitar) alongside Antoine Toustou (trombone, machines), Caravan Palace cites influences as diverse as Cab Calloway and Daft Punk.
"I was at the university in Lille with Arnaud," said Payne, during a phone interview last week from his home in France. "In Paris, he introduced me to his old friend Chas. We started making music together — an electronic project. That was around 15 years ago.
"In 2005, we made a soundtrack for a TV channel — but it was never released. Then, we started to really make the project in 2006 and released our first album in 2008.
"The only old stuff we knew was Django (Reinhardt). Then, we started listening to a lot of swing. We spent hundreds of hours listening to swing music like Lionel Hampton."
Caravan palace's hybrid music began finding an audience.
"We could see that it was not hard for young people to like what we were doing," said Payne. "We didn't produce dance music at that moment. We just made music we liked to hear. There were a lot of influences.
"It was very different to do gypsy music and dance music. We had to find something deeper that would work. We worked hard to find our unique sound. It's always a challenge to make new songs — hard to find the right tempo. It's a big problem. Lately, tempos have gotten slower in hip hop so we had to make the change. Dance and trap — we hear it every day. It's the music we love to hear."
Video link for Caravan Palace — https://youtu.be/UbQgXeY_zi4.
The show at TLA will get underway at 8 p.m. Tickets are $20. 
Another band with a European connection will be playing in Philadelphia on May 24 — Rosu Lup at Boot and Saddle (1131 South Broad Street, Philadelphia, 215-639-4528, www.bootandsaddlephilly.com).
Rosu Lup is from Philadelphia but its name is from Eastern Europe. "Rosu Lup" means "Red Wolf" in Romanian.
Rosu Lup originally got started as a recording project for Philly musician Jonathan Stewart (vocals, guitar, bass). Then, he joined forces with Josh Marsh (vocals, guitar) and the band was born. The third piece to complete the band was Nathan MacAdams (keyboards).
"I started the project about three years ago," said Stewart, during a phone interview Tuesday afternoon from his home in Philadelphia. "I was writing music and met Josh through social media. We found we had a lot of common musical interests like Fleet Foxes and Black Keys. We also were both into hiking and coffee culture.
"So, we started writing together. In the beginning, it was very folky. We brought in orchestral parts. We were influenced by Sufjan Stevens. Later, we shifted more to ambient rock and indie-style rock."
Now, Rosu Lup is touring in support of a new album — "Is Anything Real?"
"We went into Miner Street Studio and tracked the whole thing," said Stewart. "We did one song at a time starting last August. The last song was done in December. We self-released the album in March. The title reflected the time of life Josh and I were having.
"Now, we actually started demoing new material. We have half-an-album's worth of songs already. We're trying out one of the new songs in our show right now. We'll do more when we tour this summer."
Video link for Rosu Lup — https://youtu.be/z7i0ZnHx4qU.
The show at Boot & Saddle, which also features Carroll and Howlish, will start at 8:30 p.m. Tickets are $10.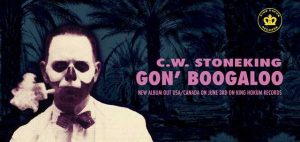 On May 25, C.W.Stoneking will visit the area for a show at Boot and Saddle.
C.W. Stone king is a blues artist — singer-songwriter, guitarist and banjo player. He has released three studio albums, "King Hokum" (March 2005), "Jungle Blues" (August 2008) and "Gon' Boogaloo" (October 2014), on his own King Hokum Records label.
Hailing from Australia's remote Northern Territory, Stoneking grew up listening to gospel, ragtime and Chicago blues, citing American musicians including Son House, Robert Johnson, Skip James and Bukka White as among his earliest influences.
"I got into guitar when I was really young," said Stoneking, during a phone interview Thursday afternoon from a tour stop in Nashville. "I went through my dad's collection of music. I was into Hendrix and then I got into old blues.
"I didn't set my mind on playing blues originally. Then, I met people who were into it and I started to play in blues bands. I just kept getting deeper into it. There is a lot to get into. It occupied 16-17 years of my life learning old blues. One of the things I liked is that it is so varied."
According to Stoneking, "When I first heard it I thought it was kinda funny music because it was so deconstructed and not really adhering to any rules that I'd been told music [should] fit into. And the more I listened to it, I just liked it more and more." 
Stoneking's debut album, "King Hokum," garnered extensive critical praise in his native Australia. ABC Radio National's "Breakfast" named it the 2006 Album of the Year and it was nominated for Best Blues/Roots Album at the ARIA Music Awards.
His follow-up, "Jungle Blues," won the ARIA for Best Blues/Roots Album and was nominated for Best Independent Release, Best Male Artist and Best Album Cover Art. The album was also shortlisted for the Australian Music Prize.
"This is the first time I've toured the states properly and 'Gon' Boogaloo' is my first album to be released in the United States," said Stoneking. "I finally got around to doing something I should have done a long time ago.
"My band is Australian. They got their visas to tour here. But, it didn't happen until the final moment so I had to change plans to bring them here. Instead, I had to form another band here in America."
Video link for C.W. Stoneking  — https://youtu.be/JlmsK59ncHs.
The show at Boot & Saddle, which also features Brownbird Rudy Relic, will start at 8:30 p.m. Tickets are $15 at the door.