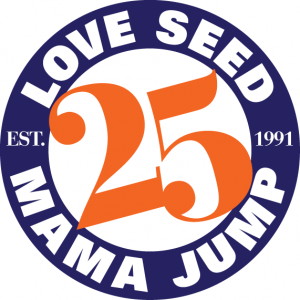 KENNETT SQUARE —  Rock the Park 2016, a live concert by local sensation Love Seed Mama Jump, is planned for Kennett Square's Anson B. Nixon Park on Sunday, September 18. The Park gates at North Walnut Road in Kennett Square open at 2 pm. 
Due to a huge turnout in 2015, Love Seed Mama Jump is returning for what promises to be another great show that will get the audience up on their feet and dancing. The six-piece rock band from Dewey Beach, Delaware known for its guitar-driven pop rock is celebrating its 25th year. Their blend of modern beats and melodic hooks are delivered with powerful, impassioned vocals.
Ongoing live music begins as Born Sisters, Kristen and Kara Zack, perform at 2:15 pm. Their captivating sweet-voiced harmonies and self-penned storied lyrics that create a bold American contemporary country sound is followed by Californium, a 3 piece alternative rock band made up of Alec Weaver on drums, Pearce Rush on bass, and George Regester on guitar/vocals.  Love Seed Mama Jump takes the stage at 4 pm. 
Beer from Two Stones Brewing Company and wine from Paradox Vineyard will be sold to adults. ID is required for those drinking alcohol. Food truck vendors Nomadic Pies, El Ranchero, The Plum Pit, Punked Pineapple and Outlandish will sell a variety of food. 
Activities throughout the afternoon include sports demonstrations by the Kennett Area YMCA and Bike Kennett.  Face painting and a moon bounce are planned for kids and a selection of Silent Auction items will offer temptations for all.
Representatives from Kennett Township's Sustainable Development Office will give presentations detailing the initiatives designed to maintain and improve the overall natural and developed environment of Kennett Township and the surrounding area. 
The Park gates at North Walnut Road in Kennett Square open at 2 pm. Advance tickets cost $15 and can be purchased online at www.AnsonBNixonPark.org.  Tickets cost $20 at the gate. Only 1000 tickets will be sold. There is no charge for parking.
Access to certain areas of the Park will be restricted due to the program. Pets are not allowed in the concert area. Admission is free for children accompanied by adults. No outside food or beverages are permitted at the event. Open lawn seating is available, and attendees are encouraged to bring lawn chairs or blankets.
For online ticket ordering visit http://www.ansonbnixonpark.orgrock the park.docx
The Anson B. Nixon Park is located at on North Walnut Road, off State Street in the Borough of Kennett Square and Township of Kennett, Pennsylvania. Comprised of 106 acres, the Park has an entertainment pavilion, permanent restroom facilities, two children's playgrounds, 5 pavilions with picnic tables, water and electricity, 4 walking trails, 2 sand and grass volleyball courts, 2 tennis courts, 18  holes of disc golf and 2 ponds stocked for fishing. Anson B. Nixon Park hosts many annual events including a summer concert series, the Trout Rodeo, the Kennett Run and many community activities. For further information, contact www.ansonbnixonpark.org