By Denny Dyroff, Staff Writer, The Times
Joan Baez has been making great music for more than 55 years.  She was one of the most influential folk artists in the 1960s and has remained relevant for over five decades.
Baez, who has released more than 30 albums dating back to her eponymous debut in 1960, is equally known for her efforts as an activist.
The popular singer-songwriter-musician turned 75 in January and is still going strong. She is still touring – and she is still an activist.
Baez is currently on a fall U.S. tour – a tour that brings her to the area on October 9 for a show at the
Academy of Music (Broad and Locust streets, Philadelphia, 215-731-3333, www.kimmelcenter.org).
"I was out on tour in the summer," said Baez, during a phone interview Tuesday from Portland, Maine.
"Tonight's show in Portland is the first one on this tour. I do around 60-65 dates a year. I've always done about 60-65 shows each year."
The veteran singer is drawing upon repertoire spanning her historic career while introducing new songs that continue her tradition of serving as a lightning rod for a wide range of songwriters.
That's Joan the musician. Joan the activist is also evidencing herself on this tour.
Baez is teaming with the Innocence Project and other members of the Innocence Network to join the crusade against wrongful conviction. Not co-incidentally, her tour kicked off on Wrongful Conviction Day (October 4) in Portland.
On her 20-city tour, volunteers from Innocence Network organizations will inform concertgoers about efforts to exonerate people who have been wrongly convicted of crimes and to reform the system to prevent further injustice.
Local Innocence Network members will bring attention to specific incarcerated individuals in their respective states who are fighting for justice.
"Someone sent me their (Innocence Project) first book and I picked out a photo to paint," said Baez. "I've been supporting them ever since at my performances.
"I wanted something to connect to the concert and this project is absolutely relevant today. It's lively and I fell connected to it. I feel close to it."
According to Baez, "I'm thrilled to lend my voice to such an important cause and help in the fight against wrongful convictions. I am pleased and grateful to collaborate with the Innocence Project and the Innocence Network.
"We hope to provide a platform that will amplify the heartbreaking stories of men and women wrongfully convicted, who suffer so needlessly.
"The fight against their unlawful convictions shines a light on both a broken criminal justice system and the racial inequality of people serving time. I hope my audiences will be motivated to support their work."
Established in 1992, the Innocence Project uses DNA evidence to exonerate people who have been wrongly convicted of crimes and works to improve the system to prevent further injustice.  Established in 2005, the Innocence Network is an affiliation of organizations from all over the world (including 56 members in the U.S.) dedicated to providing pro bono legal and investigative services to individuals seeking to prove innocence of crimes for which they have been convicted and working to redress the causes of wrongful convictions.
Baez celebrated her 75th birthday on January 27 at the Beacon Theatre in NY. The special event honored her legendary 50-plus years in music in an intimate, career-spanning live performance. The concert was recorded and produced for television as part of the Great Performances series on PBS.
While Baez' fans are happy to hear her play live, they are eagerly awaiting a new album. Baez' last LP was "Day After Tomorrow," which was released in 2008.
"Hopefully, I'll be making a new album next year," said Baez. "But, it's not set in stone. I haven't written songs in over a quarter-century. When it stops, it stops.
"I didn't want to go to a support group to find out why I can't write songs. There's enough good material out there by other artists that I can record. I do spend a lot of time writing poetry.
"When I quit singing, it will be because the voice is so difficult to deal with. Right now, I capitalize on the lower voice."
Slowing down and/or stopping is not in the cards for Baez.
"In the next 10 years, I'll be doing things I haven't done," said Baez. "They're making a documentary movie that I'll be involved in – talking about stuff that I've done."
Baez still has the energy, drive and stamina of a performer half her age.
"I eat really well and I exercise," said Baez. "I stretch, do Pilates and do meditation. When I have any discipline at all, I'll meditate. I use this beautiful version of the Qur'an.
"I also make sure I get plenty of sleep. Arianna Huffington has a book called 'Sleep Revolution' about how sleep is divine. She stresses how important sleep is – that everyone should put down all their tech stuff a half-hour before they go to bed."
Baez never loses sleep about deciding which songs to play in concert.
"I do one long set that changes from night to night," said Baez. "I play songs from my whole career – and things people have never heard. It's always very spontaneous."
Video link for Joan Baez – https://youtu.be/O-VJuCC6qFM.
The show at the Academy of Music, which has Mary Chapin Carpenter as the opening act, will start at 7:30 p.m. Ticket prices range from $49-$89.
Another musician with a 50-year-plus career will be performing in the area on October 10 when Edgar Winter brings his band to The Sellersville Theater (24 West Temple Avenue, Sellersville, 215-257-5808, www.st94.com).
Winter, whose main genres are rock and blues, is a multi-instrumentalist — keyboardist, guitarist, saxophonist and percussionist — as well as a singer. His first album "Entrance" was released in 1970 followed by "Edgar Winter's White Trash" in 1971.
He and his brother Johnny Winter – both of whom were albinos – began to make their mark as recording artists and live performers.  His success peaked in the 1970s with his band, The Edgar Winter Group, and their popular songs "Frankenstein" and "Free Ride."
It has been eight years since Winter released his most recent album "Rebel Road" but he has stayed active on the tour circuit.
"We're out rocking across the USA again," said Winter, during a phone interview Thursday afternoon from a tour stop in Tarrytown, New York.
"I work year 'round but I'm more a 'Weekend Warrior.' I don't like to do these long three-month tours anymore. But, you're never going to hear that Edgar Winter is doing a farewell tour.
"I want to stay active. I love to play. And, I need the exercise that I get every night when I'm jumping around on stage."
There could be a new Winter album sometime in the near future.
"I have a digital studio in my home in Beverly Hills so I'm always in the studio," Said Winter. "I'm always writing and recording things.
"There is a deal in discussion for me to do a blues album. A Texas blues record would be a good thing – paying tribute to all the great Texas blues artists such as Gatemouth Brown, Blind Lemon Jefferson and later guys like Stevie Ray Vaughan and my brother Johnny.
"I get a lot of offers to do a Johnny Winter tribute album. He was one of my all-time heroes. So, if I do a Texas blues album, songs by my brother I could do are Texas blues."
Just over two years ago, the Philadelphia Rock 'N' Blues Fest was slated to be held at the Keswick Theater featuring Johnny Winter Band, Edgar Winter Band, Pete Rivera (of Rare Earth), Vanilla Fudge and Savoy Brown's Kim Simmonds.
Unfortunately, the unexpected death of Johnny Winter just prior to the start forced the cancellation of the tour.
Johnny Winter had been voted one of the Top 100 Guitarists of All Time by Rolling Stone. He also produced three Grammy Award-winning albums for Muddy Waters and was inducted into the Blues Foundation Hall of Fame in 1988.
During a phone interview just prior to Johnny's death, Edgar Winter spoke about the tour and the opportunity to be on the road with his brother again.
"I'm really looking forward to touring with Johnny again," said Edgar Winter in the interview from his home in Southern California. "The last time I toured with him was about five years ago.
"I always love playing with Johnny. It brings back memories of the good old days when we were growing up together in Texas. He just has such a deep love and appreciation for the blues. I think he's the last living exponent of that traditional slide style."
Less than 12 hours later, his brother passed away in a Zurich hotel room at the end of a European tour. Johnny Winter was 70 and had emphysema and pneumonia.
"It's so odd when someone that close to you departs" said Winter Thursday afternoon. "He's still alive for me. I think about him every time I walk on stage.
"At the end of every set, I play a few of Johnny's songs such as 'Johnny Be Good' and 'Jumpin' Jack Flash.' He may have departed physically but his music and his presence will remain in my heart forever.
"We started playing music together when I was four. Ukulele was the first instrument for both of us. Then, Johnny went to guitar and I played everything else – bass, drums, electric piano, organ and sax. I'm known as a keyboardist but alto sax is my main instrument."
Winter still plays all those instruments on stage. And, he has a power trio behind him – Doug Rappoport on lead guitar, Koko Powell on bass and Jason Carpenter on drums.
"I really love this band," said Winter. "They inspire and challenge me. Together, we make great music."
Video link for Edgar Winter – https://youtu.be/K-hb2mX8YEc?t=3.
The show at Sellersville will start at 8 p.m. Tickets are $45 and $60.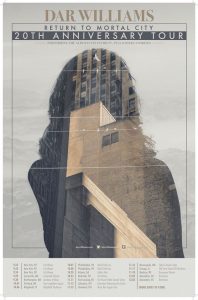 Dar Williams is a singer-songwriter with who has released approximately 20 albums since 1990. One of the singer's landmark albums was "Mortal City," which was released in 1996 on Razor & Tie Records.
This fall, Williams is celebrating the 20th anniversary of "Mortal City" with a North American tour. The tour brings her to the area on October 7 and 8 for shows at the World Café Live (3025 Walnut Street, Philadelphia, 215-222-1400, www.worldcafelive.com).
Williams will be performing the album in its entirety for the first time. The dates will bring her back to many of the cities and communities which she first experienced in 1996 — to reconnect with the intergenerational fans that were amongst the first to embrace the singer.
"The 'Mortal City' album had some great songs," said Williams, during a phone interview Wednesday morning from her home in New York's Hudson Valley. "Over half of them show up in my sets lists over a season.
"Those were the songs that anchor how people know me. 'Mortal City' had to do with life coming back to downtown areas in cities. And, that has definitely happened over the last 20 years."
According to Williams, "Returning to 'Mortal City' will be a window back in time to see where this country was 20 years ago… seeds were planted in the 90s that have grown to fruition now.
"Seeds that allow us to look at each other as exciting people in an exciting time–in terms of gender freedom, religious freedom, regional identities and ways of identifying ourselves in our communities as participants. It's really positive growth."
Williams cited reasons for optimism.
"Cities get stronger with racial diversity," said Williams. "There is an ethos out there of having an understanding and appreciation of each other. There was a blind spot in the 90s about how unjust the system is against minorities.
"Now, people are using language about privilege and entitlement. People need to think – how do we take these privileges and move forward?"
On this tour, Williams handpicked notable authors, writers and poets in each city to open with readings. Jennifer Weiner author of "In Her Shoes" and "Good in Bed" will read in her hometown of Philadelphia and David Levithan of "Nick and Norah's Infinite Playlist" will read at City Winery in NYC amongst others.
"The writers, poets and essayists that we have chosen are the witnesses," said Williams. "We're moving to a better place and these authors have witnessed it."
According to Williams, "Authors and poets show the strengths of our democracy. These are people who have connected the mortal city through words and poetry and the sharing of beautifully expressed ideas.
"The people who are coming to speak represent that strength: the strength of our democracy through its culture. They all embrace democracy in different ways… the pen being mightier than the sword."
Video link for Dar Williams – https://youtu.be/Se-nY2rEC6o?t=3.
The shows at the World Café Live will start at 8 p.m. each night. Tickets are $35.
The Trocadero (10th and Arch streets, Philadelphia, 215-922-6888, www.thetroc.com), will be rocking on October 7 when The Faint headlines a show that also features Gang of Four and Pictureplane.
The Faint, which features Todd Fink, Jacob Thiele, Dapose, Joel Petersen and Clark Baechle, is a rock band from the Midwest – an indie rock band from Omaha, Nebraska.
The band released its debut album "Media" in 1998 and its most recent studio album "Doom Abuse" in 2014.
The Faint's new album "CAPSULE:1999-2016" was released last week on Saddle Creek Records with the 2xLP due October 28.  The 2xLP is pressed on silver vinyl and the first pressing of the album will include a bonus 7-inch featuring "Skylab1979" and "ESP."
"The idea for this album is something that's been brought up for quite some time," said Fink, during a phone interview Tuesday from a tour stop in Boston. "We've planned on doing it for a while. We had a handful of songs that we wanted to get out soon. And, we wanted to get on the road."
"CAPSULE:1999-2016" is a retrospective collection that represents a golden era for The Faint. The album includes 16 of their most beloved songs from five albums and is an excellent primer for new fans.
 "ESP" is one of three new tracks appearing on the album in addition to the recently released "Young & Realistic" and "Skylab1979."
'It takes us a while to get new songs together," said Fink. "It's hard to set aside the time to write songs, record them and get them ready for release. It's all stuff we do on our own and it takes time. And, you always have to wait at least four months after you finishing mastering to get a release date."
The new album can be obtained as a CD in its basic form or as vinyl with extras.
"We put out one official album.," said fink. "The other two are bonus tracks that come inside the vinyl package. We found a good one with 'Young & Realistic.' We just did a video for it and it was released in two days.
"With the songs on 'CAPSULE,' we mostly took them as they were. We were afraid that they might change too much if we started remixing them. It's a time capsule so we wanted to honor that."
Fans of The faint are still eagerly awaiting a new studio album.
"We were in the studio recording new tracks earlier this year," said Fink. "We have our own studio in Omaha that we call Enamel. It's a proper recording studio not a home studio. We got all kinds of gear.
"With the stuff we've recorded – we've got a bunch of starts but they're just basic sketches. They're coming really quick now. A new album is coming. But, we haven't thought about a timeline."
Video link for The Faint – https://youtu.be/DlLt9JXJKNU?t=2.
Gang of Four is a British rock band from Leeds that will be celebrating its 40th anniversary next year. The band held on to two of its founding members until vocalist Jon King departed in 2011. Now, guitar ace Andy Gill is the sole original member in the band.
Gang of Four enjoyed a resurgence in popularity last year with the release of the critically-acclaimed album "What Happens Next" on Metropolis Records.
While Gang of Four in the studio is pure mastery, Gang of Four live is whole other experience. The legendary godfathers of post-punk always threaten to dissolve into chaos while never losing the tightness and angularity that is the hallmark of their sound. 
The band decided to capture that magic on a recording. On September 9, Metropolis Records released "Live… In the Moment," which was recorded live from their sold-out show at London's Islington Assembly Hall.
Featuring Andy Gill's blazing guitar work with John "Gaoler" Sterry on vocals, Thomas McNiece on bass, and Jonny Finnigan on drums, "Live… In The Moment" accurately shows what makes Gang of Four's live performances so exciting.
"With 'What Happens Next,' I didn't have a plan," said Gill, during a phone interview Wednesday as the band was travelling between gigs in Albany and Boston.
"I didn't know where it was going. In the beginning, I thought it would be interesting to do some collaborators to come in and do the vocals. With Jon King not there, it was a new situation."
The next project for Gill was a live album. The band's only other live disc was "At the Palace," which came out in 1984.
"I decided to do a live album because it had been a really long time since our last live album – more than 30 years," said Gill. "And, things sound a lot different than they did in 1984 – the way we're playing things at the moment – songs from different eras and different albums.
"And, I brought new songs from 'What Happens Next.' I had all these different songs and what struck me – and struck other people – was how well they fit together. They had more in common than you would expect.
"Gaoler has been singing with the band for a while and it was good to have his performance. He dominated the record with his strong vocals.
"Now, I'm starting to get songs for the next album. I wish I could spend more time in the studio. I write songs the same way I did in 1977. I go about it with a lot of enthusiasm – a mixture of funkiness and excitement."
Video link or Gang of Four – https://youtu.be/AJL2Ao9dx3o?t=3.
The triple bill at the Troc will get underway at 8 p.m. Tickets for the all-ages show are $27.50.
Band of Skulls, who are playing Union Transfer (1026 Spring Garden Street, Philadelphia, 215-232-2100, www.utphilly.com) on October 7, are an English rock band.
The trio, which hails from Southampton, features of Russell Marsden (guitar, vocals), Emma Richardson (bass, vocals), and Matt Hayward (drums).
"We still live in Southampton – more or less," said Hayward, during a phone interview Tuesday afternoon from a tour stop in Washington, D.C.
"We've toured pretty solidly ever since we started so we've kind of been nomadic for a lot of years. But, when we do spend time at home, it's in Southampton."
Band of Skulls have released four studio albums – "Baby Doll Face Darling Honey" (2009), "Sweet Sour" (2012), "Himalaya" (2014) and "By Default" (2016).
"We've been in a cycle since 2008 – make a record, tour 20 months, record, tour 20 months – it just keeps repeating. We can't afford to take any breaks. The world is a big place and you have to work hard to get around it.
"On the road, we can only do individual writing. When we get off hre road, we go in the studio and bring all the material in to work on it together. We allocate the time to do it. We need to set our framework.
"We've done every album in a different studio. On the new album, we were looking for a place to write the album that was inspiring. We rented a church in our hometown to have a place to write.
"That was at the end of 2014 and early 2015. After it was written, we went to record it at Rockfield Studios in Wales. We had spent a lot of time in pre-production so we only had to spend a few weeks at Rockfield."
"By Default" was produced by Gil Norton, who is known for his work with Pixies, Foo Fighters and Patti Smith.
"We had put the word out that we were looking for a producer and gil contacted us," said Hayward. "When we first met up with him, he already had time booked at Rockfield.
"Someone like Gil – his career is pretty phenomenal. For us, it was a real honor that he wanted to work with our band. He understood what we were trying to achieve. It was a very natural process."
Video link for Band of Skulls – https://youtu.be/zxntDF0-5Uk?t=48.
The show at Union Transfer, which has Mothers as the opening act, will start at 8:30 p.m. Tickets are $24.
On October 7, the First Unitarian Church (2125 Chestnut Street, Philadelphia, http://www.ticketfly.com) will host a show by Palmas.
PALMAS is a "Surf & Soul" band from Philadelphia and New York City that draws from retro influences such as The Zombies, The Beach Boys, The Mamas and the Papas, and Nancy Sinatra — bringing a classic West Coast sound to the East Coast.
PALMAS features Kurt Cain (vocals, organ), Matthew Young (guitar), Adam Cantiello (guitar), Eric Camarota (bass), and Pat Degan (drums). 
"It's been a long process," said Young, during a phone interview Tuesday afternoon from Brooklyn. "In our teenage years, we were in separate bands in the local scene.
"Then, I moved to Los Angeles and the rest of the guys were back on the East Coast. We were emailing songs back-and-forth. Finally, I moved back East and said – let's play."
From day one, there was no question that PALMAS was passionate about music. Currently, all members reside on the East Coast where they write and perform full time.
"The first time we played a live show was in Longport, New Jersey in the middle of winter. That was in early 2104. Our first Philly show was at Ortlieb's. For some reason, the show was sold out and we just went from there.
"We released two songs – 'Stay Away' and 'You Were My Girl.' We didn't want to come out with a record yet. That enabled us to play some more shows and then we put out an EP a year ago."
PALMAS released its debut EP, "To the Valley" last year and just put out a new single titled "Flowers."
The band is back with all new material to be released this Fall, starting with lead single "Flowers."  The track is defined by a signature return to the classic melodies of their 60s pop influences while incorporating entirely new instrumentation (organ, brass, violins) in a modern rendition of nostalgic baroque rock styling.
"We never stop writing and we're working on an album," said Young. "We work with Andrew Torrey and go to his studio in Fishtown when we can., We usually do two or three songs at a time.
"We hope to have the album out by early 2017. We definitely have enough material. But, we look for quality over quantity. Our plan is to record throughout the winter and get the best songs we can."
Video link for PALMAS – https://youtu.be/UBU1K869c2k?t=19.
The show at the First Unitarian Church, which also features Whitney and Hoops, will start at 8:30 p.m. Tickets are $15.