By Stephanie McGann, Columnist, The Times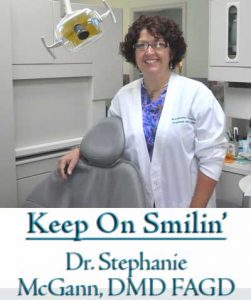 It's the Wild Wild West out there. No I don't mean politics. Today's Wild West is the internet, full of great information, supposition, opinion, marketing and malicious intent. As health care providers it's our job to know when something is based on solid science or just someone's opinion or anecdotal evidence.
Worse yet, when information on the internet is designed to get a patient to spend a whole lot more money on something that may be no better than a less costly alternative. This week I am going to help my readers find solid dental information.  
One thing to look for is the source. Is it an unbiased source that does not serve to profit from the information? For example, when looking for information on a new drug – don't take the pharmaceutical company's word for it. Be sure the source is not "click-bait." Click-bait is a link often found on Facebook or other social media sites from a source that sounds almost real. Their goal is to get you to click on it, share it and maybe even comment. The most common ones have you click "next" to turn the page to see more of the story or photo series. They hook you with an emotional story or tabloid like photo series. The owners of these sites get paid per click. They will put up anything (including some made-up tear jerker stories) if it will generate a click.
Too often patients are demanding treatments that they read about online – some of which are dangerous, untested or completely inappropriate for the patient's needs. Never use the internet to self-diagnose. Your doctor spent years in training learning how to make a differential diagnosis don't take your health into your own hands.
Use the internet as a tool, research your symptoms, treatments and learn options, then be prepared to discuss them with your doctor. Together as a team, patient and provider will work best together.
Below is a list of solid dental related sites to help my patients learn more.
www.mouthhealthy.org
http://www.mouthhealthy.org/en/?source=ADAWebsiteTab
Mouth healthy is a patient portal sponsored by the American Dental Association. It provides real proven information about wide range of dental concerns. It also contains healthy tips for mouths of all ages. This website also provides a tooth to see if there is a member dentist in your area.
www.2min2x.org
http://2min2x.org/?source=ADAWebsiteTab
This website hosted by the American Dental Association is the perfect place for kids. Videos, games and pages to print out all designed to help kids want to brush for two minutes, twice a day.
www.knowyourteeth.com
This website covers dental information from A-Z. This fun and fact filled site, sponsored by the Academy of General Dentistry even includes a weekly quiz to test your tooth smarts. It's a great way to look up most dental concerns or treatment recommendations.
JADA for patients
http://www.ada.org/en/publications/jada/jada-for-the-dental-patient
So many times dentists read articles in their dental journals and wish they could share them with their patients. Many of these articles are reprinted here for anyone to read. The Journal of the American Dental Association is the go-to source for scientific studies in dentistry.  Reprints of many of these articles are available to the public.
Oral fact sheets
A medical fact sheet is a shortened overview of an individual topic. These resources are designed to answer questions and encourage discussions between doctor and patient.
http://www.cda.org/public-resources/patient-fact-sheets
http://www.padental.org/Online/Public/Patient_Resource_Center/Patient_Resource_Center.aspx
http://www.ada.org/~/media/ADA/Member%20Center/FIles/fluoridation_facts.ashx
Children's dental health
The American academy of Pediatric Dentistry
http://www.mychildrensteeth.org/
Information on periodontal diseases (gum disease)
This information is provided by the academy of periodontology, the go-to source for periodontal treatment.
https://www.perio.org/consumer/gum-disease.htm
https://www.perio.org/consumer/dental-implants
National Institute of Dental and Craniofacial Research
NIDCR is the dental division of the National Institutes of Health. This is the site to see what is new and what current research shows. This site includes patient information, fact sheets, research studies and more.
WEBMD
WebMD is a go-to standard for patient health information. It is continually updated and reviewed. Keep in mind WebMD is a publically traded company and its website is supported by advertising.
http://www.webmd.com/search/search_results/default.aspx?query=dental
Mayo Clinic
MayoClinic.org is a not-for profit entity supported by the Mayo Clinic. It's a great source for dental and medical information.
http://www.mayoclinic.org/search/search-results?q=dental
Choose your online sources wisely. Just because it's on the internet doesn't mean it's true.