By Denny Dyroff, Staff Writer, The Times
It's hard to imagine that any show playing Philadelphia this year could be more enjoyable than Maurice Hines' "Tappin' Thru Life," which is running now through November 20 at the Penn's Landing Playhouse (211 South Columbus Boulevard, Philadelphia, 855-448-7469
Obviously, it's show that features tap dancing.
Hines is one of America's all-time best tap dancers – and he can still kick up a storm even at the age of 72. The production has a variety show flavor with great music by the all-female Diva Jazz Orchestra and the flashing feet of a young pair of tap-dancing brothers, John and Leo Manzari.
But, the main attraction of the show is Hines and his reflections on his life in show business – telling the audiences about all that he and his late brother Gregory went through from the time they started in show business in the early 1950s.
He talks about the life he and Gregory, who died at 57 in 2003, experienced in the entertainment world– starting when the brothers were young black artists coming up in a time when racial discrimination and segregation were very heavy in the entertainment world – and the world in general.
Hines reflects on the influence his parents had on them and supplements his narrative with heart-warming family pictures projected on a big screen behind the stage. It is a show that exudes warmth and human emotion from start-to-finish.
"I put this show together because I wanted to celebrate my brother Gregory," said Maurice Hines, during a phone interview last week from his hotel room in Philadelphia.
"I read an article on tap dancing in a dance magazine a few years ago and Gregory's name wasn't mentioned – not even once. That was a disgrace. Gregory is one of America's most important tap dancers.
"I got a wonderful director in Jeff Calhoun. He suggested taking a family direction and asked if I had any family photos. I had plenty of them and they've worked great in the show. I don't feel so lonely. I still miss my mother so much. The pictures and the reflections on my mother give this show a lot of emotional depth."
The photos serve to introduce stories from the Hines' brothers' career along with song tributes by Maurice to some of the immortal celebrities with whom he has worked – including Lena Horne, Ella Fitzgerald, Frank Sinatra, Judy Garland and Nat "King" Cole.
Hines is a performer and choreographer whose Broadway credits include "Eubie," "Bring Back Birdie," "Sophisticated Ladies" and "Uptown…It's Hot!" (which earned him a 1986 Tony Award Best Actor nomination). He has starred in national tours of "Guys and Dolls" and "Jelly's Last Jam." His film credits include Francis Ford Coppola's "The Cotton Club".
At the age of five, Hines studied tap at the Henry LeTang Dance Studio in New York City. He created the dance company Ballet USA with Mercedes Ellington. Hines has directed and choreographed many music videos, including "I'll Be Good to You," the first release off of Quincy Jones' "Back on the Block" album. He became the first African-American director for Radio City Music Hall when he directed The Radio City Spectacular. His latest album on Arbor Records, "To Nat 'King' Cole, With Love", was released to critical acclaim.
"This show is for the audience," said Hines. "They let me know what works. When I was getting the show ready, I said – I have to go to Philadelphia. Philly audiences always tell you what they think. They're the best critics. If they love it, they let you know. And, if there is something they don't like, you'll hear it from them."
Hines is amazingly agile and energetic for a septuagenarian.
"I keep myself in good shape," said Hines. "I do treadmill three times a week. I don't eat meat. I eat once a day at 3 p.m. The main thing is that I keep my mind on positive things. I avoid negativity — at all times.
"When you love your work, nothing else matters. If you come out on stage, you have to give 110 per cent – and I do. I enjoy performing for people. You only have one life to live, so enjoy it."
Video link for "Tappin' Thru Life" – https://youtu.be/bVqmVl_uBuk?list=PLo5Mtkxj4BR9nnE60Y9MmyGkgVYXpGwPK&t=5.
Performances at the Penn's Landing Playhouse are staged Wednesdays through Sundays. Tickets are $45 and $65.
Back in January, the Dukes of Destiny were scheduled to perform their tasty blend of blues and old-school soul in Chester County at a special concert at the West Grove Friends Meeting (153 East Harmony Road, West Grove).
Mother Nature had different plans and delivered a massive snowstorm that brought everything in the area to a standstill.
Now, the show will take place in much nicer weather on October 21 at the same venue.
The Dukes of Destiny, who have been treating fans to live performances of top-flight blues and soul music for almost three decades, are Arlyn Wolters (vocals), AC Steel (guitar, vocals), Bob Holden (drums, vocals), Chicago Carl Snyder (keyboards, vocals), Rich Curtis (bass, vocals) and John Colgan-Davis (harmonica, vocals).
"We're so happy to be back at West Grove," said John Colgan-Davis, during a phone interview from his Philadelphia home last week. "A lot of praise goes to West Grove Friends Meeting and London Grove Friends Meeting for making this happen.
"We play at a wide variety of venues — the Mermaid Inn is our home away from home. The West Grove Meeting House is also a favorite place to play. The gigs there are put together by folks from London Grove and West Grove Friends Meetings, primarily through the efforts of Rebecca Mitchell. We loved playing there for some 16 or 17 years and we are super excited about being back at the Grove.
"When the January show got snowed out, Rebecca Mitchell said – we'll make this happen this year. It's nice because it shows that the way they feel about is the way we feel about them."
In addition to performing at most of the clubs in the Tri-State area, the Philly-based band has performed at the Pocono Blues Festival, the Waterfront Jam at Philadelphia's Penn's Landing, the State Street Blues Stroll in Media, the Bucks County R'n'B Picnic, the New Jersey Folk Festival and the Longwood Gardens Summer Concert Series.
"One of our favorite places was always the Turtle Dove Folk Club," said Colgan-Davis. "It was a long-standing tradition. It started out as a folk club to bring performers in. In the second year of the Turtle Dove Folk Club, we got booked to play a January gig. That was around 1997 and the shows took place at the West Grove Friends Meeting. It was a wonderful experience — all ages of people from two to 82.
"After that show, I said — this is a great gig, can we do it again? It became a tradition to play a Dukes of Destiny gig every January for 17 years. We watched people grow up. It was a family vibe. Then, Todd Tyson, the guy who put the shows together, moved to Vermont and it came to an end."
It may have been dead but it wasn't buried.
"There is always something special about playing the Friends Meeting House," said Colgan-Davis. "It was like playing in a church basement. A little while ago, we were in contact with Rebecca Mitchell and some other people at London Grove Friends Meeting. She took it to friends there and they contacted people.
"This is the first time in four or five years that we'll be back at the West Grove Friends Meeting. I am excited. It's a special event for me. West Grove is always a lot of fun. When we first started there, MTV was a big thing. With the shows at West Grove, kids got a chance to hear music played live."
Colgan-Davis's introduction to the blues came when he was in high school and saw the Stones performing with Howling Wolf on the "Shindig" TV show. Howlin' Wolf, whose real name was Chester Burnett, was an American blues singer, guitarist and harmonica player who was one of the premier Chicago bluesmen.
"When I saw Howlin' Wolf on that TV show, I jumped up and said — this is what I want to do. I started playing blues when I was 16. My dad gave me a grab bag for my birthday and a harmonica was in it.
"I started listening to blues records a lot — players like Muddy Waters and James Cotton. I was really into Chicago blues of the 1950s and 1960s when I started. Then, I got into guys like Sonny Terry and Brownie McGhee. One of the first bands I played in was a Philly blues band called Sweet Stavin' Chain."
A while later, the Dukes of Destiny became the main musical vehicle for Colgan-Davis. At first they played house parties in Germantown, generating word of mouth interest. A gig at the now-defunct Taker's Cafe in Germantown launched their public career
"The Dukes got together in the mid-1980s," said Colgan-Davis. "Steve Brown started the band and it began with that gig at Taker's Café. Steve died of pancreatic cancer in 2000 and I've been the leader ever since. Steve has always been in my mind. We did a tribute concert to him a few years ago and we still do some of his favorites in our set.
"We have a whole range of music in what we can play — everything from Chicago blues to old-school soul. What's great about the Dukes is that we're a band. We use each other's strengths. Arlyn and I do the bulk of the singing but everybody in the band sings."
Video link for the Dukes of Destiny — https://youtu.be/j5fM0sugB5w.
The show at the West Grove Meeting House will run from 8-11 p.m. Doors open at 7 p.m. and there is a suggested donation of $15.
On October 21 and 22, Crying will visit Philly for a show at the First Unitarian Church (2125 Chestnut Street, Philadelphia, http://www.ticketfly.com). The band will be sharing the bill with Joyce Manor and The Hotelier.
Crying is a power-pop trio featuring Elaiza Santos on vocals, Ryan Galloway on guitar and synthesizer programming and Nick Corbo on drums. The band's debut album "Beyond the Fleeting Gales" was just released on October 14 via Run For Cover Records.
"We all got together when we were students at SUNY Purchase," said Galloway, during a phone interview last week from a tour stop in Boston, Massachusetts.
"We were all students who were into the indie music scene. There was a community there in Purchase – a bunch of bands that played together. We were in different bands with different line-ups.
"Our first show was in March 2013. Since then, we've done two EPs – one in 2013 and one in 2014. We started writing for the album about two years ago. Usually, the guitarist's parts come first, then the singer's parts and finally the drummer's parts."
According to the band, "The Crying formula is simple: drench an entry-level Motown song in creamy distortion, completely flip the vocal dynamics without losing any of the juicy flavor, and squirt in a few too many twisted melodies played out of a programmed Game Boy."
Mixing strong riffs and tasty beats with soft vocals, intimate lyrics, and harsh but sparkling synth lines, the New York power trio strikes a stylistic balance between decades and genres. Pulling inspiration from the likes of Third Eye Blind, Airplay, Work of Art, Carly Rae Jepsen, and the Motown greats, Crying has created songs that fire on all cylinders.
"We recorded the album at Seaside studios in Brooklyn," said Galloway. "We've recorded there before and the engineer is familiar with our sound. We had all the songs written before we went in the studio so we only had to spend nine days recording. We then did some overdubs.
"All the songs sound a little different. The main idea was to just do whatever we wanted. We switched from GameBoy to other synthesizer software. We had used GameBoy in the past but this tine GameBoy wasn't doing it all the way."
The band was formed in 2013 but took more than three years to release its debut album.
"I don't know why it took so long," said Galloway. "One thing was that we weren't at a point where we could quit our jobs. Everyone was working. We'd do short tours and then go back to our jobs. Then, we'd tour again, come home and go back to work."
Audio link for Crying – https://wearecrying.bandcamp.com/track/there-was-a-door
The triple bill shows at the First Unitarian church will start at 8 p.m. each night. Tickets are $20.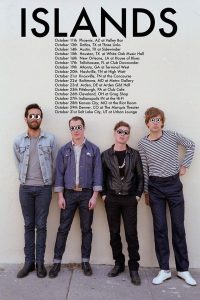 Islands, a band with its roots in Canada and no real permanent home, will be in the area on October 23 for a show at the Arden Gild Hall (2126 The Highway, Arden, Delaware, www.ardenclub.com).
The band features Nick Thorburn, Evan Gordon, Geordie Gordon and Adam Halferty.
"We really don't have a home base," said band founder Thorburn, during a phone interview last week from a tour stop in Tallahassee, Florida. 'I live in L.A. and so does Adam. The other two live in Toronto."
Islands is touring in support of not one but two new albums.
Back in May, Thorburn's Manque Music released Islands' sixth and seventh albums – two very varied collections of songs. "Taste" is a demented interpretation of pop music, with a focus on synthesizers and drum machines. "Should I Remain Here at Sea" is plain old rock n' roll with live-off-the-floor performances by the foursome — and a tap dancer on one track.
"We recorded both at the same time over the span of a few months," said Thorburn. "They are both as real as they can be – just not related to each other. I had a stockpile of material so I decided to record two albums 'Taste' is heavy with keyboards and synths. 'SIRHAS' has its focus on guitar."
Islands is currently a four-piece band but Thorburn sees it differently.
"Islands is an idea – a formless, shapeless identity," said Thorburn. "Most of the current line-up has been with me since the 'Vapours' album, which came out in 2009. Adam joined in 2013 and played on the last two records. It's a strong band. I feel like I've got something good together.
"The first Islands album was 'Return to The Sea' in 2006. We got the rights back from the label (Rough Trade Records) and it's coming out as a re-release in November. We didn't re-record anything. We just remastered it.
"We're playing songs from it on this tour. We're doing songs from the entire catalogue with some emphasis on new material."
Video link for Islands –https://youtu.be/Czi0F_Ovaws?t=3.
The show at Arden Gild Hall, which has Steady Holiday as the opener, will start at 8 p.m.  Tickets are $15.
On October 23, the jazz sounds of saxophone will fill the air at the Keswick Theatre (291 N. Keswick Avenue, Glenside, 215-572-7650, www.keswicktheatre.com) when Boney James returns for another show at the comfortable venue in Montgomery County. He is still on the road – touring in support of "futuresoul."
The four-time Grammy nominee's dynamic "futuresoul" album exploded when it was released in May 2015 and provided a career high for the multi-platinum selling saxman. The well-received album debuted at #1 on Billboard's Current Jazz Albums and Contemporary Jazz Albums Charts, where it remained for 11 weeks.
This was James' career highest Total Billboard Albums debut, at #41, a dramatic achievement for an instrumental artist. The album also debuted at #76 on the Top 200 and bubbled under the Top 20 on Billboard's Adult R&B songs chart with the crossover single "Either Way," featuring Stokley. The veteran musician celebrated this extraordinary chart success with appearances on The Tonight Show Starring Jimmy Fallon, The Tavis Smiley Show and other national television appearances.
The album's success has been powered by a two-format radio strategy. The first instrumental single, "Drumline," held the #1 position for six weeks at Billboard Smooth Jazz Songs and Mediabase Smooth AC, while a second single, "Vinyl," spent two weeks at #1 and a third single, "A Little Attitude," also reached the #1 position. In addition, Adult Urban single "Either Way" climbed to #22 on the Billboard Adult R&B chart.
"The album came out May a year ago and we've been on tour pretty much ever since," said James, during a phone interview last week from his home in Los Angeles. "We've played over 100 shows with more than 50 this year.
"My touring band features me and four other guys – bass, drums, keyboards and guitar. The bassist and the drummer are the same who were on the last album."
"futuresoul," which is James' 15th album, is his follow-up to "The Beat," which was released in 2013 and was nominated for a Grammy Award in the category of Best Pop Instrumental Album.
The new disc contains 10 original songs produced and written or co-written by James. Also featured is rising-star trumpet player Marquis Hill (2014 winner of the prestigious Thelonious Monk International Jazz Competition) on the plaintive "Far from Home." Other notable collaborations on the project are "Drumline" and "Watchu Gon' Do About It?" with co-writer/co-producer Jairus Mozee (Anthony Hamilton, Robin Thicke).
"I always work with co-writers," said James, who has racked up sales of more than three million records and four RIAA gold albums. "This album has about the same number of collaborators" as usual. We'll be working on a song and, if it needs someone, we'll get them.
"When I first start writing a song, I begin with a blank slate. The song could start with a melody or a keyboard chord progression or a sax phrase. I generally make a version of the song by myself. I'll create a pretty full arrangement and then replace parts with musicians. Although, sometimes I stay with the original."
Over the years, James has won a Soul Train Award, received nominations for two NAACP Image Awards and placed 10 albums atop Billboard's Contemporary Jazz Albums chart. In 2009, Billboard named him the #3 Contemporary Jazz Artist of The Decade (trailing just Kenny G and Norah Jones).
"The current live set has four songs from the new record," said James. "I really love the music on the new record.
"The rest of the songs in the show are people's favorites. It's getting harder with all these songs building up – songs that I can't ignore. Some of the must-play songs are 'Sweet Thing,' 'Grazing in the Grass' and 'After the Rain.' I'm always trying to pay my homage to R&B. At the same time, I just try to make my music individual to me."
Video link for Boney James – https://youtu.be/Ru4QbgnW9QI?t=7.
The show at the Keswick will start at 7:30. Ticket prices range from $32-$67.50.
Other upcoming shows at the Keswick Theatre are Melissa Etheridge on October 20, "The Rocky Horror Picture Show" on October 21, Foreigner on October 22 and Dweezill Zappa on October 26.
The area music scene will have an international vibe over the next week with concerts by a singer from Iran, an orchestra from Germany and a guitarist from Italy.
On October 23, Crossroads Music (801 South 48th Street, Philadelphia,www.crossroadsconcerts.org) will present a concert by Iranian tar and setar virtuoso Sahba Motallebi.
The tar is a Persian long-necked, waisted instrument. The setar is one of the Iranian plectrum-type string instruments and is plucked by the forefinger.
Motallebi is an Iranian songwriter and internationally-acclaimed musician. She is a tar, setar and shoorangiz virtuoso who has studied music and composition at distinguished institutions such as the National Conservatory (Iran), Saint Petersburg Korsakov Conservatory (Russia), RGS University (Turkey), and California Institute of Arts (USA). She has been recognized as the best tar player at the Iranian Music Festival (FAJR) for four consecutive years.
Her performances as a soloist and in collaboration with renowned vocalists such as Mohammad Reza Shajarian, Alireza Ghorbani, Sina Sarlak, Mamak Khadem and esteemed composers such as Hossein Alizadeh, Arshad Tahmasebi, Keyhan Kalhour, and Yo-Yo Ma have touched audiences around the globe. Author of two educational etudes for Tar and Setar, Motallebi has served as music instructor at the Pasadena State College (CA), Lawrence University (WI), and Berkley College of Music (MA).
"When I was 12, my two older sisters played santoor (a trapezoid-shaped hammered dulcimer)," said Motallebi, during a phone interview Monday from her home in Orange County, California.
"They received a lot of encouragement and had lots of concerts. I had an artistic-based family and they encouraged us to play music.
"We're members of the Bahá'í faith. Because Iran is a Muslim nation, we weren't able to go to university after high school. So, my parents wanted me to learn something else. If you don't have something else, it's a bad situation in Iran for Bahá'í – and for women.  There is a lot of prejudice against Bahá'í. And, women aren't allowed to sing in public.
"Now, I have something I can share, so it was a very good decision on my parents' part. I started with setar, which is like tar but smaller. After a while, I moved to Tehran to study tar. I learned how to compose and went to the orchestra. I also played tar at the National Festival. It was O.K. for me to study tar at the National Conservatory. But, after me, they closed the door to Bahá'í.
"In 2003, I left to go to Russia – to St. Petersburg to study European composition at Korsakov Conservatory. After that, I studied music in Turkey and then moved to the United States in 2005 to study world music and dance at the California Institute of Arts. Now, I teach privately to students locally and online all over the world with Skype. I teach tar, setar and shoorangiz."
Motallebi is keeping her culture alive – and adding to it.
"There is a lot of interest in Persian music," said Motallebi, who has released eight albums to date. "And, I attract a new generation because I changed mood. The old was sad history and very slow. I changed it with techniques and rhythms from other countries – bringing world music to Persian music."
Video link for Sahba Motallebi – https://youtu.be/eJMEvXvee_Y?t=29.
The Show at Crossroads will start at 7:30 p.m. Tickets are $20 — $5 for children under 12.
There will also be a free children's program at 6 p.m.
There will be a very special presentation of classical music on October 25 at the Kimmel Center (Broad and Spruce streets, Philadelphia, 215-731-3333, www.kimmelcenter.org) when the KlangVerwaltung Orchestra takes the stage at Verizon Hall. Under the direction of Maestro Enoch zu Guttenberg, the Orchestra and Chorus present two of classical music's most beloved masterpieces – Wolfgang Amadeus Mozart's "Requiem" and Johann Sebastian Bach's "Magnificat."
The KlangVerwaltung Orchestra has been recognized for its superlative technical skill, ability to interact like a chamber music ensemble, vibrant orchestral color, and lively stage presence. Under the direction of conductor Enoch zu Guttenberg, the orchestra has earned rave reviews, both for its live performances and numerous recordings. For its 20th anniversary season tour, the orchestra is joined by the heralded Chorgemeinschaft Neubeuern Chorus for performances in Canada and the USA.
On the program are Mozart's "Requiem," his final opus, shrouded in mystery and left unfinished at his death at the age of 35, and Bach's "Magnificat," a musical setting of the biblical canticle Magnificat, considered one of the composer's most popular vocal works. Maestro Guttenberg takes a thoughtful, historically informed approach to the program, with particular sensitivity toward the context in which both Bach and Mozart lived and composed.
Founded in 1997 by violinists Andreas Reiner and Josef Kröner, "KlangVerwaltung" literally means sound administration, shaping sound with historically informed performance practice and repertoire ranging from early Baroque to the 20th century. The ensemble features musicians from leading orchestras, as well as internationally renowned soloists and chamber players that gather together part-time over their shared love of performing excellent music at a world-class caliber.
"Between the orchestra, the choir and others, we have 120-130 people on this tour," said Guttenberg, during a trans-Atlantic phone interview from Munich, German on Monday morning.
"We have large major sponsors who help is finance these tours. This year, we have already been to China and Korea. This is our third time to the United States with the orchestra but the first time with the choir. We don't often bring the choir for financial reasons."
Chorgemeinschaft Neubeuern (The Choral Community of Neubeuen) was founded in 1967 in the Bavarian village of Neubeuern. Under the direction of its founder, Enoch zu Guttenberg, the chorus is a special part of the cultural life of Munich and one of the country's most distinguished oratorio choirs. Through its many tours and guest performances the choir has proven its reputation as "one of Germany's most exciting small choirs."
"I founded the choir almost 50 years ago when I was a student," said Guttenberg. "At the beginning, it was a very small village choir. Eventually, it became a huge choir that has conquered the world – except the United States.
"KlangVerwaltung was formed 20 years ago as an independent orchestra and I'm the conductor. All the musicians like the way I interpret the music. We have a very democratic style. I give my ideas and other musicians can be critical and give their input."
In addition to a regular concert schedule in Germany, KlangVerwaltung has played at significant venues such as the Berlin and Munich Philharmonic Halls, the Musikverein in Vienna, the Amsterdam Concertgebouw, the Vatican, the Alte Oper in Frankfurt, the Festspielhaus Baden-Baden, at the Rheingau Festival, the Beethoven-Fest Bonn, and at the Festival on Herrenchiemsee, where the KlangVerwaltung is orchestra in residence every summer.  This festival is one of the main festivals in Germany and takes place on an island in the middle of Lake Chiemsee in a royal palace modeled after the Palace of Versailles.
The orchestra records exclusively for FARAO Classics, and received an ECHO Klassik Award (Germany's equivalent of the GRAMMY) for its recording of Bruckner's Symphony No. 4 (live from Vienna), which was dubbed a "gorgeous recording by any measure, and well worth hearing" by All Music. Its latest release, Beethoven's Missa Solemnis (live from Munich), was given a perfect rating by Tutti Magazine, which called the album "sublime", "bright, engaged and inspired".
"We try to use all the knowledge that is available to create historically-informed performances," said Guttenberg. "We want to keep the music spiritual. It should be food for the spirit."
Guttenberg explained the reason for performing "Requiem" and "Magnificat" on this tour.
"The agency that invited us chose the two pieces," said Guttenberg. "They wanted typical German works – even though Mozart is Austrian. For me, it is a great choice."
Video link for KlangVerwaltung Orchestra — https://youtu.be/rZwB6UQs4tw?t=4.
The concert at the Kimmel Center's Verizon Hall will start at 8 p.m. Ticket prices range from $39-$89.
On October 26, the Sellersville Theater (24 West Temple Avenue, Sellersville, 215-257-5808, www.st94.com) will present a show featuring Peppino D'Agostino and Christie Lenée.
Award winning compositional finger style guitarist Peppino D'Agostino is known for his dynamic and mesmerizing performances that blend folk, Irish, Italian, Brazilian, flamenco and jazz traditions. D'Agostino was a featured performer on the Guitar Masters tour with Andy Mckee and Eric Johnson and has played to a packed house at the Sellersville Theater numerous times.
Joining D'Agostino on this co-bill is Christie Lenée. Lenée's unique guitar work is often compared to visionaries like Michael Hedges, Joni Mitchell and Dave Matthews – fusing folky, funky playfulness with pop rock inspired songs and virtuosic guitar compositions.
D'Agostino was born and raised in Messina, Sicily. He left Italy over 30 years ago with the dream of "playing with the greatest guitarists" – a dream that has definitely come true. Now, firmly entrenched in the "who's who" of the guitar world, D'Agostino emerged on the acoustic guitar scene in the early 80's as a leading member of the second wave of the great finger stylists that helped redefine the instrument in the '90s.
"It's not like one day I woke up and decided to be a guitarist," said D'Agostino, during a phone interview Monday as he traveled from Rhode Island to a show in Boston.
"I started playing guitar 42 years ago when I was 18. I was playing and I got paid. Slowly, it became my profession. Dreams became a reality.
"I remember seeing Leo Kottke play when he came to town. I watched and listened – and said 'I want to do that.' I love all the finger players such as Leo Kottke, John Williamson and John McLaughlin.
"I remember playing Carlos Santana stuff and Beatles songs when I was playing electric guitar. I was around 13 at the time. Then, hearing the music of guitarist like John Fahey changed me. The sound of acoustic guitar pulled me in."
D'Agostino, who lives now in the San Francisco area, immersed himself in acoustic guitar and finger style playing.
"I developed ear training," said D'Agostino. "I'm very grateful for those years – listening to it develop. During that time in my early 20s, I was playing Leo Kottke style. I met some classical guitarists from Torino and Messina.
"I fell in love with classical repertoire. I started studying classical. Then, there was an episode that turned me off. A teacher criticized me in front of the class – saying 'what the hell is that stuff you're playing?' So, I stopped playing classical for a while.
"I was listening to the music of John Fahey and Lee Kottke. There was a John Fahey song called 'Red and White.' It was very fast – and the tuning. Those guitarists were using open tuning. The combination of speed and open tuning – that's what really impressed me."
D'Agostino's remarkable technique, penchant for open tunings, and percussive effects are the basis of his unique compositional style which has been inspiring musicians and audiences alike for decades. Add to that his natural warmth, playfulness, and broad musical tastes and you have the recipe for what he calls "minestrone music".
His virtuosity and his emotional charge have also had a significant influence on the younger generation of fingerstyle guitarists. D'Agostino has performed in more than 30 countries, at prestigious international festivals and has played in some of the world's most important theaters. He has shared the stage with Tommy Emmanuel, Leo Kottke, Laurindo Almeida, Sergio Assad, Larry Carlton, and Eric Johnson.
"I released my most recent album 'Penumbra' in 2014," said D'Agostino. "My nextalbum will be very different. I'm doing a project with electric guitarist Corrado Rustici."
Video link for Peppino D'Agustino – https://youtu.be/SnSYUAvI364?t=3.
Video link for Christie Lenée — https://youtu.be/h1fegmYr-7E?t=4.
The show at Sellersville will start at 8 p.m. Tickets are $21.50 and $29.50.
The Sellersville Theater will present another interesting show on October 25 when it hosts Look Park.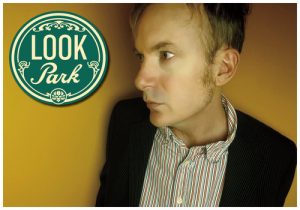 Look Park is the latest project by Chris Collingwood, who led the power-pop outfit Fountains of Wayne for two decades. The eponymous debut album "Look Park" was released few months ago on Yep Roc Records.
Meanwhile, Fountains of Wayne, which was primarily Adam Schlesinger and Collingwood, is dead – with almost no chance of resurrection.
"I had some longstanding difficulty with Fountains of Wayne," said Collingwood, during a phone interview Monday from his home in Northampton, Massachusetts.
"Adam and I weren't getting along. We had a big fight in the middle of making the last record. I wanted out. We went to a psychiatrist to see if we could finish the record.
"Eventually, we were able to finish the record and tour the album. After the tour, I realized I couldn't do it anymore. I was writing songs and decided to record on my own. But, I didn't know how I'd do it."
According to Collingwood, "It was a matter of trying to find a distinctive voice from Fountains of Wayne. It was liberating to know I could arrange them any way I wanted, I could write songs the band could never play live as a four-piece rock band."
Collingwood collected the songs and went in the studio with one of the best producers around – Mitchell Froom, a studio veteran who is known for his work with Crowded House, Suzanne Vega and Elvis Costello.
"My manager asked me who I wanted to work with and I said – Mitchell Froom," said Collingwood. "He said – we can't afford him.
"So, I found Mitchell on LinkedIn and sent him some demos. Within a few months, we were exchanging tracks.
"Mitchell has a distinct sound. He's a real immersive guy and we did quite a lot of pre-production. Working with him was an incredibly rewarding experience."
Once they started communicating, the two musicians immediately bonding upon discovery of their joint attendance at The Hill School in Pottstown – albeit a number of years apart.
"Once the record was done, I had to put a touring band together," said Collingwood. "I have one guy from New York City and the other three of us are from the Northampton area. The local guys are Skott Klass and Phillip Price. They both are multi-instrumentalists and both are amazing singers.
"In the live show, I still do some Fountains of Wayne songs," said Collingwood. "I try to stick with ones that are mine not Adam's. Fountains of Wayne was not a songwriting partnership."
The show at Sellersville will be an actual homecoming for Collingwood.
"I grew up in Sellersville and lived there in my early teens," said Collingwood. "The theater is two miles from where my dad used to live. Before that, I lived in Gilbertsville and before that in Pottstown."
Video link for Look Park – https://youtu.be/W0qPZH-QuYc?t=3.
The show in Sellersville, which has Matt Nokoa as the opener, will start at 7:30 p.m. Tickets are $19.50 and $29.50.
There will be two very interesting – and very different – female performers at the World Café Live (3025 Walnut Street, Philadelphia, 215-222-1400, www.worldcafelive.com) on October 25. Gaelynn Lea will play the Upstairs Room while Rumer Willis will be the headliner at the Downstairs performance space.
Rumer Willis is an actress and singer – and a dancer. She has appeared in close to 20 films since 1996, performed live cabaret shows – and captured the grand prize on Season 20 of "Dancing with the Stars."
Now, Willis has embarked on her first-ever U.S. concert tour. With 23 dates now confirmed, the "Over The Love Tour" is Willis' first extended musical outing with her band. She will be performing a chanteuse-style variety show of timeless standards ranging from cabaret and jazz to classic R&B and contemporary pop.
Showcased in an intimate setting, Willis will take the audience through a set list of personal handpicked songs, as well as a handful of original material recently written and recorded with writer and producer Linda Perry.
"I have always been a huge fan of jazz since I was a little kid," said Willis, during a phone interview Wednesday afternoon. "My dad was a big music fan and we'd listen to artists like Ray Charles, Ella Fitzgerald and Louis Armstrong."
Willis' dad is noted actor Bruce Willis, who grew up across the Delaware River in Carneys Point (NJ) and once worked at the Salem Nuclear Plant. He also has fronted his own rock band. Rumer's mom is noted actress Demi Moore.
According to Rumer Willis, "A lot of people may not know this, but I learned to sing way before I ever learned anything about acting or ballroom dancing.
"This craft of storytelling through song has always inspired me.  It's such an intimate and honest way to connect with people. In my "Over the Love' tour, you'll get all of that throwback, speakeasy jazz vibe plus a few reimagined modern tunes mixed in as well.
"The concert musicalizes the many ups and downs that go hand in hand with falling in and falling out of love and I share a few of my own personal experiences as well. As many of us know there usually tends to be more downs than ups, hence the title…so having a cocktail or two is gently encouraged."
Willis began singing at the age of three — performing for her family in their living room. When she was 12, she joined a music conservatory in Idaho studying opera and then continued her classical training at Interlochen Arts Academy.
Lending her talents to various musical theatre productions in high school as well as joining the Jazz Band, her love of music only continued to grow. In 2014 she started a weekly residency at the famed Sayers Club in Hollywood, where she honed her stage presence and sultry vocals.
"I was just at the Rock and Roll Hall of Fame in Cleveland," said Willis. "It was so inspiring. People would share a part of their life when they performed – shared of themselves when they were onstage.
"There is a difference between being a musician and a performer. When I go to see a show, it comes down to connecting with the people onstage. Pink does a great job of doing that – and so does Lianne La Havas."
For now, Willis is mostly interpreting other artists' songs.
"I've been trying to write music when I have the time," said Willis. "Some of my main influences are Adele, Amy Winehouse, Patsy Cline and Willie Dixon. My goal is to record an album. I've been working with producer Linda Perry. Right now, I have about three tracks that are in the process."
Video link for Rumer Willis — https://youtu.be/yfvrHjqaqsw?t=6.
The show at the World Café Live, which has Korbee as the opener, will start at 8 p.m. Tickets are $45.
Gaelynn Lea has a unique voice – and a one-of-a-kind way of playing violin.
Lea, who has been playing violin for more than 20 years, has a congenital disability called Osteogenesis Imperfecta, or Brittle Bones Disease. In recent years, she has used her music as a platform to advocate for people with disabilities and to promote positive social change.
"Osteogenesis Imperfecta is a genetic disability," said Lea, during a phone interview Monday afternoon as she was traveling to Pittsburgh for a tour date.
"At childbirth, they were worried about my survival – but just for one day. By the time I was 13 or 14, I wasn't upset by it anymore. I'm pretty comfortable with who I am. It's not a big thing on a daily basis – but advocacy is.
"My family is super musical. They were into musical theater. When I was in fourth grade, an orchestra came to our school and I fell in love with violin. I joined the school orchestra the next year.
"I was trying to figure out what instrument I could play and violin fit. Because of my size – I'm three feet and I sit down all the time – I'm the same height as my violin. So, I don't play it the usual way. My teacher was great. She helped me figure it out."
Because her body is small, Lea bows her violin like a cello. She also uses a loop pedal to multiply her instrumental melodies and create a rich textural fabric that undulates beneath her ethereal mezzo-soprano.
Lea started college at McAllister College. She then transferred to University of Minnesota-Duluth where she graduated in 2008 with a degree in political science.
"In 2006, I met a guy named Andy Gabel and we had a band until 2008," said Lea. "My start in singing came from working with Andy. He would encourage me to sing harmonies. Then, he got me to do lead on a song. In 2011, I started writing my own songs. Later, I started working with Alan Sparhawk in a band called The Murder of Crows."
Lea has recorded two solo records – "All the Roads That Lead Us Home" and "The Songs We Sing Along the Way" – and has a holiday-themed album titled "Deepest darkness, Brightest Dawn" coming out later this year.
"My live show is a blend of instrumentals and vocals," said Lea. "It's about 60 per cent instrumentals, which are mostly traditional songs, and 40 per cent vocals, which are mostly originals. I perform solo – just voice, violin and loops."
Video link for Gaelynn Lea — https://youtu.be/n6oSeODGmoQ?t=3.
The show at the World Café Live, which also features Jess Klein, will start at 8 p.m. Tickets are $18.
Kennett Flash (102 Sycamore Alley, Kennett Square, 484-732-8295, http://www.kennettflash.org) will present the Dupont Brothers on October 22, Nate Talley with Shawn and Kira on October 23, "Stand Uo at the Flash" on October 25 and Gerry Beirne on October 26.
The Steel City Coffee House (203 Bridge Street, Phoenixville, 610-933-4043, www.steelcitycoffeehouse.com) will host
K Philips with Kyle Swartzwelder on October 20, Pete Mulvey with Hurricane Hoss on October 21, Deb Callahan with Blue Bizness on October 22 and Eric Sommer on October 26.
Chaplin's (66 North Main Street, Spring City, 610-792-4110, http://chaplinslive.com) will present Chris smith on October 21, Jefferson Berry and the UAC on October 22 and Open Mic Night on October 23.
The Ardmore Music Hall (23 East Lancaster Avenue, Ardmore, 610-649-8389, www.ardmoremusic.com) will have Roosevelt Collier's Philly Get Down on October 20, Darlingside on October 21, The Traveling McCourys on October 22, and Liz Longley on October 26.
Doc Watson's Public House (150 North Pottstown Pike, Exton, 610-524-2424, docwatsonspublichouse.com) will feature Brazen on October 21 and Chatterband on October 22.
Valley Forge Casino (1160 First Avenue, King Of Prussia, 610-354-8118, www.vfcasino.com) will have Flowers for Taco on October 21 and Legacy Band on October 22.
Burlap & Bean Coffeehouse (204 South Newtown Street Road, Newtown Square, 484-427-4547, www.burlapandbean.com) will present Gleeche on October 20, Brother Son with The Lowest Pair on October 21, and Christine Lavin with Bernard Sarkissian on October 22
The Grand Opera House (818 North Market Street, Wilmington, Delaware, 302-652-5577, www.thegrandwilmington.org) will host "The Price Is Right" on October 20 and Australian Bee Gees on October 26.