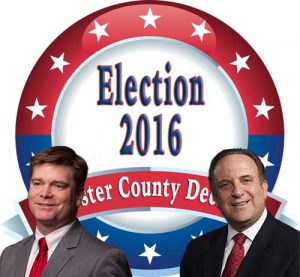 Although the headlines from the national race have grabbed the headlines, we in Pennsylvania stand at a crossroads: the state's finances are broken, we continue struggle to manage to pay for road and bridge and repairs, policing and education. Pensions continue to strangle the state budget and boost local property taxes.
Our state legislature continues to be exceptionally dysfunctional and overly swayed by the money of special interests over the fundamental needs of our state and its citizens.
In short, it is increasingly difficult to justify sending any sitting member of the state legislature back to Harrisburg for another term — when someone doesn't do their job, it's time to find someone new.
Although he has only held office for about six months as a state Senator, we have seen little from Sen. Tom Killion to think he will be an agent of change in the state legislature. After all, he served for many terms in the House of Representatives and arguably has been as much a part of the problem over the last decade plus as he has been a solution.
That's not to say Killion has been bad — in particular his vote to allow local municipalities to have stronger gun ordinances than that of the state showed some independence and his sponsorship of Growing Greener III is appreciated — but he's just been more of the same and certainly less of a force in policy, process and compromise than his predecessor, former Majority Leader Dominic Pileggi — who was forced from leadership and ultimately the legislature by radical, right-wing forces within the Republican Party.
Back in April, prior to the special election to replace Pileggi, we found ourselves impressed with Democrat Marty Malloy and his ideas for change, but were concerned how a neophyte might make a mark in Harrisburg. At that point, we agreed with the argument that sending someone to the capital knowing the ways and methods of the legislature would be a benefit and maybe help to start to put the state back on a rational basis. That judgment appears to have been in error.
Malloy would clearly be a vocal advocate for expanded and fair school funding, a rational solution to the pension problem and would serve as a change agent in a broken, ethically challenged Harrisburg.
After what we've seen this year: a yet another budget shoved through with one-time gimmicks (pulling funds out of the medical malpractice fund is especially egregious and claiming $250 million from expanded gaming and wine/liquor seems like a fantasy if not outright fraud), a wretched and disingenuous school funding plan and maybe worst of all, an inability by the Republican majority to do anything about spiraling pension costs, despite many, many years of promises to tackle the issue that the state legislature created in 2001.
In short, it's time for a change.
In normal times, Killion would be a solid, safe pick to continue serving the citizens of the 9th state Senatorial District. But, with a broken, dysfunctional Harrisburg, sending Killian back to legislature would be like slapping a new coat of paint on a house with a rotting foundation. The time has come to knock the building down and start with something new.
We endorse Marty Malloy for State Senate in the 9th District.
In the 19th District, the choice is less clear.
In Sen. Andy Dinniman, Chester County has had a vocal advocate for decades, first as a County Commissioner and now during a decade in the state Senate. His advocacy for animal rights and battles against intrusive and distracting digital billboards — and his long history of fighting for open space preservation — are laudable. So, too, are his efforts to shepherd the construction of the new Coatesville train station. And his warnings about the failure of the Keystone Exams have proven correct.
But again, Dinniman has been part of the Harrisburg dysfunctional culture for a decade, albeit as a member of the minority party, and has some culpability for its failures.
That's why it is so disappointing that the Republicans have failed to put forward a credible alternative to give the voters of the 19th District a real choice about the future of the state.
Jack London seems like a well-meaning person, but his lack of grasp of the issues (his radical-right style labor bashing and unthinking advocacy of switching all public employees to a 401K system without replacing the funding to pay existing pension obligations is just the tip of the iceberg) as well as an embarrassing record of voting is unacceptable.
The first duty of a citizen is to vote; to ask other voters to elect someone who has failed at that very basic responsibility — London voted seven times in 30 years — shows a deep disconnect from caring and concern about the greater community. That the local Republican Party, here and in other state legislative races, could not find a better, more serious candidate is telling where things stand in this county.
Again, we would have liked to have seen a real debate on the future direction of the state in this race, but without two credible candidates, it was impossible.
We endorse Andy Dinniman for state Senate in the 19th District.