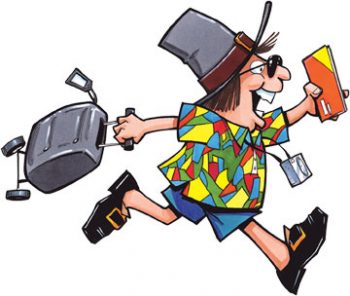 With the Thanksgiving holiday, folks around the Chester County area will be indulging in two activities: travel to be with friends and family and, of course cooking.
While both are cornerstones of the holiday season, both can offer hazards if folks don't exercise appropriate caution.
For many, according to the Mid-Atlantic AAA, travel the night before Thanksgiving can be one of the most dangerous times of the year — thanks to motorists who might have imbibed a bit than they should have.
"While Thanksgiving Day is a time to share meals with our loved ones, the eve of Thanksgiving is one of the most dangerous times for overindulgence in alcohol – not food," says Jana Tidwell, Manager of Public and Government Affairs for AAA Mid-Atlantic. "While we disapprove of and fear drunk drivers on the road, a survey by the AAA Foundation for Traffic Safety revealed that far too many drivers aren't practicing what they preach. There is a big disconnect in our actions and words."
According to AAA, more than one in eight motorists (13 percent) report driving when their alcohol level might have been near or over the legal limit within the past 12 months. About nine percent of drivers report doing this more than once over the past year.
Traffic deaths around Thanksgiving weekend, including "Blackout Wednesday" and "Black Friday," account for more than 400 traffic deaths each year. More cars on the road for the holidays mean more crashes warns AAA Mid-Atlantic. This year, AAA projects that 43.5 million people are traveling by car to Grandma's house or a favorite vacation spot to celebrate Thanksgiving with family or friends. That's 800,000 more people traveling by automobile than last Thanksgiving. That tally includes over 507,000 Philly five-county area residents.
The Pennsylvania State Police echoes many of those thoughts, noting that impaired drivers are not the only risk for Thanksgiving travelers. They offer the following tips to stay safe and reduce your chances of becoming a victim.
Be aware of your surroundings. Many holiday crimes are "crimes of opportunity," meaning thieves prey on easy targets. Try to shop during daylight hours whenever possible. If you shop at night, park in well-lit areas and bring a friend or family member.
Keep valuables out of sight. Expensive presents in the back seat of an unattended car attract criminals. Lock your packages in the trunk. Don't wear expensive jewelry and avoid flashing large amounts of cash while shopping.
Lock your car doors and take the keys. Thieves will walk through parking lots checking door handles for unlocked vehicles. Don't make it easy for them. Lock your doors and take your keys. Every time.
Plan for packages. If you shop online, try to have packages delivered when someone will be available accept them. You don't want your items sitting on your doorstep for several hours while you are away. Consider having packages sent to you at work, or using the mailing address of a trusted friend or relative who is home during the day.
Watch for con-artists. The holidays are a time of giving, but don't let people take advantage of your generosity. Be wary of strangers who approach you in parking lots and only donate to recognized charitable organizations.
Trust your instincts. If something doesn't "feel" right, it probably isn't. Speak up and don't be afraid to ask for help. Call 9-1-1 to report an emergency.
For more information about the Pennsylvania State Police, visit www.psp.pa.gov.
Lastly, even if you make it to and from your destination — or choose to stay home — cooking an epic Thanksgiving dinner can have hazards if proper care is not taken, according to State Fire Commissioner Tim Solobay, who is reminding citizens to follow common cooking safety rules when celebrating Thanksgiving this week with family and friends.
"We're entering a time of year that means lots of time with family and friends, and all the good food that goes along with it," Solobay said. "But don't get so caught up in the celebrations that you forget about safety, because not doing so can mean a holiday that's unforgettable for all the wrong reasons."
According to the U.S. Fire Administration, from 2011-2013, 72 percent of all Thanksgiving Day fires in residential buildings were caused by cooking. By comparison, cooking was the cause of 48 percent of residential building fires that occurred on all days of the year other than Thanksgiving.
Solobay shared the following reminders for safe holiday cooking:
• Create a child-free zone around hot spots like stoves, turkey fryers and ovens using masking or painters tape on the floor. Get the kids involved in helping you tape off their "no-go zone", then find kid-friendly ways they can help in the kitchen. Keep pets away from hot spots too.
• Turn pot handles toward the back of the stove so they're not accidentally knocked off the stove.
• Wear short sleeves, or roll up long sleeves so they won't hang down and brush against burners.
• Keep an eye on pots and pans; turn off all burners if you need to leave the kitchen.
• Don't ever use a turkey fryer on a wooden deck or in a garage; keep it away from your home and buildings.
• Be careful not to overfill your turkey fryer, and make sure your turkey is completely thawed before putting it in.
• The sides, lid and handles of a turkey fryer can get dangerously hot.
• Check your kitchen fire extinguisher to make sure it's properly charged and ready for use. Purchase a fire extinguisher if you don't have one.