Dar Williams' show kicks off two weeks of farewell events
By Denny Dyroff, Staff Writer, The Times
Picture a situation in which an older and much-loved friend was diagnosed with a terminal illness and had just a few weeks left to live – despite having the appearance of being healthy. Friends would come from near and far to pay their respects, share some memories and say goodbye.
That's the situation facing the Tin Angel (20 South Second Street, Philadelphia, 215-928-0770, http://www.tinangel.com)
The Tin Angel will close the room at its current location on Olde City on February 4, 2017. Owner Donal McCoy and booker Larry Goldfarb will continue operating the Tin Angel at a larger venue later in 2017.
Over the course of the last 25 years, the Tin Angel has presented shows by a diverse group of musicians including Joan Baez, Donovan, Neko Case, Jeff Buckley, Ani DiFranco, Shelby Lynne and Roseanne Cash. The venue even hosted a show by actress Milla Jovovich in 1994 when she released an album called "The Divine Comedy" under the name Milla.
For the last few weeks, acts have returned to play the Tin Angel one last time. The final stretch begins on January 20 with a show by Dar Williams.
"I'll be performing solo at Friday night's show," said Williams, during a phone interview Wednesday morning from her home in New York's Hudson Valley. "It's going to be me saying goodbye to the Tin Angel.
"I think that everybody Larry (Goldfarb) asked to play this final run said yes. We all have good memories of the Tin Angel. It's one of the first places we played. It's really a nice place to have a gig. It's a beautiful small venue. For a lot of artists, the Tin Angel was the first place to introduce yourself to the Philadelphia audience. It was incredible – a beautiful entrance to a great music scene."
Williams has fond memories – and a vivid recollection – of the first time she played the cozy venue in Olde City.
"I first played the Tin Angel in 1994 right after my album 'The Honesty Room' came out," said Williams. "I was opening for Livingston Taylor. I remember the audience going wild when I played 'When I Was a Boy' – and Livingston Taylor being very supportive. It was a lightning bolt. When people in Philly get excited, they really get excited.
"I love the opportunities that Larry has given me at the tin Angel. He was like a shepherd. Having played there 23 years ago, it's an honor to be playing now. And, it's Inauguration Day and the day before the march. I'm excited."
The remaining shows will feature Jeffrey Gaines (January 21), Citizen Cope (January 25-27), Kenn Kweder (January 28), "Farewell to Tin Angel: A Benefit for Soundgirls.org" (January 31), Eric Bazilian and Wesley Stace: Au Renoir to the Tin Angel (February 1), The Hillbenders (February 2), Steve Forbert and Joe D'Urso (February 3) and The Ben Vaughn Quintet with Special Guest Dan Montgomery (February 4).
Video link for Dar Williams – https://youtu.be/Se-nY2rEC6o?t=3.
Dar Williams' show at the Tin Angel will start at 8 p.m. Tickets are $35.
Over the years, there have been many great music acts from Canada that have been unable to establish themselves in the United States.
There are many possible reasons such as the disadvantageous monetary exchange rate for Canadians or the language barrier – ah-BOAT (about), OWL-you-min-ee-um (aluminum), DECK-ells (decals) and AY (eh?).
Probably the biggest obstacle is conquering a country the size of America – the challenge of getting known across so many miles and in so many markets.
One of the young bands from north of the border that has been finding success in the states is Arkells, a popular Canadian rock band from Hamilton, Ontario.
Arkells have just started their 2017 North American tour dates with English folk troubadour Frank Turner and The Sleeping Souls. The second show on the tour will be on January 20 at Fillmore Philadelphia (1100 Canal Street, Philadelphia, 215-309-0150, www.thefillmorephilly.com). The rockers from Ontario have already played a number of gigs in Philly.
The tour is in support of Arkells' acclaimed fourth studio album, "Morning Report," which was recently released via Last Gang Records. Produced by Joe Chiccarelli (The Strokes, My Morning Jacket), Tony Hoffer (Beck, M83), Brian West (Sia, AWOLNATION), and Gus van Go (The Stills, Wintersleep), the album features vocalist/guitarist Max Kerman, guitarist Mike DeAngelis, bassist Nick Dika, keyboardist Anthony Carone and drummer Tim Oxford.
"One of the hardest parts for Canadian bands becoming popular in America is getting people's attention," said Kerman, during a phone interview Tuesday afternoon from his home in Hamilton. "You have to be determined and keep at it. We've had to keep putting in the work – touring and playing for people.
"You might play a city and have only 30-40 people at the (show). But, you come back and there are more people in the audience the next time – and the time after that. Philly is the best example. The first time we played there was at the North Star and there might have been 23 people there. The next time was at MilkBoy and there were 89. The last show we did in Philadelphia, the audience was up to 600."
Arkells became a band 10 years ago when they were students at McMaster University in Hamilton and have since become one of Canada's most successful rock bands. The band is named after Arkell Street near McMaster University where the young musicians lived and developed their musical sound.
"Nick, Mike and I met in the first week of school," said Kerman. "I went to school specifically to profile people for a band. But, I did stay in school and get my degree. We were influenced by a lot of Canadian indie-rock bands like the Weakerthans and Wolf Parade — and by American bands like Wilco and the Strokes. That shaped our music. That's what we sounded like on our first record.
"As I've gotten older, I've learned to appreciate more kinds of music like R&B, electronic and hip hop. My dad went to school in Detroit and was a DJ at Wayne State University. So, through him, I was exposed to a lot of Motown and classic rock."
Arkells released their debut album "Jackson Square" in 2008 on Dine Alone Records. Their next two albums, which were on Universal Music Canada, were "Michigan Left" in 2011 and "High Noon" in 2014.
If the band stayed true to the chronological pattern it established for album releases, the next one wouldn't be due until 2017. Instead, Arkells deviated from the pattern and put out a new album in 2016.
"We recorded it at several different studios," said Kerman. "We're always looking for ways to keep it challenging. The old-school way of bunking down for two months — that seems dumb to me. I like to hop back-and-forth between studios.
"We did two songs at a one place in Los Angeles and five more at another studio in L.A. In December, producer Joe Chiccarelli flew to Toronto and did five songs with us there. We kept all 12 songs. Then, we got engineer Mark Needham to mix all the songs so they have a consistent feel. We trusted our gut with the way the songs were originally recorded."
Arkells are hoping to continue to build on the success they achieved with their previous album.
In 2014, the four-time JUNO Award-winning rock band released their third studio album, "High Noon."  The album reached #1 on the Canadian iTunes chart and is now certified Gold in Canada.
At the 2015 JUNO Awards, Arkells won "Rock Album of the Year" for "High Noon" as well as the award for "Group of the Year." This past October, they released their five-song digital EP, "Study Music (Songs From High Noon)" which features acoustic interpretations of their #1 single, "Leather Jacket," as well as their latest single "11:11." Arkells were named the most played band on Alternative radio in Canada in 2015.
"The new album is a bit different than what we've done before," said Kerman. "Each time we've made an album, our musical palette has expanded. We were chasing different layers of textures for the keyboards and guitars along with loops, horns and gospel singers. The core of the song is what is most important – good melodies, a solid groove and relatable lyrics."
Video link for Arkells — https://youtu.be/VexuUr4pN-Q.
The show at the Fillmore, which also features Frank Turner, Murder By Death, and Will Varley, will start at 6:45 p.m. Tickets are $28.50.
Fans of Wednesday 13 will be in for a double treat this weekend – and not just once but twice.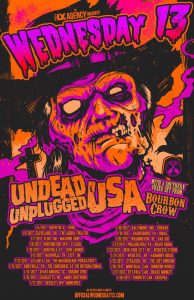 Wednesday 13, a metal music singer/musician named Joseph Poole who has been releasing albums under a variety of names since 1994, is bringing his "Undead Unplugged USA 2017 Tour" to the area for shows on January 20 at Asylum 13 (1706 Philadelphia Pike, Wilmington, Delaware, 302-746-2213, facebook.com/asylum13) and January 21 at the Grape Room (105 Grape Street, Manayunk, 215-930-0321, www.graperoom.com).
The list of the rocker's bands and musical projects includes Psycho Opera, Maniac Spider Trash, Frankenstein Drag Queens from Planet 13, Murderdolls, 1.4 Wednesday 13, Bourbon Crow and Gunfire 76. Wednesday rose to metal fame as one-half of The Murderdolls with Slipknot's Joey Jordison – a collaboration that produced two full-length records and one EP.
The current tour features Wednesday 13's first-ever unplugged shows of the Northeast. As an added attraction, Wednesday 13's side project Bourbon Crow, which is touring the Northeast for the first-time ever, will provide direct support.
"Bourbon Crow is just me and Rayen Belchere," said Wednesday 13, during a phone interview Wednesday afternoon as the band travelled from Beckley, West Virginia to a gig in Baltimore, Maryland.
Wednesday 13 is the headline act and Bourbon Crow is the support act. But, the acts will not follow the normal protocol.
"The show starts with a Wednesday 13 set," said the North Carolina native who has called Los Angeles home for the last eight years. "The set will be an hour-and-a-half unplugged performance featuring songs from my whole career. I'll be talking about my career and the different songs and there will also be question-and-answer segments with the audience.
"The second part of the show will be a set by Bourbon Crow, which is more of a drinking act. It just works better that way."
Bourbon Crow's third and most-recent album is "Off the Wagon on the Rocks," which was released in 2015. Wednesday 13's 12th and most-recent album is
Monsters of the Universe: Come out and Plague," which also was released in 2015.
Fans of Wednesday 13 who are looking forward to a new album won't have much longer to wait.
"The new Wednesday 13 album is called 'Condolences' and hopefully it will be out by May," said Wednesday 13. "I can't say too much about that because everything is still under wraps. I finished it in September last year. I recorded it in Connecticut with Chris Zeuss Harris producing it. I spent three months working on it in Portland, Oregon and Connecticut.
"It's a full band album – and totally different than my last album. It's a whole new entity – but it still is relevant to what I've done before. I think it's the best thing I've ever done. It definitely has a darker tone – really violent. My last record was very different from previous recordings. It was my first concept record."
Some of the songs from that album will make it into the current live set – along with a lot more.
"I cover everything from my career," said Wednesday 13. "I tell stories. Every night is different. I have a list of songs and stories. I take questions from fans and that often leads into other directions. It's entertaining. I get to meet my fans in an intimate setting."
Video link for Wednesday 13 – https://youtu.be/AsyGErjbzQE.
The show at Asylum XIII, which also features Philly area favorites Carfax Abbey, will start at 7:30 p.m. Tickets are $10 in advance and $15 day of show. The show at the Grape Room will get underway at 7 p.m. with tickets priced at $15.
When David Uosikkinen brings the latest installment of the live performance side of his "In The Pocket" project to the World Café Live (3025 Walnut Street, Philadelphia, 215-222-1400, www.worldcafelive.com) on January 25, there will be an empty place on stage.
Richie Ingui, one of the core members of the group, passed away suddenly last week of a possible heart attack at age 70.
Charlie and Richie Ingui, who both performed with In The Pocket, were the main players in the Soul Survivors, a Philly-area vocal group that had a huge hit with the song "Expressway to your Heart." The song was credited for setting the foundation for Kenny Gamble and Leon Huff's Sound of Philadelphia. "Expressway" reached Number 4 on the Billboard pop chart and became established as a TSOP (The Sound of Philadelphia) classic.
"It's been a tough week – losing a dear friend and a bandmate," said Uosikkinen, during a phone interview Monday. "It was really tough news. He was a good friend and a great musician. I had no idea he had any medical issues. But, like all of us, we're getting older. Still, it was very unexpected.
"He sent me an e-mail a few weeks ago about a show we did last year at the Ardmore Music Hall when we were sitting around and he and Richie sang this amazing doo-wop song with Tommy Conwell and Richard Bush. I said to Richie – how cool would it be to do that in our show. Losing Richie hit me like a ton of bricks. We begrudgingly move on."
For the last 36 years, Uosikkinen has been the drummer for the Hooters, one of Philadelphia's all-time favorite bands. For his In the Pocket project — both live and in the studio — Uosikkinen uses a revolving lineup of Philadelphia's most celebrated musicians to perform covers of tunes from Philly's rich rock music history
"When I produce any song for In the Pocket, I grab a cool group of guys and do sessions," said Uosikkinen. "I do it old school with everybody playing together."
The In The Pocket lineup for this show features Zou Zou Mansour (Soraia), Fran Smith, Jr (The Hooters), Wally Smith (Smash Palace, Crosstown Traffic), horns by Jay Davidson, Dave Kershner, and Jim Verdeur, Richard Bush (The A's), Steve Butler (Smash Palace), Tommy Conwell (The Young Rumblers), Greg Davis (Beru Revue), Joey DiTullio (JDT), Pete Donnelly (Figgs, NRBQ), Kenn Kweder, Jeffrey Gaines, Buddy Cash, Ben Arnold, Cliff Hillis, Graham Alexander, Pete Donnelly and Uosikkinen.
"We're working on a set list for the gig," said Uosikkinen. "Everybody by playing will have some sort of tribute to Richie. Whatever Charlie wants to do, we'll do. It will be a tough gig because it's so soon after Richie passed."
David Uosikkinen's In The Pocket has recorded 15 classic Philadelphia songs and two CDs – "Live" and "Sessions."
"The last song we put out was 'Shelter Me,' with Joey DiTullio singing and playing lead guitar," said Uosikkinen. "We also just recorded a Kenn Kweder song 'Man on the Moon' with Zou Zou Mansour singing lead. We might do the song in this show. With Kweder – who knows?
"The two songs before that were the Soul Survivors' version of 'Backstabbers' and 'Walkin' on the Water' from Tommy Conwell. I chose it because it's an autobiographical song for Tommy Conwell. It's early, brash Tommy Conwell from the time of his first indie record and his album on Columbia. And, the story of the song is terrific."
"Walkin' on the Water" was the 13th installment of In the Pocket's series of re-imagining Philly music classics. The other classics are "Fall in Philadelphia," "Beat Up Guitar," "A Woman's Got the Power," "I Saw the Light," "All My Mondays," "Open My Eyes," "You Can't Sit Down," "Soon You'll Be Gone," "Change Reaction," "Disco Inferno," "Punk Rock Girl" and "I Ain't Searchin'."
"The show at the World Café Live is going to be cool," said Uosikkinen. "Ben Arnold will be with us. I'm so happy to be able to do this project. It's a tribute to people who devoted their lives to making great art in this city."
Video link for In The Pocket – https://www.youtube.com/watch?v=rXTVAYMm0Jk&t=19s.
The show at the World Café Live will start at 8 p.m. Tickets are $30.
Fans of Johnny's Dance Band are in for an unexpected treat with the last-minute announcement of a special show this weekend.
On January 21, the Tavern at Valley Forge (827 Trooper Road, Norristown, 484-392-7804, tavernatvalleyforge.com) will host a special concert – "Original Johnny's Dance Band members & Friends ~ Live!" The show will run from 9 p.m-midnight,
The line-up on stage will feature JDB core members Bobby Lenti (lead guitar/keyboards), Courtney Colletti (lead guitar/flute/bass/vocals) and Tony Juliano (guitar/harmonica/vocals) along with Frankie Prezio (congas), Don Johnson (vocals & guitar), Robin & Mark Juliano (vocals) — plus "Surprise Guest Artists."
Johnny's Dance Band is coming off one of its rare area appearances – last weekend's sold-out show at the Steel City Coffee House in Phoenixville.
Making the event extra-special for JDB's legion of local fans, the show will be free – a small venue, great music and no cover charge.
Video link for Johnny's Dance Band – https://youtu.be/kAqpT78zcpI.