By Cathy Branciaroli, Food Correspondent, The Times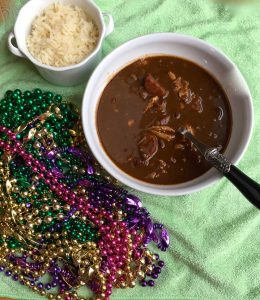 Mardi Gras, the New Orleans celebration of Fat Tuesday which is marked by eating, drinking and parading. The raucous event preceding the start of Lent will soon be upon us. Let's face it, Mardi Gras is an excuse to party, or at least host friends over for a festive dinner. And gumbo in its many variations is at the heart of Mardi Gras celebrations.
So what is gumbo anyway? It's a hearty soup made with a medium or dark roux, which is a combination of slowly roasted flour and butter or oil. Meat or seafood, or even vegetables are added, then simmered together with the "trinity" of Louisiana seasonings – onion, celery, and bell pepper. Then other ingredients are added, particularly the Louisiana cured sausage called Andouille.
According to Emeril Lagasse, the New Orleans and former Food Network chef, gumbo, hearty and brimming with fresh ingredients, is everybody's favorite in Louisiana. But some people hesitate to make gumbo, thinking it requires a great deal of time and energy to prepare. It may have something to do with what he calls "rouxphobia" or fear of making roux. But really, it's easy.
Emeril says that every Louisianian worth his or her salt can whip up a roux for gumbo in a heartbeat. There are light, also called "blond" by the Cajuns, medium and dark roux, the color of each depending on how long it's cooked. The lighter rouxs are caramel colored and the flavor is more delicate, so it doesn't overpower dishes relying on subtle flavors. On the other hand, deep chocolate-colored brown roux is intensely dark-colored and flavorful. In any case, roux is the most important part of any gumbo, for it not only is the thickening agent which gives the dish its consistency, but it also provides the wonderful flavor.
Locally, we have access to some of the area's most outstanding gumbo through chefs Don and Kate Applebaum, whose tiny Cajun Kate's six-stool stall is in Booth's Corner Farmer's Market in Garnet Valley has consistently been winning awards for the last ten years. Both spent time in cooking in New Orleans, Don at Emeril's Café NOLA in the French Quarter, and Kate with chef Susan Spicer at her acclaimed New Orleans restaurant Bayona. So they know their gumbo. Don says that every week is Mardi Gras for them.
Cajun Kate's is only open Friday and Saturdays at the Market. Gumbo is offered every week for eat-in or take-out. Think Gumbo z'Herbs for Lent, all seafood gumbo, or smothered pork gumbo called Cochon de Lait. Luckily for those who need their gumbo fix on a more flexible schedule, they have just opened Cajun Kate's 2 in North Wilmington which is open Wednesday – Saturday with the same concept of counter/take-take out service. Other beloved New Orleans dishes like jambalaya, red beans and rice, hearty muffaletta sandwiches and po'boys made with all kind of fixins (my favorite is fried oysters with remoulade sauce) also are offered.
An easy solution for serving gumbo, other than purchasing it, is selective use of prepared ingredients, such as a rotisserie chicken, and a sprinkling of purchased Creole seasoning. Also, measure ingredients ahead of time and you will be ready to go – quick and easy.
Andouille and Chicken Gumbo
Many recipes for and variations on classic gumbo are available. This one uses chicken, but seafood could easily be substituted.
Ingredients:
Roux: equal amounts of flour and butter or oil. Try ½ cup of each for a family serving, or 1 cup each for a large pot.
Gumbo:
1 rotisserie chicken, skin off and cut or shredded into bite-size mouthfuls
1 large onion, diced
2-3 (1 cup) red or green bell peppers, chopped
1 ½ cup celery, chopped
2-3 chopped green onions, white parts only
2-3 garlic cloves, diced
4 cups canned chicken stock
2 tbs Creole seasoning mix (Zatarain's or similar)
1 lb Andouille sausage, ¼ in slices
1 bay leaf (fish out before serving)
¼ cup chopped fresh parsley
½ tsp thyme
1 tbs Worcestershire sauce
Salt pepper and cayenne to taste
3 cups steamed rice
Optional: 3 tsp file powder
Preparation:
For the roux, melt butter or drizzle oil in saucepan, then heat under med-low temperature. Add flour quickly and stir continuously, watching for the roux to thicken and start to turn color. Take off heat when the desired color is achieved.
For the gumbo: In a Dutch oven or large pot, sauté the holy trinity of ingredients with parsley, bay leaf and thyme. Add the roux, stirring to combine. Slowly add chicken stock and the Andouille, add chicken. Cover and simmer for 1 hour, stirring occasionally. Add salt, pepper, Worcestershire and cayenne to taste. If available, add file powder just before serving over cooked rice.
If you go to Cajun Kate's, it's located at 1362 Naaman's Creek Road, at the Boothwyn Farmers Market, Phone – 484/947-8914. The website features the weekly specials, usually on Thurdays www.cajunkates.com
Cathy Branciaroli also writes about her adventures in the kitchen on her award-winning blog Delaware Girl Eats