By Dr. Stephanie McGann, DMD FAGD, Columnist, The Times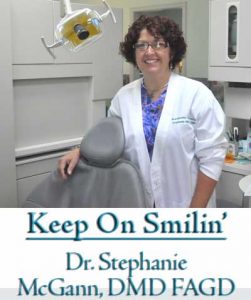 As many of the folks who read my column know, I am not in favor of denying our children the occasional sweet treat. Holidays are special and to steal a chocolate bunny out of the hands of child is just no fun.
However, in light of the supersized world we live in and the prevalence of 4 and 5 pound packages of jelly beans, I felt obligated to say a few words. The basics are that too much sugar over a long period of time causes tooth decay. Sour candies cause decay more rapidly. Sour sticky or chewy candies are the worst. So here's my plan for a happy Easter celebration.
10 Tips for a happy and healthy Easter basket
Choose quality over quantity. Cheap chocolate bunnies are mostly wax, (I tried to melt one once) Look for real chocolate.
Sour is not sweet. Sour candy is the most harmful to the teeth, so that giant bag of sour jelly beans should be left at the store. Choose a small package that is not "sour."
Non-food fun. Nothing is more fun to a child than a wind-up chick clattering across the floor. It doesn't take candy to make a child smile.
Include something to go outside and play with. Easter is the start of the great outside weather so think about jump ropes, bouncy balls, frisbees or gliders.
Older kids are saavy – a plastic egg with money or gift card works as well as giant basket of candy.
Encourage everyone to have some water after eating candy – it lessens the damage.
Grazing is dangerous, if you leave that bowl of jelly beans out on Easter – be sure to brush well that night and don't keep it out all week. (That goes for the adults who place the jar on their desk too!)
Peeps – what would the world be without them? They have taken on a life of their own. If your basket is not complete without them just limit them to one package. (I know they are often sold in 3 packs – but single packs are available). Peep items are also now non-foods such Peep lip balm and stuffed animals. Don't forget Peep Oreos or the Peep flavored Rita's Water Ice. Peeps are cute, but it's easy to have too much of a good thing.
Leftovers are not a great deal. We all have the urge to purchase the left over candy the week after a holiday when it is just too cheap to pass up. Just say no. Keep the holiday candy limited to the day of the holiday and most people will not have a huge problem. It's when we keep the ongoing supply that we have overdone it.
Enjoy the holiday with friends and family – stay safe and healthy.
Dr. Stephanie McGann, who has more than two decades of dental practice experience, is a resident of the Unionville area and along with her partner, Dr. Marie Scott, operates The Brandywine Smile Center, a family-friendly dental practice in Concordville. Dr. McGann has opened a new practice in Valley Township, Rainbow Valley Dental. She is a Fellow of the Academy of General Dentistry.