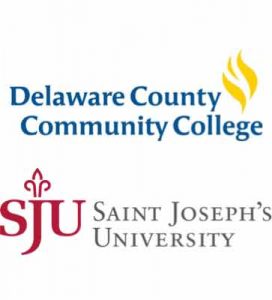 Seeking to provide students with more affordable opportunities to earn a baccalaureate degree, Delaware County Community College and Saint Joseph's University have enhanced their four-year-old dual admission partnership agreement for students. The new agreement provides significantly more merit scholarships, as well as more course options for students who are interested in seamlessly transferring to the university.
"Ensuring that quality higher education opportunities are accessible and affordable is at the heart of the mission and vision of our institution," said Dr. L. Joy Gates Black, president of Delaware County Community College. "We are pleased that Saint Joseph's University has partnered with us to provide this enhanced educational opportunity to our students."
"Saint Joseph's University is pleased to affirm and strengthen its dual admission relationship with Delaware County Community College," said University President Mark C. Reed, Ed.D. "We are committed to providing talented Delaware County Community College students access to our excellent program offerings."
Under the new agreement, a full-time, eligible student who graduates from the College with 60 credits could enter the university as a junior and complete a bachelor's degree in as little as four regular terms (spring and fall). Delaware County Community College graduates with a minimum 2.75 grade point average (GPA) also are eligible for university merit-based scholarships. The scholarships range from $6,500 to $20,000 for students with a 3.75 GPA or above. Scholarships are only available during the spring and fall semesters.
Students must complete a "Dual Admissions Intent to Enroll" form on, or before, completion of 30 transferable credits at the College. Application fees are waived for students who complete the form. Students also must graduate with a designated Associate in Arts (A.A.), Associate in Science (A.S.), and Associate in Fine Arts (A.F.A.), and satisfy the admission requirements of the university's academic program. Up to 20 courses from the College are eligible for transfer. In addition, students must complete a minimum of 20 courses as an undergraduate daytime student at the university before they can receive a baccalaureate degree.
The new agreement expands the list of associate degree programs eligible for dual admission to include: Administration of Justice; Business Administration; Communication Arts–Communication Studies, Journalism, or Theatre; Computer Science; English; Global Studies; History; Liberal Arts; Mathematics/Natural Science; Political Science; Psychology; Science for Health Professions; Sociology; and Studio Arts.