By Dr. Stephanie McGann, DMD FAGD, Columnist, The Times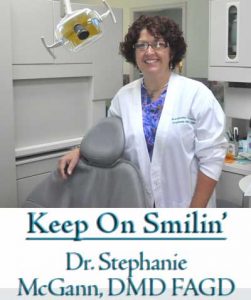 It's easy to think that the regular twice yearly visit with the dental hygienist is just a cleaning.   We sometimes forget to share all the things that are occurring during that regular appointment. This visit, the most important aspect of preventive dentistry, is a complete inspection of the oral cavity. I decided to share just some of the things that happen each visit. Not to sound like my auto mechanic but here goes.
This multipoint inspection includes:
Dentist and hygienist evaluation of soft tissues including tongue, mucous membranes of the cheek and floor of the mouth, tonsillar pillars, hard and soft palate, gingiva (gum tissues) Lips and uvula.
Inspection of the teeth for decay, cracks, wear, broken fillings, erosion, and more.
Visual and manual exam for abnormalities
Radiographic exam (X-rays) on a regular basis to see disease in between teeth or affecting the bone supporting the teeth.
Gums may be probed to measure the pocket between tooth and gum tissue. Based on the results of this test more treatment may be indicated. Deep pockets between the teeth often mean there is periodontal disease in these areas.
Review of medical history and how changes in medication may affect the oral environment.
Review of dietary and other dental health risk factors.
Evaluation of current personal oral hygiene techniques.
Instruction on recommended modifications to oral hygiene routine.
Removal of plaque and tartar (calculus) around and between the teeth. If tartar is present well below the gum line or gum disease is present, a deep cleaning will be required.
The teeth are then polished and flossed.
Any questions or concerns should be addressed, in addition treatment options may be recommended.
These visits are also a great time to discuss ways to improve the appearance or strength of the teeth. How to protect teeth or jaws from clenching or grinding. Fabricating a custom mouth guard for sports or work or even custom fitting a snoring appliance or even ways to get your children to brush.
So, you see, the preventive dental visit is more than just a cleaning. It's the hallmark of preventive dentistry. It's funny, patients who self-pay for their dental care are often the most diligent in making their six-month visits. They understand that catching and addressing things when they are small is way less costly than waiting till it hurts. Don't be lulled into thinking that it's just a cleaning. Be sure to schedule and keep regular appointments with your dental care team.
Dr. Stephanie McGann, who has more than two decades of dental practice experience, is a resident of the Unionville area and along with her partner, Dr. Marie Scott, operates The Brandywine Smile Center, a family-friendly dental practice in Concordville. Dr. McGann has opened a new practice in Valley Township, Rainbow Valley Dental. She is the current President of the Chester/Delaware Dental Society and she is a Fellow of the Academy of General Dentistry.