By Lele Galer, Columnist, The Times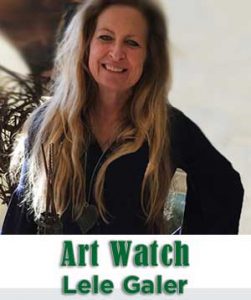 This art weekend starts in West Chester with fresh openings at Church Street Gallery and The Art Trust in downtown West Chester.
Well known plein air painter Beth Clark has an opening reception at Church Street Gallery for "Flora Magica" this Friday September 8 from 5-9pm, and around the corner The Art Trust at Meridian Bank continues its 2017 board game theme with "Candyland", and its artist reception also on Friday, from 5-8:30pm.
Openings are a great opportunity to chat with the artists, check out the show, and hop-knob with artists and art lovers with complimentary refreshments and finger food. Opening art receptions are the cheapest date around, and are so much fun! Last weekend's opening at Mala Galleria at its new larger location in Kennett Square was completely packed; one big happy art party!
Also of note, this is the last week for the very important exhibit at Somerville Manning Gallery in Greenville of "Andrew Wyeth: a Survey", which ends September 9th. Though the gallery can always link you with Wyeth paintings, prints and drawings that are for sale, this is a unique opportunity to see so many fine examples of his work, face to face, with the possibility of purchase.
This week I had the pleasure of interviewing painter Beth Clark, while she was bringing in her artwork for exhibition at Church Street Gallery, 12 Church Street, in West Chester. The opening reception for her show "Flora Magica" is this Friday September 8th from 5-9pm and her solo-show continues through September.
Beth Clark has been painting all of her life, teaches at Wayne Art Center, and has shown at galleries in West Chester University, Chester Springs, Somerville Manning, The Delaware Contemporary and many others. She shows locally and her subject matter is local. Beth Clark paints landscapes and can go back to the same place time and again and be freshly inspired every journey. Many of her pieces at Church Street Gallery are distilled from her walks through the Stroud Water Research Center Preserve (a quintessentially "beautiful Chester County" spot). While she may paint from the same area for many paintings, she says that the "same location is always a new place" and that she "uses the landscape to make (her) paintings, not (just) painting a landscape."
Most of Beth Clark's paintings are oil on Bristol board, but she also has examples of watercolor and gouache on paper, with added elements of oil pastel. She admits that she is "a committed landscape person" and that if she gets "stuck" trying to express a natural something, that she will change up her medium.
For her Church Street Gallery show, Beth Clark is excited about challenging herself to "go bigger" with larger painted works. She said that she does so much work outside that when she walks to a site, all she sees is paint. Check out her solo- show this month at Church Street Gallery, where she will exhibit outdoor local vistas, large and small, expansive and up-close, for an artist's world that merges the great Chester County outdoors with the passion of the paint and brush.
Around the corner from Church Street Gallery is The Art Trust at the Meridian Bank, which opens a new exhibition "Candyland", also Friday September 8th, from 5-8:30pm. Artists in Candyland include ceramic artist Emily Manko, painters Geoganna Lenssen, Brad Strode and printmaker Wendy Kershner. Wendy Kershner is also the wonderful Executive Director of Chester County Art Association (CCAA), which has some great shows this September. Opening at CCAA for a solo show this Thursday September 7th, from 5-7pm is painter David Katz. David Katz's images of rooftops below enormous expanses of brilliant skies have dubbed him "sky painter" and earned him numerous awards and praise. Also showing at CCAA is a non-juried art show with the theme "On the Road: Physical, Spiritual and Philosophical Journeys." If you have ever wanted to show your art work, art associations like The Chester Court Art Association are a terrific place to get your feet wet and take the plunge into a non-juried show.. all the praise and none of the judgment!
Further afield, make sure to check out the Delaware art scene (just 20 minutes from Chester County), with openings at The Station Gallery, Blue Streak Gallery, and final weeks for "Andrew Wyeth: A Survey" at Somerville Manning Gallery in Greenville. Station Gallery at 3922 Kennett Pike in Greenville has a fantastic show opening this Friday September 8th from 5-8pm for Kennett Square painter Peter Willard and Delaware native painter George Martz. The Willard and Martz show at Station Gallery continues through the end of September. Blue Streak Gallery also has an art opening on September the 8th, for "On the Road Again" with painters Yolanda Chatwynd, Max Mason and John McGiff. Each delightful gallery is packed with art for every budget, and openings are so much fun that even if you only planned to pop in, you end up chatting and shopping for a couple hours!
For this art weekend ahead, make sure to keep your Sunday open for the "ARTsisters" opening on September 10th from 3-5pm at The Wayne Art Center, located at 413 Maplewood Avenue in Wayne. The show continues through October 7th, and should be a real treat with the ARTsisters' 25 professional artists showing both two and three-dimensional works, in oil, pastel, watercolor, collage, wood and steel. ARTsisters was founded in 2005 to provide inspiration and professional support to like-minded women artists. Members partner with charitable and non-profit organizations to exhibit throughout the greater Philadelphia area, often donating a percentage of their sales to a chosen cause. The organization meets monthly and offers a range of activities to its membership, including critiques, field trips, an art book club and many volunteer opportunities. I know several of the ARTsisters artists and they are remarkable, passionate artists who have all worked hard to bring a great show to the Wayne Art Center this month.
Be sure to tune into Art Watch Radio this Wednesday on station WCHE 1520 from 1-1:30pm where the theme for this week's show is "The Kennett Flash." Guest host John Chambless talks with Dennis Melton and Dennis Miller. Dennis Melton, of the Melton Brothers Band, was one of the key organizers of the Flash, and Dennis Miller is the Kennett Flash Director. Previous podcasts of the show are available online at www.lelegaler.com.