By Mike McGann, Editor, The Times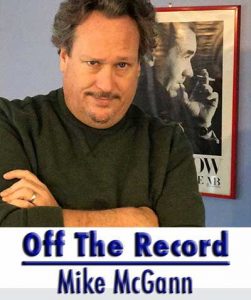 The good news is that East Marlborough Township and the Unionville-Chadds Ford School District have developed a plan to make the Route 82 corridor slower — and more importantly — safer.
The $1 million project – which would largely be paid for by a federal grant, plus a smaller grant from the Longwood Foundation – would make the area near Unionville High School and Patton Middle School markedly safer for pedestrians (many of whom are students, walking to and from school) and make the corridor safer for drivers. It's a discussion that school and local officials have been having for decades, after years of trying to get the Pennsylvania Department of Transportation (PennDOT) to lower speeds around the school campus.
Despite that, some board members seem to have issues with the plan — something that seems to be along the lines of "don't need no darn Gubmint messing with my roadways" thinking — or worse, the dead-from-the-neck-up corporate mentality of "I can't support anything that I haven't at least six coma-inducing Power Point presentations on and a final draft executive summary explaining the detailed business case, using stick figure cartoons."
And yes, some of it is pandering to party politics (an increasing issue on this this board) — embracing the growing bloc of Regressives in the area looking to dismantle all government when possible and supporting privatizing roads, schools, prisons and such, largely to the benefit of a few fat cats while hosing over the rest of us.
I'm sorry, but those who suggest that the school district pay for all of the project are equally misguided. Last time I checked road safety falls squarely on the township, not the schools. That the district is willing to partner is appropriate, but it is also residents of the township who benefit, not just the district. Thankfully, all but one Township Supervisor seem to share this view.
Just so there's no confusion here, the stretch of roadway in front of the high school and middle school is something out of Mad Max — utter and complete highway chaos. Although the speed limit is a crazy 45 MPH, many drivers headed northbound seem to think the idea is to see how fast they can go before hitting the roundabout, as if they were drivers competing at Monaco (and for fun, ignoring the yield sign). Worse, with the current turning lanes, vehicles do any number of wildly unpredictable things — I, myself, have had any number of near misses with folks not turning in turning lanes in front of the high school (while often chatting on their cell phones, of course).
The entire corridor — and I have two juniors attending Unionville High School — scares the heck out of me, and I've driven race cars at places such as Dover International Raceway and Pocono Raceway.
Making it safer should be a no-brainer.
Slowing the whole mess down — and yes, making it more congested — will make it safer, both for drivers and pedestrians, many of whom are students. If we can move heaven and Earth to change school start times to buy teenage students a dubiously helpful extra 30 minutes of sleep a night, doesn't it seem odd to have issue with a move that can save them from becoming a deadly pulp of flesh and blood?
Look, speed enforcement is a massive issue across the entire school district (and around the entire county), but there are limits as to what can be done on a regional basis, so it makes sense to pick a few key locations, such as schools.
I dare you to try and drive on US-1 North at 45 MPH in Pennsbury, the posted speed limit. Go 60 and you will get your doors blown off by cars going, and I kid you not, 85 MPH or more — the lack of local police (and the idiotic state rule preventing local police from using radar guns to enforce speed limits) and overstretched State Police means local roadways are almost always a mini Indy 500. Combine that with the added thrill of marauding packs of bicyclists (who seem to think they get to ignore stop signs) and joggers — plus entirely too many deer — and you could argue that you're safer going 180 MPH on a NASCAR track.
Oh, and try going 30 MPH on Route 82 near Unionville Elementary. I do — and get the middle finger salute, aggressive tailgating and lovely one horn serenades.
While we can't do a great deal to fix the bigger problem without removing pretty much all of the state legislature (deeply deserved for this and about 50 other reasons from budgeting to alcohol), doing what we can to chip away at problems, especially in front of schools, is an overdue and deeply welcome move.
It's a good plan — and likely to get better with refinement as the township and school district work to make it better. And the price? About $60,000 for district taxpayers (and $60,000 for township taxpayers) — with millions of dollars worth of benefit (not to mention saved lives).
One would hope that those board members questioning the plan would come to their senses before the Sept. 18 board meeting.