To The Editor,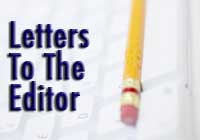 I live within my means. I have a small family with 2 kids, a wonderful husband, and a lovely house. I am employed by a non-profit in Coatesville, PA, a city that I have grown to love. My family rarely goes on vacation, but instead we enjoy each other's company and make do with the things that we have been blessed with.
At times, our family has struggled to make ends meet. Instead of looking for loop-holes in "the system" to survive, my family wants tax relief! As a middle class American family, we are the backbone of the US economy. If the income and business taxes are lowered and the tax code becomes simplified, we will immediately see a higher wage and we will be on firmer ground financially.
If President Trump's tax reform plan gets passed, my family's first $24,000 in income will not be taxed and we will be able to fill complete our taxes on a single page. That means no complicated deductions and we won't have to pay money to H&R Block to get our taxes filed.
As a hardworking American, I do not ask for much, but some tax relief is much needed and would be greatly appreciated.
Melanie Palmas,
Coatesville