By Mike McGann, Editor, The Times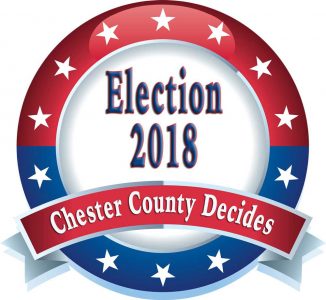 Voters across Chester County — and Pennsylvania — made their choices Tuesday in the primary elections that settle both statewide and local legislative races in a typically low turnout election, but one that saw local Democrats turn out at a higher rate than their Republican counterparts, a break from recent primary election in the county.
While Gov. Tom Wolf ran unopposed for the Democratic nomination for Governor, Republican Scott Wagner won both Chester County (47.28% in the county) and statewide (44.28% in Chester County), holding off Paul Mango (36.91% statewide, 32.33% in Chester County) and Laura Ellsworth (18.81% statewide, 19.91% in Chester County).
U.S. Rep. Lou Barletta won the GOP U.S. Senate primary, holding off Jim Christiana, for the right to take on U.S. Sen. Bob Casey, Jr. in November.
In the one statewide race with a local flavor, the Democratic race for Lt. Governor, Chester County Commissioner Kathi Cozzone — despite an overwhelming win in the county — finished third statewide to John Fetterman and Nina Ahmed. Cozzone did edge out incumbent Mike Stack, though.
Elsewhere, as expected, both Chrissy Houlahan (D) and Greg McCauley (R ) won their respective nominations for the new 6th District Congressional seat. In the 5th District (which includes Chadds Ford) Mary Gay Scanlon won over a large Democratic field and will take on Republican Pearl Kim in the fall election.
While Democrat Katie Muth and Republican incumbent state Senator John Rafferty both ran unopposed in the 44th District, Tim Kearney held off Tanner Rouse for the Democratic nomination in the 26th District. Kearney will take on incumbent Republican state Senator Tom McGarrigle in the fall.
In one of the most hotly contested local legislative primary races, the 74th state house district, Dan Williams held off Downingtown Mayor Josh Maxwell to win the Democratic nomination, with Frank Pryor finishing third. Williams will face Amber Little Turner in the fall, seeking to replace the retiring Harry Lewis Jr.
In another local primary battle, State Rep. Eric Roe easily held off a challenge from William Westbrook for the GOP nomination for the 158th District. Roe will face Democrat Christina Sappey in the fall.
Also, in another tight battle, Democrat Anton Andrew held off Cathy Spahr for the right to face State Rep. Stephen Barrar this fall in the 160th District.
In the 155th District, Danielle Friel Otten outran Ronald Graham for the Democratic nomination for State Representative. Otten will face incumbent Becky Corbin in the fall.
In the 167th District, Kristine Howard defeated Jeffrey McFall for the Democratic nomination for State Representative. Howard will face Republican incumbent Duane Milne.