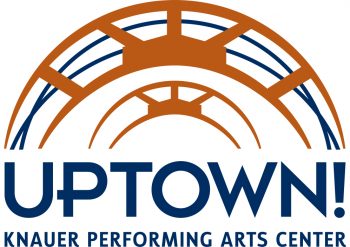 Uptown! Entertainment Alliance, the non profit organization that manages operations for Uptown! Knauer Performing Arts Center, is proud to receive a Longwood Foundation Grant for $150,000. Per Director Angela Scully, it is a great honor to receive such a generous award as well as the confidence of the Longwood Foundation. The grant will be used to pay down debt incurred in the transformation of the historic Armory to a theater. Uptown! will also use the grant as a challenge to encourage other donors to join in the debt reduction effort. Longwood Foundation invests in the arts, education and more. They look "to make grants that will accelerate an organization towards its own success and in the process help solve a community challenge in our geographic boundaries."
The idea for a theater in West Chester quickly evolved from four friends to a fully functioning Board of Directors, public fundraising and engaged elected officials. Uptown! Entertainment Alliance (UEA) took on debt to realize the vision of a state-of-the-art theater. Being free of that debt will position Uptown! more successfully as the civic and cultural hub for the region and will ensure the theater's long-term viability. It will also help Uptown! achieve several worthy goals, including: 1. Increasing the number of Scholarships awarded for performing arts education through WCStudio at Uptown! 2. Providing additional Community Tickets to community members who cannot afford to experience live entertainment. 3. Establishing an Entertainment Fund to subsidize costs for more expensive world-class entertainment. 4. Continuing upgrades to acoustic and lighting systems, landscaping and patron comfort.
Since opening in December 2017, Uptown! has established itself as the "best seats in town" for live entertainment, speakers and film in the greater West Chester community. Home to seven resident companies, Uptown offers a broad range of entertainment in collaboration with The Resident Theatre Company, Windish Music and Productions, Better Than Bacon Improv Comedy, Opera tutti, the Jazz Cocktail Hour, Yajaira Paredes Latin Productions and offers performing arts education with West Chester Studio for the Performing Arts at Uptown! Not just a performance space, Uptown! also welcomes community involvement as host to private and public functions, meetings and receptions.
Uptown! Patrons come from all walks of life and from over 38 zip codes. Through creative marketing, Uptown! continues to attract new members and patrons from the Chester County and Philadelphia regions, the state of Delaware and and beyond. To match the Longwood Foundation grant and reach long term financial goals, Uptown! continues to fundraise, and is so appreciative of the thoughtful, philanthropic individuals and organizations, such as the Longwood Foundation, that contribute to their success.