By Denny Dyroff, Entertainment Editor, The Times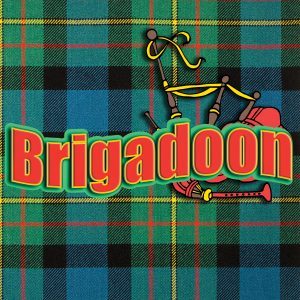 "Brigadoon" is a well-loved Broadway musical that had its debut on the Great White Way in March 1947 at the Ziegfeld Theatre, where it ran for 581 performances. Songs from the musical, such as "Almost Like Being in Love," have become standards.
Bur, "Brigadoon" is a show that is relatively unfamiliar to the last few generations of theater fans. The last time it was staged on Broadway was 1980. The show's most recent National Tour was in 1992. A Cinemascope film version of Brigadoon was released by MGM in 1954 with Gene Kelly, Van Johnson, and Cyd Charisse in leading roles.
Fortunately, area theater fans now have the opportunity to see a top-flight production of the musical because it is being presented by the Candlelight Theatre (2208 Millers Road, Arden, Delaware, 302- 475-2313, www.candlelighttheatredelaware.org) now through October 28.
The story involves two American tourists who stumble upon Brigadoon, a mysterious Scottish village that appears for only one day every 100 years. The main characters are the tourists – Tommy Albright and Jeff Douglas – and Fiona MacLaren, a beautiful lass from the village.
Tommy and Jeff, a pair of New Yorkers, have travelled to the Scottish Highlands on vacation and get lost on their first night out. They begin to hear music coming from a nearby village that does not appear on their map of the area. They head over to the source of them music and are greeted by villagers dressed in traditional Scottish tartan. Andrew MacLaren and his daughters arrive at the fair to purchase supplies for younger daughter Jean's wedding to Charlie Dalrymple.
After a short while, the two friends learn the story of Brigadoon – a story that starts with an event that took place two centuries in the past.
In an effort to protect Brigadoon from being changed by the outside world, the local minister prayed to God 200 years ago to have Brigadoon disappear, only to reappear for one day every 100 years. All citizens of Brigadoon are forbidden to leave the town, or it will disappear forever.
Tommy asks hypothetically if an outsider could be permitted to stay. Mr. Lundie, the schoolmaster and villager historian, replies, "A stranger can stay if he loves someone here – not jus' Brigadoon, mind ye, but someone in Brigadoon – enough to want to give up everythin' an' stay with that one person. Which is how it should be. 'Cause after all, lad, if ye love someone deeply, anythin' is possible."
Not surprisingly, Tommy falls in love with Fiona and the story begins to get complicated.
The show at the Candlelight Theatre, which is directed by Bob Kelly, features Andy Boettcher as Tommy Albright, Jared Calhoun as Jeff Douglas and Sophie Jones as Fiona MacLaren.
"Bob Kelly reached out to me to audition for 'Brigadoon'," said Boettcher, during a phone interview Wednesday afternoon from his home in Mount Holly, New Jersey.
"I wasn't familiar with 'Brigadoon.' It was a fun experience learning about the show. After I got the role, I watched the film and got the story. It's a good show for a small theater with the audience close to the stage."
Most people can relate to the attraction of finding new adventures – even if only in their dreams.
"Escaping from the hustle and bustle of city life is a good theme," said Boettcher, who teaches history and theater at Mastery High School in Camden, New Jersey.
"I really enjoy exploring my character – what this experience means to this character. Live theater is such an interesting way to explore different experiences. Every performance is a new experience."
Boettcher continues to learn more about Tommy in every performance.
"One of the things I like about Tommy is that he's searching," said Boettcher, who graduated from Rutgers University-Camden with a degree in history and is now working on a master's degree in theater at Regent University.
"I really have an affinity to his longing for a simpler life – a calmer life. He's looking for something better."
Boettcher can relate to his character but doesn't share Tommy's desire to leave his present life behind in search of something very different. The teacher/actor has been happily married for five years and he and his wife have two foster children.
"I really appreciate Tommy's hope," said Boettcher. "He's searching. I think we all search.
"The biggest challenge playing Tommy is bringing his language to life. The show was written more than 50 years ago so his syntax is different. Some of his phrases are hard to understand."
Learning about "Brigadoon" has been something new for Boettcher. The show also marks his acting debut at the highly-respected theater in northern Delaware.
"Doing this show at this theater has been a wonderful experience," said Boettcher. "This is a very talented and dedicated cast. We all love what we do."
The Candlelight Theatre's production of "Brigadoon" is running now through October 28. Performances are Friday and Saturday evenings (doors 6 p.m./show, 8 p.m.) and Sunday afternoons (doors, 1 p.m./show, 3 p.m.). Tickets, which include dinner and show, are $63 for adults and $33 for children (ages 4-12).
September 28, the Rrazz Room (6426 Lower York Road, New Hope, 888-596-1027, www.TheRrazzRoom.com) will offer a different avenue for escape – an "up-close and personal evening" with a talented, ground-breaking television personality, comedian, and actor.
The comfortable cabaret room in New Hope will host an evening with Scott Nevins, an American radio and television personality, comedian, and celebrity interviewer who gained nationwide attention for the Bravo series "The People's Couch" and the truTv show "TruTV Presents: World's Dumbest…."
Nevins' show is billed as "a scandalous comedy romp jam-packed with side-splitting insider Hollywood gossip, outrageous tales of Scott's favorite stars, hilarious personal anecdotes about his family and dating life, plus Nevins' show stopping celebrity vocal impressions."
"I tell a lot of hilarious stories about famous people," said Nevins, during a recent phone interview from his home in Studio City section of Los Angeles.
"I talk about my Irish Catholic alcoholic family. It brings me a lot of joy to make people laugh. I talk a lot about working in show business."
Nevins is a California transplant and a native New Yorker.
"I grew up in Flushing, Queens, lived in Manhattan and moved to Los Angeles about 10 years ago," said Nevins. "I had gone to college at SUNY-Purchase and finished in three years. Then, I moved to Manhattan where I started producing small cabaret shows."
By the age of 24, Nevins had headlined several of his own shows at the legendary comedy club Carolines on Broadway. He then won critical and audience raves, as well as a 2007 MAC Award Nomination for his debut solo comedy show "Celebutant: Don't You Know Who I Think I Am?".
He followed it with two more critically acclaimed solo shows "RECE$$IONI$TA: Cheaper Than A Tank Of Gas!" and "Scott Nevins: One Night Stand" including sold-out engagements in New York, Los Angeles, Boston, Baltimore, San Francisco, Toronto and Montreal.
Nevins appeared as a special guest star in the long running Off-Broadway hit "Tony N Tina's Wedding," and repeated his performance for an extended run in the Las Vegas Production.
"That segued into TV with 'World's Dumbest'," said Nevins. "The show started in New York and then moved to L.A. I hosted events around the country. And, I began doing my one-man show.'
Nevins donated his talents to hundreds of benefits, hosting shows for such wonderful organizations as Broadway Cares/Equity Fights Aids, HRC, The Point Foundation, PFLAG, The Desert AIDS Project, The Matthew Shepard Foundation, God's Love We Deliver and many more. He has worked several times with the NYC Gay Men's Chorus as the Host of "The Big Gay Sing" (with special guest: Andrea McArdle) and "The Big Gay Sing 2" (with special guest: Petula Clark).
In 2005, Nevins was awarded a 2005 Out There Award for his work, was nominated for a 2004 HX Award, 2004 Glammy Award, 2007 MAC Award, was chosen by New York Magazine in their 'Best of New York' issue, and most recently appeared as the Cover Model/Story for INSTINCT Magazine.
"I've really enjoyed doing the series 'The People's Couch'," said Nevins. "The show has been on Bravo for five years and has such a huge fan base. And, 'World's Dumbest' is still really popular.
"I also make regular appearances on CNN International Live. It's live from L.A. and I talk about entertainment, politics and LGBT issues. We talk about a lot of important political issues."
The audience at the Rrazz Room on Friday night will get to see, hear and enjoy many of the interesting facets of Scott Nevins.
"Even though I talk a lot about working in show biz, it's still very relatable for everyone," said Nevins. "It's also about daily life…family life. I also do celebrity vocal impersonations – people such as Liza Minelli and Judy Garland.
"As I said before, it brings me a lot of joy to make people laugh. I've been to New Hope a lot of times ansd I really love the toewn. New Hope is really special."
Video link for Scott Nevins – https://youtu.be/gxm4fVeyEwQ.
The show at the Rrazz Room will start at 8 p.m. Tickets are $30.
If you're in the mood for something tasty on Sunday afternoon, how about some leftover salmon – actually Leftover Salmon.
On September 28, Leftover Salmon, a rock 'n' roll, folk, bluegrass, Cajun, soul, zydeco, jazz and blues from Colorado will perform at the North Seventh, the venue formerly known as the Electric Factory, (421 North Seventh Street, Philadelphia, 215-627-1332, www.electricfactory.info) as one of the headline acts at the Philly Bluegrass Revival.
Leftover Salmon, which is based on Boulder, features Vince Herman (Vocals, Guitar, Washboard), Drew Emmitt (Vocals, Mandolin, Fiddle, Electric Guitar), Greg Garrison (Bass, Vocals), Alwyn Robinson (Drums, Vocals), Andy Thorn (Banjo, Electric Banjo, Vocals), and Erik Deutsch (Keyboards).
The show, which was originally schedule for the Mann Music Center, will start at 2 p.m. The roster of top-flight bluegrass acts also includes The Infamous Stringdusters, Del & Dawg (Del McCoury & David Grisman), Leftover Salmon, Jeff Austin Band, Larry Keel Experience, Cris Jacobs Band, and Midnight Flyer.
Leftover Salmon is closing in on its 30th anniversary.
The band formed in 1989, when members of the Salmon Heads — Vince Herman, Dave Dorian, and Gerry Cavagnaro — combined with members of the Left Hand String Band — Drew Emmitt and Glenn Keefe– to play a New Year's Eve show in 1989 at the Eldo in Crested Butte. Herman had previously played with Emmitt in the Left Hand String Band, and had called on his former bandmates Emmitt and Keefe to fill in for some missing members of the Salmon Heads for the New Year's Eve show. They chose the name Leftover Salmon on the drive to the show.
Everything clicked and Leftover Salmon soon began playing shows and making records. The lineup changed significantly over the years, but Emmitt, Herman and banjoist Mark Vann remained the heart of the band until Vann's death in 2002.
For almost three decades, Leftover Salmon has been one of the biggest bands on the roots music circuit with legions of fans and routinely sold-out shows. Not long after Vann's death, Leftover Salmon went on hiatus for a few years.
"The band tried to regroup after Mark Vann's death," said Thorn, during a phone interview Wednesday afternoon from his home in Boulder, Colorado. "Eventually, they took a break. They didn't finally come back until 2012 when they made the 'Aquatic Hitchhiker' album.
"I started playing with Leftover Salmon in 2010 but didn't officially join until 2012. I grew up as a Leftover Salmon fan. I grew up in Durham, North Carolina and first saw Leftover Salmon play at Merelefest when I was 15.
"I had the title track of 'Aquatic Hitchhiker.' We recorded that album here in Colorado at a studio in Denver."
Since then, Leftover Salmon has released three albums – "High Country" in 2014, "25" in 2016 and 'Something New," which was just released this year. All three were on Los Records.
"We recorded 'Something New' in May 2017 in Tucson, Arizona," said Thorn. "We wanted to get out of town, so we could focus on the album. We'd take breaks from recording and wander around the desert in Saguaro National Park.
"It was produced by Los Lobos' Steve Berlin, who produced out previous two albums. "We made the records at Wave Lab Studio. It was a good studio where we could record to tape. The studio had a nice warm sound – and a lot of great analog gear.
"For this album, we didn't do as much preparation as we usually do. This one was created really spontaneously in the studio. Each person brought in ideas and the band would work with them. It was more experimental and jazzier than our previous records.
"In our live shows on this tour, we play most of the new album. We also play some of our older material – and a few covers."
Video link for Leftover Salmon — https://youtu.be/0m74c-vndEM.
The festival at the Electric Factory will start at 2 p.m. Tickets are $49.50.
Kennett Flash (102 Sycamore Alley, Kennett Square, 484-732-8295, http://www.kennettflash.org) will host Larry Campbell & Teresa Williams on September 28 and Dan May and Evangeline Young on September 29.
The Steel City Coffee House (203 Bridge Street, Phoenixville, 610-933-4043, www.steelcitycoffeehouse.com) will present "Comedy Night with Zach Hammond, Pat George, Kirk Griffiths and dan Hoppel" on September 29.
The Colonial Theatre (Bridge Street, Phoenixville, 610- 917-1228, www.thecolonialtheatre.com) has a line-up featuring "Point Entertainment presents Toad the Wet Sprocket" on September 27, and "City Rhythm Orchestra presents An Evening with Jenna Esposito" on September 28.
Chaplin's (66 North Main Street, Spring City, 610-792-4110, http://chaplinslive.com) will host Northern Lights, Alyssa Dodge, and Joel Keeley on September 28.
The Ardmore Music Hall (23 East Lancaster Avenue, Ardmore, 610-649-8389, www.ardmoremusic.com) will present Pete Yorn on September 27, Paul Gilbert on September 28, and Damn the Torpedoes on September 29.
Burlap & Bean Coffeehouse (204 South Newtown Street Road, Newtown Square, 484-427-4547, www.burlapandbean.com) will host Joshua Park with Hezekiah Jones on September 29 and Alfred James Band with Brad Cole on September 29.
The Keswick Theater (291 N. Keswick Avenue, Glenside, 215-572-7650, www.keswicktheatre.com) presents Tamia on September 27, Wanda Sykes on September 28, 70's Tribute Revival – A Tribute to Aerosmith, Meatloaf & Journey on September 29,  Epic Church X on September 30 and Laverne Cox on October 2.
The Sellersville Theater (24 West Temple Avenue, Sellersville, 215-257-5808, www.st94.com) will have The High Kings on September 28, Garnet Rogers & Archie Fisher on September 29, Noel Paul Stookey (from Peter, Paul & Mary) on September 30, The Devon Allman Project With Special Guest Duane Betts on October 2 and Jimmy Vaughan on October 3.