By Denny Dyroff, Entertainment Editor, The Times
What do you get when you pair a talented singer/songwriter/guitarist from New York City and a kickass harmonica player and singer from the South?
You get an act billed as Jason Ricci and JJ Appleton.
The two veteran musicians will bring their no-holds-barred sound to the Sellersville Theater (24 West Temple Avenue, Sellersville, 215-257-5808, www.st94.com) on October 11.
Ricci and Appleton have teamed up to record a new album entitled "Beautiful Slop," which will be released on October 26.
The joining of forces between award-winning blues harp master Ricci and the multi-faceted Appleton produced one of the most unexpected and exciting blues music releases of the last few years.
With original songs that nod to Delta blues and roots history, the album offers raw, powerful emotions and world class musicianship in an acoustic format. Ricci's fiery harp performances blend perfectly with Appleton's deep, wry, truthful songs and fierce resonator guitar skills.
"I had never ever met or seen Jason play live," said Appleton, during a phone interview last week from a tour stop in Milford, New Hampshire.
"I saw some of his songs on YouTube and asked friends – have you ever heard anyone play like that? I wanted to make a Delta roots record. Jason didn't have one – so, I called him."
Ricci said, "I looked him up and couldn't believe how good a singer he was. I've always been involved in blues. My band releases deal so much in electricity – a wild sound. So, a project like this was a good way to get back to my roots."
A few songwriting sessions, a live-to-video project and a ProTools recording in New York City with Tedeschi Trucks bassist Tim Lefebvre was the foundation for their album, "Dirty Memory," which was released in 2014.
"I had a friend who is a film director," said Appleton. "He did me a huge favor when he gave me his studio for a day. We did as three-camera show and filmed it and recorded it on our own,"
Ricci said, "We had one rehearsal to get ready for that record – one hour on the day before we went into the studio."
Six of the tracks from "Dirty Memory" dominated the Top 10 Acoustic Blues Singles chart in the autumn of 2015. In November 2015, "Dirty Memory" was given the 2015 Jimi Award for "Best New Artist Debut" by Blues 411
For the new album, Appleton and Ricci took over bassist/producer Derek Nievergelt's Brooklyn basement studio for two days – in 90-degree heat with no air conditioning – and recorded 10 songs dripping with raw grit, groove, acoustic soul and sweat.
Ricci, a harmonica legend and winner of the 2018 Blues Award for Best Instrumentalist/Harmonica, broke another barrier by melding his Sonny Terry on speed style with Appleton's beautifully melodic flowing riffs. The result was the "Beautiful Slop" album.
"Half of the album was recorded in the studio in New York," said Appleton. "We did seven tracks and kept five for the record. The second part of the record was done in Bloomington, Indiana at Midwest Audio Recording."
Ricci said, "Our influences are blues artists like Little Walter and James cotton, along with soul music. Some of our songs are straight-ahead blues songs and others are more soul-based. We're asking a little more from the blues listeners. We didn't want it to be just a blues album.
"When we went in to make the new album, we had the experience of playing together live a lot. That informed us of what works. We recorded it in July and August and it's coming out this month. It was all recorded live – recorded live to tape. There are no overdubs and most of it is first takes. We kept it as real as possible."
Video link for Jason Ricci and JJ Appleton – https://youtu.be/J5gJn1BBUA4.
The show at the Sellersville Theater, which has Beaucoup Blue as the opener, will start at 8 p.m. Tickets are $21.50 and $29.50.
Other upcoming shows at the Sellersville Theater are Grant Lee Phillips & Josh Rouse on October 12, Acoustic Alchemy on October 13,
Phil Keaggy on October 14, John Lodge (The Moody Blues) "The 10,000 Light Years Tour" and Steve Butler of Smash Palace on October 15, Kathy Mattea on October 16, and Carl Palmer's ELP Legacy on October 17.
Paul McDonald has been a major part of several albums over the last 10 years – but always sharing the credits.
He was part of Hightide Blues on their debut EP in 2007 and their "Love Come Easy" album in 2008. He was also part of The Grand Magnolias on their eponymous debut LP in 2011. And, he was part of Paul McDonald and Nikki Reed which released its "Best Part" EP in 2012 and a single in 2014.
Now, McDonald is touring in support of his debut solo LP, Modern Hearts," which came iut this year. The tour brings him to the area for a show on October 12 at MilkBoy Philadelphia (1100 Chestnut Street, Philadelphia, 215- 925-6455, www.milkboyphilly.com).
McDonald's life and career has had peaks and valleys in recent years. He sums it up well in a line from the album track "So Much Better" – "I'm turning all these lows into glitter, silver and gold/And, it's so much better."
A native of Auburn, Alabama, McDonald has lived in Nashville and Los Angeles for more than a decade.
"I went to college at Auburn University and then moved to Nashville after I graduated – with a degree in biomedical sciences," said McDonald, during a phone interview last week from a tour stop in Cleveland, Ohio.
"In 2010, I moved to L.A. and lived there for a few years. I moved back to Tennessee in 2014 and have been living in East Nashville ever since."
McDonald's career has taken him from a start as a young guitarist to national exposure as a contestant on "American Idol" and now to life as a singer/songwriter in Music City.
"I got a guitar when I was 15," said McDonald. "I learned through a church music group where a buddy taught me chords.
"I started writing songs immediately to express my emotions. It was more of a hobby at first – but folks were into it.
"I had a college rock band at Auburn – Hightide Blues. We were playing 200-250 shows a year. We toured around the Southeast and started making records.
"That band changed into Grand Magnolias. We moved to Nashville and cut a record. We did as handful of shows and then I moved to L.A. That album never had a chance to break. When I moved to California, I got thrown into that L.A. stuff – zero-to-100 real quick."
All that "L.A. stuff" included a stint on the "American Idol" television show.
In 2011, McDonald made it into the Top 24[5] by singing an original song, "American Dreams." He was one of ten candidates chosen as a finalist based on public voting. McDonald was eliminated from the show on April 14, 2011, with a finish of eighth place.
"With the 'Idol' stuff, I was going all around the country playing arenas and singing only covers. It was like a Vegas show touring in front of 15,000 fans every night."
After relocating to Nashville, McDonald went to North Carolina to make his debut album.
"Modern Hearts" was produced by Jordan Lehning and featured an all-star cast of studio musicians. The album was tracked at Echo Mountain Studios in Asheville, North Carolina. Additional recording took place at Sound Emporium Studios in Nashville.
"You get shot out of a cannon in L.A.," said McDonald. "I learned a lot about art I wanted to make – and who I didn't want to be. I'd rather stay out of tabloids. I'd rather have the respect of the music community
Video link for Paul McDonald – https://youtu.be/GNd363hGmUg.
The show at MilkBoy Philadelphia, which also features Emily Kinney, will start at 8 p.m. Tickets are $20.
Other upcoming shows at MilkBoy are Mikaela Davis on October 13 and Jakubi on October 17.
Saint Slumber will be performing in Philadelphia on October 12, but the show has nothing to do with religion – nothing to do with Saint Joseph, the patron saint of sleep.
Saint Slumber — lead singer Josh Perna, guitarist Aaron Brown, bassist Adam Jessamine and drummer Matt Carpenter –is band from the area of northwest New Jersey near the Delaware Water Gap National Park.
On October 12, the quartet will share the bill with Young Rising Sons in an all-ages show at the Voltage Lounge (421 North Seventh Street, Philadelphia, 215- 964-9602, www.voltagelounge.com).
"Saint Slumber is a space more than a person," said Perna, during a phone interview Wednesday afternoon from a tour stop in Brooklyn.
"We wanted to create a conceptual save to make our music. Our tagline is – 'Welcome to Saint Slumber.'
"Aaron and I have been friends for over a decade. We met at a parochial Christian school in rural New Jersey – the Good Shepherd Christian Academy. Then, we went to high school together at North Warren Regional High in Blairstown.
"When we met at 13, we were the only musicians we knew. We tried playing in different kinds of bands and ended up being Saint Slumber. We put out our first record in the middle of 2017. Before that, there was a lot of experimenting
That record was an EP called "Youth//1." The five-song EP juxtaposes the sounds of dreamy, electronic pop alongside alternative rock.
Self-producing all of their own records, music videos, etc., the four musicians released their follow up EP – "Youth//2" — on September 14.
"We plan on putting out three EPs in a trilogy," said Perna. "We're developing as we go. Writing and recording constantly in our home studio. "There has been an evolution from 'Youth//1' to 'Youth//2.' We wanted to create something that was more dynamic – more sensitive. Loud things don't sound loud unless you're juxtapositioning with something soft. We're learning how to use opposites.
"The biggest difference between the two EPs is the peaks and valleys. With 'Youth//1,' it just hits you in the face with five songs. 'Youth//2' will start in one place and take you on a journey.
"'Youth//3' is hopefully going to be the best – the culmination of a story dealing with the beginning, middle and end of adolescence. 'Youth//3' will be the period at the end of the sentence."
Video link for Saint Slumber – https://youtu.be/1O_vqzlOa-M.
The show at the Voltage Lounge, which also features Young Rising Sons, will start at 7 p.m. Tickets are $13.
Other upcoming shows at the Voltage Lounge are Dance with the Dead on October 11, Vitamin X on October 13, Satan on October 14, Terror on October 16, Griffey, Jr. on October 17, and Starkida1 on October 17.
If you're not familiar with this history of Bob Dylan and the music scene in Woodstock, New York, this might sound a bit confusing.
The Weight Band is a band. "The Weight" is a song by The Band. The Weight Band is a band named after The Band's song "The Weight." The Weight Band is a band put together to keep alive the music of The Band.
On October 12, The Weight Band – Jim Weider (guitar, mandolin & vocals), Michael Bram (drums & vocals), Brian Mitchell (keyboards & vocals), Matt Zeiner (keyboard & vocals), Albert Rogers (bass, vocals) — will visit the area for a show at the World Café Live (3025 Walnut Street, Philadelphia, 215-222-1400, www.worldcafelive.com). The group is touring in support of its debut album, "World Gone Mad," which was released back in February.
"The album came out on February 23 in the states and September 14 in Europe – and I'm working on Japan" said Weider, during a phone interview Wednesday afternoon from his home in Woodstock, New York. "It's doing well on the radio in Europe."
The Band was a Canadian-American rock group featuring Rick Danko, Levon Helm, Garth Hudson, Richard Manuel and Robbie Robertson. In 1965, Dylan hired them as his touring band when expanded for a solo folk artist to a folk-rock musician with a group behind him.
After a while, Robertson left to pursue a solo career and then later Manuel died. The remaining three members continued to tour and record albums with a succession of musicians filling the departed members' roles. The final line-up included Richard Bell, Randy Ciarlante and Jim Weider.
Danko died of heart failure in 1999, after which the group broke up for good. Helm was diagnosed with throat cancer in 1998 and continued to perform until cancer won the battle in 2012.
A passing wish of Helm was for the music and spirit of The Band to live on. The Weight Band was formed to do just that. The Weight Band came into existence to bring a live performance of The Band's music to fans — but not as a tribute band.
All of the members of The Weight Band were either actual members in The Band or are directly and deeply connected to the legacy of The Band. The Band just might have been one of the tightest musical groups ever and replicating the music of The Band is no easy task.
"A few years ago, after we lost Levon, Randy and I put The Weight Band together with a couple other musicians," said Weider. "We did songs of The Band and the shows sold out."
The members all have other projects, but it is the music of The Band that binds them together.
"I started playing with Levon in the early '80s in the Levon Helm Band," said Weider. "Randy was in the band too. In 1985, when Richard and Garth moved to Woodstock, we toured with Crosby, Stills and Nash. We went out as The Band. That really changed my life.
"With the Weight Band, we do everybody's favorites such as 'Up on Cripple Creek,' 'The Rumor' and 'Look Out Cleveland.' We do stuff from the early records and tunes I never did with The Band. We try to change up the set list all the time to keep it fresh.
"We're getting a real mixture in our audiences. Of course, there are a lot of older folks who want to hear the songs they know. But, we're also getting kids who have started listening to The Band's music. This music is such a strong part of American music.
"At the start, it was mainly fans of The Band. I had noticed in the shows with Levon near the end of his life, we'd do The Band's tunes and people were going wild. The reaction was overwhelming."
Weider built a reputation as a versatile and talented guitarist through performances and recordings with such diverse acts as Scotty Moore, Keith Richards, Los Lobos, Graham Parker, Taj Mahal, Mavis Staples, Hot Tuna, Bob Weir/Rat Dog, Johnny Paycheck, James Talley, Kim Wilson and Paul Butterfield.
The Weight Band has been together almost six years and its current line-up has been together for two-and-a-half years. This year, the group finally recorded its debut album.
"World Gone Mad" has 11 tracks and features eight original songs, including contributions from the late Levon Helm on never-before-released songs written for The Band. The album also includes a Dylan song – "Day of the Locusts" – and a special guest appearance by Jackie Greene on the grateful Dead song "Deal."
Recorded at Clubhouse Studio in Rhinebeck, New York, the album salutes a rich musical style best de-scribed as the "Woodstock sound." A live, raw and rustic American musical tradition is heard throughout the self-produced album, with lyrics reflecting stories of love, humor, and personal journeys.
"It was a challenge to make original music for our album that we could integrate with the music of The Band," said Weider. "The most obvious thing was to write original material that sounded like The Band.
"It was very difficult to get the sound. It was up to the lyric writing and the stories. Everyone in our group has a good handle on the Band's music. They have a good feel for the music. I think we've completed the task and gotten the songs to blend in.
"In our live shows now, we're doing pretty much the whole album. We mix originals in with the older tunes. I didn't put the new songs into the set until after the album came out because if you play them live, they're immediately up on YouTube. That can take the air out of a record release."
Video link for The Weight Band – https://youtu.be/iJ0zMhCx01Q.
The show at the World Café Live, which has Kerri Powers opening, will start at 8 p.m. Tickets are $35.
Other upcoming shows at the World Café Live are Eric Hutchinson & The Believers on October 11, The Weeklings on October 13, Transistor Rodeo on October 13, JJ Grey on October 14, The English Beat on October 16, Elizabeth Cook on October 16 and Julia Levitina with Marion Halliday & Trickster Sister on October 17.
Kennett Flash (102 Sycamore Alley, Kennett Square, 484-732-8295, http://www.kennettflash.org)
Better Than Bacon and Hot Breakfast on October 11, The Melton Brothers Band & The Ben Arnold Band on October 12,  "All Good People – A Tribute to Yes" on October 13, andHurricane Hoss along with Mighty Joe Castro and the Gravamen on October 14.
The Steel City Coffee House (203 Bridge Street, Phoenixville, 610-933-4043, www.steelcitycoffeehouse.com) will host Afrobear on October 13 and the Philadelphia Main Line Ukulele Group on October 14.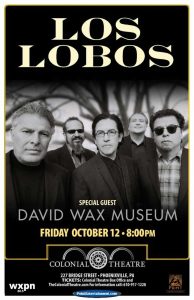 The Colonial Theatre (Bridge Street, Phoenixville, 610- 917-1228, www.thecolonialtheatre.com) will host Los Lobos on October 12 and Al Stewart on October 14.
The Ardmore Music Hall (23 East Lancaster Avenue, Ardmore, 610-649-8389, www.ardmoremusic.com) presents Antibalas on October 11,
John Kadlecik's West Philly Fadeaway with special guest Wax Future on October 12, Melvin Seals on October 13, Perpetual Groove + Kung Fu on October 14 and Black Joe Lewis & The Honeybears with special guest Vug Arakas on October 16.
The Locks at Sona (4417 Main Street, Manayunk, 484- 273-0481, sonapub.com) will present Ryan Montbleau (solo) with special guest Brian Dunne on October 11, Pat McGee with special guest Chris Trapper on October 12 and 13, and Freddy & Francine along with Harrow Fair on October 14.
Valley Forge Casino (1160 First Avenue, King Of Prussia, 610-354-8118, www.vfcasino.com) will present Angelo Lazada on October 12.
Burlap & Bean Coffeehouse (204 South Newtown Street Road, Newtown Square, 484-427-4547, www.burlapandbean.com) will host Danielle Miraglia and Pierce Pettis on October 12 and Callaghan with Caelen Bird on October 13.
The Keswick Theater (291 N. Keswick Avenue, Glenside, 215-572-7650, www.keswicktheatre.com) presents Indigo Girls on October 12, Def Comedy Jam Comedians on October 13, "Welcome to Night Vale" on October 14 and Lisa Stansfield on October 17.
The Grand Opera House (818 North Market Street, Wilmington, Delaware, 302-652-5577, www.thegrandwilmington.org) will host a concet by George Thorogood and the Destroyers on October 12.
The Queen (500 North Market Street, Wilmington, 202-730-3331, www.thequeenwilmington.com) will have Issa State Vibe on October 12 and James Veitch on October 13.
Jamey's House of Music (32 South Lansdowne Avenue, Lansdowne, 215-477-9985,  will have The Gene Smith Band on October 12, and Denise Moser with Tamra Hayden on October 13.
Rrazz Room (6426 Lower York Road, New Hope, 888-596-1027, www.TheRrazzRoom.com) will present Jackie "The Joke Man" Martling on October 13 along with special guest comedian Rich Harkaway.
The American Music Theatre (2425 Lincoln Highway East, Lancaster, 800-0 648-4102, www.AMTshows.com) will host "An Evening with Jay Leno" on October 12.
The Candlelight Theatre (2208 Millers Road, Arden, Delaware, 302-475-2313, www.candlelighttheatredelaware.org) is offering area fans the opportunity to see a rarely-presented musical theater classic.
The dinner theater's production of "Brigadoon" is running now through October 28. Performances are Friday and Saturday evenings (doors 6 p.m./show, 8 p.m.) and Sunday afternoons (doors, 1 p.m./show, 3 p.m.). Tickets, which include dinner and show, are $63 for adults and $33 for children (ages 4-12).