By Denny Dyroff, Entertainment Editor, The Times
West Chester University's Wells School of Music will present a special show on November 13 as part of its "New Music Series."
The show Tuesday night at WCU's Ware Family Recital Hall (Swope Music Building, 817 South High Street, West Chester, https://25livepub.collegenet.com) is highly attractive for two reasons – primarily because it features standout jazz/avant-garde horn player David Dominique. The second reason is that the concert is free and open to the public.
Dominique, a professor at William & Mary College who holds a Ph.D. in Music Composition and Theory, is a composer, performer and music theorist living in Richmond, Virginia by way of Los Angeles, Boston, and New York. His compositional output includes contemporary chamber music, jazz, electroacoustic music, installation, rock and theater.
Much of Dominique's recent music has been written for a jazz octet, including the albums "Ritual" (2013) and "Mask" (2018) — collections of compositions for saxophones, flute, violin, viola, clarinet, bass clarinet, valve trombone/flugabone, electric guitar, electronics, bass and drums.
"Mask" is a surrealist, cross-genre expression of angst and catharsis and an exploration of Dominique's diverse heritage and musical interests — from 60s jazz to avant-rock to contemporary classical.
"I recorded "Mask" in Los Angeles and every player on the record lives in L.A.," said Dominique, during a recent phone interview from his home in Richmond.
"We recorded it at Nolan Shaheed Studios. It's a garage studio in Pasadena. Nolan Shaheed produced the album. I first heard about Nolan by word of mouth. Joe Santa Maria, who plays sax and flute on 'Mask,' recommended him. Nolan is also a great trumpet player who has worked with acts ranging from the Count Basie Orchestra to Lady Gaga."
Written over eight years, Dominique's new Orenda Records release moves about between styles, strategies, attitudes and textures. The project builds on the language Dominique developed on "Ritual" while offering a perpetual sense of surprise.
"I spent a long period of time working on this album," said Dominique. "I worked a lot on pre-composition, composition and live performance."
Dominique holds an undergraduate degree from New York University, a Master of Music degree from California State University at Northridge, and an MFA and PhD from Brandeis University where he studied with David Rakowski and Eric Chasalow.
"I studied cultural anthropology and music at NYU," said Dominique. "I got my master's degree in music composition at Cal. State-Northridge. Then, I got another master's and my PhD in composition and theory at Brandeis. My credentials were classic chamber music and contemporary.
"My music now is in a different direction. On 'Mask,' the harmonies and melodies denote jazz but also has a feel of minimalism. American minimalism with composers such as Philip Glass, Steve Reich and Terry Riley has infiltrated mainstream today."
On "Mask," Dominique played flugabone and was joined by a seven-piece band that featured Brian Walsh (renor sax and clarinets), Sam Robles (alto and baritone sax), Lauren Baba (viola), Alex Noice (guitar and electronics), Michael Alvidrez (bass), Andrew Lessman (drums), and Santa Maria (sax and flute).
"I'll be playing with a seven-piece band in West Chester, but it will be different musicians than the ones who were on the album," said Dominque. "This is my East Coast band with four of the members from Richmond. In our live show, we're playing eight or nine songs from 'Mask' and five or six from 'Ritual,' which was my previous album that was released in 2013."
Video link for David Dominique – https://youtu.be/jayNqTiPCUY.
The concert on November 13 at WCU's Ware Family Recital Hall in the Swope Music Building will start at 8:15 p.m. The show is free and open to
When Elliott Murphy first played shows in this area, he was a young singer-songwriter-rocker with long straight blonde hair and an innocent-looking face. He released his debut album "Aquashow" in 1973 and was performing gigs at clubs like the long-gone Main Point in Bryn Mawr.
When Murphy comes back to the area this week, he is a veteran singer-songwriter-author with medium-length blonde hair and a face not-so-innocent – a somewhat roadworn face that still features a warm, welcoming smile.
Murphy, who turned 69 in March, is still rocking and still writing great songs. On November 13, he will headline a show at the World Café Live (3025 Walnut Street, Philadelphia, 215-222-1400, www.worldcafelive.com).
Almost 50 years have passed since the release of "Aquashow" (which was declared an "Album Classic" by the UK's prestigious UNCUT magazine). Since that time, Murphy, singer-songwriter, rock troubadour, indefatigable road warrior (more than 100 shows a year) and prolific author of fiction, has once again proven his dedication to his music and his commitment to his growing legion of fans with the release of his most recent LP, "Prodigal Son."
"I put a lot of work into the making of 'Prodigal Son,'" said Murphy, during a trans-Atlantic phone interview last week from his home in Paris, France. "I recorded it here in Paris. I've been living in Paris for the last 28 years."
Murphy may be a long-time resident of "La Ville-Lumière" ("City of Lights"), but his roots are in Long Island, New York – in Garden City, where he grew up.
"The original impetus for this tour was that I was being inducted into the Long Island Music Hall of Fame in November," said Murphy. "I'm getting inducted by Billy Joel. They do inductions every two years. The Hall of Fame there has an amazing group of artists.
The Long Island Music Hall of Fame's list of inductees from over the years includes a variety of internationally-acclaimed musicians such as Al Kooper, John Coltrane, Barbra Streisand, Paul Simon, The Shangri-La's, Cyndi Lauper, Louie Armstrong, Joan Jett, Connie Stevens, Pat Benatar, Lou Reed, Count Basie, Deborah Gibson, Carole King, Tony Bennett and Billy Joel.
On November 8, Murphy officially joined the illustrious ranks. It is not his first major international honor. In 2015, Murphy was awarded the Chevalier des arts et des lettres medal by the French Minister of Culture.
Along with his virtuoso French guitarist Olivier Durand, Murphy will be performing shows in New York and New Jersey in November as well as a highly-coveted performance at the Kennedy Center's Millennium Stage in Washington, D.C.
" On this tour, I'm just playing as a duo with my guitarist Olivier, who has been with me for 22 years," said Murphy. "In Europe, half my shows are with my band and half are as duo. This year, I'll probably have done more than 60 shows. You have to stay on the road or else you forget how to do it."
Murphy is also a prolific writer of fiction with two novels and numerous collections of short stories published in Europe. One of his earlier stories is currently being made into the film "Broken Poet" and will feature him in his first major acting role. Cast members include Marisa Berenson, Academy Award nominee Michael O'Keefe, and acclaimed French actress Joana Preiss. A Spring 2019 release is projected for "Broken Poet" by award-winning Spanish Director Emilio Barrachina.
"I'm also working a lot on short stories and novels including a short story for Rolling Stone magazine," said Murphy. "The first writing I did other than writing songs was writing the liner notes for Velvet Underground's 'Live' album. I think I need both types of writing.
"I'm always writing music – bits of songs, bits of lyrics. When I go to my band to make an album, I bring all these things.
"For my live shows, I change the set list a lot. We do a lot of stuff from 'Prodigal Son.' With 35 or 36 albums, I have a lot to draw from, but I look at my whole catalog. For example, I still play 'Last of the Rock Stars,' which was on my first album back in 1973."
Video link for Elliott Murphy – https://youtu.be/PMZrGjDEDTY?list=OLAK5uy_lsoRh01m74GfUwUhVRBHp6ZvVfhYW3CMU.
The show at the World Café Live, which has Adam Masterson as the opener, will start at 8:30 p.m. Tickets are $15.
On November 13 and 14, Real Friends will visit the area for a two-night stand at the First Unitarian Church (2125 Chestnut Street, Philadelphia, www.r5productions.com).
Real Friends – Brian Blake [drums], Kyle Fasel [bass guitar], Dave Knox [guitar], Dan Lambton [vocals], Eric Haines [guitar]
– is a pop punk band that traces its roots back to 2010 in Tinley Park, Illinois – a suburb of Chicago.
"We all met through playing in different local bands," said Fasel, during a phone interview last week from a tour stop in Alabama. "We've been together eight years now.
"We all had been in bands with people without the same vision – people who didn't take it seriously and want to take it to the next level…people who didn't want to make a career out of it. So, we formed Real Friends. We've all been in this band since we were 20. I never even envisioned having a normal job and a normal life.
"We all made the commitment – except our original drummer. He was with us for under a year, so I consider Brian as our original drummer."
Real Friends released their debut album, "Maybe This Place Is the Same and We're Just Changing" in 2014 and then put out their sophomore album, "The Home Inside My Head," in 2016.
The band released its third album, "Composure," on July 13, 2018 on Fearless Records, a division of Concord Music Group, Inc.
"We recorded 'Composure' in January 2018," said Fasel. "We were in L.A. to make the album with producer Mike Green. We had worked with him on a couple songs in the past. We were out there for about five weeks and cut tracks at Mike's studio in West Hollywood. It was a great experience – and the weather was amazing."
Real Friends went a different route by recording with two producers — three songs with producer Mike Green (Pierce The Veil, All Time Low) and nine with Steve Evetts (The Wonder Years, Dillinger Escape Plan).
"There was a lot different than tour past recordings," said Fasel. "We wrote musically for a year and didn't work on any vocals until we got in the studio. All the vocals were written in five-to-six weeks. Mike would get the idea and we'd help with the vocals.
"In the past, I did the majority of the lyrics. Now, it's half-and-half with the singer. As far as the lyrics go, we had a lot written. The challenge was re-arranging them to fit the songs."
There were other differences between "Composure" and its predecessors.
"Sonically, 'Composure' has a crisper sound," said Fasel. "It's a little more polished but still natural. It's still energetic and loud – but n0t overbearing.
"The songs we chose for our live set are pretty well spread out. There are at least three from 'The Home Inside My Head' and five or six from 'Composure.' And, we scattered some old ones in there. We'll be starting to write again after this tour."
Video link for Real Friends — https://youtu.be/wkdoATNbEWk.
The shows on November 13 and 14 at the at First Unitarian Church, which have Boston Manor, Grasyscale and Eat Your Heart Out as opening acts, will start at 7 p.m. each night. Tickets are $22.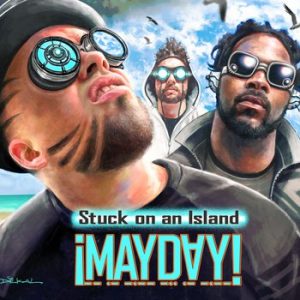 There could be some confusion if you hear someone referring to Mayday – especially if they are rock music fans.
"Mayday" is an emergency procedure word used internationally as a distress signal in voice-procedure radio communications. It originated in 1923.
"May Day" is a public holiday usually celebrated on May 1. It is an ancient Northern Hemisphere spring festival and a traditional spring holiday in many cultures.
In the world of popular music, there are three bands with similar "Mayday" names – Mayday, ¡MayDay!, and Mayday Parade.
Mayday is a Taiwanese band that debuted in 1999. Mayday won the Golden Melody Award for Best Musical Group in 2001, 2004, 2009 and 2012. CNN calls them "The Chinese Beatles" and they are named "Kings of Concerts" in Asia. They are one of the most influential Taiwanese bands in the 2000s.
¡MayDay! is an American hip hop group from Miami, Florida. The group consists of rappers Bernz and Ben Miller (a.k.a. Wrekonize or just Wrek) along with producer, and percussionist Andrews Mujica (a.k.a. NonMS).
Mayday Parade is an American rock band from Tallahassee, Florida featuring Derek Sanders, Alex Garcia, Brooks Betts, Jeremy Lenzo, and Jake Bundrick.
Ironically, ¡MayDay! and Mayday Parade will be performing in Philadelphia less than 24 hours apart.
On November 13, ¡MayDay! will headline a show at MilkBoy Philly (1100 Chestnut Street, Philadelphia, 215- 925-6455, www.milkboyphilly.com). On November 14, Mayday Parade will headline a show at The Fillmore (1100 Canal Street, Philadelphia, 215-309-0150, www.thefillmorephilly.com).
¡MayDay! has been making well-received albums for more than a decade starting with its self-titled debut in 2006. The group followed with "Stuck on an Island" (2010), "Take Me to Your Leader" (20123), "Believers" (2013), "¡MursDay! (with Murs)" (2014), "Future Vintage" (2013), "Search Party" 92017), and "South of 5th," which was just released on September 7, 2018 on Strange Music.
"South of 5th" has impressively debuted on Billboard album charts at #1 Reggae, #11 Rap, #19 Indie, and #65 Top 200. The album is the group's first release to claim the #1 spot on the Billboard Reggae Chart, and the sixth time the trio has appeared on Billboard's Rap album chart and Top 200 Chart.
The new album's 13 tracks take listeners through the skank and ska riddims of the Caribbean while maintaining ¡MayDay!'s signature blend of Boom Bap Hip Hop, Pop, Rock and R&B. The new album is stacked with featured collaborations including Danny Acosta, Tech N9ne, Stige, and Common Kings.
"We recorded 'South of 5th' earlier this year – December through February," said Wrek, during a phone interview Friday afternoon from a tour stop in Buffalo, New York.
"It took about three months for us to put it together. We recorded it at Poppa's House, which is our studio in Little Havana. A few other groups rent space from us and have rehearsal rooms there. We've been there about seven years and keep adding gear as we go. It used to be a dentist's office at one time, but we've been changing that.
"We had the idea toward the end of last year for a specifically reggae sound. At the time, it was tricky for me. My wife Ada gave birth to twins – Corbin and Calvin — in December. It was difficult trying to juggle two babies and recording. Now, it's at a point where my wife can handle the twins without me."
Moving into reggae was a new direction for ¡MayDay!
"Our booking agent put us on tour with Dirty Heads," said Wrek. "Then, later we did a tour with Common Kings. Coming from hip hop, we found the energy was so different at reggae shows. We were enjoying the energy of reggae.
"Benny wanted us to try doing reggae. When we started making the music, I realized it would be organic. The result was a ¡MayDay! album with a reggae vibe.
"Our current live show is one of the best sets we've come up with. Me and Benny are the MCs and NonMs does percussion and triggering. It's the most comprehensive set we've done. It runs the gamut of every album."
Video link for ¡MayDay! — https://youtu.be/utxFRT-D2NA.
The show at MilkBoy Philadelphia, which has D.U. Ivan, and 1 Ton of Potluck as openers, will start at 8 p.m. Tickets are $15.
Back in June, Mayday Parade released its sixth album, "Sunnyland," on Rise Records. The album got its name from an abandoned hospital where the used to sneak in to explore as teenagers.
Now, the Florida-based band is on the road with its "Welcome to Sunnyland Tour," the first North American headlining run in support of the recently released album.
Mayday Parade's first five albums were released with amazing regularity – "A Lesson in Romantics" (2007), "Anywhere But Here" (2009), "Mayday Parade" (2011), "Monsters in the Closet" (2013), and "Black Lines" (2015). The two-year routine was broken when the band waited until 2018 to drop "Sunnyland."
"We took three years to release this album because we wanted to spend a little more time," said Betts, during a phone interview Thursday afternoon from a tour stop in Buffalo, New York. "Before, we did a fall release every other year. This time, we decided to wait and then have a summer release. I think it paid off.
"We took a lot more time with the writing process. We usually write individually and then bring it to the band. On this album, we spent more time on the decision process. We spent a number of sessions working on songs together.
"We recorded some of the tracks with Howard Benson and Jack Feldman in L.A. We had a chance to work with guys who had some big names under their belt. Most of it we did with Zack Odom and Ken Mount in Atlanta. We used Zack and Ken on several of our records before. Although we took a lot of time to write and organize the album, we wanted to track it quickly."
"Sunnyland" shows Mayday Parade playing songs with a different kind of vibe.
"We wanted to put together the best songs with good dynamics," said Betts. "We definitely wanted a balance – mid-tempo to ballad to up-tempo songs. We finished with 13 songs and I think all the good ones are there.
"Our last album 'Black Lines' wasn't as well-received by fans, so we wanted to focus more on what the fans wanted. 'Black Lines' was dark and a little more edgy so this time we wanted more up-tempo and pop punk feel – also more ballads."
After releasing "Sunnyland" in June, Mayday Parade spent the summer playing on the Warped Tour – which meant playing just 30-minute sets. "Now, we're playing sets that are an hour to an hour-20 long," said Betts. "We try to play a balance of new stuff that people are warming up to along with older songs. And, we're also playing tracks we don't play a lot live."
Video link for Mayday Parade – https://youtu.be/wYURYvj9Meo.
The show at The Fillmore, which has This Wild Life and William Ryan Key as opening acts, will start at 7 p.m. Tickets are $27.50.