By Denny Dyroff, Entertainment Editor, The Times
Europe in medieval times had minstrels.
A minstrel was an entertainer. Originally describing any type of entertainer such as a musician, juggler, acrobat, singer or fool, the term later, from the 16th century, came to mean a specialist entertainer who sang songs and played musical instruments.
From the 14th century until the present day, West Africa has had griots.
A griot is a West African historian, storyteller, praise singer, poet, or musician. The griot is a repository of oral tradition and is often seen as a leader.
The world of modern industrial/avant garde rock has hackedepicciotto.
The German-based duo hackedepicciotto featuring Alexander Hacke, a founding member of Einstürzende Neubauten, and Danielle de Picciotto, a co-initiator of the Love Parade. Together, they are modern-day minstrels… European griots…musicians and multimedia entertainers who travel the world to take their art to the people.
Both are legends of their own making. de Picciotto moved to Berlin in 1987, to become the lead singer of the band Space Cowboys, the co-initiator of the Love Parade, a collaborator of the Ocean Club with Gudrun Gut, and Hacke's partner in crime. The artist couple, romantically married in 2006, has creatively interacted with countless international projects for almost two decades in addition to regularly releasing their own compositions.
On December 11, hackedepicciotto will bring their music to the area for a show at PhilaMOCA (531 North 12th Street, Philadelphia, 267-519-9651, www.philamoca.org).
Hacke and de Picciotto are celebrating the release of their latest album "Menetekel," a two-album set recently released on Potomak Records.
"We started playing music together around 2003," said Hacke. "We did a thing called 'History of Electricity' and 'Ship of Fools.'"
de Piccioto said, "In the beginning, things were a lot of multimedia. With 'Ship of Fools,' we read text and did visuals. The multimedia came later – around 2010.
"We gave up our house in Berlin and started travelling. We put more focus on the music – more soundscapes. We were nomads. We couldn't have done it without the internet."
Hacke said, "We gave up the structural confines of our house. We really did become nomads. And, we thought, if we don't have structure, why should our music have structure."
Their live shows are intense. de Picciotto specializes in unusual instruments, such as the hurdy gurdy, the auto harp and the kemence – and also plays violin and piano. Hacke is master of the bass, guitar and drums. Together they create beautiful, existentialistic, acoustic soundscapes which roar and vibrate simultaneously.
"The catalyst for us becoming nomads was mainly the gentrification of Berlin," said de Picciotto. "It started around 1995. By 2000, it had become very extreme. So, we decided we wanted to find a place where an artist can be free.
"We travelled the Unites States, Europe and Australia. We went to Eastern Europe, London, Finland and Turkey. We got commissions and artist residencies. Some of my favorite places have been Hobart in Tasmania and Joshua Tree in California.
Hacke said, "I'm a big fan of Vienna. The longest stay we've had has been three months at the Meat Factory in the Czech Republic – in Prague."
The author of two books, de Picciotto writes most of their lyrics. Hacke, an excellent throat singer and vocalist, growls his gnarly, rumbling cries that float eerily over their nomadic desert drones. The collage of this mixed with melancholic, translucent harmonies, very heavy and low bass chords, and electronics are a mesmerizing universe of sound and emotion.
The songs from "Menetekel" form the core of the live show.
"We recorded our previous album in Joshua Tree," said de Picciotto. "With 'Menetekel,' we recorded a lot of it in a church during a residency in Krens, Austria. We were working with the sound of the church. The whole atmosphere of the church really added to the recording."
Hacke said, "We started composing the pieces when we were on tour. Half were composed during the tour. Others started in Austria and were finished in Berlin."
"Menetekel" is darker than their last masterpiece "Perseverantia." Menetekel is another word for "the writing on the wall" and the artist couple is projecting our collective despair of what is happening worldwide momentarily into a monumental symphony of sound, twirling and twisting it into a biblical frenzy.
"'Menetekel' is the writing on the wall," said de Picciotto. "We all have to realize what is going on. There is a lot of desperation everywhere."
Video link for hackedepicciotto – https://youtu.be/wzcIbEp9lTQ.
The show at PhilaMOCA, which has Eric Hubel as the opening act, will start at 8:30 p.m. Tickets are $12.
Another form of traditional entertainment arrives in the area every December – performances of "The Nutcracker" ballet.
The Pennsylvania Ballet's annual production of "George Balanchine's The Nutcracker" has been one of the premier Philadelphia holiday traditions for many years – 50 to be exact. For thousands of people, a trip to Philadelphia to enjoy the lavish presentation by the world-famous Pennsylvania Ballet is an integral part of the holiday season.
This year's production, which is running now through December 31 at the Academy of Music (Broad and Locust streets, Philadelphia, 215-893-1999, www.paballet.org), is the 50th annual staging of the classic ballet. The ballet is based on E.T.A. Hoffman's tale "The Nutcracker and The Mouse King" and set to a score by Peter Ilych Tchaikovsky.
Featuring lively dances, colorful costumes and elaborate sets, "The Nutcracker" is a production that appeals to audiences of all ages. The original version of the timeless classic was first presented in Saint Petersburg, Russia in 1892.
"This is my fifth season doing 'The Nutcracker' with the Pennsylvania Ballet, said artistic director Angel Corella, during a recent phone interview. "It seems like only yesterday that it started."
Born in Madrid, Spain, Corella joined American Ballet Theatre in 1995 and was quickly promoted to principal dancer. In his 17-year career with ABT, he established himself as one of the greatest male dancers of his time.
Corella has also appeared as a guest artist with the Royal Ballet in London, the Kirov Ballet in Russia, and New York City Ballet. From 2008-2014, he served as director for his own company, the Barcelona Ballet.
"Ballet is full-time—for me and for the dancers," said Corella. "We try to refresh 'The Nutcracker' every year – to bring a new direction and a new energy to it – to have new dancers and old dancers in new roles. I try to bring in new elements.
"We have new people doing Cavalier, Dew Drop and Marzipan. We have two new Cavaliers – Ashton Roxander and Etienne Diaz. We have 15 casts so it's a challenge to get them all rehearsal time.
"This year, the snow scene is a blizzard. It never stops. Toward the end, it gets really heavy. It looks really stunning.
"The energy and dynamic of the company are changing. It's very exciting now. With 'The Nutcracker,' it might be the first time for audience members, so dancers have to go onstage like it's the first time. It's very important that the theatrical part of the show is there.
"The challenge is to keep it fresh. But no-one would dare to change the choreography. It's always true to Balanchine. We have to record all the shows and send them to the Balanchine Trust."
Balanchine's choreography plays a major role in the Pennsylvania Ballet's annual production of "The Nutcracker." The company has been doing both acts by Balanchine for more than three decades.
George Balanchine, who was named Giorgi Balanchivadze when he was born in Russia in 1904, was one of the last century's most celebrated choreographers. He was a primary developer of ballet in the United States in his position as co-founder and ballet master of New York City Ballet. Balanchine created his version of "The Nutcracker" for the New York City Ballet in 1955.
The Pennsylvania Ballet's production of the ballet features over 100 performers and has an annual audience attendance of over 50,000. The company's production is big, colorful and elaborate. And, it is staged in one of the most beautiful performance halls in the country.
The version of "The Nutcracker" performed by the Pennsylvania Ballet features everything audiences associate with the timeless ballet—a cast of 19th-century families celebrating Christmas Eve, a little girl's dream of her Nutcracker Prince, the Prince's toy soldiers battling a fleet of mice led by the Mouse King and the crowd-pleasing second act of dances in the land of the Sugar Plum Fairy. 
"Right now, we're still doing Balanchine's 'Nutcracker' because it works," said Corella. "Balanchine's 'The Nutcracker' is one of the best in the world. At the Pennsylvania Ballet, I've gotten my first chance to do Balanchine's choreography. I've always done other versions – even when I was a dancer.
"It has nice choreography. It's great to be able to do this show and give it justice. I haven't made any changes to the choreography. We stay respectful to Balanchine's original choreography. We just make sure the dancers stay under control.
"It's a classic that dancers love. A good way to change it is to have a different approach. When I danced, the approach would be different every night. I think every dancer can make it special and different every day."
One thing that never changes is the audiences' love for "The Nutcracker." It is a spectacular production that turns everyone—adults, children and seniors—into wide-eyed kids.
"The whole process makes it feel like it's Christmas," said Corella. "There is hot chocolate. It's snowing outside. The whole family is there, and time seems to stop. It goes back to a certain place and time that everyone seems to recognize—being able to re-connect and share."
Video link for Pennsylvania Ballet's "George Balanchine's The Nutcracker" – https://youtu.be/2cUP07px8-Q.
Evening, matinee, and morning performances are scheduled now through December 31. Ticket prices range from $35 -$164.
Another impressive production of the classic ballet "The Nutcracker" is presented by the Brandywine Ballet. The 2018 production marks the 39th year the local company has been presenting its version of "The Nutcracker."
The ballet is based on the timeless tale "The Nutcracker and The Mouse King" and set to a score by Peter Ilyich Tchaikovsky. With its familiar music and energetic dance numbers, "The Nutcracker" is a show that appeals to audiences of all ages.
This performance is one of Chester County's signature holiday events, and features original, traditional choreography by David Kloss and Donna L. Muzio, integrated with new choreographic elements by Nancy Page. Brandywine Ballet's annual production of "The Nutcracker" continues to delight audiences each December with a tour de force of beauty and elegance.
The Brandywine Ballet's "The Nutcracker" is a professional show that features skilled dancers, lively choreography, colorful costumes and sparkling sets. The show will be performed now through December 16 at West Chester University's Emilie K. Asplundh Concert Hall (700 South High Street, West Chester, 610-696-2711, www.brandywineballet.org).
Performances of the ballet are scheduled for December 13 at 10 a.m., December 15 at 3 and 7 p.m. and December 16 at 5 p.m. Tickets are $25, $35 and $45 for afternoon and evening performances and $18 for morning shows.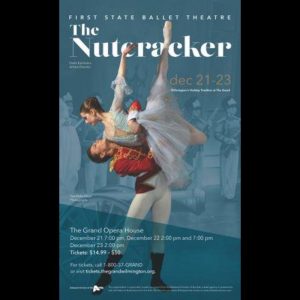 The Grand Opera House (818 North Market Street, Wilmington, Delaware, 302-652-5577, www.thegrandwilmington.org) is hosting a quartet of performances of "The Nutcracker" by the First State Ballet Theatre.
The production is a ballet in two acts with music by Pyotr Ilyich Tchaikovsky and choreography by Pasha Kambalov. The ballet, which had original choreography by Lev Ivanov and Marius Petipa, had its premiere on December 18, 1892 at the Mariinsky Theatre, St. Petersburg, Russia.
Performances by the First State Ballet Theatre are scheduled for 7 p.m. on December 21, 2 and 7 p.m. on December 22 and 2 p.m. on December 23.
Video link for First State Ballet's "The Nutcracker" — https://youtu.be/Ceun9LRWy_A.
Ticket prices for the shows at The Grand Opera House range from $14.99-$50.