By Denny Dyroff, Entertainment Editor, The Times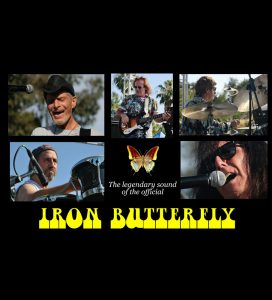 Over the next two days, there are quite a few acts performing around the area that have been building their fanbases for many, many years.
The list includes Iron Butterfly (formed in 1966), The Orchestra (2000), Whitey Morgan (2005), and Voivod (1982).
Iron Butterfly has had many lineup changes over the years – and the band's fans are fine with that.
When any line-up of Iron Butterfly with a direct lineage to the original band takes the stage, as long as it can nail it when it's time to play "In-A-Gadda-Da-Vida," the fans will go home happy.
On April 4, there will be a loft of happy fans when Iron Butterfly visits the area for a show at Kennett Flash (102 Sycamore Alley, Kennett Square, 484-732-8295, http://www.kennettflash.org).
Iron Butterfly is an American rock band best known for the 1968 hit "In-A-Gadda-Da-Vida" and for setting the foundation for hard rock and heavy metal music.
Formed in San Diego, Iron Butterfly hit its peak in the late 1960s. The band has been reincarnated with various members with varying levels of success but has had no new recordings since 1975.
The Los Angeles music climate of the late sixties and seventies was characterized by the heavy sounds and sentiments that reflected the revolutionary attitudes of the generation. Iron Butterfly's sound not only epitomized the hard attitudes of the youth with its heavy drumming and bass lines, but also embraced more delicate aspirations through its intricate guitar and keyboard overlays.
 Iron Butterfly was signed to ATCO records (a division of Atlantic Records) and released its first album, "Heavy," which stayed on Billboard's album charts for almost a year. The band followed up with the monumental LP, "In-A-Gadda-Da-Vida", featuring the title track which ran for 17:05 and took up an entire side of the album.
The album outsold every record in the history of recorded music within the first year of its release and therefore outgrew and outsold the standard of the music industry's "Gold Album" award. For this achievement, Iron Butterfly was subsequently awarded the RIAA's very first "Platinum Album" award.
Within a year of releasing "In-A-Gadda-Da-Vida", Iron Butterfly had charted a third album, "Ball", which climbed to Number One. "Ball" remained on the charts for 44 weeks and was followed by two more album releases – "Live" and "Metamorphosis," both of which charted in the Top 20.
The list of musicians who have been members of Iron Butterfly over the years contains more than 50 entries – several of whom have passed away.
Former guitarist Larry "Rhino" Reinhardt died on January 2, 2012, at the age of 63, due to cirrhosis of the liver. Bassist Lee Dorman, who had a history of heart trouble, died on December 21, 2012 at the age of 70. Founding IB bassist Greg Willis, who suffered a stroke in April 2012, passed away on November 11, 2016 at age 67 in Portland, Oregon. Former Butterfly keyboardist Larry Rust died peacefully at his home near Los Angeles on November 25, 2016 at the age of 63.
The current lineup includes Michael Green — Percussion/Vocals; Eric Barnett — Lead Guitar/Vocals; Dave Meros — Bass Guitar/Vocals; Ray Weston — Drums; and Martin Gerschwitz — Keyboards/Vocals.
"We're back into this to keep the music alive," said Greene, during a recent phone interview from his home in Greensboro, North Carolina. "There has been times when people were taking the name Iron Butterfly illegally."
Two of the members from the late 1960s have given their blessings to the current line-up.
"Ron Bushy called me after Lee Dorman died and Doug Ingle gave us his blessing," said Greene. "They wanted somebody to carry on the name.
"About five years ago, we went out as the real Iron Butterfly. This is the evolution of the band. This is the Iron Butterfly of today. The guys in the band now played with the original members."
Some bands from the 60s and 70s now have one – maybe two – veteran players along with a bunch of young cats. Not so for Iron Butterfly.
"We look like old grizzly guys and we are the band," said Greene. "I'm 65. Dave is 63 and Martin is 66. Eric is 64 and ray is in his late 60s. We all played in the band in the past and we're playing in it now."
At present, drummer and founding member Ron Bushy remains a member of Iron Butterfly, but is not performing due to his health concerns, leaving Weston as sole drummer for the band at current appearances.
"Ron still plays in the band for shows in L.A.," said Greene. "He's battled some illnesses and is 100 per cent cured. But he doesn't want to go out on tour any more.
"We have a great following of fans. We play a 90-minute set and play the songs the fans want to hear – 'Iron Butterfly Theme,' 'Flowers and Beads,' 'Soul Experience,' 'Filled with Fear,' 'Real Fright,' 'Butterfly Bleu,' 'Stone Believer,' and, of course, 'In-A-Gadda-Da-Vida.' These are the songs we've got to play." Video link for Iron Butterfly — https://youtu.be/hNBgEirKxq8.
The show at Kennett Flash will start at 8 p.m.  Tickets are $50.
Other upcoming shows at Kennett Flash are Dead Flowers – A Tribute to The Rolling Stones on April 5, Conjunto – In Concert on April 6, and Kim Richey Trio with Jordi Lane on April 7.
The Orchestra, which is headlining a show on April 4 at the American Music Theatre (2425 Lincoln Highway East, Lancaster, 800-648-4102, www.AMTshows.com), can trace its DNA all the way back to one of the best rock bands in England in the late-1960s – The Move.
When The Move disbanded, band members Roy Wood, Bev Bevan and Jeff Lynne formed the Electric Light Orchestra in 1970 in Birmingham, England. In 1986, Lynne lost interest in the band and ceased its operation. Bevan responded by forming his own band, ELO Part II.
ELO was a pioneer in expanding traditional rock to include classical arrangements that also featured cello, violin and classically-influenced keyboards.
From 1970-1986, the group released 11 albums, sold more than 50 million records worldwide (with seven gold or platinum albums in the United States) and more than a dozen Top 30 songs — including "10538 Overture," "Evil Woman," "Living Thing," "Wild West Hero," "Sweet Talkin' Woman," "Shine a Little Love," "Hold On Tight," "Can't Get It Out of My Head," "Strange Magic," and "Don't Bring Me Down."
By 2000, Bevan had sold his 50 per cent share of the Electric Light Orchestra name as well as the rights to the ELO Part II name to Lynne. Lynne thereby became the full owner of the ELO name, and took legal action to prevent Mik Kaminski, Louis Clark, Parthenon Huxley, Eric Troyer and Kelly Groucutt from continuing to call themselves "ELO Part II" – so they changed the band's name to The Orchestra.
The Orchestra's players that were former members of ELO are Mik Kaminski and Louis Clark. Parthenon Huxley, Eric Troyer, Gordon Townsend, and Glen Burtnik were members of ELO Part II.
"We have two more guys now," said Huxley during a phone interview earlier this week. "We have Cliff Hillis, a Philadelphia musician who has been with us on-and-off for the last year, and Louis Clark, Jr., who's now entering his third year with the band."
Now, The Orchestra is closing in on its 20th anniversary.
"We play 25-35 shows a year," said Huxley. "We put out one studio album called 'No Rewind' in 2001. Since then, most of us have been focused on our own projects.
"I think all of us have been creative for a long, long time. But it's difficult to get people together when they're living on different continents.
"When we play, the interest from people is the greatest hits. As you get older, 'nostalgia' isn't a nasty word. The priority is giving people what they want. We have three excellent singers and great musicians.
"People know who we are. ELO had a 16-year run. We've been together as ELO Part II and The Orchestra close to 30 years. And, we're truly a rock band when we're onstage."
Many acts from the 1970s are no longer together. That has led to a plethora of tribute bands – bands that copy the music but have no links to the original band. The Orchestra does not fall into that category.
"It's important for people to know that we're not a tribute band," said Huxley, who has also had a long solo career and just released his latest album "This Is the One" back in September.
"The Orchestra has been going on a lot longer than anyone expected. On this tour, we play a 90-minute set. Some of the songs fans really want to hear are 'Evil Woman,' 'Don't Bring Me Down,' 'Do Ya,' 'Showdown,' and 'Sweet Talkin' Woman' and we play them all."
Video link for The Orchestra — https://youtu.be/nJx-AmlbDfk.
The show at the American Music Theater will start at 8 p.m. Tickets are $49.
Other upcoming shows at the American Music Theater are Celtic Woman on April 5 and Engelbert Humperdinck on April 7.
Whitey Morgan, who will headline a show at Underground Arts (1200 Callowhill Street, Philadelphia, http://undergroundarts.org) on April 4, is touring in support of his new album "Hard Times and White Lines." Morgan has been making music professionally since 2005 but his music roots go way back.
"It seemed like everyone around me back to when I was five or six was interested in music – my parents, my grandparents, my two older sisters," said Morgan, during a phone interview last week from his home near Yosemite National Park in California.
"My mom and dad were into 60s/70s rock-and-roll – Bob Seeger, Fleetwood mac. My older sisters were into AC/DC, Mötley Crüe and Def Leppard. My grandfather played guitar.
"Every time we'd go to visit my grandfather, he's play guitar. That's how I got into guitar. From him, it was the first time I learned chords. He played mostly country and bluegrass. I grew up learning bluegrass. When I was around 13, I heard my first Minor Threat record. Around then, I was a skateboard kid getting his ass kicked."
Morgan grew up in Flint, Michigan. The music he makes now has interesting DNA with threads of Michigan punk music and attitude along with his grandfather's bluegrass – and his grandfather's badass nature.
"I inherited his 69 Gibson J200 guitar," said Morgan. "A few years later after playing shows with it, I took it to Elderly Instruments in Lansing. He did an appraisal and said – you know this guitar has been broken in half before. I even remember fixing it.
"I asked my grandmother about it and she confirmed that he had broken it in half. She said – he was like that.
"I got my first band and started touring as Whitey Morgan 17 years ago. It was a shitty punk rock band. My first official show was in 2001. A year later, I started playing outside Michigan."
Morgan's music evolved from shitty punk to shit-kicking country rock naturally.
"My 'Honky Tonks and Cheap Motels' album in 2008 was my first legitimate recording," said Morgan. "It didn't come out until two years after we recorded it.
"My second album – the white album – was recorded at Levon Helm's studio in Woodstock, New York. I did it in a number of sessions. When you're touring as a living, it's hard to take time off – to be spending money instead of making money. I like to stay on the road and just record a little bit at a time."

Flint has a lot in common with Detroit — a hard-ass town with empty factories and emptier prospects. The town instilled its tough-as-nails vibe in Morgan – mentally and musically.
Morgan sings songs these people can relate to. In much the same way his grandfather and mentor did over three decades ago to a whole generation of southern transplants who came up US-23 to Flint looking for the good life. He sings it straight, with an urgency that'll help people forget their problems for a few hours and serve as the guideline for drinking the sorrows away.
The characters in Morgan's songs — the drinker, the troublemaker, the struggling, hard-working man — all seem arrestingly real. That's largely because the stories on "Sonic Ranch" — a big, nasty, whiskey-slugging, bare-knuckle bruiser of a country record — are pulled from Morgan's own back pages.
The Sonic Ranch is a live-in recording studio on a vast pecan farm located in the countryside miles outside of El Paso, Texas.
According to Morgan, "My manager told me about this place he had been to outside of El Paso called Sonic Ranch. That was a real departure from the usual studio vibe. My manager knows how much I do not like the 'studio' thing — I never feel comfortable. This was exactly what I needed — a laid-back place with great gear where we could make a great record.
"We also needed someone that could get the big bad sound we wanted — that wouldn't slick it up Nashville style. We needed someone that would push me to my limits and not let me settle. We found that guy when we found Ryan Hewitt."
Morgan returned to Sonic Rach to record "Hard Times and White Lines."
"We got the bulk of it done in a couple sessions," said Morgan. "Then, I'd go back and finish it up.
"In my live shows now, I'm doing six songs from the new record, a few from 'Sonic Ranch' and a few off my other albums. We also do a handful of covers."
Video link for Whitey Morgan — https://youtu.be/X3DzYrBZ7Ng
The show at Underground Arts, which has Red Shahan as the opening act, will start at 9 p.m. Tickets are $25.50.
Other upcoming shows at Underground Arts are Foxtrot & The Get Down on April 5 and The Cactus Blossoms on April 10.
All through its 37-year existence, Voivod has shown the ability to mutate, grow, change line-ups and explore new territory without ever losing the core of its music — and its corps of fans.
The Montreal-based band, which has released 14 studio albums and countless singles and EPs, will return to the area for a show on April 5 at Union Transfer (1026 Spring Garden Street, Philadelphia, 215-232-2100, www.utphilly.com).
The current roster for Voivod includes Michel "Away" Langevin (drums), Denis "Snake" Bélanger (vocals), Daniel "Chewy" Mongrain (guitar) and Dominique "Rocky" Laroche (bass). The band's most recent release is the "The Wake" album which was released in September 2018 on Century Media Records.
"The Wake" was recorded and mixed by Francis Perron at RadicArt Recording Studio in Canada and its artwork was once again created by the band's drummer Michel "Away" Langevin. The album entered sales charts in various countries upon release as follows — Germany: # 26, Switzerland: # 51, Belgium: # 94, USA Current: # 97, USA New Artist: # 8 and USA Overall: # 148.
"We released 'The Wake' last fall and we've been touring on this album since then," said Bélanger, during a phone interview Tuesday afternoon from a tour stop in Portland, Maine.
"The album has gotten great reviews and we just got a Juno Award for it. The vibe is really good. All things are going nicely. When the planets are aligned, things go well."
The Juno Awards are the Canadian equivalent of America's Grammy Awards. Voivod won a Juno Award for "Metal/Hard Music Album of The Year" for "The Wake."
"We recorded 'The Wake' in 2017 and 2018," said Bélanger. "The whole process took about three years to put together – starting off with getting ideas and then building up the songs, recording and mixing. We put everything we hd on it. The results are more than expected."
The journey of the album is deepened by a compelling storyline, which Bélanger summarizes this way, "In the wake of an incredible discovery that created a monstrous disaster, the whole world will live through a series of events that will force humanity to understand the new reality and the concept of not being alone in the universe. Not without a fight, not without chaos and conflicts, not without plots and conspiracy.
"Some will accept, and some will deny the truth. Religions will fall to create new ones. But eventually, the world will reach a new level of consciousness, a new spirit, a new way to look at the sky."
Voivod's previous album was "Target Earth," which was released in January 2013.
"After 'Target Earth,' Blackie (Jean-Yves Thériault) left the band," said Bélanger. "It didn't take long until we got Rocky. This line-up has been together since 2014. We tour a lot and it's not easy to record on tour. Sometimes, we set up a computer in the back of the tour bus.
Langevin is the only original member of the band that has stayed the course. He and Bélanger formed the band in 1982 in Jonquière, Quebec
"I met Denis when I was a kid and we've been friends ever since," said Langevin. "The other two guys also grew up and went to school together. The first concert they went to was when they were 13 and came to see Voivod. That show inspired them to learn to play guitar — and they've learned their instruments well.
"When Voivod began, it was very influenced by New Wave British Heavy Metal. We were also big fans of prog-rock and we incorporated that into our music very early. Between 1983 and 1989, we rehearsed every night. We were really serious. That's when we focused a lot on prog-rock.
"In the 1990s, we tried to be less intricate in our song structure and we got more psychedelic. In the late '90s, we went back to more metal. With Jason (Newsted, bass player in the early 2000s), the three albums were more stoner rock and punk metal. Ever since we re-formed in 2008, we've been going back toward prog-rock."
Voivod showed its direction to prog-rock by recording a cover of "Silver Machine," a song that was a hit in 1972 for British experimental music legends Hawkwind.
"Our fans have stayed with us through the years and through the changes," said Langevin. "It's impressive. Our fans are very loyal. Lately, there has been increased interest in music from the '80s and we benefit from it. Our crowd is very diverse and crosses several generations."
Bélanger, however, did not stay with the band through the years. He left in 1994 and returned in 2003.
"When I left in 1994, metal was not doing well and grunge was taking over," said Bélanger. "I was tired. When we started the band, I was 18. Twelve years later, I felt something was missing. It wasn't easy. I had a restaurant with my partner – but music was still there in the back of my mind. After a while, I got bored. In 2003, it was a perfect time for me to come back."
Like every band with a lot of years under its belt, Voivod has had peaks and valleys. The band is now in a "peak" stage.
"I think 'The Wake' is the best thing we've ever put out," said Bélanger. "Everyone did an amazing job. We put an extra effort on this record. The reviews have been great. We even got a 10 out of 10 in a review in Japan.
"We've been touring the album for a while, but the songs haven't changed much. They are complicated songs, so we try to stick with the original version."
Video link for Voivod — https://youtu.be/8ToK9VLJcxU.
The show at Union Transfer, which also features YOB and Amenra, will start at 8 p.m. Tickets are $25.
Other upcoming shows at Union Transfer are Patty Griffin on April 4, Jess Glynne on April 6, and Epik High on April 10.
The Steel City Coffee House (203 Bridge Street, Phoenixville, 610-933-4043, www.steelcitycoffeehouse.com) will host Afrobear on April 6.
The Colonial Theatre (Bridge Street, Phoenixville, 610- 917-1228, www.thecolonialtheatre.com) presents Marty Stuart and his Fabulous Superlatives with special guest Michael Braunfeld.
Chaplin's (66 North Main Street, Spring City, 610-792-4110, http://chaplinslive.com) will present Answer The Muse on April 5.
The Ardmore Music Hall (23 East Lancaster Avenue, Ardmore, 610-649-8389, www.ardmoremusic.com) will host Hayes Carll with special guest Ben Dickey on April 4, Slick Rick on April 5 and In the Pocket on April 6.
The Keswick Theater (291 N. Keswick Avenue, Glenside, 215-572-7650, www.keswicktheatre.com) presents Robin Trower on April 4, One Night of Queen on April 5, Real Diamond on April 6, and Mott the Hoople on April 8.
The Sellersville Theater (24 West Temple Avenue, Sellersville, 215-257-5808, www.st94.com) will have Haley Reinhart: Lo-Fi Soul Tour with Matt Hartke on April 4, Doug Stone on April 5, and Rodney Crowell with Joe Robinson on April 6.
The Grand Opera House (818 North Market Street, Wilmington, Delaware, 302-652-5577, www.thegrandwilmington.org) presents David Sedaris on April 4, Classic Albums Live Performs The Beatles "Abbey Road" on April 5, and Invincible on April 6.