By Denny Dyroff, Entertainment Editor, The Times
When there are hot air balloons floating in the sky over your head, you're going to stop whatever you're doing and turn your gaze skyward. Three things guaranteed to make you look up are helicopters, bald eagles and hot air balloons.
If you want to experience the sensation of checking out hot air balloons in the sky above you, then you should plan on attending this weekend's 12th Annual Chester County Balloon Festival (New Garden Flying Field, 1235 Newark Road just off Highway 1, Toughkenamon, 610-268-2619, http://ccballoonfest.com) which runs from June 21-23.
It's always an awe-inspiring sight when a huge balloon floats untethered through the air. Watching one balloon floating above you is a lot of fun. Watching more than 20 huge, multi-colored balloons filling the airspace over your head counts as a thrilling experience.
Activity at the Balloon Festival begins on June 21 with the gates opening to the public at 4 p.m.
Festivities scheduled for all three days are "Outside Unlimited Beer Garden," "Kids' Zone," Monster Truck rides, a "Balloon Launch" and a "Balloon Glow."
During the glow, balloons inflate at dusk, remain tethered, and light their burners in a synchronized fashion. Live music will be provided by School of Rock, Half Past Seven, Bob Croce and Middle Class.
Other fun activities at this year's festival are helicopter rides, "Balloon History Display," tethered balloon rides, and a fireworks display at 9:30 p.m. (Saturday only — rain date, Sunday).
The festival will also feature craft and food vendors and a children's area featuring kid-friendly attractions.
All hot air balloon related events are weather permitting. Hot air balloons cannot fly or even be inflated in excessive wind conditions, rain, thunderstorm. As always, safety for the pilots, passengers and festivalgoers is always priority.
Admission to the festival is $20 for adults and $10 for children (ages 6-12). Attendees can purchase tickets for hot air balloon rides, tethered balloon rides, and helicopter rides for an additional fee.

Now through June 22, Downingtown shifts into festival mode when Saint Joseph Church (338 Manor Avenue, Downingtown, 610-269-8294, www.stjoesfestival.com) stages its annual "Community Festival."
The event will feature all the traditional things associated with a summer festival — including exciting rides and amusement games.
There will also be food concessions with all the standard festival fare — cotton candy, ice cream, hot dogs, hamburgers, popcorn, corn dogs, soft pretzels and cheese fries along with mozzarella sticks, tomato pie and hot roast beef sandwiches.
There will be live music by The High Balls on June 21 and 4 Play and School of Rock on June 22.
Festival hours are 6-11 p.m. on June 21 and 22 with fireworks scheduled for Friday night.
For many people, one of the best things about summertime is enjoying cold, tasty beer — at indoor activities, outdoor parties, sporting events or just about anywhere.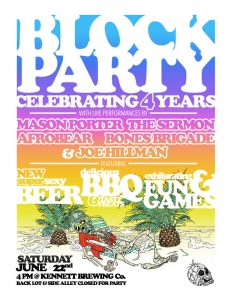 On June 22, the Kennett Brewing Company (109 South Broad Street, Kennett Square, http://kennettbrewingcompany.com) will present its Fourth Anniversary Block Party.
Beer and live music will be the focal points at the free event, which is scheduled to run from 4 p.m.-midnight.
The block party is a family-friendly event and will feature games, sidewalk chalk, face painting, and ice cream for kids.
Live music will be performed by The Sermon!, Mason Porter, Bones Brigade, Afrobear and Mason and Sermon Super Band.
Tickets will be sold at the door with two options — $10 includes one beer ticket and access to the music area while $5 features access to the music area and no beer ticket. Children (under 10) will be admitted free.
Tasty beer is also a focal point of the West Chester Craft Beer Festival (501 East Miner Street, West Chester, https://wcbeerfest.com). The event is scheduled for June 22 from noon-5 p.m.
The roster of participating brewers includes 2SP, Appalachian Brewing, Bells, Bog Turtle, Cape May, Conshohocken, Double Nickel, Ever Grain Brewing, Fegley's Brew Works, Fying Dog, Flying Fish, Graft Ciders, Great Barn Brewing, Guinness, Highway Manor Brewing, Iron Hill Brewery, Lake Placid Brewing, Levante, Locust Lane, McKenzie Cider, and Neshaminy Creek.
The lineup also features Neshaminy Creek, Original 13 Cider, Peak Organic, Port Brewing, River Horse, Sam Adams, Saranac, Saucony Creek Brewing, Ship Bottom, Southern Tier, Springhouse Brewing, Sterling Pig, Stone, Stoudts Brewery, Straub Brewing, Two Roads, Urban Village, Victory Brewing, Voodoo Brewing, Weyerbacher, and Yards.
Tickets are $50 for VIP and $40 for general admission.
The Philadelphia Zoo (3400 West Girard Avenue, Philadelphia, www.philadelphiazoo.org) is presenting its annual Summer Ale Festival on June 22 from 7-10 p.m. – celebrating another year of specialty brews, animals, live entertainment and more
Festival-goers are invited to go wild for craft beer and cider with more than 150 selections pouring from over 70 regional and national breweries. Guests will meet dozens of renowned brewers offering delicious award-winning, full-bodied beers and purchase fresh, local fare from the region's hippest food trucks.
Some of the featured breweries are Axe & Arrow Brewing Company, Crabbie's Original Ginger Beer, Cricket Hill Brewery, Devils Backbone Brewing Company, Evil Genius Beer Company, Free Will Brewing Company, Goose Island Brewhouse, Hochstadter's Slow & Low, Hokkaido Brewing Company, Kronenbourg 1664, Love City Brewing Company, Peak Organic Brewing Company, River Horse Brewing Co., SingleCut Beersmiths, Sixpoint Brewing Company, and Wicked Weed Brewing.
This exclusive night also features private Zoo access after-hours, live entertainment, delicious lite bites from Philly's top food trucks (available for purchase) and, of course, the most majestic animals from around the globe. In addition to offering a special night of memories at one of the region's most unique attractions, the event raises money to support the Zoo's mission to create joyful discovery, and inspire action for animals and habitats.
In addition to dining and drinks under the stars, there will be live entertainment featuring DJ Blake and DJ Tree, plus The Bad Bees, playing American alt-rock, and the Kickbax Band, a Philadelphia-based fun-loving "party rock" band playing hits from yesterday to today.
General Admission tickets are $65 and include evening admission to the Zoo, souvenir tasting cup, unlimited beer sampling and complimentary shuttle service to and from 30th & Market Street (across from Amtrak 30th Street Station). Non-drinker tickets are $35. Taps close 30 minutes prior to event end. This is a rain or shine event.
Another special event featuring alcohol and fun activities will take place locally.
On June 23, Galer Estate Vineyard and Winery (700 Folly Hill Rd, Kennett Square, Pennsylvania, https://www.galerestate.com/) will host a special event called "Yoga & Wine Tasting at Galer Estate."
The event, which is scheduled to run from 1-3 p.m. on the winery's grounds near Longwood Gardens, will feature a yoga session with
Brandywine Yoga followed by tastings of some of Galer Estate's premium wines along with cheese plates.
Tickets for the event are $30.
Longwood Gardens (Route 1, Kennett Square, 610-388-1000, www.longwoodgardens.org) is a great place to enjoy nature's summertime living flower show.
The biggest attraction at Longwood right now is the Festival of Fountains, which is running now through September 30.
With fountains that jet as high as 175 feet, gardens filled with colorful summer blooms, shade-friendly trees, exotic day and night blooming waterlilies, and live music outdoors, Longwood gardens has something for everyone.
The fountain project took two years and $90 million in renovations. The fountain features more than 1,300 jets and streams, a similar amount of LEDs, a variety of flame features and a wide array of plants from around the world.
Longwood's popular Main Fountain Garden has returned for a second season after attracting more than 600,000 guests last year with its 1,719 jets twirling and dancing to music. At night, Illuminated Fountain Performances return featuring a selection of dynamic new shows and past favorites.
In addition to the Main Fountain Garden, Longwood is also home to a collection of other fountain gardens, including the enchanting Italian Water Garden and Open Air Theatre fountains, which also perform daily.
The ultra-popular Festival of Fountains features the gardens in their summer splendor. Flowering annuals and perennials abound, as well as the breathtaking Waterlily Display that showcases aquatic plants from all over the world.
The main special event this weekend will be a performance by Leslie Odom, Jr. Celebrated for his role as Aaron Burr in the Broadway hit Hamilton, this Tony and Grammy Award-winner showcases his incredible multi-faceted talent, The show is scheduled for June 23 at 7:30 p.m.
Another popular activity this weekend will be "Live Music in the Beer Garden" on June 21 and 22 featuring the Caribbean Steel Pan music of Plenty Pepper.
Admission to Longwood Gardens is $23 for adults, $20 for seniors and $12 for youth (ages 5-18).
The Morris Arboretum (100 East Northwestern Avenue, Philadelphia, 215-247-5777,morrisarboretum.org) is holding one of its most popular special events this weekend — "MORE Hidden Gems Tour!"
At the "MORE Hidden Gems Tour!," which will be held June 21 at 11 a.m., participants can join knowledgeable guides for an all new walking tour highlighting garden features not often discovered on an average visit. The original Hidden Gems tour was so popular that it is returning this season with MORE!
Guests will be able to go off the beaten path to find unseen garden gems, a combination of structures, sculptures, spaces, trees and vistas.
Regular Admission to Morris Arboretum is $20 for adults, $18 for seniors and $10 for youth (3-17 years). Children under 3 are admitted free.
From June 19-22, the 31st Annual Clifford Brown Jazz Festival will be held in Rodney Square (11th and Market streets, Wilmington, 302-576-3095, www.cliffordbrownjazzfest.com).
On June 21, the music will start at 5:30 p.m. with a lineup that includes The Jenkins Project, Christian Scott a Tunde Adjuah, and Norman Brown's Summer Storm starring Euge Groove and Lindsey Webster.
The music will get underway at 1 p.m. The schedule features Fostina Dixon & Winds of Change, Mwenso & The Shakes, Raye Jones, Avery & Adagio, Kendrick Scott Oracle, Terence Blanchard featuring The E-Collective and "An Evening with Branford Marsalis."
In Sunday at 3 p.m., Boysie Lowery Living Jazz Residency Graduates' Concert will be presented at The Queen, which is located at 500 North Market Street.
If you like stranger things, you could visit Philadelphia's Mutter Museum – or just hang out at Wal-Mart.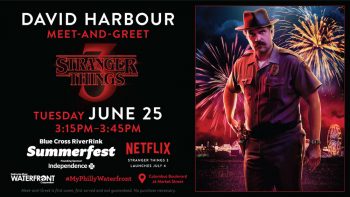 If you like "Stranger Things," then you want to be at the Blue Cross RiverRink (Market Street at the Delaware River, Philadelphia, 215-923-6533, www.riverrink.com) on June 25 at 3:15 p.m.
On Tuesday from 3:15-3:45 p.m., RiverRink is hosting a special meet-and-greet with everyone's favorite police chief – actor David Harbor.
Against the backdrop of the site's  waterfront carnival, you'll be able to snap a selfie with Harbour, who plays Chief Jim Hopper on the hit Netflix show, "Stranger Things." Harbour will be posing for fan picks and hand out free cotton candy (while supplies last).
While you're there, you can skate to 80's music straight out of Hawkins, Indiana. Come dressed in "Stranger Things" apparel or as your favorite character for a chance to be featured on the venue's social media feed.
The event is free and open to the public.
Even though summer has just officially arrived, the American Swedish Historical Museum (1900 Pattison Avenue, Philadelphia, 215-389-1776,www.americanswedish.org) is celebrating an event known as Midsommarfest (mid-summer fest) on June 22.
In Sweden, Christmas is the most important holiday. Midsommar is the second most important holiday in the Swedish calendar.
The midsummer party in Sweden involves flowers in your hair, dancing around a pole, singing songs while drinking unsweetened, flavored schnapps and eating a lot of pickled herring.
The American Swedish Historical Museum's Midsommarfest, which runs from 4-7 p.m. on Saturday, features  live music and maypole dancing, along with crafts and games for the kids. A special feature this year will be a performance by the award-winning Swedish band JAERV. 
Midsommarfest at ASHM is hosted by Midsommarklubben, a group of Swedish-speaking volunteers who have taken pride in bringing Swedish holiday traditions to our region for 40 years. Refreshments such as smörgåstårtor (sandwich tortes), hot dogs, soft pretzels and home-baked Swedish pastries will be available for purchase.
Midsommarfest runs rain or shine and includes general admission to the museum.  Tickets for Midsommarfest, which are available at the door, are $12 for adults and $5 for children (ages 4-12).
Another popular annual Philadelphia event this weekend will be held in Manayunk.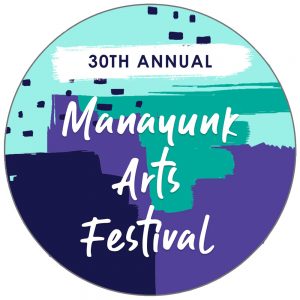 On June 22 and 23, the streets will come alive with the 30th Annual Manayunk Arts Festival (Main Street, Manayunk, 215-482-9565, www.manayunk.com). Main Street, which is Manayunk's primary thoroughfare, will be closed to vehicular traffic and open only for pedestrians.
Billed as "the largest outdoor arts and crafts show in the Delaware Valley", the Manayunk Arts Festival is a juried show that features more than 300 artists from across the entire country and approximately 200,000 collectors, buyers, and designers.
In addition to artists with oil and watercolor paintings, there will also be artisans who work in fiber, wood ceramics, jewelry, photography, mixed media and sculpture. The festival will also feature special children's activities. Additionally, most of the restaurants and retail shops will be open with extended hours during the festival.
The free festival will run from 11 a.m.-7 p.m. on June 22 and 11 a.m.-6 p.m. on June 23.
Summer Solstice, the first day of summer, officially arrived on June 21 at 11:54 a.m. ET..
You can celebrate the event a day later by attending a free event in Philadelphia known as Molestice (molestice.com)
On June 22, the annual music, art and food festival known as Molestice will return to the 100 block of North Mole Street in Philadelphia to celebrate the Summer Solstice with live performances from nationally touring and regional acts, local favorite food trucks, local craft beers and all ages activities.  The annual block party, which runs from noon-8 p.m., is free to the public.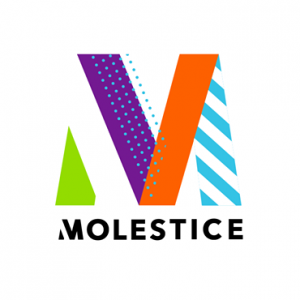 For 35 years, the 100 block of Mole Street has hosted its annual block party at this unique Philadelphia location – a block comprised of homes built in the 1830s with views of the towering city skyline.
Molestice itself has become a festival beyond the original block party as founders Brian LaPann and Brendan Walsh of Mole Street Artists, have sought to transform it into not only a celebration for the Summer Solstice, but for the city of Philadelphia as well. They are joined by Mole Street Artists' senior talent buyer, Sean Timmons, the former Artistic Director for the Appel Farm Arts and Music Festival.
According to LaPann, "With Molestice, we see a future in Philadelphia that's vibrant and harmonious. We want to see Molestice become what Jazz Fest is to New Orleans – taking over the city with a celebration of music, culture and camaraderie."
This year, performances will include the blue-eyed soul-tinged vocalist, Hannah Krupa; hip-hop, electronic pop, R&B and indie pop duo Camp Candle; powerful blues, funk and rock guitarist/songwriter Brian LaPann; dance-pop-rock-band, Great Time; garage-psych-rocker Ali Awan; hip hop/R&B duo &More (Chill Moody and Donn T); and dance party, roots rock collective, Bronze Radio Return.
Beer and wine will be provided by Fergie's Pub. In 2018, the event saw 2500-3000 attendees and has become a cult favorite with Philadelphians looking to celebrate the longest day of the year with music, food, and a diverse and eclectic audience.
The Fourth Annual Philadelphia Juneteenth Musicfest and Parade will be held on June 22 this year. Visitors are invited to honor and celebrate the legacy of America's "Enslaved African Ancestors" who endured and fought so that one day all African-Americans would be free.
This year's 2019 Juneteenth Parade will feature over 3,000 marchers, approximately 20 Festive Floats, live bands and a huge parade contingent made of community organizations.
Juneteenth is the oldest known celebration commemorating the ending of slavery in the United States. Dating back to 1865, it was on June 19th that the Union soldiers, led by Major General Gordon Granger, landed at Galveston, Texas with news that the war had ended and that the enslaved were now free. Note that this was two and a half years after President Lincoln's Emancipation Proclamation – which had become official January 1, 1863.
The Emancipation Proclamation had little impact on the Texans due to the minimal number of Union troops to enforce the new Executive Order. However, with the surrender of General Lee in April of 1865, and the arrival of General Granger's regiment, the forces were finally strong enough to influence and overcome the resistance.
More than 25,000 spectators will converge on Philadelphia from all neighborhood communities — New York City, Washington D.C., Delaware, Maryland, Virginia, North Carolina and as far away as Texas.
Past attendees have included two Kings from Ghana, a United States Congressman, two Pennsylvania Mayors, State Senators, State Representatives, the Philadelphia Police Chief, Prince Hall Masons and a host of Councilpersons and Dignitaries.
The parade route will start at 52nd and Jefferson Streets and move south on 52nd Street ending with a music festival at Malcolm X Park at 52nd and Pine Streets. The new parade route will provide an opportunity to highlight local businesses and bring more commerce to the historical 52nd street business district.
A special ceremony will take place at the festival, renaming 52nd Street to Muhammad Ali Way.
This weekend, the Greater Philadelphia Expo Center (100 Station Avenue, Oaks, 484-754-3976, http://toomanygames.com) will present the "Too Many Games Expo."
The festival, which runs now through June 23, is targeted for anyone interested gaming — from Magic the Gathering and Pokemon card competitions to the vast world of video game consoles.
There will be all types of video gaming tournaments including Mario Kart 8, Mortal Kombat X, Super Smash Bros, Warlords and Pokémon Oras.
There will also be live music all three days. Some of the featured acts will be Lame Genie, Dagames, MC Chris, Psychostick, Keith Apicary and Crush40.
Visitors to the event are encouraged to dress up as their favorite characters for a chance to win prizes and to get their outfit on a Cartoon Network commercial.
Tickets are $35 on Friday and Saturday and $25 on Saturday.
Hope Lodge (553 South Bethlehem Pike, Fort Washington, 215-343-0965, http://www.ushistory.org/hope/) will be presenting "Guided Mansion Tours" on June 23.
Hope Lodge was built between 1743 and 1748 by Samuel Morris, a prosperous Quaker entrepreneur. Morris acted as a farmer, shipowner, miller, iron master, shop owner, and owner of the mill now known as Mather Mill. Hope Lodge is an excellent example of early Georgian architecture, and it is possible that Edmund Woolley, architect of Independence Hall, offered advice in building. Samuel Morris owned the estate until his death in 1770.
Visitors can participate by watching a short film and then taking a tour. Guided tours of the mansion will depart at 1 and 2:30 p.m. all three days.
Tour admission is $8 for adults, $5 for seniors (age 65+) and for youth age 6-17, and fee for children under 5. Hope Lodge is a Blue Star Museum which means that active duty military personnel, including National Guard and Reserve and their families, are admitted free for regular tours from Memorial Day through Labor Day.
The Delaware Museum of Natural History (4840 Kennett Pike, Wilmington, 302-658-9111, http://www.delmnh.org) is celebrating its "Sixth Annual Family Fun Day" with a variety of special events on June 22.
The popular museum, which is located on Route 52 a few miles south of the Pennsylvania-Delaware state line, will celebrate the great outdoors with hands-on activities focusing on outdoor fun in nature.
Live animals, trail hikes, campfire complete with marshmallow roast, hands-on science, interactive presentations, crafts, and activities will be a part of the day's outdoor celebration.
Special activities include face painting, games and "Bird Meet & Greets" with Animal Behavior & Conservation Connections' Phung Lu  who will teach participants teaches us about foraging through live bird encounters.
In addition to all the fun and games, the Museum will also welcome the summer special exhibit, "Wicked Plants: The Exhibit."
Museum admission is $9 — $8 for seniors (60 and older).
Hagley Museum and Library (Buck Road East entrance via Route 100, Wilmington, Delaware, 302-658-2400, www.hagley.org) is presenting an educational event geared for children this weekend.
The special event this Saturday at Hagley is "Science Saturday: Mathematics in Nature."
At the family event, which runs from 1-4 p.m. at the Visitor Center, participants can learn about Fibonacci sequences and discover how mathematics is everywhere in nature. Visitors of all ages are invited to discover solutions to science and engineering challenges.
Activities are included in admission and free to members. This is a drop-in activity and guests can join the fun at any time from 1-4 p.m. 
Admission fees for Hagley Museum are: Adults: $15; Seniors (age 62 and up): $11; Students $11' Children 6-14: $6.
For more than two decades, the Chinese American Community Center (1313 Little Baltimore Rd., Hockessin, Delaware, 302-239-0432, www.chinesefestival.org) has presented its Chinese Festival with a mission of fostering appreciation of Chinese culture through exhibits and performances.
The 2019 Chinese Festival will open on June 21 and run through June 23 at the CACC's facility in Hockessin. The event's hours are 5-9 p.m. on Friday, 11 a.m.-9 p.m. on Saturday and noon-6 p.m. on Sunday — with dragon dances opening each day's activities.
As always, the festival will feature performances of Chinese music and dance throughout each day including Dragon Dance, Lion Dance and Folk Dance. There will also be a tea ceremony as well as demonstrations of Tai Chi, Chinese cooking and Kung Fu.
As with most ethnic festivals, one of the main attractions is the food. The festival will have booths featuring a wide array of Chinese cuisine — with an emphasis on dishes that are not usually found on the menus of area Chinese restaurants.
The Philadelphia Chinese Lantern Festival's run has been extended.
Now through July 14, Franklin Square (http://historicphiladelphia.org/chineselanternfestival/) will come alive every night with its Chinese Lantern Festival featuring more than two dozen illuminated lanterns – all constructed by lantern artisans from China.
Chinese-inspired performances will take place in Franklin Square twice nightly. Performances, which celebrate Chinese performance art and entertainment, are 30-minutes long and are scheduled for 7 and 9 p.m.
Festival hours are 6-10 p.m. Sunday through Thursday and 6-11 p.m. on Friday and Saturday. Admission is $18 for adults, $12 for youth, and $15 for seniors and military.
The Strasburg Railroad (Route 741, Strasburg, 717-687-7522, www.strasburgrailroad.com) is always the most popular spot around when it hosts "Day Out With Thomas."
There is a mutual love affair between kids and Thomas the Tank Engine and it's especially evident when Thomas gets up-close and personal with his fans during his visits to the Strasburg Railroad.
Every year, the steam locomotive named Thomas makes several visits to Lancaster County where he entertains enthusiastic children and their parents. The locomotive, which has its own PBS television series, will return to Strasburg for "Day Out With Thomas" now through June 23.
 For more than 50 years, Thomas the Tank Engine and his Island of Sodor friends have been favorites of preschoolers and their parents. Based on "The Railway Series" (classic stories authored by a father who loved trains and wanted a shared experience with his son), "Thomas & Friends" has evolved into a rite of passage that inspires imagination.
Fans will be able to get personal with Thomas the Tank Engine, a full-sized operating steam locomotive who will be talking for the first time ever. And, they will also be able to ride a train pulled by Thomas and meet the locomotive's buddy Percy.
Percy, who is a larger-than-life, full-size locomotive just like his friend Thomas, will be there for all days of the event. A ride behind Percy may be purchased as an add-on to the "Day Out With Thomas" ticket. Percy's ride will last approximately 12 minutes.
In between trips, Percy will talk with families and be available between trips for photos.
Tickets for "Day Out With Thomas," which are $21, include the train ride with Thomas the Tank Engine, as well as a variety of Thomas & Friends themed entertainment such as storytelling, video viewing, temporary tattoos of Island of Sodor friends and an Imagination Station. The Percy Package is available for an additional $6.
Rock Ford Plantation (881 Rockford Rd., Lancaster, 717-392-7223, www.rockfordplantation.org) will present its "Stories-on-the-Porch" series every Tuesday now through August 6.
 A volunteer in period costume will read a story to children gathered on the porch of the Rock Ford Mansion. Following the story, children will enjoy a game or craft and light refreshments.
A parent or other responsible adult must accompany their child. The suggested age range for this event is 3-7 years, but all are welcome.  In the event of rain, "Stories-on-the-Porch" will be held in the Barn.
This is a free event; donations are always welcome. Reservations are not required for this event. The program will be held rain or shine.
This weekend, the Mount Hope Estate & Winery (Route 72, Cornwall, 717-665-7021, www.PaRenFaire.com) will host the 21st Annual International Celtic Fling and Highland Games at the winery's fairgrounds in Cornwall.
The event runs from 11 a.m.-10 p.m. on June 22 and 23 with tickets priced at $29.95 for adults and $11.95 for children (ages 5-11).
The Celtic Fling will also feature a variety of Celtic music acts including The Town Pants, Gaelic Storm, Eileen Ivers, Jig Jam, Albannach, Seasons, The Gothard Sisters, Screaming Orphans, Hold Fast, House of Hamill, Kilmaine Saints, Searson, and Poor Man's Gambit.
The festival, which celebrates traditional and contemporary Celtic heritage, features the music, food and culture of all the Celtic nations — Welsh, Cornish, Manx, Bretons, Galecians/Asturians and, of course, Irish and Scottish.
Attractions this year include more than 50 musical performances, competitions and demonstrations, a full slate of live entertainment and the Ceilidh (grand finale of music and dance).
The competitive Highland Games focus on traditional competition events such as "Tossing the Caber", "Weight for Distance", "Hammer Throw" and "Putting the Stone". There will also Irish dance competitions.
For the thirsty and the hungry, there will be more than 20 feast kitchens featuring a culinary tour of the Celtic Nations with traditional items. Some of the Celtic delicacies available for purchase at this weekend's festival will be Highland Honey Mead, Scotch Eggs, Tiger Pie, Shepherd's Pie, Haggis, Cottage Pie, Irish Potato & Leek Soup, Boxty and Corned Beef and Smoked Cabbage.
In addition to the 100-plus resident Renaissance Faire shops, there will be booths presented by more than 50 guest artisans and merchants with a wide array of unique items from imported Irish wools and Scottish tartans to Celtic souvenirs.
More Irish music can be found at the inaugural Haverford Irish Music Fest which will be held June 22 at the Manoa Shopping Center (West Chester Pike, Manoa,http://havertownirishfestival.com/).
The free family event, which will run from noon-9 p.m. features live music, food, drink and family fun.
The roster of entertainers scheduled to perform Saturday includes Marissa Berry, Dylan McGuire Band, John Byrne Band, Phila Emerald Society Pipe Band, Shades of Green, Firefly Dancers, Owen Luebbers – Irish Dance, Poehemia, Brian Boru Pipes & Drums, and Scott McClatchy Band.
The Garden State Discovery Museum: (2040 Springdale Road, Cherry Hill, New Jersey, 856-424-1233, www.discoverymuseum.com) is presenting a special program "Spin Art Weekend" on June 22 and 23 from 11 a.m-3 p.m.
Youngsters will be able to meet and greet their favorite masked while testing their super powers with activities inside and outside the Museum.
Young participants can join the museum staff in Milly's Which Craft Art Studio to create their own masterpieces in the museum's spin art machine.
Admission to the museum is $15.95 — $14.95 for seniors.
This weekend, it's time for Peddler's Village's Art and Wine Festival (Routes 202 and 263, Lahaska, 215-794-4000, www.peddlersvillage.com).
The festival, is billed as "a weekend of outdoor art, al fresco dining, painting activities for adults and children, live music and performances, food trucks, and wine tastings."
Visitors can eat and drink their way through more than 60 unique shops, food trucks, eateries, tasting rooms and restaurants.
Special activities at this weekend's event include Baby Goat Yoga, presented by Chaddsford Winery, #ArtintheVillage Mural Painting, "Walk and Talk with Artist Frank Hyder," Family Fun Area with bounce houses,  face painting, sand art, make-your-own-tees, and other kids' activities, and Artist Area where visitors can discover regional talent with a sampling of painting, photography, caricature, and handcraft.
Peddler's Village Art and Wine Festival will be held on June 22 from 10 a.m.- 8 p.m. and June 23 from 10 a.m.- 6 p.m. — rain or shine.