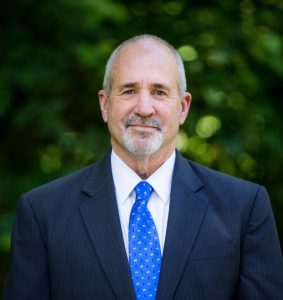 Judge John R. Bailey '96 will receive the College's Wong Moss Outstanding Alumni Award at the 2019 Delaware County Community College Educational Foundation Dinner at 5:30 p.m., Tuesday, October 15 at the Drexelbrook Catering & Special Events Center, 4700 Drexelbrook Drive, Drexel Hill.
The Wong Moss award recognizes distinguished alumni for their outstanding professional, community and educational accomplishments. It was created by the late Barbara Wong Moss, a former College trustee, and her son, John, in honor of her father, a Chinese immigrant who believed in the value of education.
Bailey has served as a Chester County Magisterial District Judge since 2012. After graduating from Delaware County Community College, he received a Master's in Administrative Science from Fairleigh Dickenson University in 2009. Prior to becoming a judge, he spent 34 years with the Tredyffrin Township Police Department. He retired as a detective sergeant in charge of the Criminal Division. He also taught as an adjunct professor at Delaware County Community College, Immaculata University and Wilmington University.
A strong advocate for the disabled, the elderly and those who are financially indigent, Bailey volunteers and serves on the board of the West Chester Food Cupboard. He also is a board member for the Planned Lifetime Assistance Network of Pennsylvania (PLAN of PA) Foundation. PLAN of PA is a nonprofit that provides planning, resources and support to assist people with behavioral health diagnoses, or intellectual disabilities.