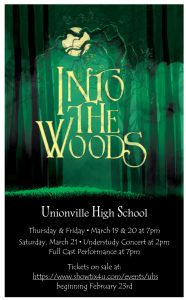 EAST MARLBOROUGH — Unionville High School presents the Tony award-winning musical Into the Woods on Thursday, March 19 and Friday, March 20 at 7:00 p.m., and Saturday, March 21 at 2:00 p.m. and 7:00 p.mat Unionville High School. Featuring music and lyrics by Stephen Sondheim and book by James Lapine, the musical intertwines the plots of several Brothers Grimm and Charles Perrault fairy tales.
While everyone is familiar with the traditional fairytale ending of happily ever after, this musical follows these stories even further to explore the consequences of the characters' wishes and quests. Cinderella, Little Red Riding Hood, Jack and the Beanstalk and Rapunzel join other fairytale characters to discover the unexpected consequences of having wishes come true.
A cast of over 60 students present this unique musical that brings together the story of a Baker and his Wife who wish for a child, of Cinderella who wishes to go to the King's Festival, of Jack who wishes to keep his best friend, of a Witch who wishes to be beautiful again and many more. It all comes together in the woods, where the characters will consider if they truly want their wishes to come true.
"This talented cast and crew bring to life stories we all know and love, told in a fresh and surprising way," comments Director Nicole Norton. "It is a pleasure to return to Unionville to direct this production that will delight audiences of all ages."
PERFORMANCE DATES
Thursday, March 19 and Friday, March 20 at 7:00 p.m.
Saturday, March 21 at 2:00 p.m. (understudy performance) and 7:00 p.m. (full cast)
WHERE
Unionville High School, 750 Unionville Road, Kennett Square, PA 19348
TICKETS
Online ticket sales begin February 23 at www.showtix4u.com. Tickets are $12 in advance, $15 adults and $12 students/seniors at the door, and $5 matinee.