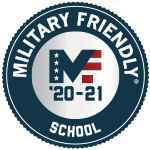 Delaware County Community College has received a 2020-21 Military Friendly® School designation from Viqtory, a service-disabled, veteran-owned small business that publishes G.I. Jobs® magazine and Military Spouse magazine. The designation provides service members and their families with transparent, data-driven ratings about post-military education and training opportunities.
"This designation recognizes the important work we do at the College to create a welcoming environment for active, reserve and former members of the U.S. Armed Services and their families," said Delaware County Community College President Dr. L. Joy Gates Black.
Institutions earning the Military Friendly® School designation were evaluated using both public data sources and responses from a proprietary survey. More than 1,000 schools participated in the 2020-2021 survey, with 695 earning the designation. The 2020­2021 Military Friendly® Schools list will be published in the May issue of G.I. Jobs magazine and can be found at www.militaryfriendly.com.
Methodology, criteria and weightings were determined by Viqtory with input from the Military Friendly® Advisory Council of independent leaders in the higher education and military recruitment community. Final ratings were determined by combining the institution's survey scores with the assessment of the institution's ability to meet thresholds for Student Retention, Graduation, Job Placement, Loan Repayment, Persistence (Degree Advancement or Transfer) and Loan Default rates for students and, specifically, for student veterans.
"Our ability to apply a clear, consistent standard to colleges creates a competitive atmosphere that encourages colleges to invest in programs to provide educational outcomes that are better for the Military Community as a whole," said Military Friendly's National Director Josh Rosen.
Delaware County Community College is a recognized community leader in serving veterans. The College offers credit for military training and knowledge that applies to a course, career counseling, as well as day, evening, weekend and online classes. The College has staff skilled in helping veterans and their family members navigate the intricacies of U.S. government benefits and financial aid.
Many of the College's staff and faculty are veterans. Each year, on the days leading up to Veterans Day, the College honors our staff who are veterans by displaying on campus televisions and computer screens, side-by-side photos showing them in uniform, during their days in the military, and in civilian attire today.
In January 2017, the College opened a Veterans Center at its Marple Campus through the generous donations of local business owner Pam Mariani and the Wilbur C. and Betty Lea Henderson Foundation. The Center is equipped with computers, satellite cable, a Prisoner of War (POW) table, military flags and other amenities. It serves as a space for studying, socializing and veterans-focused programming.