By Mike McGann, Editor, The Times @mikemcgannpa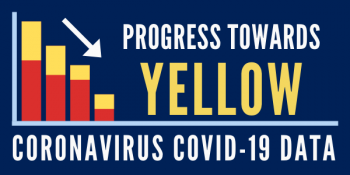 Gov. Tom Wolf announced Friday afternoon that the entire state of Pennsylvania would move out of lockdown into Yellow status, effective June 5, with eight counties moving to Yellow and 17 additional counties moving to the fully open Green status on May 29.
"We know not only that we succeeded in slowing case growth, but that our actions, our collective decisions to stay at home and avoid social contact – we know that saved lives," Gov. Wolf said. "My stay-at-home order did exactly what it was intended to do: It saved lives and it bought us valuable time."
He cited a study by Drexel University that indicates that in Philadelphia alone, 60 days of staying at home resulted in more than 7,000 lives saved and prevented more than 68,000 people from needing hospitalization.
Wolf was asked during Friday's press conference about the metric that seemly required less than 50 new cases per 100,000 in population for a county to move to Yellow — one that most of the counties surrounding Philadelphia have not met as yet.
"We have never used that metric exclusively," Wolf said. "As that date is still two weeks out, we feel confident that Philadelphia will be able to move into that status safely."
12 counties moved into Yellow status Friday: Adams, Beaver, Carbon, Columbia, Cumberland, Juniata, Mifflin, Perry, Susquehanna, Wyoming, Wayne, and York. They joined 37 other counties as Yellow status counties.
The counties moving to yellow on May 29 include Dauphin, Franklin, Huntingdon, Lebanon, Luzerne, Monroe, Pike, and Schuylkill.
The following counties will move to Green on May 29: Bradford, Cameron, Clarion, Clearfield, Crawford, Elk, Forest, Jefferson, Lawrence, McKean, Montour, Potter, Snyder, Sullivan, Tioga, Venango and Warren.
The Chester County Commissioners, who asked for Chester County to move to Yellow in a letter this week, expressed appreciation for the governor's decision in a statement:
"We are pleased that the Governor has responded to our appeal to relax restrictions in Chester County, and on June 5th, Chester County can begin to move forward in a safe and cautious way," the statement said. "Our 'Restore Chester County' program is rolling out next week to begin preparing businesses and organizations to re-open, and informing residents of all safety measures that employers are using to welcome employees and customers back without fear."
The Commissioners noted that while this represents progress, there is still a way to go to get life back to normal in the county. 
"Cautious is the watchword for our yellow phase," the statement continues. "Thank you all for your efforts to slow the spread of COVID-19 during our red phase.  We know the inevitable question is when will we get to 'green?'  It is our goal that Chester County will move to the green phase no later than the end of June. But we must all continue to make every effort to contain the coronavirus. Wear masks, continue social distancing, work from home if you can, and continue all hygiene recommendations. Heed the yellow phase restrictions so that Chester County is ready to 'go green' safely by the end of June."
Even with the change to Yellow status, there will remain limits in Chester County after June 5, although many businesses will be allowed to reopen.
Stay at Home Order Lifted for Aggressive Mitigation

Large Gatherings of More than 25 Prohibited

In-Person Retail Allowable, Curbside and Delivery Preferable

Indoor Recreation, Health and Wellness Facilities and Personal Care Services (such as gyms, spas, hair salons, nail salons and other entities that provide massage therapy), and all Entertainment (such as casinos, theaters) Remain Closed

Restaurants and Bars Limited to Carry-Out and Delivery Only
Even with the change in status, case numbers in the state appear to be holding steady, not declining. The state Department of Health (DOH) reported that there were 866 new cases Thursday, bringing the state total to 66,259. DOH reported 115 additional deaths, bringing the state death toll to 4,984.
With Chester County Health's new reporting system, adding positive tests on the day they were taken rather than the day the Health Department was notified, accurate new daily new case counts are virtually impossible. The two-week rolling average through Thursday stands at 33.1 new cases per day. One new death was reported, bringing the county death toll to 232.
Elsewhere, Wolf amended his executive order protecting Pennsylvanians from foreclosure and eviction to specify that the order only applies to evictions and foreclosures enacted due to lack of payment or because a tenant has overstayed a lease.
"I am protecting housing for Pennsylvanians who may be facing economic challenges due to the COVID-19 pandemic," Wolf said. "My order will not affect proceedings for other issues, such as property damage or illegal activity. I encourage all Pennsylvanians to continue abiding by the terms of their lease or mortgage."