By Denny Dyroff, Entertainment Editor, The Times
The Delaware Valley has been the home base of many great record producers such as Kenneth Gamble and Leon Huff, the founders of Philadelphia International Records; Joe Tarsia, founder and owner of the legendary Sigma Sound Studio; and brothers Phil and Joe Nicolo.
Los Angeles has always been a hotbed of recording studios and is famous for studios such as Sunset Sound, Capitol Records, the Record Plant, and Ocean Way Recording.
Not surprisingly, some of the Philly area's premier record producers/studio engineers have found their way from the City of Brotherly Love to the City of Angels including Robot Scott, who got his start at Aurum Studios in Philadelphia, and the late great Tim Boyle, who worked at the Record Plant and Wally Heider's and was a key factor on many of Peter Frampton's gold records.
Now, there is another local guy making his mark as a producer in L.A. – Tim Sonnefeld, a Chester County native who graduated from Phoenixville High.
Sonnefeld is a record producer, songwriter, engineer, arranger and multi-instrumentalist from Phoenixville who now lives in Hollywood, California.
"I've been living in Hollywood since 2015," said Sonnefeld, during a recent phone interview from his adopted home in Southern California.
"Unfortunately, the Philly music industry wasn't really paying the bills. I saw a decline in the industry here. At the time, I was mainly working at MilkBoy Studio at Seventh and Callowhill. Business was dropping off in different ways. I also used another studio, but finances called for a new studio situation.
"I saved up the money and moved to L.A. I had been flying out here four times a year doing work for different people. I made nice money out here. I was using Redstar Recording, a place that I manage now. I also use the Village Recorder and Sunset Sound."
Sonnefeld's music roots go back to the early 1990s when he was a student at Phoenixville High.
"I played in local bands when I was in high school," said Sonnefeld. "I lived so close to Phoenixville High that I would walk to school.
"My dad had wanted to be a guitar player but then he got into computer technology. He pushed me hard to get into piano. I was in fifth grade when I started my first band.
"After I graduated from Phoenixville, I went to the University of the Arts in Philadelphia. I was studying jazz guitar and upright bass. I spent two years there and then quit. It was bullshit.
"I was living in the city and had the opportunity to study under Charles Fambrough and Jimmy Bruno. I got in the band Townhall with other musicians from the University of the Arts. That happened during my second year there in 1999. We got signed to RCA Records and then dropped a week later."
Townhall was formed by five jazz majors, who all met at The University of the Arts. Four of the five original members were from the Philadelphia area, including Narberth, Phoenixville, and Lancaster. The exception was Mark Smidt who was from Los Angeles. The band's first performance was October 18, 2000.
The original members, George Stanford, Tim Sonnefeld, Mark Smidt, Kevin Pride, and Nate Skiles all contributed individual creativity to the continually changing style of their music. One key factor contributing to Townhall's unique style was the members' ability to play a very large range of instruments.
Most notable was the group's brass, with members exchanging guitars for trumpets and back throughout the shows. Townhall had three releases — "Live at the Point" in 2001, "The New Song" in 2003 and "American Dreams" in 2005. The band broke up in 2007.
"People started taking us seriously after we got signed by a major label," said Sonnefeld. "We got seven years of touring out of two albums and one EP. In 2004, I produced the final LP – 'American Dreams.'
"It was my trial-by-fire as a producer. We did a lot of it at MilkBoy and some of it at a house in Schwenksville. We mixed it at Battery Studio in New York City."
Video link for Townhall — https://youtu.be/sirft50YNDY.
During his time in Townhall, Sonnefeld found himself in the recording studio with some great producers and engineers. He realized that was where he belonged. He started producing local acts and friends.
In 2007, he produced, arranged, engineered, and played guitar and B3 organ on The Dixie Hummingbirds GRAMMY™ nominated album "Last Man Standing." In 2009, he worked on Usher's 2010 release "Raymond vs. Raymond," which took home the GRAMMY™ for Best Contemporary R&B Album.
Sonnefeld stayed in Philly for five more years working at MilkBoy The Studio on dozens of records including Roots-member side projects and an EP with fellow Philadelphian Sharon Little. Then came the move to L.A.
Sonnefeld works with lots of acts at studios all across L.A. He also operates Redstar Recording with David Kalish.
At Redstar he has had the good fortune to work with artists such as Rancid, Ben Harper, Rocco Deluca, Marilyn McCoo, Billy Davis, Pomplamoose, and Elvis Costello. Sonnefeld also worked on some tracks on Elvis Costello and the Imposters' 2019 GRAMMY™ winning album "Look Now."
Redstar, which shares its named with one of the premier soccer teams in eastern Europe (Црвена звезда/Crvena zvezda from Belgrade, Serbia), is a highly acclaimed recording studio in the Silver Lake area of Los Angeles.
"Redstar is a studio set up in an old craftsmen-style house," said Sonnefeld. "The owner David Kalish lives on the third floor. He's originally a Philly guy who worked with Gamble and Huff and with Phil Nicolo. He was also a session musician for Rickie Lee Jones.
"A bunch of us Philly friends knew him. I really got to know him when my good friend Sharon Little toured with Robert Plant and Alison Krauss and he was a guitarist in the band."
Little is a well-known artist from the Delaware Valley who also has moved to L.A.
"Sharon is from Philly — from North Wales," said Sonnefeld. "We just finished an album that's going to come out soon. It's very eclectic – a lot of 80s rock influence…on the lighter side. There's guitar on every track – some live drums, some programmed.
"It's very hands-on producing. "Sharon and I played almost every instrument on it and did a lot of co-writing. We've been making music together for the last 15 years.
"The record is just unbelievable. It's great. We were planning on a late March or early April release but it's hard to put it out during a pandemic."
Video link for Tim Sonnfeld and Sharon Little — https://www.facebook.com/sharonlittlemusic/videos/789842028212862/.
Sonnefeld has a history of bringing out the best from Philly area acts when they are in the studio together.
In 2015, he had a successful project with IVA, a singer-songwriter from Wilmington.
IVA (pronounced EE-vah) established herself as a strong classical singer who was well-versed in opera and performed with Opera Delaware when she was just nine. A graduate of Wilmington's Tower Hill School and Princeton University, IVA, whose ancestry is Swedish, also studied at Juilliard and the Manhattan School of Music.
After graduating from Princeton, IVA began to play the New York clubs and Off-Broadway venues. She was awarded a Fulbright Scholarship and went to Stockholm to study Scandinavian classical music. In Sweden, IVA embraced her opera side and quickly found herself singing with the Royal Opera of Stockholm.
Five years ago in Philly, IVA focused her energy on being a singer-songwriter crafting and singing smart, intelligent contemporary music. In that capacity, IVA released an EP tiled "Leap."
"I was singing with the Royal Opera of Stockholm at the time," said IVA. "After that, I came back to the states to look for a band. It took me a couple years to write the songs for the new record. I started playing with people and found the right musicians.
"Sam Nobles is an amazing bass player. I got Tim Sonnefeld from Milkboy Studio as my producer and he got drummer Matt Scarano. The next addition was Nate Gonzalez, an amazing guitarist and pianist who also plays accordion.
"Tim has a great ear and we had a good rapport right from the start. Tim is an amazing producer and person. I played some of my songs for him on piano and he convinced me to play piano on the album. Adjusting to playing piano on stage took some time."
George Stanford, a Harriton High School grad and one of Sonnefeld's bandmates in Townhall, relocated to the West Coast in the mid-2000s but still has a fondness for the Philadelphia area.
"I've been in L.A. for 10 years," said Stanford during a phone interview last year. "I moved to L.A. because of the music business and its proximity to the film business."
Last year, Stanford released a recording he made with Sonnefeld at the helm.
"I just put out a solo EP called 'Alone at the Pilgrim' which I recorded it in a huge, old, empty closed church," said Stanford. "Acoustically, it sounds wonderful. I'd been looking for a space like this for a while. I wanted to record in a big space – to play stripped-down songs in a big, big room.
"I brought in Tim Sonnefeld, who had worked at MilkBoy Studio in Philadelphia. He brought the recording equipment we needed – especially great mics. And I brought my ProTools gear. We did it about three months ago. Tim is a great producer."
Laura Diane Auer, a West Chester native and W.C. Henderson grad, also moved to L.A. a few years ago – and also has a lot of history with Sonnefeld.
In addition to working on an animation project, Auer has just put the finishing touches on her new album – "In Love." Since it is not a good idea to release an album without being able to do a tour in support of the album, the release date for Auer's new LP has yet to be determined.
"I worked on the album in L.A. with my producer Tim Sonnefeld, who is a two-time Grammy winner," said Auer. "He used to work at MilkBoy Studio in Philadelphia. He came to L.A. around the same time I did.
"We just finished our entire record together – 10 songs. We cut the album over the course of a couple years at Redstar Studio in the Silver Lake area of L.A. I have already released a few of the songs under the name SOLA.
"It's a total fusion album with Arabic melodies, Spanish guitar, Middle Eastern scales and African drumming. I guess you could call it pop with world, classical, fusion and pop influences."
Auer's previous album, "Chasing Down the Dream," was recorded with Sonnefeld at MilkBoy Records in Philly in 2014 and released under the name Laura Promiscuo. It featured eight of her original songs, including "Closer to You," "Water Is Wide," "Take Me As I Am" and "Sweet Lovin' Boy."
"Tim started working with me in the latter stages of that album," said Auer. "The songs on that album were more singer/songwriter songs."
Sonnefeld may live 2,700 miles from Philadelphia now but his clients are willing to follow him anywhere.
"I always liked Philadelphia, but Philly doesn't support its children," said Sonnefeld. "I was only one of about three making a living by producing albums."
Video link for Tim Sonnefeld and Sharon Little (recorded on the Queen Mary) — https://youtu.be/eIITKxBP5tY.
Live shows are simply not happening right now because of COVID-19 but live music via the internet is flourishing.
There is a local exception to the "ban" on live shows.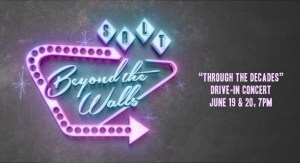 In partnership with Ludwig's Corner Horse Show Grounds, SALT Performing Arts is presenting "SALT Beyond The Walls," a Drive-In live concert style summer series with "Songs Through The Decades." Shows are scheduled for June 19 and 20 at 7 p.m. each night.
Guests are invited to pack a picnic and enjoy 16 amazing SALT performers singing songs from the 1930s-2010s.
The drive-in theatre works as follows:
Admission is $25/vehicle. Reservations must be made online prior to the performance at —  https://www.saltpa.com/beyondthewalls.
Admission to the fairgrounds will start an hour before the event start time.
Each vehicle should print out their ticket and place it visibly on the front dashboard/window.
Upon entering the fairgrounds, attendants will guide vehicles for parking around the newly constructed fairgrounds stage
Audio is provided via 90.7 FM radio transmission.
On-site concessions will be available for delivery to your vehicle.
Binoculars are encouraged.
Attendance will be limited to 70 vehicles.
The show will last approximately 90 minutes. There are no bathrooms at the Fairgrounds.
SALT performers for the June 19 & 20 weekend include: Alicia Huppman, Emily Davis, Liz Robertson, Robert Rinaldo, Genevieve Brogdon, Dina Spyropoulos, Rebecca Finkenaur, Danny Murphy, Dylan Zangwill, Sami Uggla, Drew Kalkiewicz, Hannah Elliott, Sophie Rowland, Grace Halsey, Danielle Kucera, and Leyla Marusa.
Other "SALT Beyond the Walls" weekends are: July 24-25, "Kids on Broadway" and August 14–16, "Songs from the Silver Screen."
Ludwig's Corner Horse Show Grounds are located at 1326 Pottstown Pike in Glenmoore.
Everything else is live – but live only online.
Ardmore Music Hall (www.ardmoremusic.com) is broadcasting the first (audience-free) live concert from its stage in three months on June 20 with Talking Heads tribute, Start Making Sense. The entire live webcast, which starts at 8 p.m., will be free with an optional tip jar for those who would like to donate to the band and venue.
A good source of live/virtual music every week is the Philadelphia Orchestra (www.philorch.org/virtual). Audiences can watch both past and previously unreleased Philadelphia Orchestra performances every Thursday night at 8 p.m. The presentation on June 18 will be Bruckner's Final Symphony.
Symphony No. 9 in D minor is the last symphony on which Anton Bruckner worked, leaving the last movement incomplete at the time of his death in 1896; Bruckner dedicated it "to the beloved God". The symphony was premiered under Ferdinand Löwe in Vienna in 1903.
The Metropolitan Opera (www.metopera.org) is offering "Live Opera Streams" nightly with a schedule that this week includes such classics as "Macbeth," "Don Carlo" and "Il Barbiere di Siviglia" ("The Barber of Seville").
The schedule for the upcoming week is: June 18 and 19, Verdi's "La Forza del Destino"; June 20, Philip Glass's "Akhnaten"; June 21, Philip Glass's "Satyagraha"; June 22, Verdi's "La Traviata";  June 23, John Adams's "Doctor Atomic"; and June 24, Saint-Saëns's "Samson et Dalila."
On July 18 at 3 p.m. eastern, Callaghan will present a live online show hosted on Zoom. It is an all-request one-hour live show where the singer performs songs and chats directly with the audience.
All details are on Callaghan's website at: www.callaghansongs.com/store."
Troubadour 77 is the brainchild of Grammy award-winning singer-songwriters — Monty Powell (Guitar/Vocals) and Chester County native Anna Wilson (Piano/Lead Vocals).
Troubadour 77 posted the following message on its website – "The Revolution & Redemption Tour has been cancelled due to COVID-19. We are doing virtual concerts on our FACEBOOK LIVE page that we call T77 SQUARED CONCERTS. They will air every Thursday evening at 7 p.m. MST."
The next edition of "T77 SQUARED CONCERTS" is scheduled for June 18 at 8 p.m. (eastern) at https://www.facebook.com/Troubadour77music/.
Video link for Troubadour 77 — https://youtu.be/Nidewi0Z3-s.
Singer-songwriter and Men at Work frontman Colin Hay has partnered with City Winery to present a multi-artist broadcast to celebrate Father's Day. Titled "Dear Father," inspired by Hay's heartfelt song of the same name, Hay curated a lineup of old and new friends (along with City Winery favorites) including Billy Bragg, Bruce Cockburn, Dar Williams, Fantastic Negrito, Nikka Costa, Glen Phillips, Joan Osborne, and more. Hay's fellow Compass Records Group artists Jorma Kaukonen (Jefferson Airplane co-founder and half of Hot Tuna), Americana icon David Bromberg and songwriter Glen Phillips (Toad the Wet Sprocket) are also included in the line-up. Hay also brought in two fellow Australian artists: singer-songwriter Delta Goodrem and Aboriginal guitar virtuoso Chris Tamwoy. Radio legend and WFUV host Rita Houston will serve as the streaming event's emcee.
The event is scheduled for June 21 starting at 5 p.m. eastern.
Link for concert information — https://form.jotform.com/201544031822140.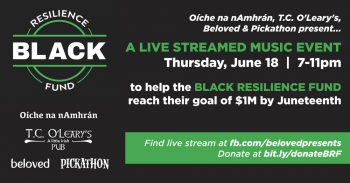 "Pickathon Presents A Concert A Day" (https://www.facebook.com/pickathon) will present "Live Stream Music Event for Black Resilience Fund" on June 18 at 10 p.m. eastern.
The evening's music lineup will feature Illegal Son, Shook Twins, Marcio DaLari Ensemble, DJ Anjali and The Incredible Kid, Bonnie Paine (Elephant Revival), John Craigie, Ayla Nereo, Ajeet, Manose, Peia, Manoj, Michael Manahan, Benjy Wertheimer – Vishnu Das, Max Ribner (Medicine for the People), Preston Howard Wilde, Elizabeth Nicholson Music, Conor and Kelsey O'Bryan, Sean Frenette, Christopher Worth and Hanna Haas.
Live stream can be found at: fb.com/belovedpresents (Beloved)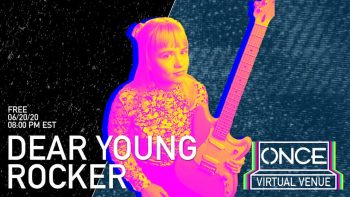 ONCE Somerville (https://www.oncesomerville.com/) is a place for fans of the venue to interact and enjoy performances under the ONCE Presents identity. The programming will range from music to comedy, yoga, tutorials and more. The following is the lineup for the upcoming week: Healing Summer Solstice Spread by Mama Fiya Tarot x ONCE VV on June 18;  Dear Young Rocker x ONCE VV on June 20,  Haus of Delicious presents: Night Flowers at ONCE Lounge on June 21, and Stand Atlantic, Trash Boat, Super Whatevr, and Jetty Bones on June 22.
Jorma Kaukonen performs his 12th free solo "Quarantine Concert from the Fur Peace Ranch" on June 20 at 8 p.m. For more than two months, Kaukonen has been performing, telling true-life tales and talking about his songs, often playing them on the very guitar he wrote the song on. It is a fascinating look at this artist's history and influences.
The Fur Peace Ranch Station Live Stream Concert link is — https://www.youtube.com/user/FurPeaceRanch.
Video link for Jorma Kaukonen — https://youtu.be/DpkZPzb4Tqc.
Earl Scruggs Music Festival Month of Mondays airs every Monday at 8 p.m. EDT on the ScruggsFest FB page — https://www.facebook.com/earlscruggsfest/.
The schedule is June 22: Alison Brown; and June 29: Chatham Rabbits.
A popular weekly internet music event is The Kennedys' production – "The Kennedys' All Request Livestreaming Show."
This week's edition, which is scheduled for June 21 at 2 p.m., is "The Kennedys Special Fathers Day Show Featuring The Songs of Buddy Holly!"
These shows have happened every Sunday since the pandemic shut us all in back in early March. These intimate, all-request live-streaming concerts come straight from the talented husband-and-wife duo's New York apartment to your home.
According to the Kennedys' Facebook page – "We feature uplifting music that will make you forget about your worries for an hour and put a smile on your face."
The link for "The Kennedys' Livestreaming Show" is – www.KennedysMusic.com.
Video link for The Kennedys — https://youtu.be/nbIE_LclgnY.
Sofar Sounds (https://www.sofarsounds.com/v/listeningroom) has these streams upcoming (all times ET) — Adekunle Gold, Live from Lagos, June 18, 3 p.m.;  Chantae Cann, Live from Atlanta, June 19, 3 p.m.; and Iskandar Widjaja, Live from Berlin, June 20, 3 p.m.