By Denny Dyroff, Entertainment Editor, The Times
COVID-19 has been messing with live entertainment schedules for a while now. For more than four months, live performances have been scarcer than factual statements coming from the nation's top elected officials.
It has only been the last few weeks that restaurants and other venues have been permitted to allow customers inside.
One of the first entertainment venues in the area to re-open with live indoor performances in front of live indoor audiences is the Candlelight Dinner Theatre (2208 Millers Road, Arden, Delaware, 302- 475-2313, www.candlelighttheatredelaware.org).
The buffet dinner, one of Candlelight's drawing cards, has been replaced. The capacity of the venue for shows has been severely reduced for social distancing. Other safety measures are being taken.
The theater world has an old saying — "The show must go on."
Fortunately, the show will go on starting on July 24. The hit musical, "The Last Five Years," will be presented by the Candlelight Dinner Theatre from the end of July through August 30.
Actually, the Candlelight will spring back into action even earlier with its monthly Comedy Club presentation on July 9 and 10. On Thursday and Friday, Comedy Club returns with Julia Scotti as the headliner, Jake Mattera as the feature and Jason Pollock as the host.
Scotti is a nationally headlining comedian, author, speaker, former teacher, and woman of transgendered experience. She was a quarterfinalist and fan favorite on Season 11 of "America's Got Talent" on NBC in 2016. She currently has a comedy special on SHOWTIME called "More Women of a Certain Age."
Scotti's new brand of comedy is fierce, honest, and fearless. She has been described as a "force of nature" and a "cross between Sam Kinison and Mrs. Doubtfire." Her performances have been likened to a "chainsaw flying through the room."
"I'm really looking forward to these shows because I haven't worked in a long time," said Scotti, during a phone interview Wednesday afternoon from her home in Toms River, New Jersey.
"I did two shows in Washington – Bellingham and Olympia – at the beginning of March. Then, right after we left Washington, everything started closing down."
Dealing with a pandemic is something new for a performer who has been working as a comedian for more than four decades. Originally from Fairview, New Jersey, for the first 48 years she was better known as comedian Rick Scotti.
"I had always wanted to get into comedy as a kid," said Scotti. "Instead, I was a drummer in a band. I did that for quite a while. I got my start in comedy in 1980.
"I saw an ad for a comedian for The Jade Fountain in Paramus (NJ). I auditioned with five minutes of material and got hired. From there, I got put on a show with Jackie "The Joke Man" Martling. The lineup also featured Gilbert Gottfried, Jerry Seinfeld and Eddie Murphy – all of whom were "unknowns" at the time."
Beginning at the Original Improv in New York, Scotti toured most of her career as Rick Scotti, headlining clubs in the United States and Canada. She has appeared on Comedy Central and was a finalist on Showtime's "The Funniest Person in America" contest for the state of New Jersey (she lost to Ellen DeGeneres).
"I was headlining all over the country in the late 1980s and 1990s," said Scotti. "In 2000, I was tired career-wise so I went back to college. I went to Georgian Court University in Lakewood, New Jersey, It was a Catholic all-girls college that was co-ed at night."
Georgian Court University is a private Roman Catholic university in Lakewood Township, New Jersey. Founded in 1908 by the Sisters of Mercy, the university has more than 1,500 undergraduates and nearly 600 graduate students. Since transforming from an institution with only women's dormitories to a fully coed university in 2013, about 24 percent of Georgian Court's student body is now comprised of men.
"I majored in Education and English," said Scotti. "Then, I taught sixth grade language and arts at Freehold Borough Intermediate School."
In 2000, Scotti also left stand-up as she began a life altering transition.
Rick Scotti was performing in comedy clubs across the country when he came to the realization that he was living a false and painful life.
At a time when the words gender dysphoria and gender reassignment surgery were rarely heard, Rick's awakening led him down the challenging road to a new identity as Julia Scotti. The consequences of her transition left Julia deserted by her family, friends, and comedy world colleagues.
At age 47, she reinvented herself, went back to college, and became a junior high school teacher. Several years ago, she impulsively stepped back on the stage at a small comedy club.
"I loved teaching, but I couldn't take administration anymore," said Scotti. "Chris Rich, an old comedian friend, and I got together. She said – when are you coming back to comedy? I said – I'm 60 years old and transgender – but she didn't take that as an excuse.
"She got me to come back. I did a show at the Comedy Spot in Bristol, Pennsylvania. Then, I had a weekly cabaret thing in Philly at a club near Second and South. From there, I got publicity on Philly and work started coming in."
Scotti was the first transgender comedian and finalist in the "Ladies of Laughter" competition held in New York City. She has also been named by the Advocate as one of the "Top 5 Hottest Transgender Comedians of 2013".
The comedian whose humor transcends ages, sex and genres had a breakthrough a few years ago with her appearances on "America's Got Talent."
"'America's Got Talent' sent me an e-mail asking if I wanted to audition," said Scotti. "I was hesitant at first. To my surprise, I got it. Two reasons I got it were because I'm transgender and because I'm funny."
Scotti made the panel of Howie Mandel, Mel B., Heidi Klum and Simon Cowell laugh with her irreverent and seriously funny routines. She was a judges' favorite with Cowell saying "you genuinely made me laugh" and Mandel quoted as saying "you have so much to offer, you are a joy."
"Howie Mandel was really nice," said Scotti. "Actually, all the judges were nice to me. I enjoyed my time with them. Making Simon laugh was my goal.
"'America's Got Talent' put me out there. The show has 13 million viewers and I was on three episodes. After that, I heard from people all over the world."
Scotti has appeared at major venues all over the country including Dolby Theater (Hollywood, CA), Planet Hollywood, Sin City (Las Vegas, NV), Borgata (Atlantic City, NJ), Arts Quest at Steel Stacks (Bethlehem, PA), The Friars Club (Manhattan, NY), Hard Rock Café (Cleveland, OH), Throckmorton Theater (Mill Valley, CA), Edgewater Casino (Laughlin, NV) and Williamsburg Comedy Club (Williamsburg, VA).
Scotti's humor is personal rather than political.
"I deal with topics such as getting old, being trans, friendship and my love life – or lack of it," said Scotti. "I always write about what is going on in my life."
Video link for Julia Scotti — https://youtu.be/Yr62r4H5fNYideo link for Julia Scotti — https://youtu.be/Yr62r4H5fNY.
Jake Mattera, the opening act this Thursday and Friday, was a finalist at the Boston Comedy Festival and he is a three-time finalist at Helium Comedy's "Philly's Phunniest" competition. Mattera has acted in sketches that have appeared on CONAN and he is featured regularly as a guest on Philadelphia's top radio shows.
Mattera, a native of nearby Boothwyn, has performed at many prestigious festivals all over the country, including: Big Sky Comedy Festival, Laughing Skull Comedy Festival, Limestone Comedy Festival, San Francisco Sketchfest, HBO's Women In Comedy Festival, and more.
Video link for Jake Mattera — https://youtu.be/gCK_tF6i89U.
Each night, there will be two arrival times — 6:15 and 6:45 p.m. — to allow for distancing. Masks covering the nose and mouth are required when not at your table eating.
Tickets are $30 and include heavy snacks (wings, chicken tenders, French fries, onion rings and salad served at your table). There will be a cash bar and free parking. To make reservations, call 302-475-2313.
In addition to presenting Comedy Club shows on July 9 and 10 and the musical "The Last Five Years" from July 24-August 30, the Candlelight will also host its monthly Quizzo evening on July 27. It will be hosted by Dan Healy and feature a TV theme.
Doors open at 6:30 p.m. and games start at 7 p.m. There is a $5 admission at the door.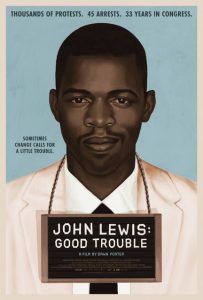 On July 13, the Uptown! Knauer Performing Arts Center (236 North High Street, West Chester, https://uptownwestchester.org/) is opening its doors to the public for its first indoor event since the mandated shutdown in March with as screening of "John Lewis: Good Trouble," a newly released documentary on the legendary civil rights hero and United States Congressman.
Although the film was completed before the current Black Lives Matter movement, it allows the viewer to reflect on today's events and the importance of John Lewis' work.
As a performing arts organization with diverse voices, Uptown! is committed to its mission to promote cultural, economic, and civic life experiences in our community through live theater, music, dance, and film.
Immediately following the feature, there will be a pre-recorded discussion between Representative Lewis and Oprah Winfrey, filmed last month and being made available exclusively for virtual cinema and in-theater engagements of the film. This is a wide-ranging, informal, 16-minute conversation that complements the documentary.
The show will be presented on July 13 at 7 p.m. Tickets are free. But space is limited so you must reserve your tickets to secure seating. There is an allotment of two tickets per household.
Masks must be worn at all times throughout the theater and patrons are expected to follow all social distancing guidelines.