By Denny Dyroff, Entertainment Editor, The Times 
The COVID-19 pandemic has hit everyone hard – in a variety of ways.
For musicians, it has been devastating. Live shows are virtually unheard of. Going into a studio to make an album is hardly a viable option. It's as if someone has pushed the "pause" button for most of the music industry.
For Vanessa Collier, a resident of Chadds Ford, the pandemic has forced her to abandon a tour after just one show and to push back the release of her new album. It also wiped out a blues cruise in the fall on which she was scheduled to be a featured performer.
"I played a show at the Arden Gild in February and a few other shows after that," said Collier, during a phone interview this week.
"My last gig was March 12 – the first show of a Midwest tour. We played Mojo's Boneyard in Evansville, Indiana. That same day, the NBA and MLB stopped their games. I realized it was serious, so I said to my band – 'let's play this show and go home.'
"I love to talk to people after my shows. I just like chatting with my fans, but I couldn't do that. Instead, the show ended, and I had to head back to the Green Room. I like hugging people, but I didn't want to put them at risk. I've been back home ever since."
Being flagged by the pandemic brought a lot of emotions to Collier.
"It felt like a lot of loss," said Collier. "I got home and three days later had to put my dog down.
"At first, I thought it would just be a few weeks with the pandemic, but it just kept getting worse. I lost a tour and had a cruise cancelled. Plus, I support a band of five and I haven't been able to support them. It's been incredibly frustrating."
Collier was, however, able to see a bright side.
"This brought me home," said collier. "I've spent the last five years on the road playing music. I only spent 50 days at home last year. Now, I'm home all the time and sit at my keyboards most nights."
Still in her mid-20s, Collier has toured all over the world numerous times and has released three solo albums. With searing saxophone solos, soulful vocals, and witty lyrics, her songwriting features a blend of blues, funk, rock, and soul.
Collier's impressive vocals and stinging saxophone work saw her light up stages as part of Joe Louis Walker's band in 2012 and 2013.
In 2014, her debut album "Heart Soul & Saxophone" won her accolades as a "Best of 2014 Blues Breaker." In March 2017, she released her sophomore album "Meeting My Shadow." Collier's latest album "Honey Up" was released on July 6, 2018.
"I've been touring a lot since 'Honey Up' came out," said Collier. "It's been almost non-stop. I did 115 shows in 2018 and more than 200 in 2019.
"I pretty much always take the band – except when I go to Brazil to play. Fred Sunwalk, who is from the Sao Paulo area, emailed me a few years ago and asked me to come to Brazil. For the last three years, I've gone there at least once a year."
Sunwalk, a guitarist, singer and composer, is among the top names in contemporary Brazilian blues. With 22-year career, five CDs and a DVD, he performs at the main blues and jazz festivals in Brazil and makes frequent tours in the United States and Europe accompanying international artists.
"When I tour in Brazil, I use Fred's band," said Collier. "They know the music well.
Collier is primarily a sax player, singer and songwriter but is also well-versed in playing clavinet, flute, electric organ, and percussion.
"When I was little, I really wanted to play piano," said Collier. "I don't know why. I started taking piano lessons but didn't like the teacher, so I quit after six months. I saw someone playing sax on television and fell in love with it. We rented a sax for me when I was in fourth grade. That was in school. Then, I studied with a private instructor for a few years.
"Then, I took lessons with Chris Vadala, who played sax with Chuck Mangione. I studied with him for seven years – classical, jazz and funk. He started me doubling on flute and clarinet. I still play those instruments. Mainly, I play sax — tenor, some soprano and some baritone."
Collier's latest album "Honey Up" was released just over a year ago.
According to Collier on her website, "This album is a snapshot in time of what I enjoy writing/playing/singing and brings together my diverse inspirations and ideas and, on this album especially, more of my personality.
"Of course, there's always a purpose to some of my songs as they are based on things I struggle with, like why we can't listen and respect each other, why we can't work to find common ground, and why we can't find our way out of the small boxes we place (or accept) in our lives, but even those songs drive us forward and the music is upbeat and funky.
"Similar to my previous records (which I also produced), the songs on 'Honey Up' pay respect to the traditions and roots of blues music, but branch out with my own blend of rock, funk, gospel, NOLA, and soul grooves and, of course, my love of the saxophone. Each song is different, and I hope you find a favorite (or two or three…)!! Thank you for listening!"
"The 'Honey Up' album was nominated for Blues Music Award (BMA) Contemporary Blues Album of the year," said Collier.  "The album came out last July and did well right from the start. It was a Top 5 Billboard Blues Album and was well-received by radio deejays."
Collier was nominated in 2017 for a Blues Music Award in the "Instrumental — Horn Player of the Year" category. She also won first place in the "Lyrics Only" category of the 2017 USA Songwriting Competition. In 2018, Collier was nominated in two categories at the Blues Music Awards – "Contemporary Blues Female Artist of the Year" and "Instrumental — Horn Player of the Year."
In 2019, she was again nominated in same two categories at the Blues Music Awards – "Contemporary Blues Female Artist of the Year" and "Instrumental – Horn." She claimed first place in the "Instrumental – Horn" category.
"Honey Up," which had a three-month residency on Billboard's "Top Blues Albums Chart," provides a good look at Collier's influences.
"With jazz, the first person I was turned on to was Cannonball Adderley," said Collier. "Other major influences were John Coltrane, Junior Walker, and Maceo Parker. Vocally, I started with Etta James, Ella Fitzgerald and Sarah Vaughan and that morphed into Norah Jones and Bonnie Raitt."
Now, Collier has a new album ready to be released – "Heart on the Line."
"We had recorded the basics for the new album back in February," said Collier. "I had planned to put the vocals on it during the Midwest tour even though it would have been hectic. When I came home, I had a lot of time. I put vocals on. I put horns on a few tracks. I spent time with the mixing. It took longer than I had planned."
Collier recorded the album in January at Hearstudios in Camden, Maine.
"It's the same studio I used for 'Honey Up'," said Collier. "I used the same engineer – Mark Wessel. He was a professor I had at Berklee for a course in music production.
"Like my previous albums, it's definitely a mixture – blues, funk, NOLA – but this one goes rootsier. It was influenced by the Wood Brothers and has a lot more story songs.
"Just like my first and third albums, it's being released on my own label – Phoenix Fire Records. Not many people want to buy a physical album – except in person – so it will be a full digital release…Apple Music, iTunes, Spotify. I used Crowdfunding to finance the record."
Collier's Crowdfunding campaign for "Heart on the Line" started earlier this year. The goal was $20,000 and Colliers' supporters exceeded the goal. There were 233 backers who pledged $24,700.
"The scheduled release date was May 15," said Collier. "Now, it's been pushed back to August 21. The Grammys are continuing as planned and I wanted it to be out in time to be Grammy-eligible.
"I love this record. I was able to put a lot of me into this record. Also, I'm going to be doing another record soon and I didn't want to be sitting on two albums in the can."
Collier also is a music teacher and has been involved in various "Blues in Schools" programs.
"I grew up in Clarksville, Maryland and then graduated from the Berklee College of Music in Boston," said Collier, who earned a dual degree in performance and music production, and engineering. "Right now, I'm basically just playing and teaching."
She is also farming.
"I volunteer a couple days a week at Vollmecke Farm in Chester County," said Collier.
Vollmecke Orchards & CSA (http://www.csachestercounty.com/) is located off Reeceville Road in West Brandywine. It is a woman-owned 37-acre farm and orchard that features a wide variety of vegetables grown using organic principles and fruits grown following IPM practices.
"I like being outside and I like doing gardening," said Collier. "It's just a nice break. I like the two ladies that run it and the three dogs on the property.
"I'm very interested in gardening, but I can't do it myself because I'm on the road so much – usually. Now, I'm learning about planting, picking and harvesting."
Collier's current musical harvest includes a new album and a pair of shows.
"I'm doing a streaming show at Daryl's House on August 21 and a live show on August 23 at the Birchmere in Alexandria, Virginia. The Birchmere has a capacity of 800 and it will be limited to 175 for this show. The concerts will be duo shows with guitarist Arthur Neilson and me."
Video link for Vanessa Collier – https://youtu.be/Ji0x9vkQVcQ.
Despite the pandemic, there will be some "live" shows in the area over the next few weeks.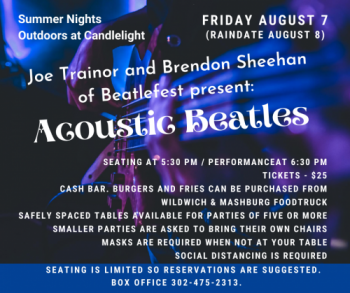 Candlelight Dinner Theatre (2208 Millers Road, Arden, Delaware, 302- 475-2313, www.candlelighttheatredelaware.org) will host an outdoor concert on August 7 – "Joe Trainor and Brendon Sheehan of Beatlefest present Acoustic Beatles."
Tickets are $25 per person, with different seating options. There are limited tables available for groups of 5 – 8 people, but any party that is four or less will have spaces marked out in the parking lot where it can set up lawn chairs to enjoy the show. Food and beverages will be available for purchase and a bar is available for those 21+ years of age.
Information and Safety Guidelines –
Masks:
– Required at all times when not seated
– Encouraged while seated, unless eating or drinking
– Staff will be masked
– Hand sanitizer will be provided
Parking:
– There will be limited parking available in the lot, overflow parking will be at Ivy Gables.
Pathways / Restrooms / Accessibility:
– You will need to walk up a small hill / incline to use the restroom.
– Restrooms will be indoors and will be monitored / cleaned by a volunteer.
– A pathway will be marked out, following all of the parking spaces closest to the theater. The pathway will be 16 feet wide and will be marked with directions.
– There will be a 16′ buffer area between the band and patrons to provide safe spacing for all involved.
Rain Date is August 8.
Winding Way Records in partnership with the Willows Park Preserve is presenting a socially distanced outdoor Summer Concert Series at The Willows Park (490 Darby Paoli Road, Villanova, https://www.eventbrite.com/e/summer-concert-series-registration-111851165848). The next show, which is scheduled for August 9, will feature The Fractals, with opener Mia Johnson.
This concert series allows for live music to be enjoyed in a safe manner in a time when live entertainment has come to a halt. Guests can spend an evening picnicking with live music at a beautiful and historic outdoor venue. Listeners of all ages are welcomed to attend this secure and family-friendly series.
Tickets are free and preregistration is required. Audience will be capped at 200 people to comply with the state's green phase social gathering cap.
Attendees are encouraged to carpool in order to maximize parking spaces. You will be able to park in the rear parking lot on Willows Road and walk across the lawn to the concert area where you can set up your blanket in marked spaces. As people arrive, a Winding Way volunteer stationed on the lawn entrance will check to ensure everyone is wearing masks when they move to the lawn.
To create socially distanced live music, we plan to setup the concert on the hill to the left of the mansion's driveway entrance on Willows Road. The band will be placed at the top of the hill with each member on a 4×8-foot stage — 12 feet apart from each other.
The audience will be seated picnic style on the slope of the hill starting 25 feet from the stage area, and continuing on a marked grid to space the blankets 20 feet apart at their centers with a 12-foot aisle between them to ensure groups remain distanced from each other. Picnic groups will be encouraged to stay together to limit social contact, and only one member at a time will be able to leave their picnic space.
People's Light (39 Conestoga Road, Malvern, peopleslight.org) is working in partnership with East Whiteland Township to offer a Drive-In Concert Series, following current PA regulations for outdoor events. These drive-in concerts, held in the theater's back parking lot, are designed for small groups within the same "social bubble" to safely enjoy outdoor entertainment together. Tickets are limited and social distancing is enforced.
The People's Light Drive-In Concert Series will host the following shows — ILL DOOTS on August 8, Colebrook Road on August 14 and Greg Sover on August 21.
Here are the ground rules issued by People's Light: 
These drive-in concerts are designed for small groups within the same "social bubble" to safely enjoy outdoor entertainment together. Tickets are limited and social distancing is enforced.  Each vehicle is limited to 5 people or less and assigned a parking spot and adjacent "Home Space" for setting up lawn chairs. We require concert attendees to remain in their designated area as much as possible and avoid mingling with other parties.
Face masks are required on our campus and may only be removed inside a vehicle or Home Space. People's Light staff will be masked at all times and maintain a 6-foot distance from each other and our guests. We have protocols in place for disinfecting spaces, surfaces, and equipment used by musicians and staff.
We are working in partnership with East Whiteland Township and following current PA regulations for outdoor events. As we continue to monitor confirmed COVID-19 cases in the area, we are constantly evaluating the safety of our on-campus programming and will cancel events if necessary.
This socially distanced drive-in concert will take place in the back parking lot of the People's Light campus at 39 Conestoga Road, Malvern, PA. The concert will last 75 to 90 minutes in total. The musicians will perform on a raised stage at the back of the lot.
Tickets are $75 per car and limited to 5 passengers per car (not including children under 12). There are no physical tickets for these events. Attendees will receive a confirmation email receipt immediately following purchase, as well as a reminder email with more details a few days before a concert.
Please plan to arrive between 5:30 and 6 p.m. so we can get everyone parked in time for the 6:30 p.m. concert.
A masked attendant will greet you at a 6-foot distance when you arrive. Please be prepared to wear a mask and provide your name so we can check your ticket status. Your car will be assigned a number, which will be adhered to your back windshield by the attendant. This is to assist in food delivery for those who pre-ordered from our on-site restaurant and is also a helpful safety measure.
Parking attendants will guide you to a parking space. Cars will be parked based on the size of the vehicle. Lower cars in front, bigger vehicles in the back. You will not be allowed to move your vehicle once you've parked. Vehicles that don't fit in a parking space (such as campers or oversized trucks) will not be allowed entry. Your view of the stage will be dependent on your location and the number of large vehicles in the lot, so we encourage you to bring your smallest vehicle!
Every vehicle will be assigned a "Home Space," an adjacent parking spot where you can set up lawn chairs. This space will be on the driver's side of your vehicle, assuming you parked facing the stage. This is not a space intended for mingling with those outside your party. Per current Pennsylvania regulations, you need to either be in your vehicle or immediately adjacent to it. No walking around or visiting neighbors.
You can pre-order food and drinks from The Farmhouse at People's Light (and yes, this includes alcoholic beverages!) Specific instructions will be emailed to concert ticket holders, along with a 10% discount code. Outside alcohol is prohibited.
Face masks are required on our campus and may only be removed in your car or Home Space. We ask that all concert attendees wear a mask and maintain a 6-foot distance when interacting with anyone outside your party. People's Light staff will be masked at all times, and Farmhouse staff will be masked and gloved.
There will be one standard portable toilet, one ADA-compliant portable toilet, and one wash station located in the parking lot. We require face masks (and suggest gloves!) when walking to and using the facilities.
Please turn off your car when you park. We do not encourage people to sit in a car that is idling for more than ten minutes.
In partnership with Ludwig's Corner Horse Show Grounds, SALT Performing Arts (www.saltpa.com) is presenting "SALT Beyond The Walls," a Drive-In live concert style summer series with "Songs from the Silver Screen" from August 14-16.
Admission is $25/vehicle. Reservations must be made online prior to the performance at —  https://www.saltpa.com/beyondthewalls.
The most ambitious drive-in concert series will take place in the parking lot of the Philadelphia Phillies stadium (Broad and Pattison streets, Philadelphia).
Live Nation Philadelphia, in partnership with the Philadelphia Phillies, is presenting a four-week local drive-in concert series in the parking lot of Citizens Bank Park, home of the Phillies. The "Live-In / Drive-In Concert Series" will get underway on August 16 with Bert Kreischer.
Live Nation Philadelphia is creating a unique live music experience by allowing fans to enjoy concerts from the comfort of their car in a drive-in setting with the audio simulcast on an FM frequency. All artists will be performing full live sets on stages set up in the parking lot of Citizens Bank Park. The events will also feature large-scale video LED screens so fans can enjoy a true live concert experience.
Tickets will be sold in the form of a group car pass. Each car will purchase just one ticket, good for a maximum of four (4) people per car. Car pass tickets are on sale athttp://www.phillies.com/drivein.
The schedule, which starts in two weeks, is: August 16 – Bert Kreischer, August 19 – AJR; August 21- Pigeons Playing Ping Pong; August 22 – The Struts; August 23 – The Front Bottoms; August 25 – Mt. Joy; August 26 – Subtronics; September 3 – Smith & Meyers; September 4 – Lotus;  September 5and 6 – Dark Star Orchestra; and September 7 – Michael Blackson & Friends with special guest DJ Jazzy Jeff.
The Grand Opera's "Concert by Cars" show announced its fourth event in the series featuring popular area cover band Montana Wildaxe on August 15 at 7 p.m.  in the Frawley Stadium parking lot on Wilmington's Riverfront.
Pricing for the concert is: car (with one occupant): $25; car (with two occupants): $50; car (with three occupants): $75; and car (with four occupants): $100. All tickets are general admission and spots cannot be reserved.
The concert will take place in the Main Parking Lot of Frawley Stadium and all traffic must enter from Justison Street. There will be no concessions served and alcohol is prohibited. Attendees will be able to hear the concerts via FM radio. No pets are allowed.