By Denny Dyroff, Entertainment Editor, The Times
Phil Hanley is a Canadian comedian who has been living in New York City for most of the last decade. In addition to playing clubs all over the United States, he also done film work.
But for the last seven months, there have been no live shows on his performance schedule and, obviously, no film work.
That will change this weekend when Hanley comes to Philadelphia for shows at Punch Line Philly (33 East Laurel Street
Philadelphia, www.punchlinephilly.com). He will headline a run of shows at the Patio Series @ Callback Stage.
"I got started in comedy 16 years ago," said Hanley, during a phone interview Wednesday afternoon from his home in New York's East Village. "I've performed almost every night since then. This year, I've had every night off for seven months."
Like most musicians and actors, Hanley has had to deal with a busy career that screeched to a halt when COVID-19 shut everything down.
"This is my first show back so I'm really excited," said Hanley, a native of Vancouver, B.C. "Actually, tomorrow will be the first time I'm leaving the city.
"I'm from Canada and I've been here in New York the whole time. This is the longest I've gone without visiting my family in Vancouver. I could go there because I have a Canadian passport, but I'd have to quarantine for 14 days."
So, Hanley has stayed close to home in the East Village.
"I did a warm up show in Brooklyn last week and that was my first time to go out of Manhattan," said the veteran comedian. "With the social distancing, people in New York have been staying safe. People without masks stand out."
Hanley has been working on his craft recently in his neighborhood with shows/non-shows at venues/non-venues.
"I've done 12 shows in the city – on the rooftop of a friend's place, in the street, on the roof of a dim sum restaurant," said Hanley. "They were all outdoors with social distancing. I think the largest audience was 20 people."
Hanley got his start as a comedian in the city known as "The Big Smoke.".
"I tried stand-up on a whim," said Hanley. "The first show was in this huge room with high ceilings at a restaurant in Vancouver – the Jupiter Lounge. It wasn't the type of room comedians prefer.
"Right from the first night, I knew it was I wanted to do. I've always been a stand-up comedian and I've done some acting in films."
According to the bio on his website – "Phil Hanley began standup comedy by performing at open mics around Vancouver, often in between bands at music venues.  In these establishments he discovered and honed his unique blending of material and crowd interaction that makes no two of his performances the same. Phil's style can best be described as unpredictably reflective, delivered with sharp accuracy, and rooted in the grand tradition of joke-telling.
"Phil's Comedy Central "The Half Hour" premiered November 14, 2015.  Phil has previously been seen on The Tonight Show Starring Jimmy Fallon, Late Night with Seth Meyers, The Late Late Show With Craig Ferguson, The Pete Holmes Show, John Oliver's New York Stand-Up Show, and @midnight. He has been showcased at numerous comedy festivals and can be seen regularly at The Comedy Cellar in New York City."
"One of the things in my show is that I deal with being Canadian," said Hanley. "It's all autobiographical stuff. I do more set up punchline. I talk about relationships.
"So much of it is autobiographical. I'm dyslexic so when my friends went off to college, I moved to Europe and worked as a model in Milan, Paris and London.
"A few years ago, I put out an album – 'Please Don't Chit-Chat While I'm Pursuing My Dream.' It's available on Spotify, Amazon and iTunes. I also have a bunch of videos on YouTube.
"I'm really happy to be coming back to Philly. I've played Punch Line before – but never outside."
Punch Line Philly's posted social distancing guidelines are:
Face coverings are mandatory — Must be worn at all times except while eating and drinking 
Adhere to our CLEAR BAG POLICY — Only the following bags are allowed: Clear plastic, vinyl or PVC bags (Maximum size: 12″x6″x12″) or Small clutch bags approximately the size of a hand (Maximum size: 4.5″x6.5″) 
Observe and comply with signage and guidelines posted throughout venue. 
Do your part to practice good hygiene (wash your hands frequently, don't touch your face) 
If you're not feeling well, please stay home and get well. 
Tickets are $32. Ticket price includes one food item from our Patio Menu. Two drink minimum required per person.
Video link for Phil Hanley — https://youtu.be/_pshgXLDE68.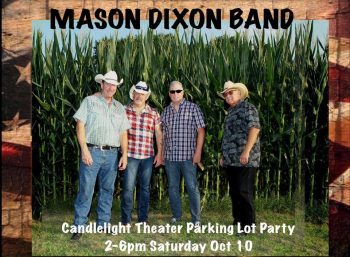 The Mason Dixon Band, which is playing a matinee show on October 10 at the Candlelight Dinner Theatre (2208 Millers Road, Arden, Delaware, 302- 475-2313,www.candlelighttheatredelaware.org), shares its name with the Mason Dixon line.
The Mason Dixon line is a demarcation line between four U.S. states, forming part of the borders of Pennsylvania, Maryland, Delaware, and West Virginia. It is often viewed as the boundary between the North and the South. So, it's not unusual to find country music very popular south of the line.
The Mason Dixon Band is a Delaware-based quartet with members from both sides of the Mason Dixon line – a band that is a straight-up country group.
MDB features Rob Knowles on bass and lead vocals, Don Herscher on drums and vocals, Billy Wagner on guitar and Bo Borland on pedal steel guitar.
"The band has been together for 22 years," said Borland, during a phone interview Tuesday evening from his home in Salem County, New Jersey.
"At the beginning, a couple guys were in different bands and they decided they wanted to work together with each other. Rob and Don were original members. Don left the band for a while and then came back. I took the place of Wayne Tyler, the original steel player who passed away.
"Rob and Don live in Smyrna (Delaware) and Billy, who is our newest member, lives in Cambridge, Maryland. I grew up in Collegeville and then moved to Philly. Now, I live in Carney's Point.
"The Mason Dixon Band is pretty well known. We're based in New Castle County and have worked at about every place that had country music including Hurley's in Marcus Hook and the Downingtown Inn."
Growing up to be a pedal steel player is not something most kids in Montgomery County aspire to be.
"When I was a youngster, I watched the Jimmy Dean Show and heard bands with pedal steel players," said Borland, who is a disciple of pedal steel legend Buddy Emmons. "I started playing guitar when I was five. I didn't grow up playing country.
"I heard pedal steel as a young kid but never saw it played in person until the early 70's. Then, I got one in 1974. The first country band that I played in was a band from Gloucester City."
Five years ago, Borland became Mason Dixon Band's pedal steel guitarist and it's been a match made in heaven.
"Up until COVID, our band worked really steadily," said Borland. "Mason Dixon Band has played everywhere and has opened for Merle Haggard and Billy Ray Cyrus. Since March, we've done three outside shows. Usually, we play at least two shows a week.
"Our repertoire is pretty deep – back to the 80's and 90's up to current stuff like Blake Shelton, Luke Bryan, Midland and John Pardee. George Strait songs are requested a lot. We also go back to songs by Merle Haggard, George Jones and Alan Jackson. The age demographic for our audience ranges from mid-20's to mid-50's.'
The Candlelight Dinner Theatre has presented its "Summer Nights Outdoors at Candlelight" since July with shows performed outside of the theater. Food (Mashburg by Wildwich) and beverages will be available for purchase and a bar is available for those 21 years of age and older.
Information and Safety Guidelines –   
Masks:
– Required at all times when not seated
– Encouraged while seated, unless eating or drinking
– Staff will be masked
– Hand sanitizer will be provided
Parking:
– There will be limited parking available in the lot, overflow parking will be at Ivy Gables.
Pathways / Restrooms / Accessibility:
– You will need to walk up a small hill / incline to use the restroom.
– Restrooms will be indoors and will be monitored / cleaned by a volunteer.
– A pathway will be marked out, following all of the parking spaces closest to the theater. The pathway will be 16 feet wide and will be marked with directions.
– There will be a 16-foot buffer area between the band and patrons to provide safe spacing for all involved. 
"Our capacity for the event is approximately 120 people," said Candlelight Theatre Operations Manager Dan Healy. "We can safely do 150 with social distancing if we move the parking.
"The spacing is at least six feet if not eight feet and the tables, which are for parties of five-to-eight, are 10 feet apart. And the stage is more than 20 feet away from the audience."
The next show in the "Summer Nights Outdoors at Candlelight" series features Vanessa Collier on October 24.
Tickets for Saturday's, which runs from 2-6 p.m. (gates open at 1 p.m.), are $25 per person — with different seating options. There are limited tables available for groups of 5-8 people, but any party that is four or less will have spaces marked out in the parking lot where it can set up lawn chairs to enjoy the show.
While the weather is still nice, you can enjoy some low-key, outdoor, socially distanced shows at a variety of local venues.
People's Light (39 Conestoga Road, Malvern, peopleslight.org) is hosting its "People's Light Drive-In Concert Series" with Stella Ruze on October 11 and 49 Burning Condors on October 18.
Cedar Hollow Inn Restaurant and Bar (2455 Yellow Springs Road, Malvern, www.cedarhollowinn.com) will present Late April on October 9, Sunshine Jones on October 10, Matt Sevier on October 17, Kendal Conrad on October 22, Nicki Sbaffoni on October 23 and Jerry Watkins on October 29.
Stable 12 Brewing Company (368 Bridge St, Phoenixville, stable12.com) will host Hake and Jarema on October 9, Kendal Conrad on October 23, and Rick McSteve on October 24.
Penns Woods Winery (124 Beaver Valley Road, Chadds Ford, www.pennswoodswinery.com) will present Nicole Zell on October 10, Greg Jones on October 11, Adam McCue on October 17, Paul Wilkinson on October 18, Jason Ager on October 24, Jeff Kessler on October 25, and Hanna Paige on October 31.
The Bordley House (1520 Tattersal Way, West Chester, www.bordleyhousegrille.com) will host Bryan McDermott on October 19 and Ziggy Isaacs on October 26.
Tuned Up Brewing Co. (135 North Main Street, Spring City, www.tunedupbrew.com) will present Bill Ferreri on October 9, Clint & Mr. Mody on October 16 and Mr. Mody on October 23.