By Denny Dyroff, Entertainment Editor, The Times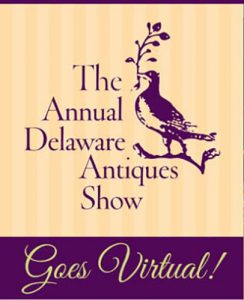 One of the area's longest-running traditional events is the Delaware Antiques Show (www.winterthur.org) which is presented by Winterthur. The event, which has been around for more than 50 years, will begin on November 7.
Honored as one of the nation's most highly acclaimed antiques shows, the annual event presents a large and diverse assemblage of art, antiques and design.
The Delaware Antiques Show highlights the best of American antiques and decorative arts — furniture and decorative accessories from the 17th to the early 20th centuries, including folk art, Native American art, ceramics, needlework, quilts, jewelry, prints, paintings, and rugs.
The 57th annual staging of the show, however, will be very different. Instead of being staged at the Chase Center on the Riverfront in Wilmington, it will be held online from November 7-14.
This year, the Delaware Antiques Show is going virtual hosted online by Incollect.
It still features the top dealers and their finest offerings of furniture, paintings, rugs, ceramics, silver, jewelry, and more. And, you will have eight full days to browse and talk with dealers, all from the comfort and safety of your home.
You will be able to browse each dealer's offerings, save your favorite items to a virtual board, and make an inquiry or offer. There is no charge to browse the show between November 7 and 14.
The roster of participating artists includes Arader Galleries, Barbara Israel Garden Antiques, Bernard & S. Dean Levy, Inc., A Bird in Hand Antiques, Charles Clark, Christopher H. Jones American Antiques, Folk & Fine Art, Diana H. Bittel Antiques, Dixon-Hall Fine Art, Earle D. Vandekar of Knightsbridge, Inc., Elliott and Grace Snyder, Marcy Burns American Indian Arts, LLC, Maria and Peter Warren Antiques, Mark and Marjorie Allen, Martyn Edgell Antiques, Ltd., Nathan Liverant and Son, LLC, The Norwoods' Spirit of America, Olde , Hope Antiques, Philip Bradley Antiques ,Polly Latham Asian Art, RGL Antiques, R. M. Worth Antiques, , Red Fox Fine Art , S. J. Shrubsole Corp., and Schillay Fine Art.
The list also features Schoonover Studios, Ltd., Schwarz Gallery, Scott Bassoff, Sandy Jacobs Antiques, Silver Art by D & R, Somerville Manning Gallery, Spencer Marks, Ltd., Stella Rubin Antiques, Stephen and Carol Huber, Steven F. Still Antiques, Thistlethwaite Americana, William R. and Teresa F. Kurau, The Federalist Antiques. H. L. Chalfant Arts and Antiques, The Hanebergs Antiques, Ita J. Howe, James Robinson, Inc., James Wm. Lowery Fine Antiques, Jeffrey Tillou Antiques, Johanna Antiques, Jonathan Trace, Kelly Kinzle Antiques, Leatherwood Antiques, and Lillian Nassau, LLC,.
Proceeds from the Delaware Antiques Show benefit the educational programs at Winterthur Museum, Garden and Library.
The 44th Annual Philadelphia Museum of Art Contemporary Craft Show (https://www.pmacraftshow.org/), an annual event that features the work of approximately 200 talented crafters from around the country, will be held from November 6-8 – virtually not at its traditional home at the Pennsylvania Convention Center.
From the comfort of your home, you will be able to explore the innovative work of more than 150 artists in a variety of genres — jewelry, furniture, glassworks, ceramics and other handcrafted items.
You can view and purchase unique, museum quality contemporary craft directly from the artists. Another option is tuning in live for special artist presentations.
The Philadelphia Museum of Art Craft Show is presented annually by the Women's Committee and Craft Show Committee of the Philadelphia Museum of Art for the benefit of the Philadelphia Museum of Art. Funds raised are used to purchase works of art and craft for the permanent collections of the Philadelphia Museum of Art, to fund conservation and publication projects and to support exhibitions and education programs.
Autumn's colors recently arrived and are starting to paint the horizon with bursts of orange, yellow, red and tan.
Longwood Gardens (Route 1, Kennett Square, 610-388-1000, www.longwoodgardens.org) celebrates autumn with bursts of color.
The main attraction at Longwood gardens right now is the Chrysanthemum Festival which is running through November 15.
Longwood's grand Conservatory showcases a vibrant display of chrysanthemums and other autumnal plants, while outdoors, guests can roam nearly 400 acres of gardens, meadows, and woodlands in spectacular fall form.
Display highlights include the Thousand Bloom Chrysanthemum, a single chrysanthemum plant grown to produce as many perfect blooms as possible. Measuring 12 feet wide and nearly 10 feet tall, the amazing plant is grown for 18 months to reach its incredible size and bloom count of more than 1,500 perfect, uniform blooms.
In addition, Longwood's horticulturists have grown and carefully nurtured chrysanthemums into unique three-dimensional forms, including shields, fans, cloud forms, and other shapes. Outdoors, nature puts on a show as brilliant fall foliage colors the landscape.
Young guests can explore Longwood's three treehouses and watch the whimsical G-scale Garden Railway as it travels past miniature Longwood landmarks.
The Gardens are open Monday, Wednesday, Thursday, and Sunday from 10 a,n.-6 p.m. with extended hours until 9 p.m. on Fridays and.
Chrysanthemums were first grown and displayed in the Gardens when founder Pierre S. du Pont opened the Conservatory in 1921. Today, Longwood has one of the finest collections of chrysanthemums in the United States.
Complex by nature, chrysanthemums are divided into 13 classifications, each representing a distinct flower form. Longwood's collection spans all classes and includes 226 cultivars, including many rare and unusual varieties. Chrysanthemum Festival is one of the largest chrysanthemum shows in the United States.
Admission to Longwood Gardens is $25 for adults, $22 for seniors and college students and $13 for youth (ages 5-18).
Pennsylvania has a longer and more varied fall foliage season than any other state in the nation. So, this is a good time to take in autumn's annual color display by riding on a special excursion on an area tourist railroad.
The West Chester Railroad (Market Street Station, West Chester, 610-430-2233, www.westchesterrr.net) is running its special "Fall Foliage Express" trains on November 8. Trains depart at noon and 2 p.m.
The round-trip train ride travels to the village of Glen Mills and back and lasts for 90 minutes. During the brief layover in Glen Mills, riders can explore the historic Pennsylvania Railroad station and have a snack in the railroad's picnic grove along the Chester Creek.
Tickets are $17 for adults, $15 for children ages 2-12 and free for kids under two.
The Colebrookdale Railroad (South Washington Street, Boyertown, www.dynamicticketsolutions.com)  is running its "Autumn Splendor Fall Foliage Specials" on November 7 and 8.
The rail line's 1920s Deluxe Coach, Dining Car, First Class Parlor Car, and Open Car -The Secret Valley Explorer- provide the perfect hayride on the rails. Two-hour round trip departing and arriving in Boyertown.
Spectacular autumn colors and the rich fragrances of fall in the Secret Valley delight the senses while locally produced autumn snacks and ciders are available on board.
Tickets are $55 for adults, $45 for children, seniors $52 and $15 for toddlers (under 2).
The Wilmington & Western Railroad (2201 Newport Gap Pike, Wilmington, DE, 302-998-1930, www.wwrr.com) is running its "Autumn Leaf Special" with trains on November 7 and 8.
Trips are a one-and-one-half hour roundtrips to the Mt. Cuba Picnic Grove. Tickets are $17 for adults, $16 for seniors, $15 for children ages 2-12.
The rail line is also running its "Hayride Express" on November 6 at 7 and 8:30 p.m. each night. Visitors can experience a one-hour evening ride through the Red Clay Valley on an original railroad flatcar converted especially for hayrides.
Tickets are $15 for adults, $14 for seniors, $13 for children ages 2-12.
Reading Blue Mountain Railroad (3501 Pottsville Pike, Reading, www.rbmnrr-passenger.com) is running its F-Unit Fall Foliage Excursions on November 14.
Passengers can take a train ride powered by the newly purchased F-units 270 and 275. This relaxing trip departs Reading Outer Station to Jim Thorpe, with intermediate stops at Port Clinton Station and Tamaqua Station.
Riders will be able to gaze out the window at the scenic mountains and valleys in their choice of standard coach seating, first-class dome seating, or Pullman seating and also enjoy downtown Jim Thorpe for 3.5 hours before the return trip home.
Tickets are $69 from Reading and Port Clinton and $49 from Tamaqua.
Elmwood Park Zoo (Elmwood Park Zoo, 1661 Harding Boulevard, Norristown, www.elmwoodparkzoo.org) is getting a bit nutty this weekend.
The Planters NUTmobile, a 26-foot-long Peanut on Wheels, is traveling the salty streets of America to Elmwood Park Zoo.
This iconic vehicle will be at the zoo on November 7 from 10 a.m.-4 p.m.
Visitors will be able to stop by the NUTmobile to meet the Peanutters, play a game for prizes, enjoy a sample and, of course, take a SHELL-fie with the very large legume.
There are only three NUTmobiles in the country so this is a rare opportunity to check out one of them.
Hours are from noon-4 p.m. each day. Zoo admission is $12.95.
This weekend, you can get a taste how holidays are celebrated in Eastern Europe and Russia by visiting the festival at Saint Herman of Alaska Orthodox Church (1855 North Middletown Road (Route 352), Gradyville, 610-459-5310, www.sthermansoca.org).
"A Taste of Tradition — Russian, Ukrainian, Serbian, Greek & Eastern European Cuisine," he annual Christmas bazaar and food festival at St. Herman, will be held November 7, 8, 14 and 15
It features authentic Eastern European cuisine including such taste treats as Perogies, Stuffed Cabbage, Blini, Cevapcici, Kolbassi Sandwiches, Halushki, Homemade Pastries, and other specialties.
Because of the COVID-19 pandemic, the festival will feature only food with the cultural displays and live entertainment canceled for 2020.
The food will be available as take out only with drive through and online ordering
A similar situation exists at Sts. Peter & Paul Ukrainian Orthodox Church (1406 Philadelphia Pike, ​Wilmington, Delaware, http://www.sspeterandpauluoc.org/).
The annual "Fall Bazaar," which will run from 10 a.m.-3 p.m. on November 7, will be take out only.
Pierogies, holobtsi (stuffed cabbage) and kielbasa will be available for purchase along with the festival's "Taste of Ukraine" hot platter.
All food (hot or cold) must be taken out due to COVID-19 protocols. There will be no seating to eat on premises.
This weekend's activities schedule also features the Center City Parks District's opening of the Rothman Orthopaedics Institute Ice Rink at Dilworth Park (1 South 15th Street, Philadelphia,http://ccdparks.org/dilworth-park),
The Rothman Institute Ice Rink at Dilworth Park is an unparalleled entertainment experience on Philadelphia's center stage in a wonderfully urban and unique setting. Open seven days a week, the rink offers wintery fun for all ages, with a full slate of programs.
The Rothman Orthopaedics Ice Rink is a safe, outdoor entertainment experience in Philadelphia's beloved Dilworth Park. Open seven days a week, November 6, 2020-February 28, 2021, the rink offers wintry fun for all ages, with a full slate of programs – all in accord with City, State and CDC guidelines.
New this season, an online reservation system will provide safe contactless purchasing opportunities with scheduled timed, 90-minute skating sessions in order to control the rink capacity for skaters. Guests will be able to make an online reservation for their desired skate session and can print their tickets at home or use a QR code on their mobile device when they arrive at the rink. In addition to tickets, guests will be able to purchase and reserve lockers to secure and maintain possession for their personal belongings.
Those with pre-purchased tickets will enter quickly through the queue line where they will receive their skates and lock prior to starting their skating session. In-person sales, based on availability, will also be offered onsite. Purchase your ice skating session today at rothmanrink.ticketsocket.com.
Tickets for general skating are $7 for adults and $5 for children (10 and under). Skate rental is $10
Wintergarden on the Greenfield Lawn returns to Dilworth Park this season with whimsical reindeer topiaries, seasonal plantings and an open-air layout. Visitors are welcomed with festive twinkling lights, a new rustic arbor and generous seating throughout the garden.
Guests 21 and older can purchase warm mulled wine at the Chaddsford Winery kiosk conveniently located within the space. Children and adults are free to explore the Wintergarden at no cost all season long. As a reminder, masks must be worn at all times except when eating or drinking.
Anyone wanting to get into a Christmas mood early can visit Koziar's Christmas Village (782 Christmas Village Road, Bernville, 610-488-1110, www.koziarschristmasvillage.com) which begins its 73rd season on November 7.
Koziar's Christmas Village is truly a holiday wonderland — a wintertime spectacle that delights young and old alike with a huge amount of holiday displays and special attractions. It will remain open every night through January 1 — including Christmas Eve, Christmas Night, New Year's Eve and New Year's Night.
The tours of "Christmas Village" feature visits to a variety of displays and exhibits, including "Santa's Post Office," "Christmas in the Jungle," "Manger Scene," "Christmas Beneath the Sea," "'Twas the Night Before Christmas," "Olde Fashioned Bakery Shop," "Toy Maker and his Toy Shop," "Christmas in Other Lands" and "The Olde Church".
Other attractions at Koziar's Christmas Village include a huge model train display, a toy shop, a country kitchen, indoor and outdoor Christmas displays and a place to visit with Santa and even get pictures taken with the old guy in the red suit. Admission to Christmas Village is $12 for adults, $11 for seniors (65 and older) and $10 for children (ages 4-10).
Peddler's Village usually hosts its ultra-popular Apple Festival (Routes 202 and 263, Lahaska, 215-794-4000, www.peddlersvillage.com) each year beginning at the start of November.
This year will be a bit different.
According to the venue's website:
Instead of our annual Apple Festival weekend, this year we will be presenting a two-week AppleTime in the Village featuring apple-themed food and beverages every day in Peddler's Village restaurants, and an outdoor food tent and live entertainment on weekends.
Visitors will be able to enjoy the sights, sounds, and tastes of autumn.
As always, admission and parking are free. Safety measures are in place to protect guests and employees.
During the weekends of November 7-8 and November 14-15, look for the outdoor Village General Store selling apple cider and fresh apples (from nearby Solebury Orchards), apple butter, apple salsa, apple hot sauce, caramel apple dip, and hot apple cider (by the cup).
The schedule for live entertainment features Acoustic Road, The Cheddar Boys and Galena Brass on November 7; Acoustic Road, Big Chill and Galena Brass on November 8; and The Cheddar Boys and Galena Brass on November 14 and 15.
Hagley Museum and Library (Buck Road East entrance via Route 100, Wilmington, Delaware, 302-658-2400, www.hagley.org) is open to the public and has a special event scheduled for Veterans Day.
There will be a "Cannon Firing Demonstration" on November 11 in the Machine Shop area.
The family-oriented event is fun, loud, exciting and educational.
Cannon firings in the Hagley Powder Yards demonstrate how black powder was made and used.
The demonstrations, which take place next to the Millwright Shop, are included with site admission tickets — Adults: $9; Children: $5.
Visitors to Hagley will be able to see the beauty of Hagley's Powder Yard along the Brandywine (outside areas only), explore Hagley's Powder Yard Trail Experience (outside areas only) and see the grounds of the Eleutherian Mills Residence and the E. I. du Pont Garden (outside areas only).
In honor of Veterans Day, Hagley will offer free admission for current military members, veterans, and their families.
If you're looking for a Halloween event, this is the last weekend to find one – almost. There are a few that ooze over to the first full weekend in November, but most have ended on October 31 or November 1.
Shocktoberfest (94 Park Avenue, Sinking Spring, 610-375-7273, shocktoberfest.com) features an array of natural and genetically engineered Zombies in a safe and controlled habitat.
"Schockfest Zombie World" is celebrating its 29th Year with eight "Killer Experiences" — "Zombie Safari Tour," "Prison of the Dead," "The Unknown 2.0," "Ground Assault" and "Midnight Massacre."
The attraction will close on November 9. Ticket prices start at $20.
Eastern State Penitentiary (2027 Fairmount Ave, Philadelphia, www.easternstate.org) is always a spooky place to visit. Now, it has become even spookier with its new "Night Tour."
Eastern State Penitentiary was once the most famous and expensive prison in the world, but stands today in ruin, a haunting world of crumbling cellblocks and empty guard towers.
Known for its grand architecture and strict discipline, this was the world's first true "penitentiary," a prison designed to inspire penitence, or true regret, in the hearts of prisoners.
At night, the cellblocks fall into darkness and the penitentiary takes on a different energy — its imposing architecture emphasized by dramatic lighting that makes its quiet stillness even more striking.
Many of the programs available during the day are also offered at night, including "The Voices of Eastern State" Audio Tour, award-winning exhibits, and artist installations.
Additionally, some new activities will be available exclusively for the "Night Tour," including two large-scale video projections on the interior of the penitentiary's 30-foot-high perimeter walls.
A silent film shot at Eastern State Penitentiary in 1929, with flickering images of prisoners in the mess halls and officers patrolling the corridors, will play in the Cellblock 3 courtyard. In the Cellblock 7 courtyard, 20 animated short films that were created by incarcerated artists for Eastern State's 2019 project Hidden Lives Illuminated will also be on view.
The lighting design for Night Tours will highlight the prison's iconic, gothic architecture. Searchlights will sweep from the guard towers over the cellblocks and yards, just as they did when Eastern State was an active correctional facility.
At the moment, all tours are self-guided. Visitors can pick up an audio guide and disposable earbuds on their way into the penitentiary. Once they have their audio guides, they will follow a linear, one-way path through the site to help ensure physical distancing.
Tickets are $19 for Wednesday and Thursday nights, $26 for Fridays and Sundays and $32 for Saturdays.
Ghost Tour of Philadelphia (215-413-1997, www.ghosttour.com), Ghost Tour of Lancaster (717-687-6687, www.ghosttour.com) and Ghost Tour of Strasburg (717-687-6687, www.ghosttour.com) operate through November and offer an eerily entertaining evening of true ghost stories and real haunted houses.
The Ghost Tour of Philadelphia is a candlelight walking tour along the back streets and secret gardens of Independence Park, Society Hill, and Old City, where ghostly spirits, haunted houses, and eerie graveyards abound. Tickets are $24.
Participants in the Ghost Tour of Lancaster explore the long-forgotten mysteries of one of America's oldest cities, with haunting tales of otherworldly vigils, fatal curses, and star-crossed lovers. The tour provides the opportunity to experience 300 years of haunted history from the Red Rose City's thorny past. Tickets are $18.
The Ghost Tour of Strasburg is a candlelight walking tour of the quaint and historic town of Strasburg in the heart of Pennsylvania Dutch Country. Visitors will experience an entertaining evening with a costumed tour guide spinning tales of haunted mansions, eerie graveyards, and spirits that roam the night … in a town lost in time. Tickets are $18.
"Frightland" (309 Port Penn Road, Middletown, Delaware, 302-838-0256, www.frightland.com) features eight special themed areas — "Zombie Prison," "Ravenwood Cemetery," "Zombie Town," "Horror Hayride," "Idalia Manor," "Fear," "The Attic" and "Haunted Barn."
Frightland Haunted Attractions has been named a Top 10 Scariest Haunted Attraction in the country by Travel Channel, Forbes and Huffington Post.
The venue includes eight haunted attractions including a two-mile Haunted Hayride, four indoor haunted houses and more. The nationally acclaimed Halloween attraction also features live entertainment, carnival amusements and a daytime fall festival.
The venue will remain open through November 7. Tickets are $35.
The "26th Annual Field of Screams" (109 College Avenue, Mountville, 717-285-7748, www.fieldofscreams.com), which is open now through November 14, features four world-class Haunted Experiences and an impressive Midway Area. Top attractions include "Horrifying Haunted Hayride," "Den of Darkness," "Frightmare Asylum" and "Nocturnal Wasteland."
Ticket prices start at $16.
Linvilla Orchards (137 West Knowlton Road, Media, 610-876-7116, www.linvilla.com) is hosting Pumpkinland, its annual autumn-themed interactive event.
Pumpkinland is open from mid-September through early November and takes center stage at Linvilla Orchards. Larger than life figures and scarecrows illustrate the legends and lore of the harvest season, featuring local history and some of the many stories of pumpkins and apples.
Visitors will see piles of pumpkins in all colors, shapes and sizes more than 100 tons of pumpkins on display.
There is also a huge selection of straw bales, corn shocks, toys and fall decorations of all kinds.
This year the site's offerings have changed a bit to ensure the safety of our customers and staff.
Guests will still be able to enjoy hayrides and train rides, test their navigation skills in the straw bale and cornfield mazes, pick their own fall apples, grab some candy and caramel apples, and see the Linvilla jack-o-lantern exhibit.
Cherry Crest Adventure Farm (150 Cherry Hill Road, Ronks, 717-687-6843, www.cherrycrestfarm.com) has opened its popular annual "Flashlight Maze" and will keep it open every Thursday, Friday and Saturday night through November 7. Cherry Crest Adventure Farm has reserved several weekends during the autumn months for Flashlight Maze.
This special activity allows visitors to experience the Amazing Maize Maze in total darkness. All you need are flashlights and a few friends.
The Flashlight Maze is a nice, non-scary, Halloween alternative that has appeal for people of all ages. The Flashlight Maze, which has a $12 admission fee, is open from 6:30-10 p.m. with the last entrance into the Maze at 9 p.m.
The main attraction is Cherry Crest's "Amazing Maize Maze," which is billed as "the world's most dynamic and interactive corn maze." It is a five-acre corn maze with over two-and-one-half miles of paths, scenic bridges, and clues.
Participants can walk at their own pace as they encounter the "Kernels of Knowledge" along with a variety of clues, tunnel slides, and watering stations. They can also check out a bird's eye view from the two bridges and watch everyone's flags waving high above the corn.
The average time to complete the "Amazing Maize Maze" course is one hour. Ticket prices start at $19.