By Denny Dyroff, Entertainment Editor, The Times 
It is the middle of November and that means many of the area's traditional Christmas activities have begun – including a highly anticipated event in Chadds Ford.
"Holiday Magic at Brandywine", which was formerly known as "A Brandywine Christmas," is running now through January 10 at the Brandywine River Museum (Route 1, Chadds Ford 610-388-2700, www.brandywinemuseum.org). It is an annual event that is fun for the entire family.
The museum's ever-popular "critter" ornaments will be used to decorate holiday trees, wreaths and diorama settings throughout the museum. The intricately designed ornaments are made from all-natural materials by museum volunteers and have found homes on trees at the White House and the Smithsonian Institution.
The well-attended annual "Critter Sale" is scheduled for December 2-6.
"Holiday Magic at Brandywine" also features an extensive O-gauge model. Five moving trains operate at all times and include a 60-car freight train winding past a village, stone quarry, oil refinery, mountains, Herr Foods plant, running waterfall and animated skating scene.
Slightly modified this year to provide a safe and socially distant experience, the Brandywine Railroad will still feature plenty of trains, miniature details and the engaging elements that everyone loves—including interactive components operated by hands-free foot pedals.
The Brandywine's famous O-gauge display will feature model trains running on a thousand feet of track through a small village, a drive-in movie theater and even a carnival. This year the Brandywine also welcomes the exciting new additions of two model train sets with layouts once owned by Nicky and Jamie Wyeth—sons of the renowned American artist, Andrew Wyeth.
Nicky Wyeth's standard gauge train display features historic "tinplate" Lionel trains from the 1920s and 30s traveling around colorful buildings and scenery, including a large bridge modeled after New York's Hell Gate Bridge. The 8 x 12-foot display was also recently enhanced with modern reproductions of a 1940s monorail.
Artist Jamie Wyeth's N-gauge train display was originally co-owned by Jamie and his friend and fellow toy collector, artist Andy Warhol. Included in the 4 x 6 foot landscape are foothills of a mountain, train tunnels with a bridge crossing a lake, and even a diminutive industrial town with a main street packed with businesses and rowhouses, a steel mill, and a large metal warehouse featuring an oversized reproduction of Wyeth's own iconic painting, Portrait of Pig.
In addition to the Brandywine Railroad, this year's holiday offerings include the return of artist and composer Ann Wyeth McCoy's dollhouse, which features six rooms filled with three-dozen dolls and hundreds of miniature objects that will delight visitors of all ages.
Another popular attraction is "The Polar Express Virtual Read-Aloud," which is scheduled for December 3.
Admission is $18 for adults, $15 for seniors (65 and older) and $6 for children.
Now that Christmas activities have begun, Peddler's Village (Routes 202 and 263, Lahaska, 215-794-4000, http://peddlersvillage.com) is starting its celebration and that means there will be a lot of activity at the site over the next few weeks.
This is the final weekend for AppleTime in the Village featuring apple-themed food and beverages every day in Peddler's Village restaurants, and an outdoor food tent and live entertainment on weekends.
Visitors will be able to enjoy the sights, sounds, and tastes of autumn. As always, admission and parking are free. Safety measures are in place to protect guests and employees.
The outdoor Village General Store is selling apple cider and fresh apples (from nearby Solebury Orchards), apple butter, apple salsa, apple hot sauce, caramel apple dip, and hot apple cider (by the cup).
The schedule for live entertainment features The Cheddar Boys and Galena Brass on November 14 and 15.
November 19 marks the start of Peddler's Village "Gingerbread House Competition and Display."
The Gingerbread Competition & Display is a feast for the eyes with creative and whimsical entries in several categories.
Slated to run through January 9, the "Gingerbread House Competition" features over $2,000 in cash prizes in such categories as Traditional and Authentic Reproduction of a Significant Building.
The Gingerbread entries will be on exhibit in the Shop #1 during shopping hours from November through early January. Entries are open to the public. Admission is free. Guests will be asked to wear masks and to social distance.
This weekend, you can get a taste how holidays are celebrated in Eastern Europe and Russia by visiting the festival at Saint Herman of Alaska Orthodox Church (1855 North Middletown Road (Route 352), Gradyville, 610-459-5310, www.sthermansoca.org).
"A Taste of Tradition — Russian, Ukrainian, Serbian, Greek & Eastern European Cuisine," the annual Christmas bazaar and food festival at St. Herman, will be held November 14 and 15
It features authentic Eastern European cuisine including such taste treats as Perogies, Stuffed Cabbage, Blini, Cevapcici, Kolbassi Sandwiches, Halushki, Homemade Pastries, and other specialties.
Because of the COVID-19 pandemic, the festival will feature only food with the cultural displays and live entertainment canceled for 2020.
The food will be available as take out only with drive through and online ordering
Anyone wanting to get into a Christmas mood early can visit Koziar's Christmas Village (782 Christmas Village Road, Bernville, 610-488-1110, www.koziarschristmasvillage.com) which began its 73rd season on November 7.
Koziar's Christmas Village is truly a holiday wonderland — a wintertime spectacle that delights young and old alike with a huge amount of holiday displays and special attractions. It will remain open every night through January 1 — including Christmas Eve, Christmas Night, New Year's Eve and New Year's Night.
The tours of "Christmas Village" feature visits to a variety of displays and exhibits, including "Santa's Post Office," "Christmas in the Jungle," "Manger Scene," "Christmas Beneath the Sea," "'Twas the Night Before Christmas," "Olde Fashioned Bakery Shop," "Toy Maker and his Toy Shop," "Christmas in Other Lands" and "The Olde Church".
Other attractions at Koziar's Christmas Village include a huge model train display, a toy shop, a country kitchen, indoor and outdoor Christmas displays and a place to visit with Santa and even get pictures taken with the old guy in the red suit. Admission to Christmas Village is $12 for adults, $11 for seniors (65 and older) and $10 for children (ages 4-10).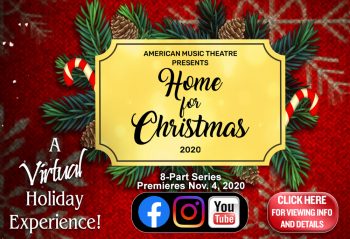 The American Music Theatre (2425 Lincoln Highway East, Lancaster, 800-648-4102, www.AMTshows.com) has a long tradition of presenting holiday shows every November and December.
The tradition continues this year – with a difference. This year, it's the "2020 AMT Virtual Christmas Show: Home For Christmas."
American Music Theatre is presenting "Home for Christmas," an eight-part holiday special created by an outstanding group of volunteer artists and production staff who donated their time to bring you the spirit of the season. This exciting musical celebration is a complimentary gift and was designed, performed, and filmed on the AMT Stage just for fans.
Featuring the AMT's world-class singers, dancers, and musicians, it is an AMT Christmas performance like never before
To view all "Home For Christmas" segments, visit the AMT YouTube Channel. If you subscribe and select the notification button, you will be notified each time a new video is released.
"Hersheypark Christmas Candylane," which is the annual holiday event at Hersheypark (100 West Hersheypark Drive, Hershey, 800-HERSHEY, www.hersheypark.com), is running now through December 31.
The park has "decked the halls" with more than five million lights for the merriest event of the year — "Hersheypark Christmas Candylane." The event features rides and coasters, a visit with Santa, festive Hershey Character experiences, and, for the first time ever," the opportunity to explore Hershey's Chocolatetown in the winter.
This year's rides and coasters are the all-new Candymonium , Laff Trakk, Sidewinder , Wild Mouse, Wildcat, and Cocoa Cruiser. The Kissmas Tree display features the park's iconic Kisses Fountain decked out in its holiday best.
Santa and all nine of his reindeer make a special stop at Hersheypark Christmas Candylane® event each year. Visitors can get an up-close look at their favorite reindeer (including Rudolph) at Santa's Reindeer Stables complete with newly expanded viewing platform.
Visitors to Hershey can also experience the winter wonderland called "Hershey Sweet Lights, A Holiday Drive-Thru Spectacular." The attraction is a two-mile drive through wooded trails featuring approximately 600 illuminated, animated displays.
Admission to "Christmas Candylane" is $49.15. Tickets for the drive-thru start at $22.15 per car.
For those of you who are in no rush to be bombarded with Christmas events, endless advertising and the sound of ringing Salvation Army bell, fortunately there are a few activities on the schedule that have noting to do with the holidays.
On November 14, the West Chester Railroad (Market Street Station, West Chester, 610-430-2233, www.westchesterrr.net) is running a very special excursion – "WCRR Photo Freight."
West Chester Railroad will be operating a special Photo Freight featuring ALCO/MLW C-424 No. 4230. The trip will begin at West Chester station and feature several photo stops and run-bys at various locations along the route. Passengers will be seated in one of our coaches behind the rail line's freight cars. All proceeds benefit our all-volunteer operation. The trip is approximately 4 hours in length.
There will be advance sales only and the ticket office will not be open during this event. There will be no snack bar service for this event.
Passengers must wear sturdy shoes. Walking and climbing up and down steps into the ballast in some areas may be challenging.
Tickets are $50 for adults, $45 for active military and veterans as well as for First Responders and healthcare workers.
The Wilmington & Western Railroad (2201 Newport Gap Pike, Wilmington, Delaware, 302-998-193, www.wwrr.com) will run a special excursion train this weekend – the "Ice Princess Express."
On November 15, kids of all ages are invited to come aboard a W&WRR train and ride to the Mt. Cuba Picnic Grove with the Ice Queen, her sister the Ice Princess, and their royal Ice Harvester.
Little princes and princesses can have their photo taken with any of the characters either at the station or aboard the train. This is a 1½-hour round-trip. Children are encouraged to come dressed as their favorite prince or princess.
This departure is powered by one of our historic first-generation diesel locomotives.
Due to State of Delaware requirements, the railroad must maintain fresh airflow through the train. Although the train will be heated, doors and windows on the train will be open for November and December excursions. As a result, you are encouraged to dress warmly (or in layers) for this excursion.
Trains will depart on Sunday at 12:30 and 2:30 p.m.
Tickets are $20 for adults, $19 for seniors and $18 for children.
The National Dog Show has gone to the dogs this year.
Because of the COVID-19 pandemic, dogs are allowed at the show, which will be held on November 14 and 15 at the Greater Philadelphia Expo Center (100 Station Ave., Oaks, 484-754-3976,http://www.phillyexpocenter.com), but people are not – well, most people.
The Kennel Club of Philadelphia's National Dog Show will go forward in 2020 with no spectators and with the approving guidance of regional health and safety authorities.
With full attention being given to state and local health and safety issues for activities during the COVID-19 pandemic, and under the guidance of the Montgomery County Board of Commissioners and the Montgomery County Department of Health, a single, two-day show will be held at the Greater Philadelphia Expo Center in Oaks.
Only officials, NBC broadcast personnel and handlers/dogs will be allowed on the premises. The judging will be conducted under health and safety guidelines with social distancing and mask-wearing throughout plus temperature-taking and other cautionary measures in place.
There are no tickets available for the event and no one other than officials, entries, NBC staff and security personnel will have access to the grounds. The competition will be recorded by NBC and aired as a two-hour special on Thanksgiving Day. For the 19th consecutive year, The National Dog Show will be broadcast nationally from noon-2 p.m. in all time zones following the Macy's Thanksgiving Day Parade.
In recent years, the club has conducted two separate dog shows during the big Philadelphia weekend, but this November the club will conduct just one show divided over those two days. The competition will be limited to approximately 600 dogs — a decrease of 70% from the near-2000 entries usually on hand. Four groups will be judged on Saturday, with the remaining three plus Best In Show set for Sunday.
The National Dog Show is one of only three benched shows in the United States, usually displaying the competing purebreds to the public all day long, but this year it will not be benched to ensure the safety of all participants. Masks and hand sanitizer will be handed out, and mask-wearing and social distancing will be strictly enforced. Medcor Inc. nurses will be present on-site to take the temperature of all participants. Only officials plus dogs and their handlers, NBC personnel and security will be permitted on the premises at the Expo Center.
The National Dog Show has been a beloved holiday tradition for families across the nation since its first broadcast in 2002. The show is part of a five-hour block of family programming on NBC, offering the country's 65 million pet-owning households a full afternoon of fun entertainment while raising money for canine-related causes.
The Kennel Club of Philadelphia and its predecessors have been hosting shows since 1879 and continuously since 1934. As usual, this holiday family favorite will air Thanksgiving Day (noon-2 p.m. in all time zones) on November 26, following the telecast of NBC's "Macy's Thanksgiving Day Parade."
The National Dog Show showcases America's most popular breeds like the Golden Retriever, the German Shepherd and the Lab. But this year, three more unknown breeds make their National Dog Show debut at the Greater Philadelphia Expo Center – the Barbet, the Dogo Argentino and the Belgian Laekenois.
The Barbet, which competes in the Sporting Group, originated as a water dog in France. The breed has a curly coat that can be black, gray, brown, or fawn in color, sometimes with white markings. Their shaggy heads end with a distinct beard.
This calm, friendly breed is athletic and was originally bred to retrieve birds. Because of that, the modern Barbet is a keen swimmer and hunter. The breed's name comes from the French word "barbe," which means beard. The Barbet almost died out after World War I and II, but lovers of the breed have worked hard to grow its reach.
The Dogo Argentino, which falls under the Working Group, was originally a pack-hunting dog in Argentina. The breed was known to take down wild boar and puma, among other large game. The breed was created by Dr. Antonio Nores Martinez in the 1920s and it became the first and only dog from Argentina recognized by the AKC.
Dogo Argentinos have short, white coats, but a dark patch near the eye is permitted as long as it doesn't cover too much of the head. The breed is athletic and requires a lot of exercise but generally has a friendly temperament.
The Belgian Laekenois joins the Herding Group. This strong, sturdy and protective breed has a rough, tousled coat that can be shades of red, fawn or grey. The breed is especially smart and quick to learn and obey commands.
The Belgian Laekenois was originally bred and raised to guard livestock and linens drying outside before serving as messenger dogs during WWI and WWII, after which it almost went extinct. Belgian Laekenois dogs are the rarest of the Belgian herding dogs, which also include the Belgian Sheepdog, Malinois and Tervuren. The breed's name comes from the Belgian town of Laeken.
Longwood Gardens (Route 1, Kennett Square, 610-388-1000, www.longwoodgardens.org) celebrates autumn with bursts of color.
The main attraction at Longwood gardens right now is the Chrysanthemum Festival which is running through November 15.
Longwood's grand Conservatory showcases a vibrant display of chrysanthemums and other autumnal plants, while outdoors, guests can roam nearly 400 acres of gardens, meadows, and woodlands in spectacular fall form.
Display highlights include the Thousand Bloom Chrysanthemum, a single chrysanthemum plant grown to produce as many perfect blooms as possible. Measuring 12 feet wide and nearly 10 feet tall, the amazing plant is grown for 18 months to reach its incredible size and bloom count of more than 1,500 perfect, uniform blooms.
In addition, Longwood's horticulturists have grown and carefully nurtured chrysanthemums into unique three-dimensional forms, including shields, fans, cloud forms, and other shapes. Outdoors, nature puts on a show as brilliant fall foliage colors the landscape.
Young guests can explore Longwood's three treehouses and watch the whimsical G-scale Garden Railway as it travels past miniature Longwood landmarks.
The Gardens are open Monday, Wednesday, Thursday, and Sunday from 10 a,n.-6 p.m. with extended hours until 9 p.m. on Fridays and.
Chrysanthemums were first grown and displayed in the Gardens when founder Pierre S. du Pont opened the Conservatory in 1921. Today, Longwood has one of the finest collections of chrysanthemums in the United States.
Complex by nature, chrysanthemums are divided into 13 classifications, each representing a distinct flower form. Longwood's collection spans all classes and includes 226 cultivars, including many rare and unusual varieties. Chrysanthemum Festival is one of the largest chrysanthemum shows in the United States.
Admission to Longwood Gardens is $25 for adults, $22 for seniors and college students and $13 for youth (ages 5-18).
On November 17, Tyler Arboretum (515 Painter Road, Media, https://www.tylerarboretum.org) will be presenting a special event called "Fall Trails Day."
Participants will be able to work and play at the same time while enjoying a morning spent in the fresh air at volunteer "Fall Trails Day."
Visitors to Tyler Arboretum can help the Tyler Trail Crew in the care and maintenance of 17 miles of hiking trails. Tasks may include side brushing and building/maintaining erosion controls.
The activity is suitable for ages 14 and up with responsible adult and groups are welcome.
Participants are instructed to dress for the outdoors — including closed toe shoes and bring gardening gloves and a water bottle. Necessary tools will be provided.
Staff and volunteers will meet at the Maintenance Building. The event runs from 8 a.m.-noon.
Face masks are required to participate and should be worn when entering buildings and when you are in the presence of others. Another requirement is to observe all social distancing guidelines.
One of the area's longest-running traditional events is the Delaware Antiques Show (www.winterthur.org) which is presented by Winterthur. The event, which has been around for more than 50 years, is now underway.
Honored as one of the nation's most highly acclaimed antiques shows, the annual event presents a large and diverse assemblage of art, antiques and design.
The Delaware Antiques Show highlights the best of American antiques and decorative arts — furniture and decorative accessories from the 17th to the early 20th centuries, including folk art, Native American art, ceramics, needlework, quilts, jewelry, prints, paintings, and rugs.
The 57th annual staging of the show, however, will be very different. Instead of being staged at the Chase Center on the Riverfront in Wilmington, it will be held online from November 7-14.
This year, the Delaware Antiques Show is going virtual hosted online by Incollect.
It still features the top dealers and their finest offerings of furniture, paintings, rugs, ceramics, silver, jewelry, and more. And, you will have eight full days to browse and talk with dealers, all from the comfort and safety of your home.
You will be able to browse each dealer's offerings, save your favorite items to a virtual board, and make an inquiry or offer. There is no charge to browse the show.
The roster of participating artists includes Arader Galleries, Barbara Israel Garden Antiques, Bernard & S. Dean Levy, Inc., A Bird in Hand Antiques, Charles Clark, Christopher H. Jones American Antiques, Folk & Fine Art, Diana H. Bittel Antiques, Dixon-Hall Fine Art, Earle D. Vandekar of Knightsbridge, Inc., Elliott and Grace Snyder, Marcy Burns American Indian Arts, LLC, Maria and Peter Warren Antiques, Mark and Marjorie Allen, Martyn Edgell Antiques, Ltd., Nathan Liverant and Son, LLC, The Norwoods' Spirit of America, Olde , Hope Antiques, Philip Bradley Antiques ,Polly Latham Asian Art, RGL Antiques, R. M. Worth Antiques, , Red Fox Fine Art , S. J. Shrubsole Corp., and Schillay Fine Art.
The list also features Schoonover Studios, Ltd., Schwarz Gallery, Scott Bassoff, Sandy Jacobs Antiques, Silver Art by D & R, Somerville Manning Gallery, Spencer Marks, Ltd., Stella Rubin Antiques, Stephen and Carol Huber, Steven F. Still Antiques, Thistlethwaite Americana, William R. and Teresa F. Kurau, The Federalist Antiques. H. L. Chalfant Arts and Antiques, The Hanebergs Antiques, Ita J. Howe, James Robinson, Inc., James Wm. Lowery Fine Antiques, Jeffrey Tillou Antiques, Johanna Antiques, Jonathan Trace, Kelly Kinzle Antiques, Leatherwood Antiques, and Lillian Nassau, LLC,.
Proceeds from the Delaware Antiques Show benefit the educational programs at Winterthur Museum, Garden and Library.
The Historic Odessa Foundation (Main Street, Odessa, Delaware, 302-378-4119, www.historicodessa.org) is presenting its final art exhibit of the year titled Oneness in Spirit: Art from The Artists' Gallery in Chestertown. The newly opened exhibit runs through December 30.
The Artists' Gallery in Chestertown, Md., currently operates with five partners that include Evie Baskin, Bonnie Howell, Mary Ellen Mabe, Nancy R. Thomas, and Barbara Zuehlke. Each is represented in this vibrant exhibit of their paintings at the Historic Odessa's Visitors Center.
The artists work well together, serving the same goal of presenting a wide range of fine art. Since the partners take turns working at the gallery, visitors get the opportunity to meet the artists and often view works in progress. The gallery celebrates both its variety and its oneness of spirit in providing a showplace for the partners and many other local and regional artists and craftsmen whose work often includes paintings, photography, pottery, woodcrafts and much more.
The Artists' Gallery opened as L'Atelier Gallery in Stevensville, Maryland twenty years ago and then merged with another gallery on High Street in Chestertown where it has reorganized and grown for the last 16 years.
The Historic Houses of Odessa were operated by Winterthur from 1958-2003. The Historic Odessa Foundation opened to the public in December of 2005.
Today, Odessa is a National Registered Historic District and is also home to a National Historic Landmark and two National Parks Service Network to Freedom Sites. The Historic Odessa Foundation is dedicated to preserving and interpreting the past through tours, focuses on exhibitions, and living-history programs for children and adults.
On November 14 and 15, the Olde Fort Mifflin Historical Society will celebrate the 242nd Anniversary of the "Siege & Bombardment of Fort Mifflin."  There will be two days of activities commemorating the historic siege and bombardment of Fort Mifflin (Fort Mifflin and Hog Island roads, Philadelphia, 215-685-4167, www.fortmifflin.us) that took place in 1777. The event gets underway each day at 10 a.m. and continues until 4 p.m.
Four full scripted battles will tell the story of the greatest bombardment of the Revolutionary War.
Fort Mifflin, which was originally called Fort Island Battery, was commissioned in 1771. It was also known as Mud Island Fort because it sits on Mud Island (also known as Deep Water Island) on the Delaware River near the Philadelphia International Airport. During the American Revolutionary War, the British Army bombarded and captured the fort as part of their conquest of Philadelphia in autumn 1777.
During the siege, 400 American soldiers held off more than 2,000 British troops and over 250 ships that had been responsible for launching an endless barrage of cannonballs into the fort. After five days of holding off the British, the American troops evacuated the fort after having successfully denied the British Navy free use of the Delaware River.
Activities at this weekend's commemoration will depict life in the 18th century and feature weapons demonstrations, tactical demonstrations, musket drills for youngsters and a scavenger hunt. There will be military re-enactors portraying both American and British forces as they commemorate the largest bombardment that took place in the entire American Revolution.
Battle Reenactments will be staged at 1 p.m. each day.
Tickets are $10 for adults, $8 for seniors and $6 for veterans and children (ages 6-12).
The Lehigh Valley Wine Trail (http://lehighvalleywinetrail.com) is presenting its annual "Giving Before Thanks" event on November 14 and 15. Event hours at all the wineries are Saturday from 11 a.m.-5 p.m. and Sunday from noon-5 p.m.
Visitors are invited to join the Lehigh Valley Wine Trail just before Thanksgiving and help the association help the less fortunate in the community.
If you bring a packaged or canned (non-perishable) food item as a donation, food will be donated to Second Harvest Food Bank for the Lehigh Valley and Northeast Pennsylvania.
The Lehigh Valley Wine Trail will also donate $1 to Second Harvest for every pound of food donated (up to $1,000).
Participating wineries are Amore, Black River Farms, Blue Mountain, Clover Hill, Franklin Hill, Galen Glen, Tolino, and Vynecrest.
Pennsylvania has a longer and more varied fall foliage season than any other state in the nation. So, this is a good time to take in autumn's annual color display by riding on a special excursion on an area tourist railroad.
Reading Blue Mountain Railroad (3501 Pottsville Pike, Reading, www.rbmnrr-passenger.com) is running its F-Unit Fall Foliage Excursions on November 14.
Passengers can take a train ride powered by the newly purchased F-units 270 and 275. This relaxing trip departs Reading Outer Station to Jim Thorpe, with intermediate stops at Port Clinton Station and Tamaqua Station.
Riders will be able to gaze out the window at the scenic mountains and valleys in their choice of standard coach seating, first-class dome seating, or Pullman seating and also enjoy downtown Jim Thorpe for 3.5 hours before the return trip home.
Tickets are $69 from Reading and Port Clinton and $49 from Tamaqua.
If you're looking for a Halloween event, this is the last weekend to find one. There are a few that ooze over into November, but most have ended already.
Ghost Tour of Philadelphia (215-413-1997, www.ghosttour.com), Ghost Tour of Lancaster (717-687-6687, www.ghosttour.com) and Ghost Tour of Strasburg (717-687-6687, www.ghosttour.com) operate through November and offer an eerily entertaining evening of true ghost stories and real haunted houses.
The Ghost Tour of Philadelphia is a candlelight walking tour along the back streets and secret gardens of Independence Park, Society Hill, and Old City, where ghostly spirits, haunted houses, and eerie graveyards abound. Tickets are $24.
Participants in the Ghost Tour of Lancaster explore the long-forgotten mysteries of one of America's oldest cities, with haunting tales of otherworldly vigils, fatal curses, and star-crossed lovers. The tour provides the opportunity to experience 300 years of haunted history from the Red Rose City's thorny past. Tickets are $18.
The Ghost Tour of Strasburg is a candlelight walking tour of the quaint and historic town of Strasburg in the heart of Pennsylvania Dutch Country. Visitors will experience an entertaining evening with a costumed tour guide spinning tales of haunted mansions, eerie graveyards, and spirits that roam the night … in a town lost in time. Tickets are $18.
The "26th Annual Field of Screams" (109 College Avenue, Mountville, 717-285-7748, www.fieldofscreams.com), which is open now through November 14, features four world-class Haunted Experiences and an impressive Midway Area. Top attractions include "Horrifying Haunted Hayride," "Den of Darkness," "Frightmare Asylum" and "Nocturnal Wasteland."
Ticket prices start at $16.
Eastern State Penitentiary (2027 Fairmount Ave, Philadelphia, www.easternstate.org) is always a spooky place to visit. Now, it has become even spookier with its new "Night Tour," which is running through November 15.
Eastern State Penitentiary was once the most famous and expensive prison in the world, but stands today in ruin, a haunting world of crumbling cellblocks and empty guard towers.
Known for its grand architecture and strict discipline, this was the world's first true "penitentiary," a prison designed to inspire penitence, or true regret, in the hearts of prisoners.
At night, the cellblocks fall into darkness and the penitentiary takes on a different energy — its imposing architecture emphasized by dramatic lighting that makes its quiet stillness even more striking.
Many of the programs available during the day are also offered at night, including "The Voices of Eastern State" Audio Tour, award-winning exhibits, and artist installations.
Additionally, some new activities will be available exclusively for the "Night Tour," including two large-scale video projections on the interior of the penitentiary's 30-foot-high perimeter walls.
A silent film shot at Eastern State Penitentiary in 1929, with flickering images of prisoners in the mess halls and officers patrolling the corridors, will play in the Cellblock 3 courtyard. In the Cellblock 7 courtyard, 20 animated short films that were created by incarcerated artists for Eastern State's 2019 project Hidden Lives Illuminated will also be on view.
The lighting design for Night Tours will highlight the prison's iconic, gothic architecture. Searchlights will sweep from the guard towers over the cellblocks and yards, just as they did when Eastern State was an active correctional facility.
At the moment, all tours are self-guided. Visitors can pick up an audio guide and disposable earbuds on their way into the penitentiary. Once they have their audio guides, they will follow a linear, one-way path through the site to help ensure physical distancing.
Tickets are $19 for Wednesday and Thursday nights, $26 for Fridays and Sundays and $32 for Saturdays.