By Denny Dyroff, Entertainment Editor, The Times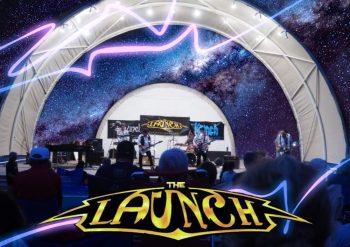 This year, the Sellersville Theater (24 West Temple Avenue, Sellersville, 215-257-5808, www.st94.com) has gone through a saga that is like that of the "Black Knight."
The Black Knight is a fictional character who appears in a scene of the feature film, "Monty Python and the Holy Grail."
In case your memory of him is blurry – or if you've never seen the Monty Python comedy classic – here is a look at his story.
King Arthur encounters the Black Knight and attempts to cross a bridge guarded by the knight. The Black Knight moves slightly to block Arthur and declares, "None shall pass." Arthur orders the Black Knight to move but he says, "I move for no man."
Reluctantly, King Arthur fights the Black Knight and severs the knight's left arm. The knight refuses to stand aside, insisting, "Tis but a scratch" and that he has "had worse." The Black Knight fights on while holding his sword with his other arm.
Next, his right arm is cut off, but the knight still does not concede.
As the knight is literally disarmed, Arthur assumes the fight is over and kneels to pray. The Black Knight interrupts Arthur's prayer of thanks by kicking him in the side of the head and accusing him of cowardice.
When Arthur points out the Black Knight's injuries, the knight insists, "It's just a flesh wound." In response to the continued kicks and insults, Arthur chops off the Black Knight's right leg.
At this point, the knight still will not admit defeat, saying, "Right, I'll do you for that," and attempts to ram his body into Arthur's by hopping on his left leg. With an air of resignation, Arthur finally cuts off the left leg as well and sheaths his sword.
The Sellersville Theater has shown the same degree of resilience in dealing with the COVID-19 restrictions and shutdowns mandated by Gov. Tom Wolf.
Over the last few months, Pennsylvania along with Delaware and New Jersey has clamped down hard on venues wanting to present live shows. Music concerts and theatrical performances have been virtually eliminated – with Philadelphia hit early and hit hard.
Music shows were banned but comedy clubs survived – only for a while. Outdoor shows were scuttled by the arrival of winter weather as were drive-in concerts.
Some venues like 118 North in Wayne kept hosting shows in an outdoor tent but the venue waved the white flag of surrender a few weeks ago.
Just like the Black Knight, The Sellersville Theater, which is located in Pennsylvania but not Philadelphia, kept going.
Just like the resilient knight, the theater suffered setbacks but refused to capitulate.  Even though it was "disarmed," the venue was able to present live music and comedy at 10% occupancy to live performances with ticketed livestreams as well.
Then, the latest round of COVID-19 restrictions was posted for Pennsylvania.
Gov. Tom Wolf announced a series of new restrictions on December 10 for the three weeks starting at midnight December 11 including a ban on music venues. It was like King Arthur cutting off the knight's legs.
Kasim Sulton's show, which was scheduled for December 12 at Sellersville, was eliminated completely.
Other shows scheduled for this month were presented as "Livestream only" events including Natalie MacMaster & Donnell Leahy on December 18 and Deb Callahan Band on December 19.
The final shows scheduled for this month feature The Launch (A Tribute to The Music Of Styx & Queen) on December 26 and performances on December 31 by AM Radio and Arthur Thomas & The Funkitorium.
The Launch is a Delaware Valley based tribute band which focuses on the music of Queen, Boston and Styx.
The quintet features Dan Caguiat (Lead Vocals, Rhythm and Lead Guitars) from Sicklerville (NJ), Fran Galanti (Lead Vocals, Rhythm and Lead Guitars) from Northeast Philly, Stu Franks (Lead Vocals, Bass Guitar) from Philadelphia, William Earle (Keyboards, Backup Vocals) from Aston and Kevin Keefe (Drums) from Hatboro.
"For this weekend's shows, we're going to broadcast live from the Sellersville Theater," said Franks, during a phone interview Monday from his home in the Bustleton section of Philadelphia.
"With the latest rules by the state, only 10 people can be in the theater. So, it will just be the five band members and a minimal staff."
The Launch has been building a large fan base in the Tri-State area over the last few years.
"The Launch first came together in 2015," said Franks. "We started out as a Boston tribute band. In 2016, a promoter suggested that we add Queen. There was no steady Queen tribute band in the area, so we decided to do it.
"In 2018, we added Queen. It helped that it was right around the time that the Queen movie came out. It worked out well because we are one of the only bands with the vocal capabilities to do Queen.
"We have four vocalists. The only band member who doesn't sing is our drummer. We can do it all live – including 'Bohemian Rhapsody.' We re-create the harmonies in a way that four voices can handle it."
When tickets for the Sellersville gig went on sale a few months ago, most were scooped up quickly.
"There were originally four shows – Saturday and Sunday at 3 p.m. and at 8 p.m.," said Franks. "They were sold out with the capacity limit of 66. Then, it got cut to 33 and, most recently, to 10. Now, there are just two shows – Saturday at 3 p.m. and Saturday at 8 p.m.
"For theater ticket holders, there is a special link. You can watch the show live and also watch as many times as you want for the next three days. Those who buy a Livestream ticket for either show will be able to watch both shows.
"The shows will also have extra content – videos and other little vignettes. There is also a Facebook Live presentation with each show. Viewers can make requests from a list and we'll play the one that gets the most votes."
There will be two completely different shows on December 26 by The Launch, the band that won the 2019 WMGK House Band Competition.
"The three o'clock show is Styx and Queen," said Franks. "The eight o'clock show is Boston and Queen.
"With the Queen songs we'll play, some will be the same each show and some will be different. Both shows will have big Queen hits such as 'Another One Bites the Dust,' 'Bohemian Rhapsody,' 'Somebody to Love,' and 'Play the Game.'
"When we play live, we like to put on a show – not just stand onstage in street clothes and play. We want to be a spectacle. When we're onstage, we don't dress like regular people. We wear outfits that are completely outrageous. It's about having an energy and putting it out there."
Video link for The Launch – https://youtu.be/bU26fIZobsg.
Livestream tickets are $10.
The Sellersville Theater will close out 2020 with three shows on December 31 — AM Radio at 2 and 7 p.m. and Arthur Thomas & The Funkitorium at 10:30 p.m.
"Yuletide Jazz & Wine at Winterthur" will be presented next Wednesday evening at Winterthur Museum, Garden & Library (Route 52, Wilmington, Delaware,800-448-3883,www.winterthur.org).
The event, which will run from 5:30-7:30 p.m. each night, features an evening of live jazz, food, and wine among the twinkling lights of the Visitor Center.  Winterthur's Pavilion Restaurant is open for dinner with cash wine and beer bar. Reservations required as capacity is limited.
The final show in this year's "Yuletide Jazz & Wine at Winterthur" series will be The Greg Farnese Quartet on December 30.
The shows are Included with general admission ticket. For those not purchasing a Yuletide general admission ticket, tickets are $10.
There will also be live music at Longwood Gardens (Route 1, Kennett Square, www.longwoodgardens.org)
The "Outdoor Christmas Musicians Holiday Series" is running now January 3 in Pierce-du Pont House Plaza.
Longwood visitors can revel in the delightful instrumental sounds of Rob Dickenson and the Brandywine Christmas Minstrels as they celebrate "A Longwood Christmas." Performances will be held nightly Fridays through Sundays from 5-8 p.m. — weather permitting.
Some of the local venues presenting live music shows throughout December are Tuned Up Brewing Co. (135 North Main Street, Spring City, www.tunedupbrew.com), which will present Mr. Mody on December 25, and Brickside Grille (540 Wellington Square, Exton, bricksidegrille.com), which is hosting Dan Graber on December 26 and Madeline Knight on December 27.