By Denny Dyroff, Staff Writer, The Times
We all have to accept the fact that Christmas 2020 will be like no other Christmas Americans have ever experienced. The same goes for New Year's Eve 2020/2021.
The Grinch may have stolen Christmas in the past, but this year the COVID-19 pandemic has blasted Christmas out of the sky.
One of the major effects of the COVID-19 pandemic has been the isolation created by staying at home – and it will be intensified on December 25.
The vibe of this year's holiday season could be expressed well by altering a line in a song by Madonna from "Living in a material world" to "Living in a virtual world."
Even the traditional Coatesville Christmas Parade was relegated to being a virtual presentation.
Yuletide at Wheatland has been a Lancaster County tradition for decades. It has survived the pandemic – but with changes.
Yuletide at Wheatland is virtual this year. No in-person tours will be conducted due to COVID-19.
Guests can tour President James Buchanan's Wheatland virtually this year for Yuletide at Wheatland now through December 26.
Join a tour guide, in real-time over Zoom, to traverse the festively decorated halls and rooms of the 1828 mansion. From the comfort of your home, learn about the public and personal life of James Buchanan through the lens of Yuletides and traditions past.
From Yuletide menus and meals to how Christmastime was celebrated during the Civil War, viewers will learn how Buchanan and his family experienced Yuletide in the mid-1800s.
Tickets are $15 per connection. Because the tour is held virtually over Zoom, viewers will connect to the tour via a special Zoom weblink. Only one connection is required to watch on one screen. Therefore, ticket purchases are limited to one ticket or connection per transaction.
For many, a trip to Washington Crossing Historic Park (1112 River Road, Washington Crossing, www.washingtoncrossingpark.org) on December 25 was an annual outing.
In a tradition that has existed for more than a half-century, the park's rangers and associates would present a program which features a re-enactment of George Washington crossing the Delaware River with his troops.
This year's 68th annual staging of the free event will be different.
Washington Crossing Historic Park is open to the public for passive recreation. No tours are offered. Bowman's Tower and the Thompson-Neely Farmstead are closed. More importantly, public river crossings will not be held because of COVID-19 restrictions.
But all is not lost. The park has a special pre-recorded crossing video which will debut on Christmas Day. 
The park posted this message on its website: 
"Out of concern for public safety and due to Department of Conservation and Natural Resources' crowd-size restrictions related to COVID-19, the two public Delaware River crossing reenactments will not be held in December at Washington Crossing Historic Park.
Because the reenactments require months of planning and coordination among hundreds of reenactors, park staff members, and volunteers, a decision had to be made well in advance. We are as disappointed as you are that this much-loved annual event cannot be held in the usual manner this year.
However, to keep the tradition alive, we will debut a special pre-recorded crossing video on Christmas Day. You can tune in this video on the park's Facebook page or YouTube."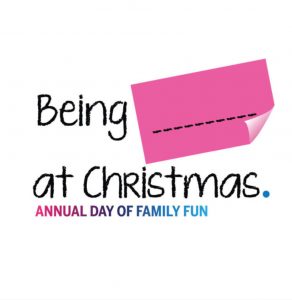 Another popular annual December 25 tradition in the area is now a virtual event only.
For Jews, Hindus, Buddhists, Jains, Shintos, Sikhs, and Muslims, Christmas is not a religious holiday.
Fortunately for them, there is a special event in Philadelphia at Christmastime created for people who do not celebrate Christmas.
The long-running annual event is held each year on December 25 at the National Museum of American Jewish History (101 South Independence Mall East, Philadelphia, 215- 923-3811,www.nmajh.org).
For years, the event was known as "Being Jewish at Christmas." Now, the name of the one-day celebration, which will run from 10 a.m.-5 p.m. on December 25, is called "Being ­­­­_ _ _ _ _ _ at Christmas."
The museum's website offers the following invitation – "Snowy…Jewish…Happy…Caring…Buddhist…Generous…Family…Creative…Friendly…Sparkly…Fill in your own blank and join us for our annual day of family fun!"
This year, the Museum also posted this message:
"I know….we can't believe we won't be able to spend December 25 together in the Museum, either! It's the first time in a more than a decade (or several decades, if you count the event's years in our former building) we haven't been able to be together. But not to worry: we're making sure there's still plenty of warmth, community, fun, and yes a pinch of education "at" the Museum on Christmas Day…and you're all invited!
"And while we know hanging out with your kids in front of a screen (again) might not be high on your list, we promise you a day filled of music and movement, make-and-takes and mindfulness, and so much more.
And we know you may want to keep to your own schedule–every family and individual is different–so we're kicking things off with a live concert at 10 a.m. and then the rest is on-demand for you to enjoy at your leisure, and as many times as you want.
Being ___ at Christmas – NMAJH."
The first event on the schedule is a concert by Alex Mitnick of the Emmy Award-wining Alex & the Kaleidoscope – live from his home studio.
Then, there will be on-demand activities to enjoy throughout the day including art lessons that families can do at home together with everyday household items with Philadelphia's Portside Arts Center.
This event is free with a suggested $10 donation. Registration is not required.
However, most of the activities for this year's holiday season are Christmas oriented.
If you're looking for holiday-themed activities where you can remain socially distanced safe and stay warm without having to be indoors, drive-through lights events provide a good option.
The holiday season at Herr's Snack Food Factory (20 Herr Drive, Nottingham, 610-932-9330, www.herrs.com) has arrived. The area around the factory site will be illuminated with thousands of lights and holiday displays.
Herr's "Holiday Light Display," which is free and open to the public, will be open nightly now through January 2.
Visitors to the site will be able to drive along a trail that is illuminated with more than 600,000 lights.
The special light exhibit will be open daily from dusk to dawn.
The Domestic Violence Center of Chester County (www.dvcccpa.org) invites you to bundle up the kids and enjoy a night out while in the warmth of your car…no social distancing required.
It is an invitation to enjoy the sights of the holiday season at the DVCC's First Annual Holiday Lights Driving Tour.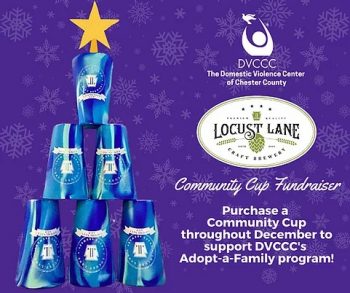 With your registration, you will receive a custom digital map of homes decorated with holiday lights throughout Chester County.
Then, throughout the month of December, you will be able to take one of the tour's suggested routes or pick and choose the locations you'd like to see.
For those participating in the tour, the minimum suggested donation is $25 per car.
The Wells Fargo Center's ample parking lot on Broad Street below Pattison Avenue is hosting an inaugural holiday event now through January 3, 2021 – "Winter on Broad Street: A Holiday Light Spectacular!"
Visitors to the display, which is located just steps from Wells Fargo Center, will have the opportunity to meander through 193 larger-than-life light sculptures and displays, indulge in yuletide confections and fill their senses with favorite holiday traditions.
Visitors can stroll through this spacious outdoor experience (160,000-plus square feet to allow for social distancing) while taking in the vast array of whimsical light installations powered by more than a half-million light bulbs.
Marquee light sculptures include a 25-foot reindeer, a 20-foot ornament, two identical dazzling diamond sculptures, an enchanted forest of more than 45 illuminated trees, an "Under the Tree" pop up of life-size illuminated toys, glowing tunnels and winding icicle paths.
Additional attractions are photo sessions with Gritty Claus and holiday-inspired sweets and treats and a "Mistletoe Marketplace" selling hand-crafted ornaments, custom artwork, wintertime clothing and decor.
Timed tickets are required to access the attraction, which has been set up for one-way, linear traffic to permit social distancing. Ticket prices start at $20.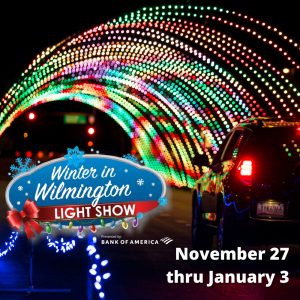 When The Grand in Wilmington (www.thegrandwilmington.org) was forced by pandemic restrictions to halt its presentation of concerts and theater shows earlier this year, it responded by presenting a series of drive-in concerts this summer and drive-in movies in the fall.
Now, The Grand is thrilled to turn on the lights around town with a new holiday activity sure to be enjoyed by multiple generations.
The "Winter in Wilmington Drive-Thru Holiday Light Show" is scheduled to run through January 3, 2021 on Wilmington's Riverfront.
When visitors drive their cars through the "Winter in Wilmington Light Show," thousands of lights immerse them in a holiday vibe.
The family-oriented activity features animated installations, interactive music, and holiday cheer.
The displays cover a wide spectrum of holiday themes with Santa, elves, colorful arches, candy canes, Hanukkah Menorahs, Christmas trees, angels, reindeer and a huge jack-in-the-box – all created with colorful lights.
Tickets are $25 per car and are available online only at www.TheGrandWilmington.org. To help make the event enjoyable for everyone, advanced online reservations/pre-purchased admission is required.
The Grand's "Winter in Wilmington Drive-Thru Light Show" will be open every Thursday-Sunday now through January 3 from 5-9:30 p.m. nightly.
Throughout the month of December, Rockwood Park & Museum (4651 Washington Street Extension, Wilmington, Delaware, newcastlede.gov) is hosting an event called "Drive-Through Merry & Bright Holiday Lights at Rockwood Park."
The festive drive-through holiday light displays at Rockwood features colorful twinkling lights, holiday decorations, Santa sightings and delightful surprises – and you can enjoy it all from the comfort of your car.
The family-friendly event is open from 6-9 p.m. each night and is free.
Now through January 9, Crispus Attucks Community Center, Lancaster City Alliance and Visit Lancaster City are teaming up to present "Light Up Southeast — Celebration of Lights."
The display features more than 10,000 lights, 30 flags from around the world, more than 15 light displays and 30-foor Christmas tree.
The event will take place on five blocks of South Duke Street (300-900), the Ewell/Gantz Playground (400 block of Christian Street). The "SACN Tree" will be located at 200 South Ann Street.
Participants can drive through or walk through the display and experience the holiday vibe.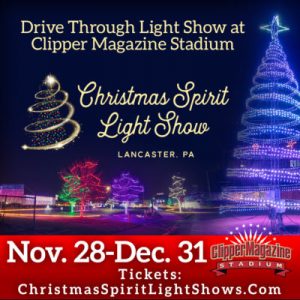 "Christmas Spirit Light Show"  is running now through December 31 (except December 25) at Clipper Magazine Stadium (650 North Prince Street, Lancaster, christmasspiritlightshows.com).
"Christmas Spirit Light Show" is an exciting, one-of-a-kind Christmas light display that families can enjoy from the comfort of their vehicles.
As participants make the journey through the mile-long track, they get immersed and surrounded by hundreds of thousands of color-changing lights that are animated and dancing in harmony with favorite Christmas classics.
The drive-through event is billed as a "breathtaking holiday experience that you and your loved ones will never forget."
The cost is $20 per car with eight people or less and $30 per car with nine or more people.
A popular Bucks County attraction is the "Holiday Light Show" at Shady Brook Farm (931 Stony Hill Road, Yardley, www.shadybrookfarm.com)
The farm features a three–million-light Holiday Light Show with "Dashin' Through the … Lights," a family-friendly two-mile drive-through on Thursday and Friday nights.
The main display allows visitors to drive or (if weather permits) ride in wagons past post-sundown displays including illuminated tunnels.
The "Holiday Light Show" is open now through January 10.
Timed tickets, which start at $25, are required.
Longwood Gardens (Route 1, Kennett Square, 610-388-1000, www.longwoodgardens.org) is in full holiday mode with the 2020 edition of "A Longwood Christmas."
The festive holiday display at Longwood Gardens, which is running now through January 5, features spectacular lights, lavish decorations, holiday music and colorful displays featuring thousands of brilliant poinsettias, brightly decorated trees and fragrant flowers — all inside the heated Conservatory.
Inside, you have an opportunity to stroll among beautifully adorned trees and plant palettes of delicate winter whites to rich reds and the greenest of evergreens as you wrap yourself in a nostalgic Christmas morning scene. You can engage your senses with fragrant lilies and paperwhites, and relish in the timeless beauty of Christmas favorites like poinsettias and kalanchoe woven throughout the Conservatory.
Outdoors, you can watch your family's eyes sparkle at all the wondrous sights and feel like a kid again with Longwood's whimsical Garden Railway. Celebrating its 20th anniversary, the Garden Railway is a fanciful blend of horticulture, engineering, and lighthearted fun in a special display located outdoors near the Terrace Restaurant. The Garden Railway operates during regular Gardens hours, weather permitting.
Each fall, members of our Horticulture, Facilities, and Guest Services departments team up to achieve the not-so-small feat of creating this multi-level world in miniature. Longwood Gardens showcases its collection of 31 locomotives, steam engines, diesel engines, and specialty engines – including the ever-popular Thomas the Tank Engine and many of his friends — as they rumble along nearly 500 feet of track amid textural foliage, flowering plants, and woody plants.
When darkness arrives at Longwood, a night-blooming garden of more than a half-million lights strung on close to 100 trees with approximately 40 miles of wire comes to life. A carillon with 62 cast bells plays holiday music every half hour during daylight hours. Longwood's Open Air Theatre fountains dance to holiday music each half hour — temperature permitting.
As always, admission by "Timed Ticket" — tickets issued for specific dates and times. Timed ticketing limits the number of people in the Gardens at any given time and allows guests to enjoy minimal lines and a better viewing experience.
You may enter the Gardens up to 30 minutes prior and 30 minutes after your designated time. Make every effort to arrive at your designated reservation time. Earlier or later arrivals may not be accommodated.
Admission to Longwood Gardens is $30 for adults, $27 for seniors (ages 62 and older) and college students, $23 for active military and veterans and $16 for students (ages 5-18).
An annual tradition that has delighted families for decades is the Festival of Lights at Rose Tree Park (1671 North Providence Road, Media, www.delcopa.gov/departments/parks/rosetree.html).
Rose Tree Park sparkles during the holiday season with the annual Festival of Lights. Dozens of decorated lit trees and festive displays draw visitors back each year to stroll the glimmering walkways and grounds, linger in the festive atmosphere, and pay a visit to childhood figures such as Charlie Brown & the Peanuts Gang and Santa & his Reindeer.
The Festival of Lights, which opened in early December at the 120-acre park, is running runs through the first weekend in January. Admission and parking are free. This year, the trees will be lit for public enjoyment nightly from 5-10 p.m. until January 3.
Delaware's state-imposed restrictions are not quite as stringent as those in Pennsylvania and, as a result, more attractions have been able to remain open.
One of the best holiday events in the area is the annual "Yuletide at Winterthur." This year's 41st annual staging of the event, which runs now through January 3 at Winterthur Museum, Garden & Library (Route 52, Wilmington, Delaware, 800-448-3883, www.winterthur.org).
Winterthur is a museum and would be closed down in Pennsylvania, but it is located in Delaware and can stay open.
On its website, Winterthur posted this special COVID-19 message:
"Garden and Estate Open to All.
Winterthur is open, with access to the Museum, Galleries, Garden, and 25 miles of walking trails.
The well-being of our valued visitors and our staff remains our highest priority, so various safety measures remain in place. All events comply with the most recent state regulations and are subject to cancellation.
Capacity in all areas is limited, so reservations are required. When you visit, please bring a face mask. They are required in all indoors areas at all times. Outdoors, they are required when it is difficult to maintain a safe social distance of six feet from people who are not from your household. Wearing of face masks is also required on trams tours and guided walks. If you have a medical condition that prevents you from wearing a face mask, we ask that you do not visit at this time. Also, please follow one-directional pathways, and take other precautions as posted on-site."
At Winterthur, visitors can revel in the beauty and warmth of the holidays and explore treasures of Christmases past with displays of holiday traditions from the 1800s to the early 20th century, including displays of: the earliest types of colorful lights decorating house exteriors; the du Pont family holiday celebrations; and the evolution of Christmas trees over the decades from the 1880s to 1960s.
One of visitors' favorites every year is the 18-room dollhouse mansion created by designer and philanthropist Nancy McDaniel over a period of 30 years. It features amazing intricate details in each room and is even decorated for the holidays.
As always, the rooms will be enhanced with the floral displays so essential to du Pont's decorating, and with special Christmas trees inspired by the beauty of the Winterthur garden – including the popular Dried Flower Tree in the Conservatory.
A new feature this year is the "Outdoor 3D Holiday Light Show," which is running through December 12 from 5-9 p.m. each night. The Winterthur house serves as the backdrop for a du Pont family Christmas story, told using 3D images, video, lights, and sounds, for an immersive holiday experience. Another event premiere is "S'mores around the Fire" on Saturdays and Sundays through January 3 from 11 a.m.-2 p.m. each day. 
Timed Yuletide Tour reservations are required. Admission to Yuletide at Winterthur is $20 for adults, $18 for seniors (age 62 and older) and students (12 and over) and $6 for children (ages 2-11).
There are plenty of reasons to take the short drive to Delaware this holiday season with tax-free shopping on everything at the top of the list. Another major reason is the annual staging of "Holidays at Hagley" — an event that is always one of the most eagerly anticipated holiday attractions in this area every year.
The popular Brandywine Valley exhibit, which is included with regular admission, continues through January 1 at Hagley Museum and Library (Route 141, Wilmington, Delaware, 302-658-2400, www.hagley.org).
Visitors to "Holidays at Hagley" this season will have the opportunity to see the property decked out for the holidays and enjoy a variety of activities.
On Workers' Hill, they can sample individually wrapped cookies outside the Gibbons House and peek into a 19th-century kitchen where cookies would have been baked in a woodstove.
Visitors can also stop by and see the festive entries in Hagley's annual Gingerbread House Competition. These edible works of art will be on display in the Millwright Shop.
Admission is $9 for adults and $5 for children (ages six and under).
The Historic Odessa Foundation (Main Street, Odessa, Delaware, 302-378-4119, www.historicodessa.org) has two things going this holiday season – an outdoor holiday light display and an art exhibit.
This year, the Historic Odessa Foundation (HOF) is breaking from tradition of presenting yuletide vignettes inspired by classic children's literature in order to bring seasonal sparkle to the 18th century hamlet of Odessa with thousands of lights adorning the Historic Houses of Odessa.
"Look for the Light: Odessa at Night" is running now through January 3 from 5-10 p.m. nightly.
Historic Odessa has had a long and storied past for celebrating the holidays. For 34 years the Historic Houses of Odessa, in the spirit of community partnership, and bedecked for the festive season, has thrown open the doors of its nationally recognized colonial buildings through which thousands of visitors have passed each Christmastime.
Every year, HOF staff have recreated holiday vignettes from a selection of children's literature, but due to COVID-19 restrictions this will be the first year in more than three decades that Historic Odessa is unable to welcome the visiting public to tour a featured storybook house. As a result, the festivities have been moved outdoor with the focus on holiday lighting.
Additionally, HOF is presenting its final art exhibit of the year titled "Oneness in Spirit: Art from The Artists' Gallery in Chestertown" now through December 30.
The Boathouse Row Festival of Lights (1 Boathouse Row, Philadelphia, www.phila.gov) has featured a series of multicultural holiday celebrations throughout December starting with Hanukkah earlier this month.
This week, the boathouses on the Schuylkill River are lit up for Christmas (through December 25). The, the illuminations will shift to Kwanzaa from December 26-January 1).
The iconic boathouses are viewable from various locations, including the Fairmount Water Works at 640 Waterworks Drive and
the platform above the Fairmount Fish Ladder on the Schuylkill River Trail just off Martin Luther King Jr. Drive.
Peddler's Village (Routes 202 and 263, Lahaska, 215-794-4000, http://peddlersvillage.com) is presenting its "Holidays in the Village" celebration and that means there will be a lot of activity at the site over the next few weeks.
There will also be some changes beginning this weekend.
The Peddler's Village website posted this message:
"Peddler's Village is open.
New state mandates will take effect this weekend. Peddler's Village will still be open for the holidays, but with these changes starting this Saturday.
Shops will be open but limited to 50% capacity.
Restaurants will be open for outdoor dining and takeout orders only (outdoor tables are located throughout the Village).
Golden Plough Inn will be open, and Giggleberry Fair will be closed. Outdoor family mystery tours will continue
Safety remains a top priority. Guests must wear masks and be mindful of social distancing. To control visitor volume on weekends, we strongly encourage weekday/weekday evening visits.
Be safe and well!"
The Gingerbread Competition & Display is a feast for the eyes with creative and whimsical entries in several categories.
Slated to run through January 9, the "Gingerbread House Competition" features over $2,000 in cash prizes in such categories as Traditional and Authentic Reproduction of a Significant Building.
The Gingerbread entries will be on exhibit in the Shop #1 during shopping hours from November through early January. Entries are open to the public. Admission is free. Guests will be asked to wear masks and to social distance.
With more than 50 specialty shops, Peddler's Village's beautiful decorations and one million twinkling lights, set the mood for another holiday season.
Families can participate in Elf on the Stealth, an outdoor walking tour where visitors join Mrs. Claus in search of a missing elf.
"Holidays in the Village" is open now through January 10.
This year, Santa has been visiting several of the area's tourist railroads to take special rides with his friends.
The New Hope & Ivyland Railroad (32 Bridge Street, New Hope, 215-862-2332, www.newhoperailroad.com) is operating its "North Pole Express" now through December 30. Tickets start at $55.99 for adults, $45.99 for children (ages 3-11) and $14.99 for infants (ages 0-2).
Passengers can ride the rails with Santa, Mrs. Claus and a group of holiday revelers. Children and adults of all ages can sip hot cocoa and enjoy cookies while Santa visits with each child and presents them with a special gift. Local musicians will be on board to play and sing Christmas carols.
There will also be the rail line's "Santa Steam Spectacular" excursions running now through December 24.
Guests are invited to welcome the return of the historic #40 steam engine by joining Santa and Mrs. Claus for a ride upon their magical Steam Train adventure through the historic Bucks County countryside. This Santa Steam Spectacular departs New Hope Station for a round trip to the North Pole.
Tickets start at $69.99 for adults, $59.99 for children (ages 3-11) and $15.99 for infants (ages 0-2).
The Wilmington & Western Railroad (2201 Newport Gap Pike, Wilmington, Delaware, 302-998-193, www.wwrr.com) will run its
special "Holiday Night Express Trains," featuring a peaceful evening ride. Tickets for these trains, which are running now through December 30, are $16 for adults, $15 for senior citizens and $14 for children.
Christmas trains also come in a smaller variety. Model railroad displays and the Christmas holiday season have been linked together since a time before even your parents were even kids.
The Morris Arboretum (100 Northwestern Avenue, Chestnut Hill, 215-247-5777, http://www.morrisarboretum.org) opened its popular Garden Railway Display a few weeks ago and will keep it running through December 31.
The display and buildings are all made of natural materials – bark, leaves, twigs, hollow logs, mosses, acorns, dried flowers, seeds and stones – to form a perfectly proportioned miniature landscape complete with small streams. Each building, while an exact replica of the original, is unique in its design. Philadelphia-area landmarks such as a masterpiece replica of Independence Hall are made using pinecone seeds for shingles, acorns as finials and twigs as downspouts.
The buildings are all meticulously decorated for the holidays with lights that twinkle along the tracks and around the surrounding landscape. The Garden Railway Display has become one of the Arboretum's most beloved attractions since it opened in 1998, and the Holiday Garden Railway is quickly becoming a favorite holiday tradition for many families.
Admission to the Morris Arboretum is $20 for adults, $18 for seniors (65 and older) and $10 for students and military.
Winter has arrived and the Blue Cross RiverRink (Delaware Avenue at Walnut Street, Philadelphia, 215-925-RINK, www.riverrink.com) has come back to life.
Unlike most of the suburban ice rinks, RiverRink features public skating. Ice skating is the only use of the ice. This winter, RiverRink takes the ice-skating experience on the Delaware River waterfront to another level by once again transforming the annual rink into a bona fide winter wonderland.
Open seven days a week, the Blue Cross RiverRink Winterfest is an immersive winter-themed experience with a popular bar and restaurant called The Lodge, winter beer garden-style landscaping, a brand-new light show, and a retail shopping experience from Art Star Gallery & Boutique.
The outdoor rink's hours are 1-10:30 p.m. Mondays through Thursdays, 1 p.m.-12:30 a.m. on Fridays, 11 a.m.-12:30 a.m. on Saturdays and 11 a.m.-10:30 p.m. on Sundays. Skating admission prices are $4 for admission and $10 for skate rental.
Another skating option is the Center City Parks District's Rothman Orthopaedics Institute Ice Rink at Dilworth Park (1 South 15th Street, Philadelphia, http://ccdparks.org/dilworth-park),
The Rothman Institute Ice Rink at Dilworth Park is an unparalleled entertainment experience on Philadelphia's center stage in a wonderfully urban and unique setting. Open seven days a week, the rink offers wintery fun for all ages, with a full slate of programs.
Hours are Monday-Thursday: Noon-9 p.m.; Friday: Noon-11 p.m.; Saturday: 11 a.m.-11 p.m.; and Sunday: 11 a.m.-8 p.m.
Admission is $3 for Kids 10 & Under and $5 for Adults. Skate rental is $10.
The Deck the Hall Holiday Lights (centercityphila.org) are back for another season of lighting up the western façade of City Hall.
The newly redesigned illumination will feature continuous, uninterrupted projections, with sound effects on the west façade of City Hall from 5-9 p.m. Sundays through Thursdays and 5-11 p.m. Fridays and Saturdays. This unique experience, which is free, will continue through January 1, 2021.
The building comes alive with technicolor projections which have been created by Klip Collective. They are synchronized to sound effects to animate the historic Philadelphia landmark.
To keep crowds from building up, the illumination plays continuously on a 30-minute loop.
Elmwood Park Zoo (Elmwood Park Zoo, 1661 Harding Boulevard, Norristown, www.elmwoodparkzoo.org) welcomes back its holiday exhibit "Wild Lights" which opened at the end of November.
Elmwood Park Zoo adds even more to the millions of LED lights that illuminate its 16 acres over the holidays during Wild Lights, lighting up on Friday.
Visitors can take a stroll through the "Oh Christmas Tree" display, where they will be surrounded by a glistening forest, or visit the big cats in Trail of the Jumping Jaguar.
Each night of the festival features live entertainment, animal encounters, holiday music and a chance to see Santa himself.
Admission is $12.95 for the event which is slated to run through December 30.
The Lehigh Valley Zoo (5150 Game Preserve Rd, Schnecksville, https://www.lvzoo.org/) is hosting its "Winter Light Spectacular" now through January 2.
This season's "Winter Light Spectacular," which runs from 5:30-10 p.m. nightly, will feature more than 30 scheduled event nights.
Guests are invited to bundle up and enjoy the beauty of nature as they stroll through tree-lined paths illuminated by more than 1.2 million twinkling lights and themed animated displays.
They also can warm up next to the cozy outdoor fire pits while enjoying hot cocoa and s'mores.
Children will be delighted when they encounter Santa, Radley the Sea Turtle, The Grinch, Woody, Buzz, Elsa, Princess Belle, Olaf and friends.
Ticket prices start at $8.
Dutch Wonderland Family Amusement Park (2249 Route 30 East, Lancaster, 866-386-2389, www.dutchwonderland.com) is hosting its "Holiday Lights Drive-Through Experience" now through December 31.
Visitors will be able to enjoy hundreds of thousands of holiday lights from the comfort of their vehicles.
This 1.5-mile journey through Old Mill Stream Campground is the perfect way to experience the magic of the season by taking in whimsical scenes, hundreds of thousands of twinkling lights, and special surprises.
Santa will be present each operating evening through December 23. After that, he heads back to the North Pole to prepare for the big day.
Holiday Lights is open 5-9 p.m. through December 31 excluding December 24 and 25. Tickets start at $15 per vehicle.
"Hersheypark Christmas Candylane," which is the annual holiday event at Hersheypark (100 West Hersheypark Drive, Hershey, 800-HERSHEY, www.hersheypark.com), is running now through December 31.
The park has "decked the halls" with more than five million lights for the merriest event of the year — "Hersheypark Christmas Candylane." The event features rides and coasters, a visit with Santa, festive Hershey Character experiences, and, for the first time ever," the opportunity to explore Hershey's Chocolatetown in the winter.
This year's rides and coasters are the all-new Candymonium , Laff Trakk, Sidewinder , Wild Mouse, Wildcat, and Cocoa Cruiser. The Kissmas Tree display features the park's iconic Kisses Fountain decked out in its holiday best.
Santa and all nine of his reindeer make a special stop at Hersheypark Christmas Candylane® event each year. Visitors can get an up-close look at their favorite reindeer (including Rudolph) at Santa's Reindeer Stables complete with newly expanded viewing platform.
Visitors to Hershey can also experience the winter wonderland called "Hershey Sweet Lights, A Holiday Drive-Thru Spectacular." The attraction is a two-mile drive through wooded trails featuring approximately 600 illuminated, animated displays.
Admission to "Christmas Candylane" is $49.15. Tickets for the drive-thru start at $22.15 per car.
"A Very Furry Christmas at Sesame Place" (100 Sesame Road, Langhorne, www.sesameplace.com) is a festive, family-friendly celebration with everyone's favorite Sesame Street friends live and in-person at the amusement park in Langhorne.
The annual event, which runs through January 3, offers a wide array of family holiday activities.
Visitors to the park can sing along at three special Christmas shows and a spectacular music and light show at our giant 1-2-3 Christmas Tree, take a train ride tour through the Twiddlebugs'Gingerbread Cookie Factory on the Sesame Place Furry Express, take part in the Neighborhood Street Party sing-alongs.
As an added attraction this year, Rudolph the Red-Nosed Reindeer is spending the holiday season at Sesame Place. The lovable reindeer along with his friends Clarice and Bumble, will be available for photos with guests.
Tickets for "A Very Furry Christmas" are $35.99.
Anyone wanting to get into a Christmas mood in a big way can visit Koziar's Christmas Village (782 Christmas Village Road, Bernville, 610-488-1110, www.koziarschristmasvillage.com) which began its 73rd season on November 7.
Koziar's Christmas Village is truly a holiday wonderland — a wintertime spectacle that delights young and old alike with a huge amount of holiday displays and special attractions. It will remain open every night through January 1 — including Christmas Eve, Christmas Night, New Year's Eve and New Year's Night.
The tours of "Christmas Village" feature visits to a variety of displays and exhibits, including "Santa's Post Office," "Christmas in the Jungle," "Manger Scene," "Christmas Beneath the Sea," "'Twas the Night Before Christmas," "Olde Fashioned Bakery Shop," "Toy Maker and his Toy Shop," "Christmas in Other Lands" and "The Olde Church".
Other attractions at Koziar's Christmas Village include a huge model train display, a toy shop, a country kitchen, indoor and outdoor Christmas displays and a place to visit with Santa and even get pictures taken with the old guy in the red suit. Admission to Christmas Village is $12 for adults, $11 for seniors (65 and older) and $10 for children (ages 4-10).
With the pandemic situation changing from day to day, it is highly advisable to check with the venue or event's website or, better yet, call first before you finalize any plans.
And remember that dying alone in a hospital — or knowing someone you love is going through that — has to be a lot worse than being alone on Christmas.