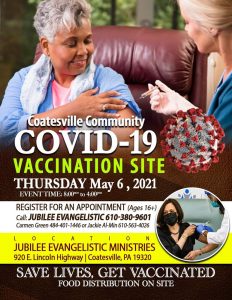 COATESVILLE — There will be a community COVID vaccination event on Thursday, May 6 at the Jubilee Evangelistic Ministries, from 8 a.m. to 4 p.m. Appointments are required and can be obtained by calling (610) 380-9601. The event is open to all over age 16.
The May 6 event — at 920 E. Lincoln Highway — is targeted for those unable to travel to one of the county vaccination sites or those unable to manage the sign up process.
Two members of City Council, Carmen Green and Khadijah Al-amin, are assisting in the organizing and getting the word out to the Coatesville community.
"The hosting church is Jubilee Evangelistic Ministry Pastor (with) Frank Fullwood," Green said. "Pastor  Fullwood took the initiative to provide this walk-up site for the community. The sites throughout the County are so spread out and the registration process makes it complicated for a lot of people that want to be vaccinated."
There will be food distribution on site.
Those with additional questions can contact Carmen Green at 484-401-1446 pr khadijah Al-amin at 610-563-4026.