By Mike McGann, Editor, The Times @mikemcgannpa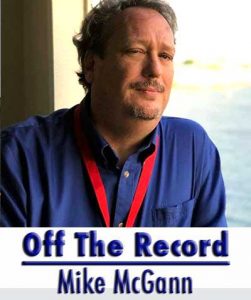 It's May and flowers (and pollen, achoo) are blooming everywhere in Chester County.
You know what else is blooming: optimism that the worst of the COVID-19 is over in our area and we are working our way past this pandemic. If you want a shot, you pretty much can walk up in a number of locations and get one. About 65% of the adult population of the county has gotten at least one shot and we're seeing the resulting drop in new case numbers.
If you're hesitant, let me offer a bit of comfort: these vaccines work — they are crazy effective both in preventing getting the virus and spreading it to others. Additionally, there have been few side-effects from the more than 200 million shots administered to date.
In short, the vaccine is safe, effective and helping to contain the virus.
Now, I know some folks want to make it about politics and not about science—but it's the science that matters.
Two countries, Israel and India, are turning out to polar opposite examples of why science must trump politics.
Israel — the mostly highly vaccinated country in the world (as long as your don't count the Palestinian territories) — averaged over a seven-day period just 86 new COVID cases a day for the entire country. Just three and a half months ago, Israel peaked at more than 8,000 cases a day. Interestingly, about 60% of population of Israel has had at least one shot. Fun fact: Chester County is doing even better, which is why we're one of the counties seeing big drops in COVID cases.
Then there's India, which like Brazil, seemed to follow the concept of The Great Barrington Declaration (open everything, let everyone get sick and get herd immunity). The virus is out of control in India, with the vast number of cases allowing for mutations. This, by the way, was exactly the plan some folks in this county — those more interested in protecting corporate profits than the people of this county — advocated for last year.
Right now, we're seeing three outcomes: drops in cases where there is a robust vaccination program, moderately high cases in low vaccine areas that are largely shut down (much of Europe and Canada) and runaway growth in virus where neither is being done.
Before the vaccine, some level of shut down was literally the only way to slow the spread of the virus, as we're seeing north of the border. Unfortunately, the Canadian government and the European Union has been sluggish in getting and rolling out vaccine, leaving them with little choice but being aggressive on new rounds of shut downs.
The reality is that — due to mutations — we will likely have pop ups of COVID-19 on a regional basis and need to be able to react to them quickly. Already, you can see the case number difference in areas — as was the case with masking — where the vaccine isn't getting in arms at a high number. Those who scream about having the freedom not to wear masks (one wonders how they feel about the pants/skirts mandate for shopping) now won't get shots, apparently to "own the libs."
As Pennsylvania is far from unique in having science deniers, COVID probably won't be wiped out any time soon.
That means we will likely have limited, regional emergencies from time to time.
So, as you can imagine, should a Pennsylvania Constitutional Amendment pass in May that would limit a governor's power to declare emergencies, that could really go badly.
The angry toddler caucus in the state legislature — when not literally sponsoring insurrection — jammed through a proposed amendment limiting the governor's emergency powers, which would instead move them largely to the state legislature.
Now, based on the last decade, I wouldn't trust the legislature to get a lunch order right, let alone react quickly and intelligently to an emergency. Without continuing emergency declarations, Pennsylvania will lose federal assistance when it needs it — not to mention the great likelihood that legislators will play politics with emergencies.
So in a world of bad ideas, this stands out as a Really Bad Idea™. Imagine how bad things would have been here in Pennsylvania if Gov. Tom Wolf didn't have the power to keep things under reasonable control. No, not everything Wolf did was perfect — but a number of the measures he mandated saved thousands of lives.
It would have been, so to speak, a disaster.
And what happens when a hurricane hits the southeast portion of the state and the knuckleheads from the middle of the state in the legislature vote against continuing an emergency. Think it can't happen? Think about all of the clowns in Congress who voted against aid following Superstorm Sandy.
This is a terrible, terrible idea. You need to vote on May 18 to make this epic level of stupidity is not imposed on Pennsylvania. Vote No.
And if you haven't yet, get your shot. Walk-up locations are now available in multiple areas in the county. It's easy, it's free and it can save lives — maybe yours.