By Denny Dyroff, Entertainment Editor, The Times 
There are many annual events that are eagerly anticipated by visitors to Longwood Gardens (Route 1, Kennett Square, www.longwoodgardens.org) such as the Christmas display, the "Orchid Extravaganza" and the just-concluded "Spring Blooms."
But the one that attracts visitors more than any other is the annual "Festival of Fountains."
The 2021 "Festival of Fountains," which just opened on May 6, is running through September 26.
Daily performances in the Main Fountain Garden will feature more than 1,700 spinning jets that spin dance to various music programs. These are no little jets as some shoot up as high as 175 feet in the air.
The 30-minnute show is slated for Thursdays, Fridays and Saturdays at 9:15 p.m.
2021 Illuminated Fountain Performance Schedule is: May 7, British Invasion; May 8, Night at the Movies II; May 13, Copland Classics; May 14, Sounds of Motown; May 15, The Piano Men;May 20, American Songbook Reimagined; May 21, Rockin' the Red, White, and Blue; May 22, The Beatles; May 27, An Evening with Leonard Bernstein; May 28, Pure Imagination; and May 29, To Philly, With Love.
The Main Fountain Garden Show's "Fountains Then and Now" show is a 12-minute fountain performance that begins with a touch of narrated history and concludes with dynamic choreography marrying music and the site's newest fountain features.
These displays will be presented daily at 1:15 a.m. and 3:15 p.m. There will also be performances on Thursdays, Fridays and Saturdays at 7:15 p.m.
Another daily show in the Main Garden is "Classical, Jazz, and Hits of Today," another 12-minue show but with a different musical style. These will be presented daily at 1:15 and 5:15 p.m.
The third show on the roster is "Fountain Refresher," which is billed as "a five-minute mix of music genres that teases the theme of that evening's Illuminated Fountain Performance."
These are scheduled for Thursday through Saturday from May 6-August 28 at 6:15 and 8:15 p.m. and September 2 through October 30 at 6:15 p.m.
There will also be daily shows in the Open Air Theatre and the Italian Water Garden.
Featuring 750 jets in changing patterns, the Open Air Theatre comes alive with fountains set to music.
Since its 1914 Garden Party debut, this Italian-style outdoor theatre has expanded from its simple original fountains to the 750 jets that create the rainbowed curtain of water you see today, while playing host to more than 1,500 performances throughout the years.
To limit the spread of COVID-19, Longwood has made the difficult decision to temporarily suspend all ticketed concerts, fireworks shows and in-person continuing education classes. But, live music can be heard in the Beer Garden, where live instrumental music from traditional Celtic tunes to Caribbean steel pan grooves sets the tone Thursday through Saturday evenings.
Beer Garden performances are scheduled through August from 6-9 p.m. from Thursday to Saturday evenings. They will also be held in September from 5-8 p.m. on Thursdays, Fridays and Saturdays.
As always, admission by "Timed Ticket" — tickets issued for specific dates and times. Timed ticketing limits the number of people in the Gardens at any given time and allows guests to enjoy minimal lines and a better viewing experience.
You may enter the Gardens up to 30 minutes prior and 30 minutes after your designated time. Make every effort to arrive at your designated reservation time. Earlier or later arrivals may not be accommodated.
Video link for "Festival of Fountains" — https://youtu.be/AHsC2YuFerY.
Admission to Longwood Gardens is $25 for adults, $22 for seniors (ages 62 and older) and college students, $18 for active military and veterans and $13 for youth (ages 5-18).
On May 8, Winterthur Museum, Garden & Library (Route 52, Wilmington, Delaware, www.winterthur.org) will be presenting "Azaleas and Bluebells Day."
Visitors to the site will be able to enjoy the spectacle of thousands of azalea blossoms and acres of wildflowers.
Azaleas take center stage this week, filling the eight-acre Azalea Woods with whites, pinks, reds, and lavenders, along with the whites, pinks, and blues of the Spanish bluebells. You'll also see early broadleaf rhododendrons with some lovely soft pink and peach shades along with vibrant cherry red. The museum lawn has a carpet of woodland phlox, buttercups, and bluebells. Japanese primroses have started and will continue to flower in the Quarry Garden.
The day's events will include the opportunity to take photos with Mom in Azalea Woods, shop at the "Azalea Sale" at the Museum Store and participate in guided and self-guided tours through the azalea display.
Admission to Winterthur is $20 for adults, $18 for seniors and students and $6 for children.
It's Mother's Day on May 9 and several of the area's tourist rail lines are celebrating the holiday with special excursion trains.
The West Chester Railroad (www.westchesterrr.net) is running its Mother's Day Express on May 12 at noon and 2 p.m.
Families can take mom on a 90-minute round trip train ride from West Chester to Glen Mills and return on her special day. During the brief layover in Glen Mills, riders will be able to explore the historic Glen Mills train station as well as the rail line's picnic grove along the Chester Creek. All Moms ride for a special reduced fare.
Tickets are $20 for adults, $15 for children (ages 2-12) and $5 for moms.
The New Hope Railroad (32 West Bridge Street, New Hope, www.newhoperailroad.com) is running its Mother's Day Weekend Breakfast Train on May 8 and 9. The train ride departs from and returns to the New Hope Train Station.
Guests will dine in the railroads early 1900's first class parlor car and be served a buffet style gourmet brunch including assorted fresh breads, fruits, French toast, an assortment of breakfast meats, scrambled eggs and potatoes, and fresh fruit. Coffee, tea and water is also included. Guests will be able to purchase alcoholic and non-alcoholic beverages from our onboard full-service bar.
All Mothers receive a complimentary mimosa. 
Mother's Day Breakfast fares start at $79.99.
Wilmington and Western Railroad (Greenbank Station, 2201 Newport-Gap Pike, Wilmington, Delaware, www.wwrr.com) is running a "Mother's Day Special" train on May 9.
Patrons are invited to celebrate Mom on her special day by treating her to a leisurely 1.5-hour round-trip train ride to the rail line's Mt. Cuba Picnic Grove and packing a picnic lunch to enjoy with her during the half-hour layover at the picnic grove.
Trains depart at 12:30 and 2:30 p.m.
This event is powered by one of the tourist rail line's antique steam locomotives.
Fares are $17 for adults, $16 for seniors (ages 60 and older) and $15 for children (ages 2-12). Mothers ride for half-fare.
The Colebrookdale Railroad (South Washington Street, Boyertown, www.dynamicticketsolutions.com) is running several Mother's Day excursions this weekend.
On May 7, the excursion will be "Mother's Appreciation Dinner" train at 6 p.m.
On May 8, there will be a "Mother's Day Brunch" train at 10 a.m., a "Mother's Day Tea" train at 2 p.m. and a "Mother's Day Dinner" train at 6 p.m.
The schedule for May 9 will feature a "Mother's Day Brunch" train at 10 a.m., a "Mother's Day Tea" train at 2 p.m. and a "Mother's Day Dinner" train at 6 p.m.
Tickets prices start at $36.
You can celebrate "Mother's Day Weekend with the Museum" now through Monday at the Museum of the American Revolution (101 South Third Street, Philadelphia, www.amrevmuseum.org).
This Mother's Day Weekend, visitors to the museum can learn about the diverse women that played vital, often unsung roles on the home front and with armies on campaign during the Revolutionary War. They can join the Museum on-site and online to explore the stories of the Baroness von Riedesel, Two Kettles Together, camp followers, and more.
As an added attraction, visitors to the museum can pick up a free carnation courtesy of the Museum to wish a happy Mother's Day to the revolutionary mother figure in your life.
Admission to the Museum is Adults, $21; Youth (6-17), $13; Children (5 and under), free; Seniors (65 and up), Students & Teachers, and Military, $18.
Without question, the Brandywine Valley is known for being horse country. It has established its reputation as an area known for staging top-flight equestrian events.
This weekend, the spotlight will be on the Annual Willowdale Steeplechase (Steeplechase grounds, routes 82 and 926, Unionville, http://willowdalesteeplechase.org).
This year's 28th annual staging of the event will be held on May 8 from 10 a.m.-6 p.m.
The Willowdale Steeplechase is a first-class steeplechase course that features an uphill approach to the fences. This encourages less speed and more jumping and, as a result, causes less wear and tear on the horses.
The Chester County Historical Society (225 North High Street, West Chester, http://www.chestercohistorical.org/) is presenting "Sweet! A Walking Tour of West Chester" on May 8 from 11 a.m.-4:30 p.m.
Participants will be able to "explore the sinfully delicious history of West Chester" with this family-friendly walking tour.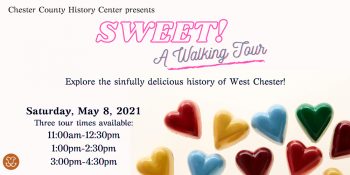 The tour will start at CCHC with a demonstration of how chocolate was made in ancient times through the 19th century, then visit the locations of West Chester's candy stores, malt shops, and bakeries past and present.
Tourgoers will enjoy treats at stops along the way like Eclat Chocolate and Gemelli Original Italian Gelato.
The tour lasts 75-90 minutes and covers approximately 1.5 miles. It will stick mostly to sidewalks, but some terrain can be uneven. Masks will be required to be worn at all times.
Tickets are $25.
A special "Paoli Battlefield Walking Tour" (pbpfinc.org) will be held on May 8.

Participants are invited to walk the hallowed ground of the Paoli Battlefield in Malvern this Saturday (weather permitting) where they will be able to learn what happened there on the night of September 20,1777 – what the events were that led to this battle being called the "Paoli Massacre".
Local historians will serve as tour guides to provide answers to visitors' questions as they participate in the walking tour of the battlefield.
The tours run from 1:30-3:30 p.m. and will start at the Malvern Arts Building, which is located across from the street from the Malvern Borough Building at 146 Channing Avenue.
Tour participants will not be allowed inside the Malvern Arts building, church buildings or the Malvern Borough because of COVID-19 restrictions.
Those taking the tour are advised to wear appropriate footwear for walking around the battlefield and the trails in the woods.
Tour tickets are $20.
The Yellow Springs Art Show got its start back in 1973 as a free event featuring a variety of artists displaying their work on clotheslines.
It has changed immeasurably since then and has become one of the largest and most prestigious annual art shows in the Delaware Valley.
The Yellow Springs Art Show, which is still free and open to the public, is closing in on its golden anniversary. The popular annual event now features artists working in a variety of genres and styles.
The show is running now through May 23 in Historic Yellow Springs Lincoln Building (Art School Road, Chester Springs, www.yellowsprings.org). Show hours are from 10 a.m.-4 p.m. daily.
All proceeds benefit arts education, environmental protection and historic preservation of the 300-year-old village of Historic Yellow Springs.
Admission is free and reservations are not required. All patrons who visit any of the village indoor locations must wear a mask and to follow all HYS safety protocols.
Every Saturday and Sunday through May 23, the Chaddsford Winery (632 Baltimore Pike, Chadds Ford, http://www.chaddsford.com) will present "Taste of Spring — Reserve Tastings."
Visitors are invited to join the winery staff for an intimate and educational 60-minute experience in the newly renovated Barrel Room – and be one of the first to taste the highly-anticipated '20 Sparkling Rosé before it is released to the public.
Chaddsford's trained staff will guide guests through a pre-selected tasting of five diverse and award-winning wines from across the winery's portfolio. The selections will be paired with seasonal local cheeses and other accoutrements.
Also featured will be discussions about topics such as grape growing conditions at the winery's partner vineyards and the onsite winemaking process from production to aging and bottling.
"Reserve Tastings" are $35 per person. There will be three seatings per day – noon, 2 and 4 p.m. Advanced reservations are required and are non-refundable.
Another special event at the winery will be "Mimosas with Mom" on May 8 and 9.
This is an outdoor event subject to capacity restrictions to ensure social distancing. 
There are two seating options — Reserved Seating booked in advance on Resy with table service and access to Build-Your-Own Mimosa Packages and Walk-In Seating available on a first-come, first-served basis with walk-up ordering. Mimosas by the glass will be available.
There will be a food truck onsite — Mama Mia — May 8 and 9.
Mt. Cuba Center (3120 Barley Mill Road, Hockessin, Delaware, www.mtcubacenter.org) is presenting its "Garden Enthusiast Tour" on May 8 from 10 a.m.-noon.
Visitors can take an in-depth tour of the gardens with an expert guide, learn about notable native plants and receive tips on sustainable gardening practices. Tour content will vary as the gardens are dynamic and ever-changing.
Tours are two hours in length and include walking over rolling terrain and mulched paths. Tickets, which are $19, include admission for the day.
This program will also be offered on June 12, July 10, August 14, September 11, October 9, and November 13.
The Morris Arboretum (100 East Northwestern Avenue, Philadelphia, www.morrisarboretum.org) is presenting several tours guaranteed to appeal to all.
"The "Marvelous May Tour" features a trail through an array of blooming plants and trees including White fringetree (Chionanthus virginicus). Commonly called fringetree, but also known as gray-beard or old man's beard, this deciduous shrub or small tree is native to Eastern U.S.
Other tour highlights are Japanese styrax (Styrax japonica), a small, flowering tree with showy, mildly fragrant, white pendulous, bell-shaped flowers that hang below the foliage which is native to China, Japan, and Korea. Also featured are Kousa dogwood (Cornus kousa) and Florida azalea (Rhododendron austrinum).
Morris Arboretum is also offering its annual "Garden Highlights Tour" this month. Experienced guides will share both the history and current highlights of the Arboretum during a one-hour walking tour.
Tours depart from the Visitor Center at 1 p.m. each Saturday and Sunday in April.
Admission to the Morris Arboretum is $20 for adults, $18 for seniors (65 and older) and $10 for youth (ages 3-17).
A wonderful place for enjoying flowers in bloom is Tyler Arboretum (515 Painter Road, Media, www.tylerarboretum.org).
Additionally, "Weekday Bird Walks: Limited Edition" are scheduled for every Wednesday in May from 8-10 a.m. Participants can join Chuck Root and Sara Boucas-Neto on morning bird walks at Tyler.
With acres of unbroken forest interior and extensive meadows, Tyler is recognized by the Pennsylvania Audubon Society as an Important Bird Area. Participants are asked to bring their own binoculars and be prepared to walk on all types of surfaces. Walks are rain or shine. Tickets are $15 and include admission to Tyler for the day. 
Tickets are $15 and include admission to Tyler for the day. 
The Greater Philadelphia Expo Center (100 Station Avenue, Oaks, http://www.phillyexpocenter.com) is hosting a sparkling event which will appeal to a wide array of people.
Attendees will be able to find a wide array of jewelry selections priced very affordably at this weekend's "International Gem & Jewelry Show" at the Expo Center.
The show, which is a sales and exhibition event that features gems, jewelry, fossils and stones of all sorts, is running from May 7-9 and is billed as the "world's largest jewelry bazaar".
The "International Gem & Jewelry Show" features an amazing exhibition of gems, minerals and jewelry. Dealers will be displaying and selling every type of gemstone, as well as one-of-a-kind jewelry creations, estate jewelry, special celebrity exhibits and accessories.
The show will have more than 150 dealer booths where show attendees can select items from a wide range of categories, including beads, rings, settings, watches, necklaces, diamonds, opals, earrings, silver, gold, crystals and pearls.
The hours for the show are noon-6 p.m. on Friday, 10 a.m.-6 p.m. on Saturday and 11 a.m.-5 p.m. on Sunday. Admission to the show is $8 for adults and is good for all three days.
It's time for "Strawberry Month" at Peddler's Village (Routes 202 and 263, Lahaska, www.peddlersvillage.com).
Every day in May, visitors can savor strawberry-themed food and drink specials at the village's restaurants and eateries. On weekends, they can visit the site for live entertainment and strawberry treats served at outdoor food tents.
This weekend's featured attractions will be Dwayne Dunleavy as DJ Host on Main Green from 11 a.m.-5 p.m., Acoustic Road in the CNB Tent from noon-3 p.m. and fresh strawberries and strawberry jams/jellies/preserves.
On May 9, Peddler's Village will offer Mother's Day dining and shopping specials.
Elmwood Park Zoo (1661 Harding Boulevard, Norristown, www.elmwoodparkzoo.org) is presenting an animal-themed special activity on May 12 called "Dog Days."
The Zoo posted this message: 
Families often consider their pets as members, and many enjoy sharing adventures with their dogs! As animal lovers, we acknowledge that a love of wildlife often goes hand-in-hand with pet ownership. We are excited to encourage a deeper appreciation for all animals by inviting owners to bring their dogs to visit the zoo on select days.
All guests visiting the zoo with a furry friend must complete an online waiver and submit required documents before visiting the zoo. You must upload a copy of your most recent veterinary visit, including proof of vaccine and heartworm test here. All items will be required for you to attend Dog Days.
The "Dog Days" event is slated to run from 1-5 p.m.
Pricing is $10.95 per dog with each additional dog at $9.95. Regular zoo admission is required for all humans.
One of the more energetic traditional springtime events in Pennsylvania Dutch country is the Rough and Tumble Engineers Historical Association's annual "Spring Stream Up" (Rough and Tumble, 4977 Lincoln Highway East, Kinzers, www.roughandtumble.org).
"Spring Steam-Up" is scheduled for May 7 and 8 from 7 a.m.-5 p.m. each day. One of the highlights will be sessions of "Plowing with Steam and Gas Tractors." This activity will be held only if weather is favorable to plow.
There will be a variety of displays featuring steam engines, gas engines, steam tractors, gas tractors and antique cars. Also featured will be a model shop, a sawmill, two steam trains and blacksmithing demonstrations at the museum's blacksmith shop.
"Tractor Games" are scheduled for Friday at 4 p.m. The "Garden Tractor Pull" and the "Children's Pedal Tractor Pull" will be held on Saturday at 1 p.m.
"Spring Steam-Up" is looked at as special event each year at Rough and Tumble — a time to get the steam engines out of hibernation and fire them up. It is also a time for the plowing to begin.
Tickets for "Spring Stream Up" are $5 for adults and $2 for children (ages 6-12).
There will more special activity in Lancaster County tonight.
Lancaster's popular First Friday (http://www.visitlancastercity.com/first-friday/) is an arts extravaganza that runs from 5-9 p.m. on May 7. Visitors to downtown Lancaster will have the opportunity to discover innovative exhibitions, performances and perhaps a few surprises as they walk the streets lined with trees and distinctive architecture.
Unique boutiques and excellent restaurants complement the art galleries, artisan studios, museums, performing groups, professional theater, symphony orchestra and art college that from Lancaster's arts community.
Special activities this Friday include: Art Walk: School District of Lancaster Student Exhibit, Angie Hohenadel The Art of SOAR at curio, First Friday at Freiman Stoltzfus Art Gallery, May's First Friday at the PGC Guild Store with Artist Christine Kirk!, Pennsylvania College of Art & Design Class of 2021 Senior Exhibition, Dan Zdilla: Artist Reception at Deerfoot Downtown, To Give Rise To | Community Room on King and LSJ Studios Grand Opening.
For and event that is both fun and educational, consider a visit to the Iron Hill Museum (1355 Old Baltimore Pike, Newark, Delaware, ironhill-museum.org).
From noon-4 p.m. on May 8, the museum is presenting its latest edition of "Super Science Saturdays."
Every month this year, the Museum & Science Center will have a program for families to enjoy a different nature related topic. The program is included with the price of admission.
The program for May 8 is titled "Songs of Spring." 
The museum posted this message on its website:
What is special about spring compared to other seasons? What are some indicators that spring has come and what does it look like here at Iron Hill and at home? Come and experience the sights, sounds, and smells of spring, and learn the changes that occur globally during spring. We are adhering to Covid restrictions. Make sure to wear a mask!
Admission is $2 per person.