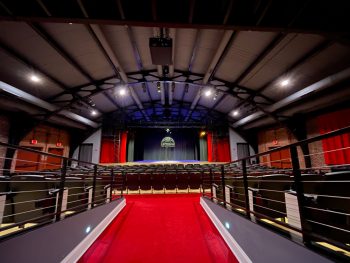 WEST CHESTER — Uptown! Knauer Performing Arts Center has completed the installation of an iWave Air Purification System in all areas of the historic theater in West Chester to create a healthier environment for returning patrons.
"We are excited to welcome our patrons back when the theater re-opens later this year.  With the installation of the air purification system, we can assure them that we are prioritizing their health and safety," said April Evans, Uptown! Executive Director.
Using technology known as Needle-Point Bi-Polar Ionization (NPBI), the units begin to neutralize viruses within minutes, with laboratory testing showing 99.4% of SARS-CoV-2 (the cause of COVID) rendered inactive within 30 minutes.
"Our research showed this to be the most effective air purification system available", said Evans.  "And we wanted to take every measure to create the safest possible environment."
The system works by introducing ions into the indoor environments, which attach to airborne particles.  The increased mass and size of the particles allows them to be captured by the Heat, Ventilating and Air Conditioning (HVAC) system.  In addition to viruses, the NPBI technology also kills molds and bacteria and reduces allergens and dust particles.
Uptown! is planning to open with live performances and acts beginning this summer and fall.  Follow all the latest developments at UptownWestChester.org